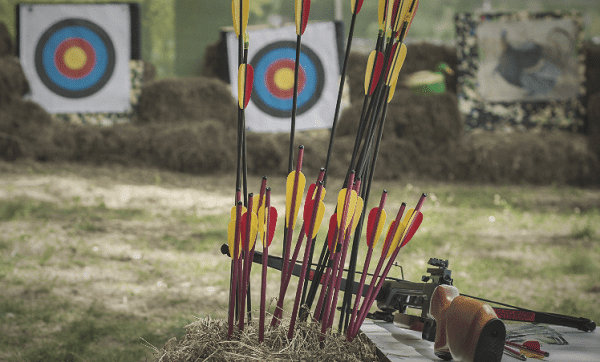 If you prefer hunting with a crossbow rather than guns, then you might have asked the question, how can I buy the best crossbow target? Nowadays, to help you sharpen your shooting skills, several types of crossbow targets are available in the market, each with a specific purpose. Hence, choosing the best crossbow target can sometimes be challenging, especial for beginners. When selecting a crossbow target, there are several factors that you should be aware of, such as the size, material, and speed of the crossbow, among many others. As such, this write-up provides a comprehensive guide about the things that you should keep in mind when buying the best crossbow target.
If you're interested in long-distance targets check out our articles on crossbow targets for over 400 FPS
Essential tips to help you when buying the best crossbow target
The preference for choosing a crossbow target will significantly differ from one user to another. Nevertheless, there are specific guidelines that you should take into consideration when buying this product. Remembering these points can help you pick the best crossbow target. Following are some of the essential tips:
Know the types of crossbow target:
Understanding the different types of crossbow targets will help you to pick the right product based on your needs and requirements. The most common types are foam targets, bag targets, and 3D targets, each with its pros and cons.
Bag targets are the most common type that features synthetic materials. It has an adequate surface area, and it does not damage the sharpness of the arrow. Nevertheless, bag targets are not suitable for broadhead arrows, which can tear the surface when removing it. On the other hand, foam targets are ideal for practicing shooting skills with a light crossbow. These are durable, lightweight, and easily portable. But, if you are using a high power crossbow, then you should avoid this type of target. In contrast, 3D targets come in the shape of different animals, and it is best suitable for professional users, who want to enhance their shooting skills. Unlike the two other types, 3D targets cannot withstand extended usage.
Know the speed of your crossbow:
When choosing the best crossbow target, it is crucial to determine the speed of your crossbow. It is worth noting that many target manufacturers usually rate their crossbow targets depending on the speed of the arrow. You should not assume that all types of targets can withstand the impact of a crossbow arrow. Blindly picking a product without verifying the speed rate can run the risk of deeply penetrating through the target, thereby damaging it. As such, you should always choose a crossbow target only after knowing the speed your crossbow can produce. It will allow you to pick a product that can handle the impact of the maximum speed.
When it comes to the material and cost of crossbow targets, you should consider how often you intend to use it. If you are an avid shooter, then you should consider purchasing a quality product. But for limited usage, you need not invest in the most expensive product. There is no denying the fact that costly crossbow targets feature high-quality material, which you can use it for a longer period. Nevertheless, if you are planning to use it for practice or to learn how to use a crossbow, then an affordable product with standard quality material will get your job done. However, for hunting purposes, we recommend opting for some high-quality material with synthetic filling.
Opt for targets with multiple hit points:
Another essential factor to consider relates to crossbow targets with numerous hit points. Choosing these types of crossbow targets will reduce constant shooting in the same area. You should note that shooting at just one spot can lead to wear more quickly than shooting at multiple locations. Besides, it reduces the stacking of arrows together at one point, and it allows you to make a series of shots without having to remove the arrows from the target.
Considering the color of the crossbow target is also crucial, especially if you are a beginner. Selecting the right color allows you to spot the crossbow target from a long distance without any difficulties. Besides, it will help you to concentrate more when using your crossbow, thereby sharpening your shooting skills.
This factor will be highly subjective from one person to another. If your crossbow target remains in the same spot, then you can opt for a bigger product. Nevertheless, if you want to transport to the field or other related locations, then you should consider a product that is easy to carry. Some crossbow targets can weigh up to 50 pounds, which can make the portability significantly difficult. As such, you should choose a crossbow target by considering this issue.
Frequently Asked Questions On Crossbow Targets
Do you need a special target for a crossbow?
Answering this question will significantly depend on the types of arrow points you will be using. You should note that not all crossbow targets feature usage for all kinds of points.
What is filled inside crossbow targets?
The contents of the crossbow target differ in the types. Generally, bag targets consist of synthetic fiber that efficiently blocks the flying arrows and allows for easy removable of the arrows. In contrast, a foam target consists of a foam layer, and it uses friction to stop the arrow.
How do you pull arrows out of a target?
There are several ways to pull out an arrow from the crossbow target. One of the best ways to pull arrows from a crossbow target is by using arrow lube, which prevents the arrow from getting stuck. You can also use a puller, while another way is by using ivory soap.
How do you keep arrows from sticking in 3d targets?
Many users recommend rubbing the front quarter of your arrow with bar soap. This process prevents the arrows from getting stuck in a 3D crossbow target.
Conclusion
To sum up, choosing the right crossbow target can significantly enhance your shooting skills. However, there are several different products available in the market, and they come with different sizes, purposes, and materials, among many others. As such, buying the best crossbow target can sometimes be overwhelming, especially for beginners.
There are several factors that you should consider when buying a crossbow target. The above-listed points are some essential tips that you should remember and are by no means exhaustive.