It is safe to say that everyone reading his article right now has owned or played with legos at one point in their lives. Legos are plastic bricks that a person can use to construct almost anything under the sun, from animals to houses and roads to cars.
Legos do not come only in the form of bricks. There are small figurines and gears that a person can add to their constructions. People can even get their hands on some rare or limited edition Minifigures of celebrities or famous people from the market too.
Being one of the best selling toys in the world, Lego has successfully branched out to making movies, games, and amusement parks. The brand even holds a few competitions that many people take seriously. As anyone can see, Lego is the perfect skill honing toy for children above the age of 5.
In this article, readers will get information about the best lego sets available in the market for children between the ages of five to ten. But before getting into the details of the products, let's learn some more about Legos.
Also, if you want to put your kid's skills at work, give him a build your own rc car kit.
What benefits does playing with Legos provide?
Lego sets are amusing to play with, but being a source of fun to children and adults alike is not the only advantage that this toy provides. One of the benefits that playing with lego sets provide is better teamwork and communication amongst people. It also inculcates the trait of patience in young boys and girls.
Playing and constructing with lego sets will help a person to hone their problem solving and creative thinking skills. It exercises the brain and aids in encouraging users to try new experiments. Children who played with lego sets when they were young, grow up with better concentration and focusing skills.
While using lego bricks to build something, a person may sometimes need delicate movements that require skills. Continuing to make such movements will help in developing and reinforcing fine motor skills in children and adults alike. Playing with Legos also helps in learning more about shapes, and the space construction will cover. This ability is called spatial intelligence. It is a must-have skill for all engineers, architects, and artists.
What to look for while buying a lego set
As is the case with any purchase decision, it is best to check the features and uses of a product before settling on it. When it comes to buying a lego set, there are a few points and tips a person has to keep in mind so that they can get the best collection for their kids. Hence, there arises a need for a buyer's guide, which this part of the article will cover.
Here are some things one has to keep in mind while buying a lego set:
Choose the right age range
All Lego sets come with an age range that the manufacturers and product designers set. There are specific sets for certain age groups that readers will observe later. However, for now, it is enough to be aware that one must choose a set that is compatible with the child's age.
This age limit does not indicate choking or safety precautions. Some Lego sets are more challenging to construct than others, which young kids may not be able to build. So if a person buys a lego set with a suggested age of 10 years for a five-year-old boy, the child might not have the capacity to construct it.
Buy a child the corresponding age range Lego set to avoid any disappointments or frustrations.
Lego tries to cater to all types of children with different interests and fascinations. As a result, there are many different themes when it comes to Lego sets. Ranging from robotics to superheroes and sports, Lego covers them all.
Therefore, an adult should consider and know about the child's passions and choose a lego set that satisfies their curiosity and minds. Children with a knack and interest in engineering can go for building construction sets. On the other hand, kids who like a specific superhero can go for a collection related to the hero of their choice.
Choose the right-sized set
This point is similar to the age range. Lego sets come in different sizes. There are large sets, and smaller sets, depending on many factors like the age range, theme, and purpose. Usually, the larger collections take more time, concentration, and effort to build and construct, so they are more suitable for older children.
On the other hand, smaller sets are also available in the market, which is ideal for younger children around five to six years of age. All the collections that Lego manufactures are compatible with each other, and children can mix and match them with each other.
Lego Sets for Boys Reviewed
Lego manufactures its sets depending on factors like age range, themes, and sizes. This article has divided the best products based on age range to make the buyer's job easier. Here are the best Lego sets for boys:
Best lego sets for 5-year-old boys
1. Lego Technic Excavator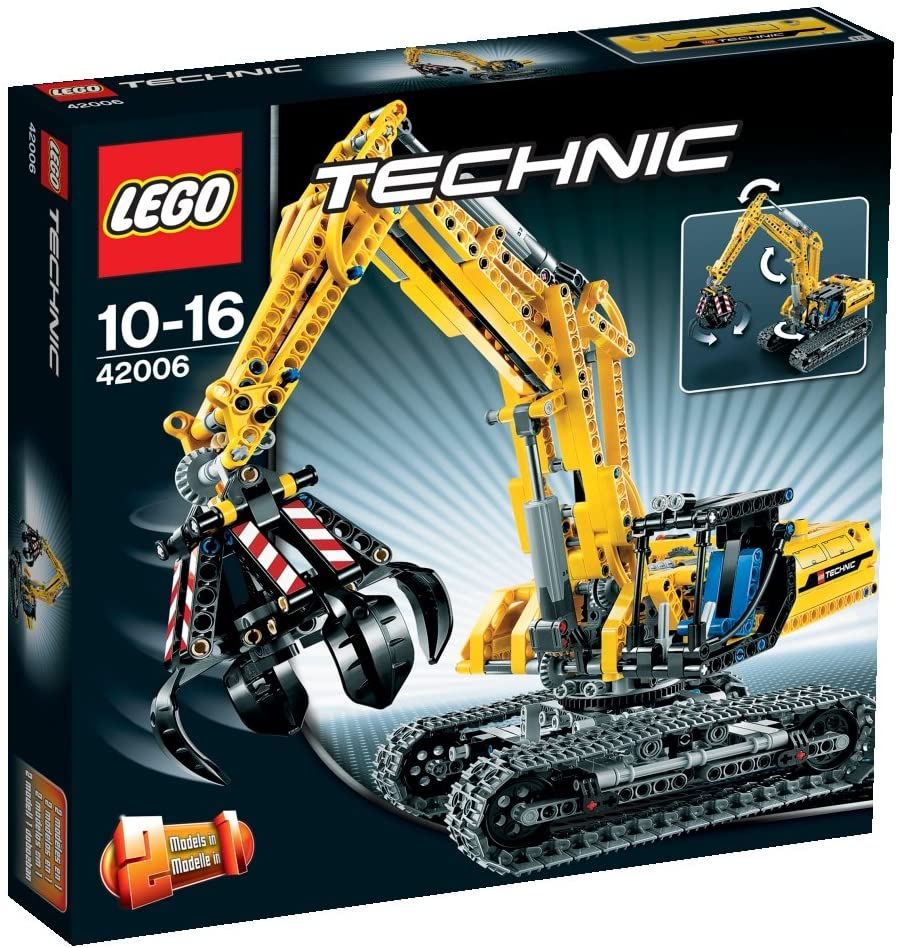 Almost every boy goes through a phase in their lives when anything to do with construction equipment spark interest. The Lego Technic 42006 Excavator is sure to satisfy this burning curiosity with its excellent realistic details. A five-year-old will need more time and focus on building this one.
Why buy it?
First of all, the details on this piece of construction equipment are top-notch. It comes with a 4-pronged moving grabber at the end of an extending arm. The arm works in such a way that the user can move it practically.
Secondly, the body can rotate like real-life excavators allowing for more range and movement. As for the tracks, they can move too. What this feature means is that the excavator can run on its tracks like a car on wheels.
Lego also separately sells a Power Functions Motor Set that the owner of Lego Technic 42006 Excavator can use to build a cross-country tractor.
2. Lego Arkham Asylum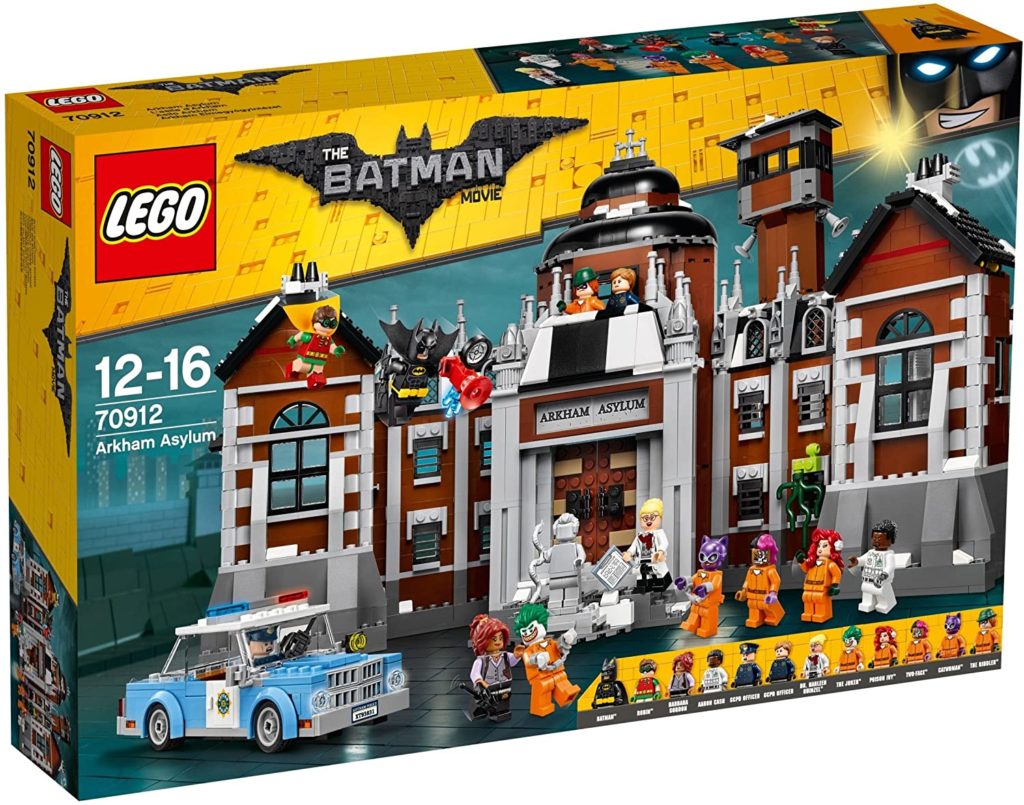 For all those Batman fanboys out there, the Lego 70912 Arkham Asylum will be a treat. This Lego set focuses on the Arkham Asylum with a guard tower and all the necessary accessories to give the builder a real experience.
Why buy it?
With this set, the buyer gets 12 Minifigures, including one of Batman, the Joker, Robin, Poison Ivy, The Riddler, Catwoman, and Two-face. It features a very detailed look inside the Arkham asylum with Dr.HarleenQuinzel's office, the wards, cells, and even a visitor's room.
It is a comparatively large set that has many little accessories like an x-ray machine, a police car, and a security room with equipment. The watchtower is a separate piece that can hold security guards at the top and has a basketball hoop towards the bottom.
Children can reenact or make up a whole story with this set because it has everything that the player needs.
3. Lego Fire Station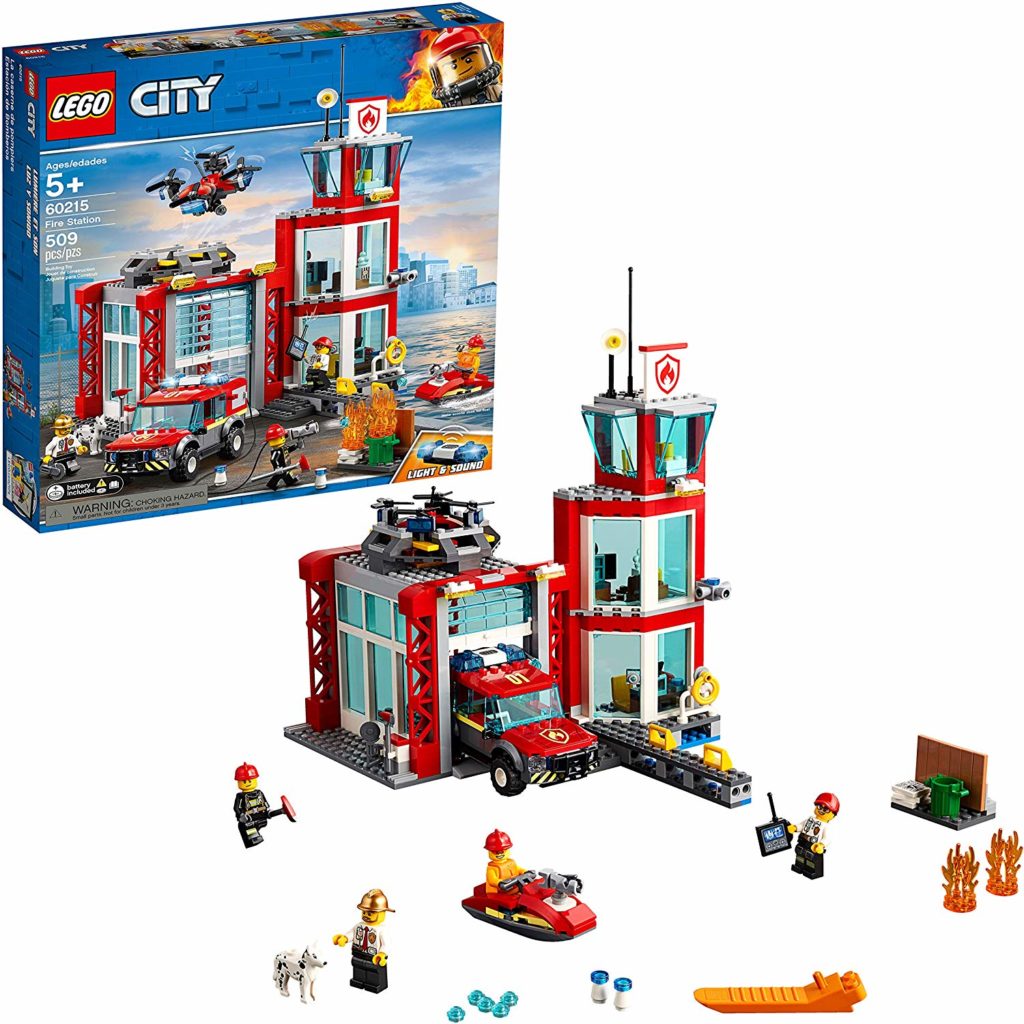 Many children wish to be firefighters when they grow up. With the Lego Fire Station, they can get a taste of this noble profession. This Lego set comes with some accessories that will bring the world of saving people from fires to life. It is one of the best lego sets for five-year-olds.
Why buy it?
If the thrill of driving around and saving lives does not convince the reader, there are many other features that are sure to persuade them. This set includes 4 Minifigures of three firefighters and one fire chief. As if that was not enough, it also adds a fire dog figure to the party.
It comes with the fire station, an off-road fire vehicle, and a water scooter. There is a stud-shooting fire extinguisher that can project six water elements to put out the fire. The three-level fire station has a garage that can house the vehicle and fire scouting drone.
List of test lego sets for 6-year-old boys
1. LEGO Technic 720pcs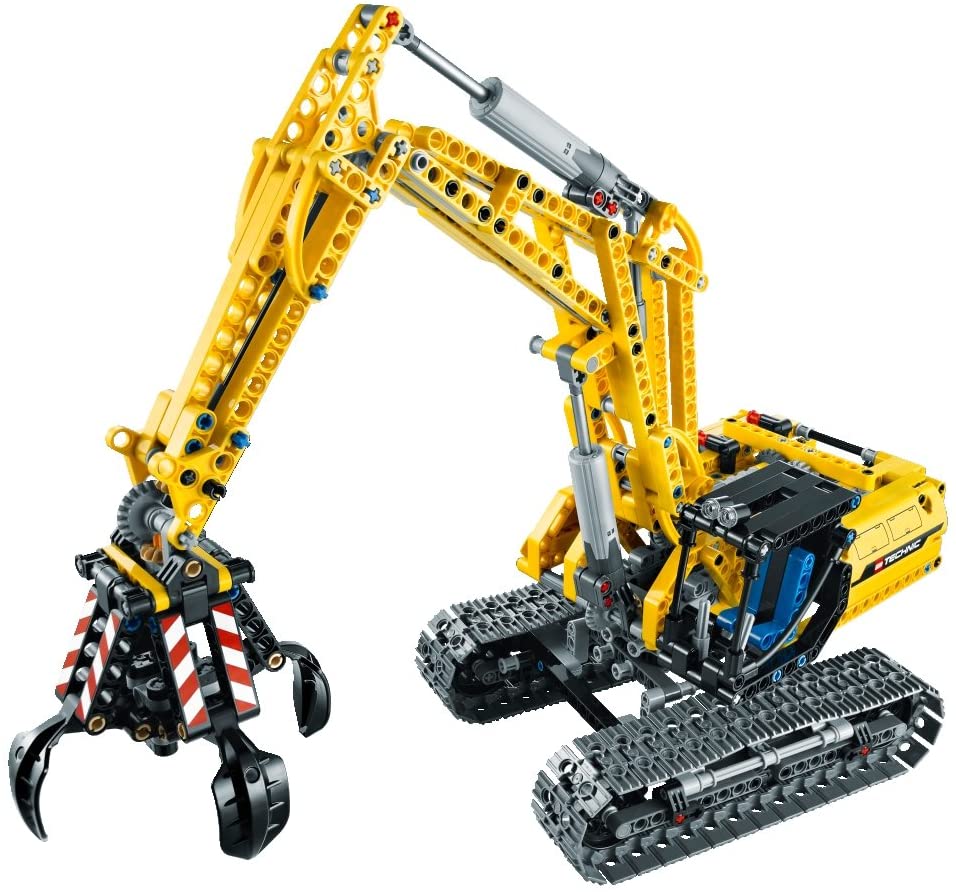 The Lego LEGO Technic is such a hit that even children who are six years old will enjoy building and playing with this set. It has 720 pieces and has a fully working body that takes realistic functions to another level.
Why buy it?
This piece of construction equipment has a four-pronged grabber that can move, allowing the player to grab things with it and shift them. The grabber attached itself to the arm at which it can adjust itself back and forth and gain better access to the object that it needs to grab.
It has an extendable arm that can reach far off objects and a rotating body for better movement. The designers of this lego excavator made sure to give their builders a realistic feel with moving tracks. These tracks act as wheels on a car and help the excavator to move around.
2. Lego Lord of the Rings Pirate Ship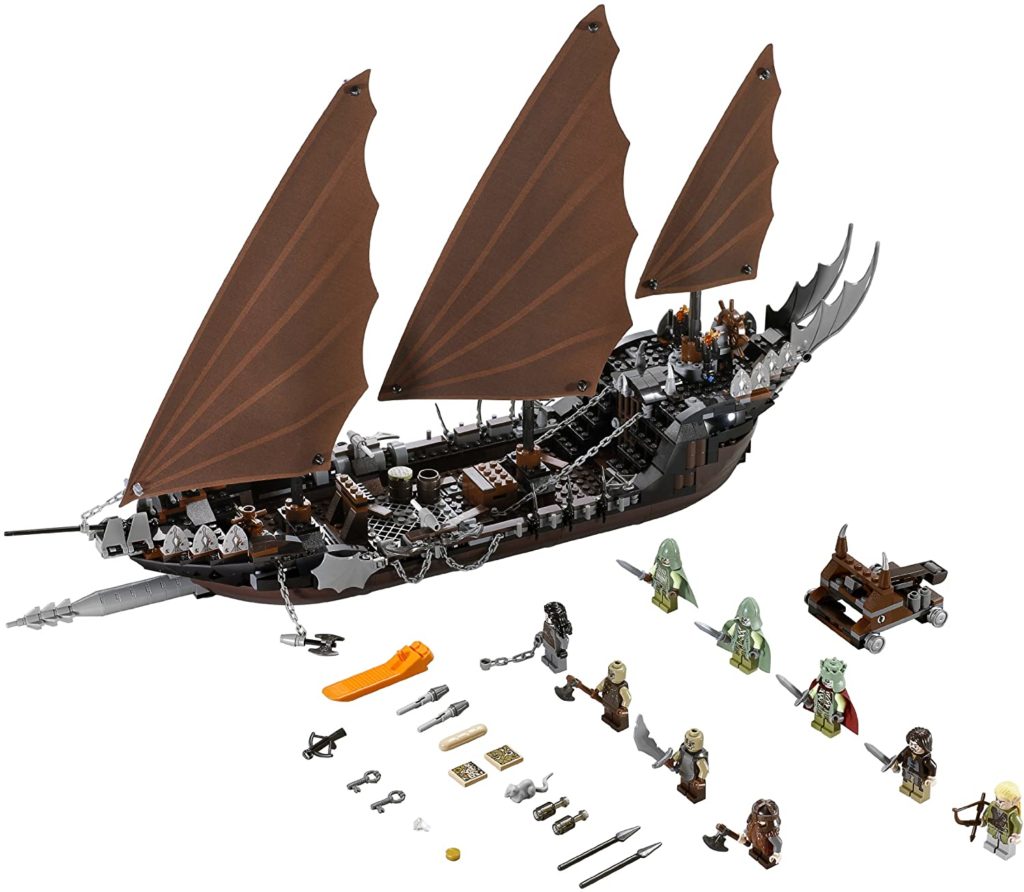 Lord of the Rings is one of the biggest movie franchises ever to exist. No one can forget about the scene when Aragorn denies the pirates an entry. With this lego set, builders can replicate the Corsair ship. Any fanboy of this excellent movie and story will love this beautiful collection.
Why buy it?
The Lego Lord of the Rings Pirate Ship has a total of 755 parts that are sure to keep a child busy with imagination, creativity, and focus. The package includes nine Minifigures with Aragorn, Gimli, Legolas, two Mordor orcs, the Pirate of Umbar, the King of the Dead, and two soldiers of the dead.
One exciting feature of the army of the dead figurines is that they glow in the dark. The ship has three detachable sails with a dungeon to hold prisoners. It also comes with weapons and other accessories to complete the scene.
3. Lego City Cargo Train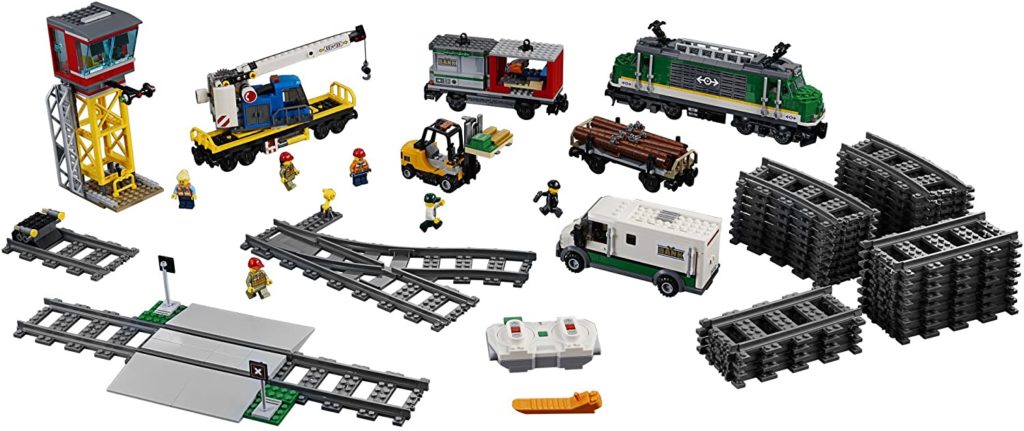 Trains, who does not love trains? Regardless of whether a child is interested in trains or not, this lego set will inevitably trigger an interest. With the Lego City Cargo Train 60198, budding builders can transport and deliver cargo on the curved tracks.
Why buy it?
The best thing about this fantastic Lego set is that children can drive the train thanks to the motorized engine with Bluetooth remote control. That's right. This train can ride on its tracks by itself if someone is controlling it.
The set includes six Minifigures and two wagons, namely, a log wagon and a crane wagon. The crane wagon has a rotating body and an extendable arm. Many accessories come with this lego set, and a lego player can pull the lever to change the tracks.
List of the best lego sets for 7-year-old boys
1. Lego Track Turbo RC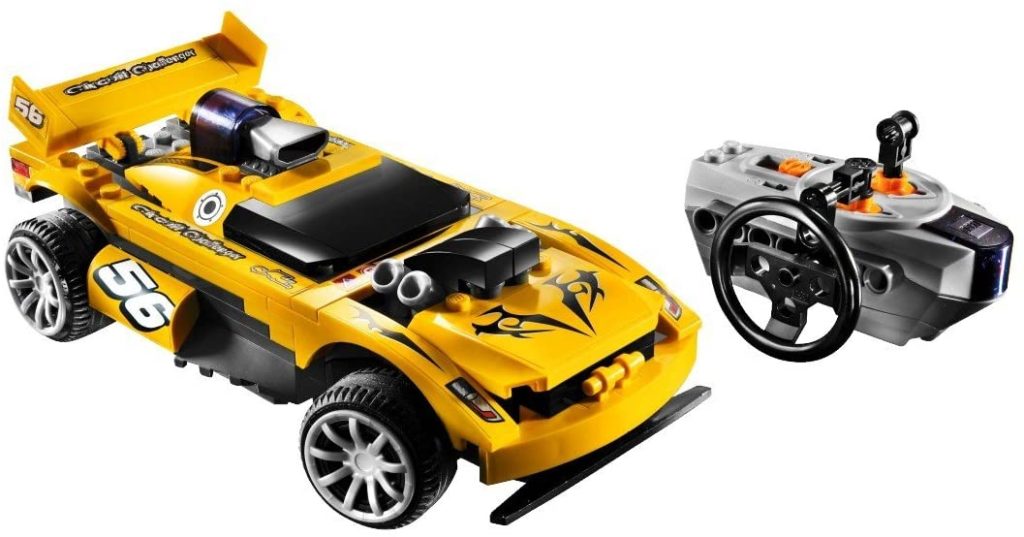 Many boys gain a keen interest in cars in their early years, and it usually continues for the rest of their lives. The Lego Track Turbo RC is one of the best ways to introduce a child to the fantastic world of motors and cars.
Why buy it
This set has only 91 parts and might be one of the most manageable lego sets to build. It has a very realistic design, which includes a spoiler at the back and an air intake on the front. The best thing about this lego car? Builders can drive it with remote control.
The Lego Track Turbo RC can move forwards and backward, left and right, and even start and stop on demand. There are two alternative models that a builder can make. This product requires 3 AA and 3 AAA batteries to run.
2. Lego Star Wars Battle for Geonosis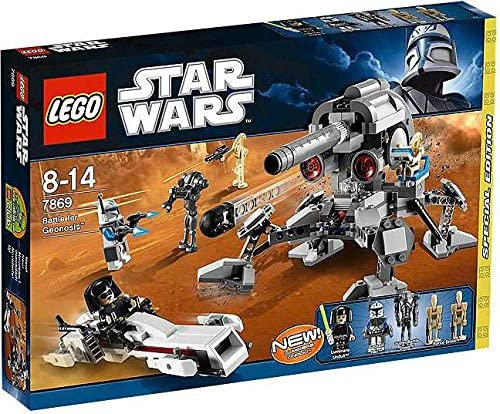 Star Wars is another movie franchise that many people love and follow. The Lego Star Wars Battle for Geonosis corresponds to the Separatist proton cannon, the leader of the droid army, and how it fought in one of the greatest battles in the history of Star Wars.
Why buy it?
Many Star Wars fans exist in this world, and special edition lego sets related to their interests are likely to go up in value. It comes with five Minifigures of Captain Rex, LuminaraUnduli, a super battle droid, and two battle droids.
This Lego set comes with 331 parts. Builders can shoot missiles at the enemy with the proton cannon. It has poseable legs that will keep it in place while shooting. The turret is also adjustable.
3. Lego Iron man Hall of Armor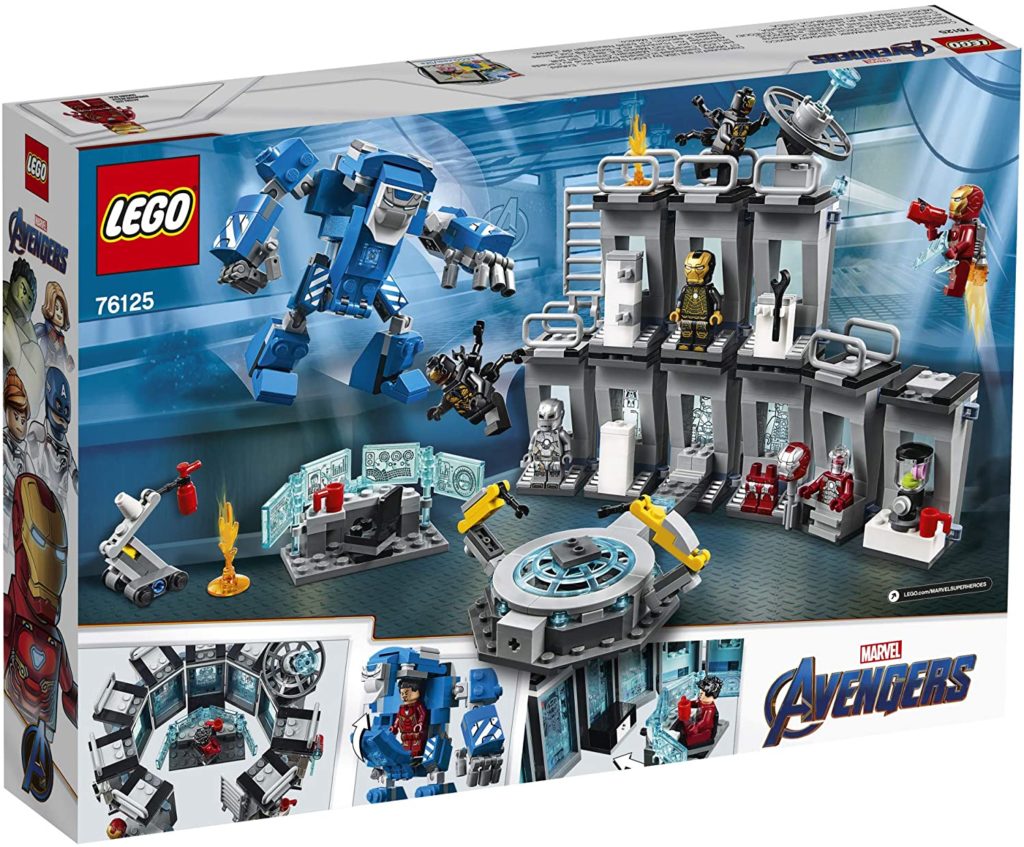 Superheroes play a massive role in every person's childhood. The Avengers are a group of Marvel heroes that keep the earth safe from attacks. Amongst the heroes, Iron Man made a substantial impact on young people. This Lego set revolves around Iron Man and his armors.
Why buy it?
Iron Man has many types of armors, and this Lego set features all of them. The Minifigures include Iron Man MK 5, 1, 41, and 50. There is a podium with moveable arms, which helps Iron Man to suit up on time.
Any Iron Man set is not complete without an Igor Suit mech. With the Lego Iron man Hall of an Armor set, a builder gets the Igor Suit, which has a cockpit that can fit a Minifigure. A person can easily rearrange the modules to make a prison or space for the screen.
4. Lego Capital City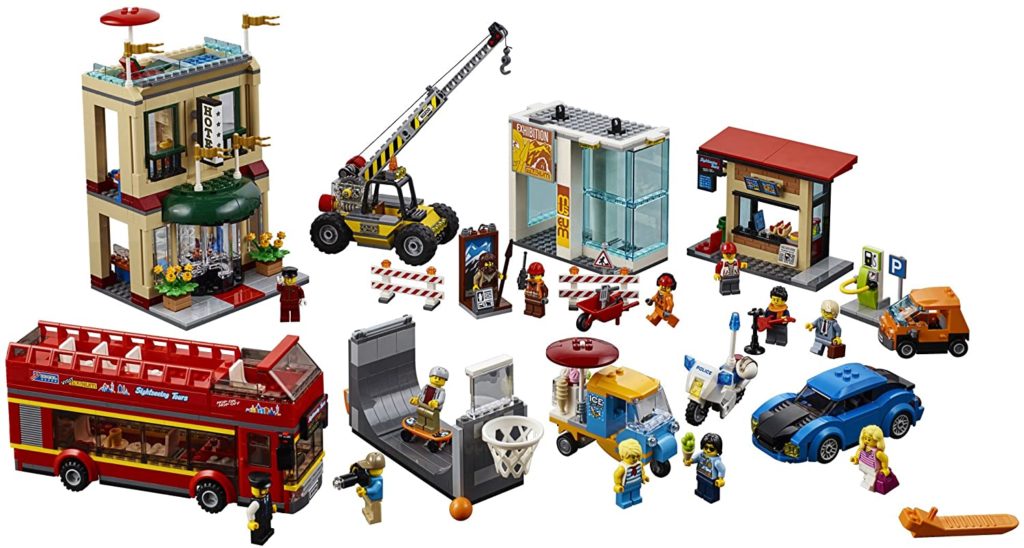 For the budding architect, the Capital City 60200 will be a perfect gift. Children can build a whole city with 1211 pieces of Lego and run the town with just rules and regulations. This set is sure to keep children busy and occupied. It will help in creating a sense of community and society in their young minds.
Why buy it?
There are many parts to this set. It includes three buildings: a hotel, a museum, and a fast-food kiosk. A bus, an ice cream truck, a sports car, an electric car, a crane vehicle, and a scooter rides through the city to give it a real feel.
In order to give the scene a genuine city atmosphere, the set comes with 13 Minifigures and small accessories like an electric car charging point, a guitar, and a skateboard.
Good lego sets for 8-year-old boys
1. Lego Ninjago Skull Truck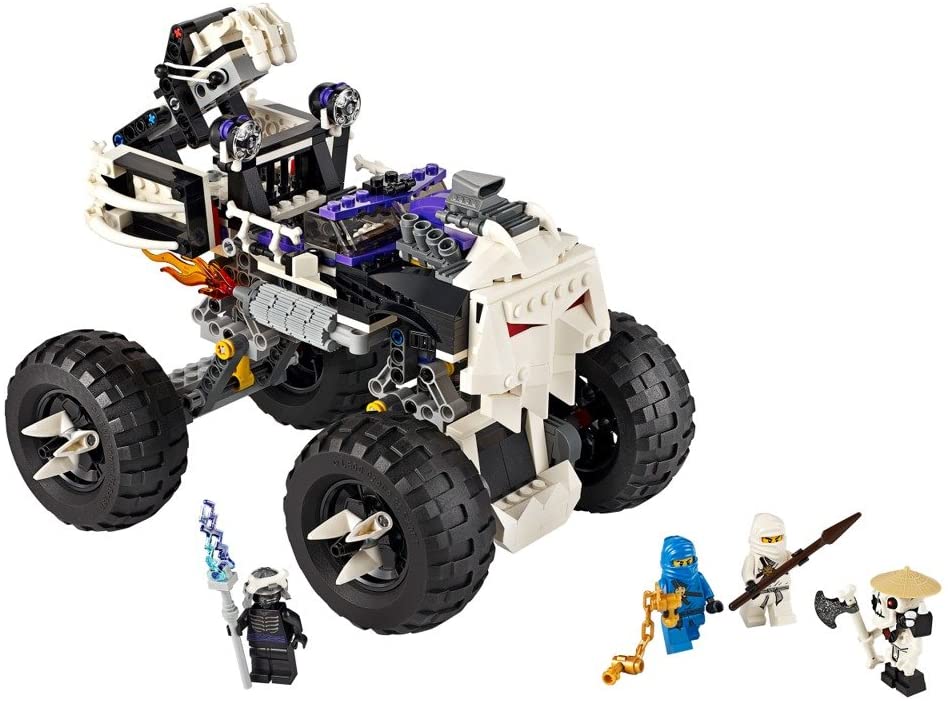 The Ninjago theme of Lego revolves around ninjas and has a total of 262 sets. Ninjas are stealthy fighting machines that can easily attract the attention of young boys. This Skull Truck 2506 corresponds to the truck that Lord Garmadon and Wyplash use to escape after stealing the Nunchucks of Lightning.
Why buy it?
The Lego Ninjago Skull Truck 2506 has 514 pieces and comes with 4 Minifigures of Lord Garmadon, Wyplash, Jay, and Zane. There is a bone fist that can aim and fire at a specific target, all the while moving it. It comes with many weapons, including the Nunchucks of Lightning and two cages.
The tires are of rubber and can go through any terrain with ease. At the front, there are the Skull Truck's jaws, which can open and close to crush objects.
2. Lego Ninjago X-1 Ninja Charger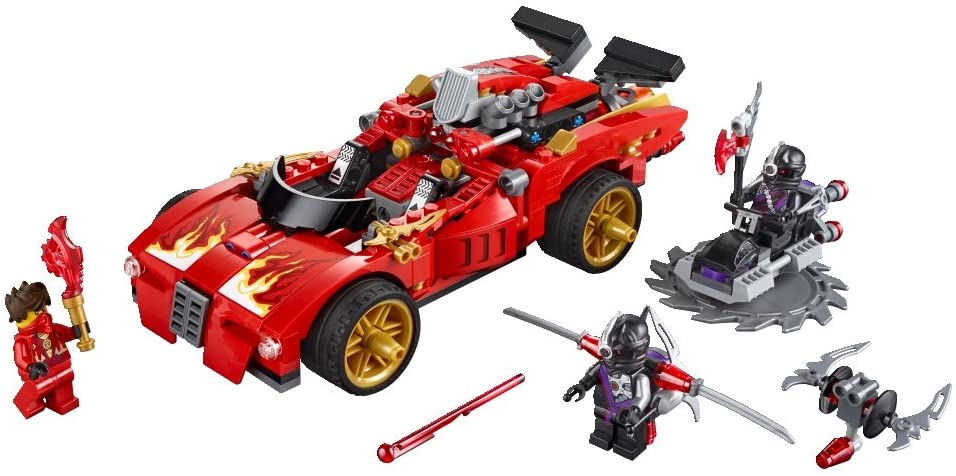 From the flames comes forth this red hot charger that has helped Kai win many attacks against the Nindroids. This set is another Ninjago car with which builders can chase after burglars and thieves. Since this is Kai's mode of transport, it can do many cool things.
Why buy it?
The Lego Ninjago x-1 Ninja Charger is a 2-in-1 vehicle that includes the actual vehicle as well as an interceptor bike. It has three Minifigures, including Kai and two Nindroids. There are four weapons in the package.
The disc flyer has a saw blade that rotates and shoots out discs. A builder can also fold out and fire missiles from the Ninja Charger. The bike can launch into the air at the user's wish and has red flame exhausts to show that it goes very fast.
3. Lego Mercedes AMG Petronas Formula One Team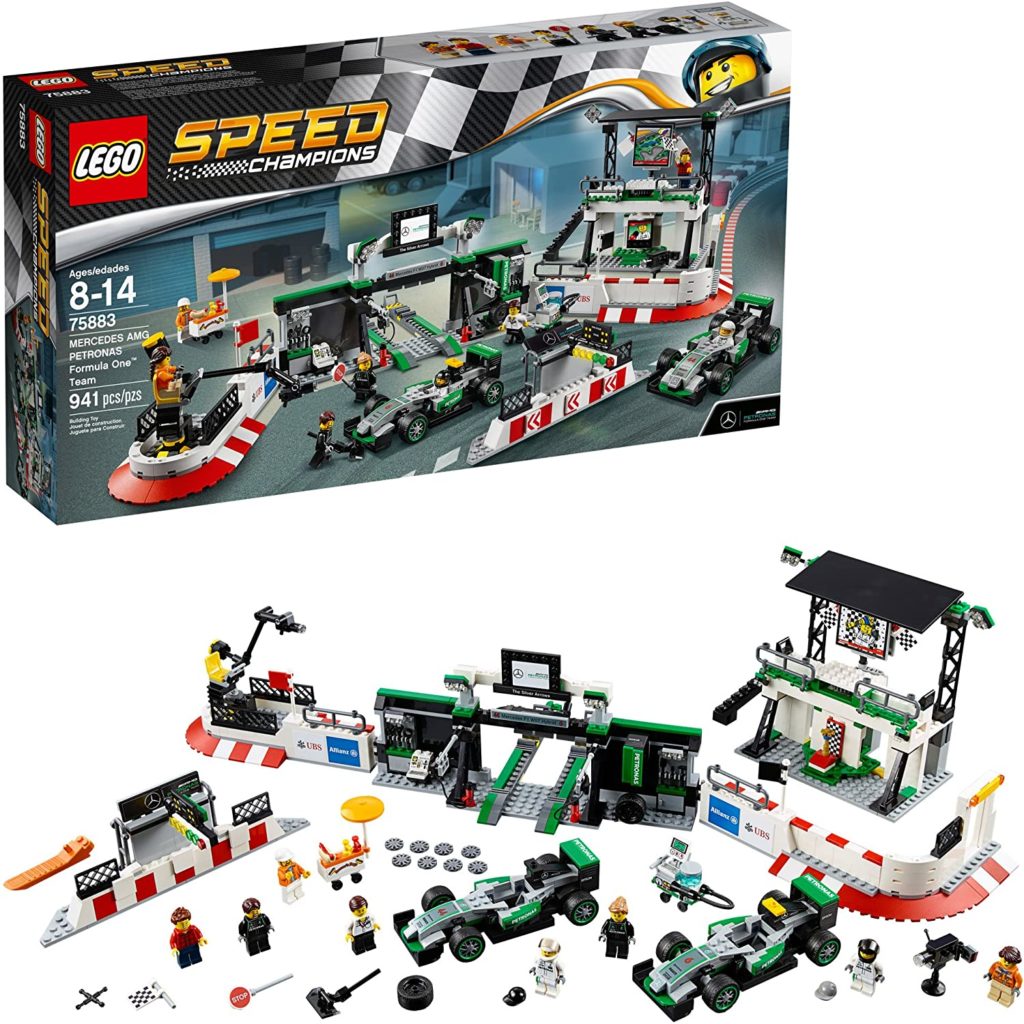 Going fast in a car and winning races is one of the most common dreams amongst young boys. With the Lego Mercedes AMG Petronas Formula One Team set, dreamers can turn their vision into reality by racing in the tracks with two racing cars.
Why buy it?
With this Lego set, the builder can get a taste of what it is like at the races. The different components at the pit stop where everything happens to help a car win the race. It gives the player an inside look and also offers real-life information regarding Formula One racing.
The Mercedes AMG Petronas Formula One Team set also includes a grandstand with enough space to fit in Minifigures in the podium. Not forgetting the food element at races, it has added a hotdog stand to its set.
Best lego sets for 9-year-old boys
1. Lego Nexo Knights Jestro's Volcano Lair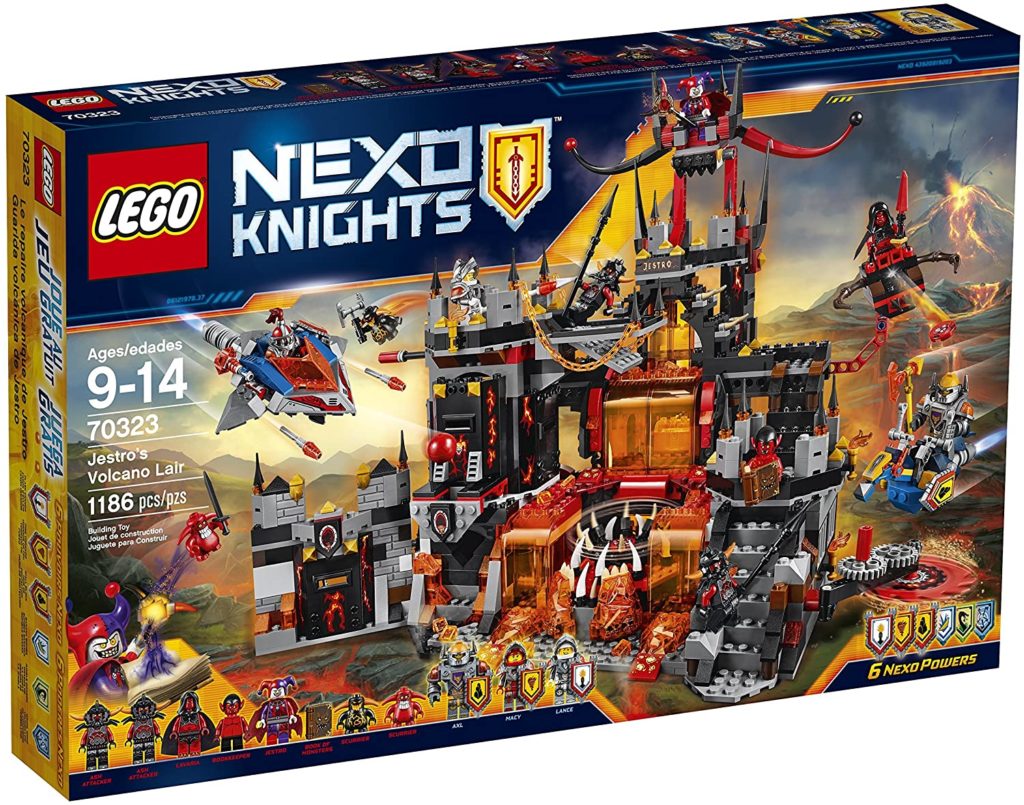 The Jestro's Volcano Lair Lego set is one of the more complicated collections in the market. It has 1186 pieces in total and will keep a child busy for hours on end. There are many parts to this construction, and it is sure to encourage creativity in the minds of children.
Why buy it?
There are two sides to Jestro's lair once the builder entirely constructs it. The front has a functional trapdoor that leads unknowing wanderers into a spinning lava mouth. There is a spinning saw blade feature on the stairwell to prevent any knight from entering the lair.
Once a person turns the lair to show the back, there is a kitchen, bedroom, bathroom, prison, and a weapon room. It has a ball shooter with two flick missiles.
2. Lego Star Wars Naboo Starfighter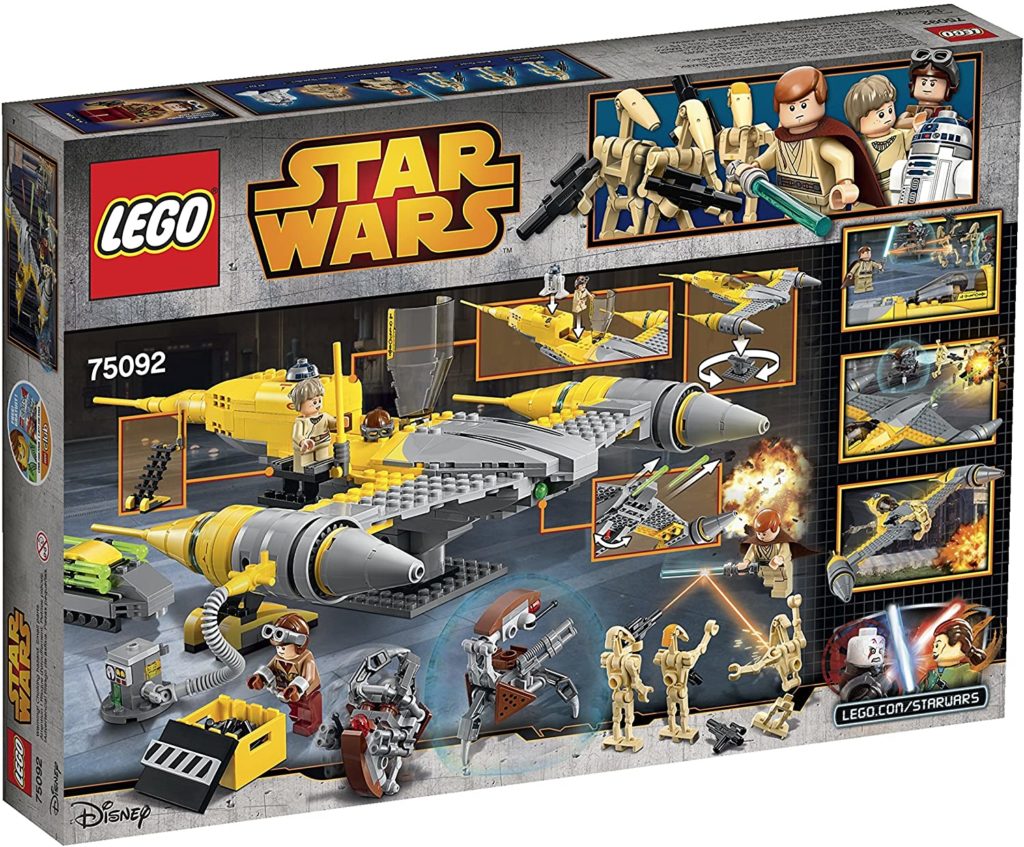 Lego takes Star Wars and their fans very seriously. Another treat for young Star Wars fans is the Naboo Starfighter that won the hearts of many during the movie scene. Get ready to save everyone by shooting at the Destroyer Droids and Battle Droids flying around in space.
Why buy it?
With this set, the buyer also gets three Minifigures of Anakin Skywalker, Obi-Wan Kenobi, and a Naboo pilot. Besides these, it also contains R2-D2 and two battle droids in the pack. The Naboo Starfighter has a rotating stand and opening cockpit.
There is a spring-loaded shooter and a mechanism that can eject R2-D2. There are several weapons that builders will get, including Obi-Wan Kenobi's lightsaber and a blaster pistol. Instead of placing the completed structure on a plane surface, a person can display it on its stand.
3. Lego Star Wars Darth Vader's Castle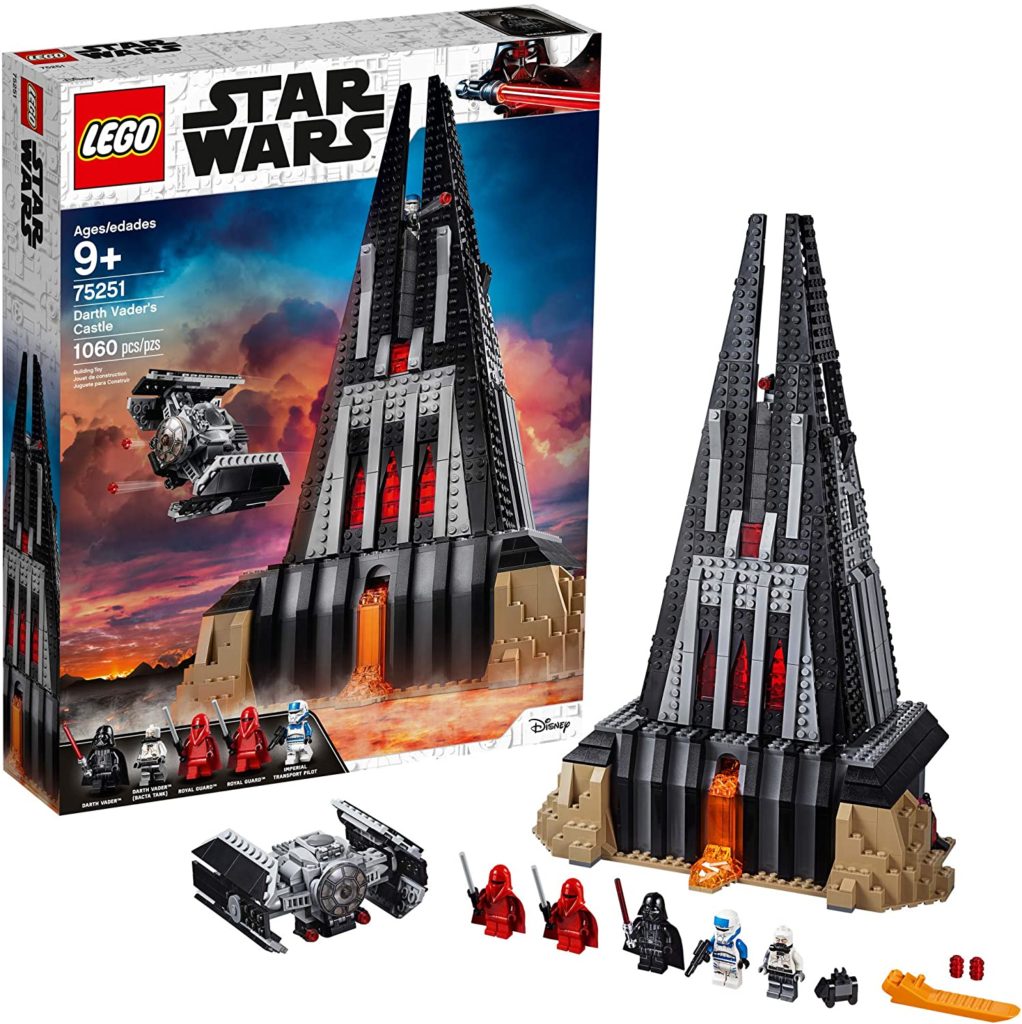 There is no denying that everyone likes Darth Vader even though he is the antagonist of the Star Wars movie franchise. With the Darth Vader's castle set, fans can get a closer look at this dark lord's abode and get a taste of his life in the evil home.
Why buy it?
First of all, this set is a very detailed model of Darth Vader's home. After finishing with the construction, a builder can take a look inside the abode and how things work. The set includes five Minifigures, including one of Darth Vader and one of Darth Vader (bacta tank).
It comes with Vader's TIE Advanced Fighter that has two stud shooters. There is a cockpit that users can open and place a Minifigure. In addition, players also get Darth Vader's lightsaber.
Lego sets for 10-year-old boys
1. Lego Porsche 911 RSR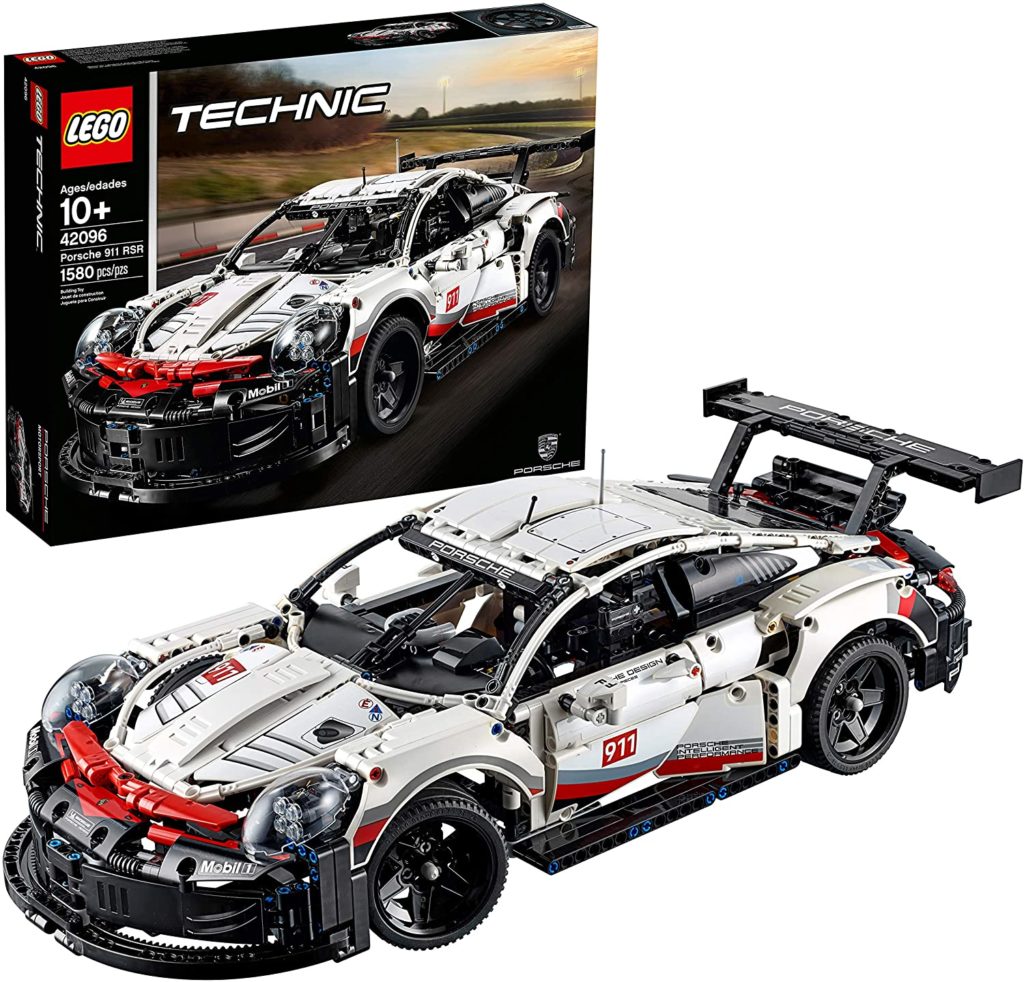 Another treat for young motor enthusiasts come in the form of the Porsche 911 RSR 42096. As a matter of fact, this lego set is suitable for anyone above the age of ten. Porsche fanboys of any age can get a kick out of constructing this beautiful piece.
Why buy it?
One very interesting feature of this wonderful lego car is that the engine on the body contains moving pistons that shows how the v6 engine works in real life. It gives the builder a sense of the mechanics behind the engine.
It is part of the collectible car lego sets and has 1580 pieces in total. The cockpit features a detailed replica of the real car. The set has stickers that the builder can stick on the sides of the vehicle to add more details to the lego car.
2. Lego Technic 42029 Truck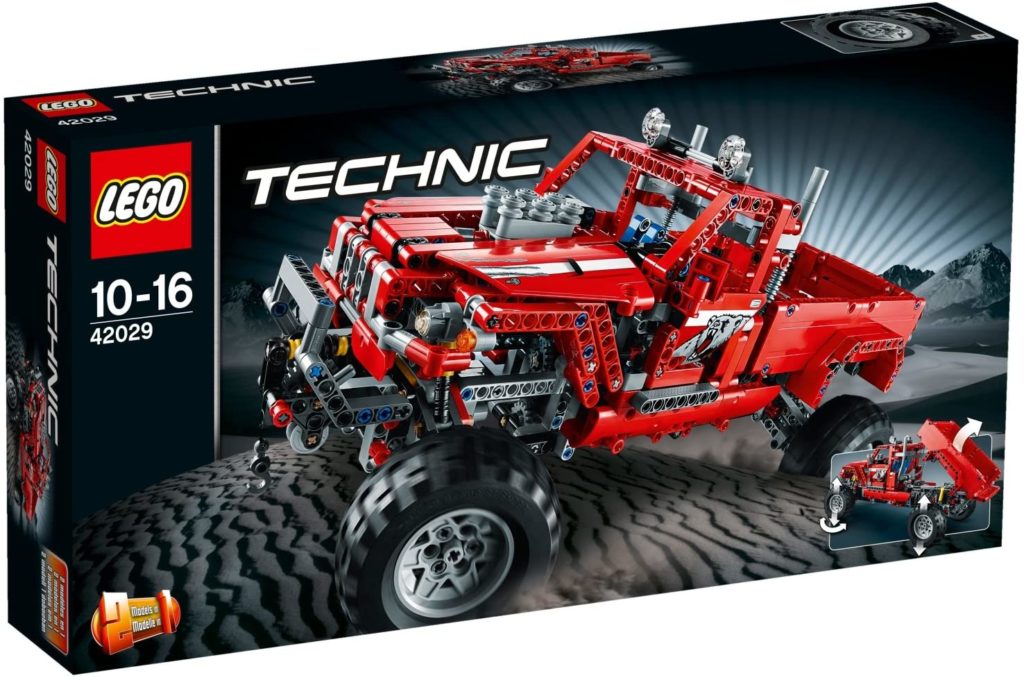 Nothing says exciting transportation better than pickup trucks. This 1058 pieces lego set with bright red color will no disappoint young 10-year-old boys and their thirst to learn more about cars and vehicles. The big wheels and rugged look appeals to boys and heightens their interests.
Why buy it?
This pickup truck has a steering wheel and opening doors in the front. Builders can take a peep at the V6 engine and how it works. The best part about this truck is that builders can construct two types of cars or models with the same pieces. Players can make a Forest Skidder too.
As the cherry on top, it has a bright red LED lights that match with the color of this vehicle. At the back, there is a winch that is fully operational and ready to pull.
3. Lego Technic Telehandler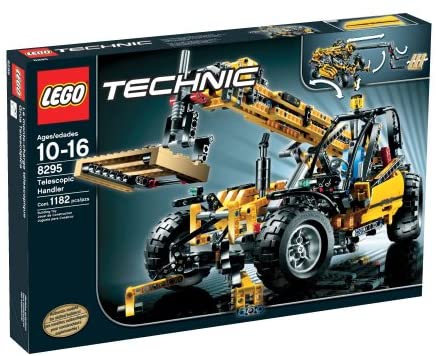 The Lego Technic Telehandler is a masterful vehicle with 1182 pieces. A child with a keen interest in machines related to construction, industries, and agriculture, this set is the way to go. It uses 8293 power functions motor set to motorize the boom.
Why buy it?
The telehandler's boom is fully adjustable from the back. To lower or raise the boom, all a person needs to do is turn the knob at the rear. Flipping the switch will extend it further. To pick up objects, that is the cargo pallet; the builder will need to tilt the front forklift.
The boom can extend itself over 21 inches, and the telescopic handler is 15 inches long with a height of 15 inches.
Frequently Asked Questions Regarding Lego Sets
What age is appropriate for Legos?
When it comes to age, there is only a minimum age and no maximum limit. The minimum age that a Lego user should be is three years. This limit exists to avoid choking incidents. Some Lego sets contain small pieces that a toddler might choke on. Therefore, adults should look out for choking hazard warnings and keep toddlers away from such sets.
As for the maximum age limit, there is no such thing. Lego manufactures complicated logs that are suitable for adults and experts. Lego caters to all ages from as low as four years to any age above the minimum.
Are legos worth money?
Yes, legos are worth money. When a person buys a lego set, they are not only purchasing a toy. They are buying a tool that will hone many skills that only a few educational tools can provide. As briefly mentioned earlier, there are Lego competitions that give out hefty monetary prizes for the winners. Lego building and creativity skills give back much more than the cost of the lego set.
Do Lego sets go up in value?
Yes, some Lego sets go up in value as time passes. There are limited edition Lego sets that many people consider as investments because it is sure to shoot up in value in the future. Some vintage Lego sets are worth more than $1000. The Millenium Falcon went up for sale at a whopping $15,000.
It is a good idea to keep all of one's Lego sets because no one knows how much more it will be worth one day in the future.
Is Lego a good hobby?
Yes, playing with Legos is an excellent hobby. The benefits that Legos provide range from increasing motor skills to encouraging creativity and understanding. Playing with Legos as a hobby will only better a person's abilities. There are no known downsides of having one hobby as playing with Legos if it is not excessive.
Is Lego good for your brain?
Yes, Legos are good for your brain. If a child plays with Legos on the daily, they are more likely to be better developed than other kids in specific areas. Some of these areas include motor skills, cognitive abilities, understanding of instructions and concepts, spatial intelligence, and the importance of teamwork. It also encourages creativity and experimentation.