Bow season calls for crossbow hunting. Slinging a heavy crossbow on your shoulders while you trudge along the woods can be challenging. It would help if you had a sturdy and comfortable strap or sling to carry your weapon as you focus on finding places and targets.
Often, the sling quality can distract you from your course by constantly slipping or having wear and tears. When hunting, you need your mind on one thing alone, which means you need hands-free transportation for your crossbow.
Buying a good quality crossbow sling will ensure that your crossbow stays on your shoulder without snapping. We have compiled some of the best crossbow slings along with their features and a complete guide to help you make an informed decision.
Best overall crossbow slings
TenPoint Neoprene Crossbow Sling (HCA-004)
Highly Rated crossbow slings
LimbSaver Kodiak Air Crossbow Sling Realtree Xtra
Popular crossbow slings
Wicked Ridge Neoprene Crossbow Sling
Best overall crossbow slings
TenPoint Neoprene Crossbow Sling (HCA-004)
Highly Rated crossbow slings
LimbSaver Kodiak Air Crossbow Sling Realtree Xtra
Popular crossbow slings
Wicked Ridge Neoprene Crossbow Sling
You might also be interested in our article about the best crossbows with built-in cocking device, which can be found here: https://www.bestof.info/best-crossbows-with-built-in-cocking-device/
What You Should Look Before Buying a Crossbow Sling
While researching your own to find an ideal sling for your crossbow, you will come across many products with similar and varying features. To make sure that you don't waste a ton of money on something that isn't going to fit your needs, there are some important concerns you need to check. This is where our buyer's guide comes into the picture. Below are some common factors you need to check before hitting the buy button.
Material
The material of the strap is an essential factor you cannot ignore. The material determines if it is durable and sturdy or easy to snap. The sling will carry a heavy load, which is why you cannot compromise on its quality.
The most common and durable materials are nylon and neoprene, as they have the quality of being sturdy and wear-resistant. They can withstand all kinds of weather, which is another reason you need to check the material quality.
Anti-slip texture
When you are out in the woods, you will be climbing, running, or jumping. The most distracting thing would be a sling that keeps falling off your shoulders. A good sling will have a non-slip texture, which will stay put.
Go for a strap that not only grips your body well but provides enough comfort without causing irritation or digging in your skin.
Comfort
Another crucial factor you cannot ignore is the comfort of the crossbow sling. You have checked the non-slip texture of the sling. Make sure the straps are padded or thick enough to keep the heavy load of your weapon from hurting your shoulders.
Weight distribution
You will be carrying your heavy weapon for a long time and a long distance. When there is no fair distribution of weight on your body, the pressure points will ache a lot.
A wide strap is highly recommendable because it will not dig into your shoulders like the narrower ones. The length of the strap is another important factor for weight distribution. To ensure that your strap is neither too long nor too short, go for slings that come with adjustable lengths.
List of the best crossbow slings on the market
1. TenPoint Neoprene Crossbow Sling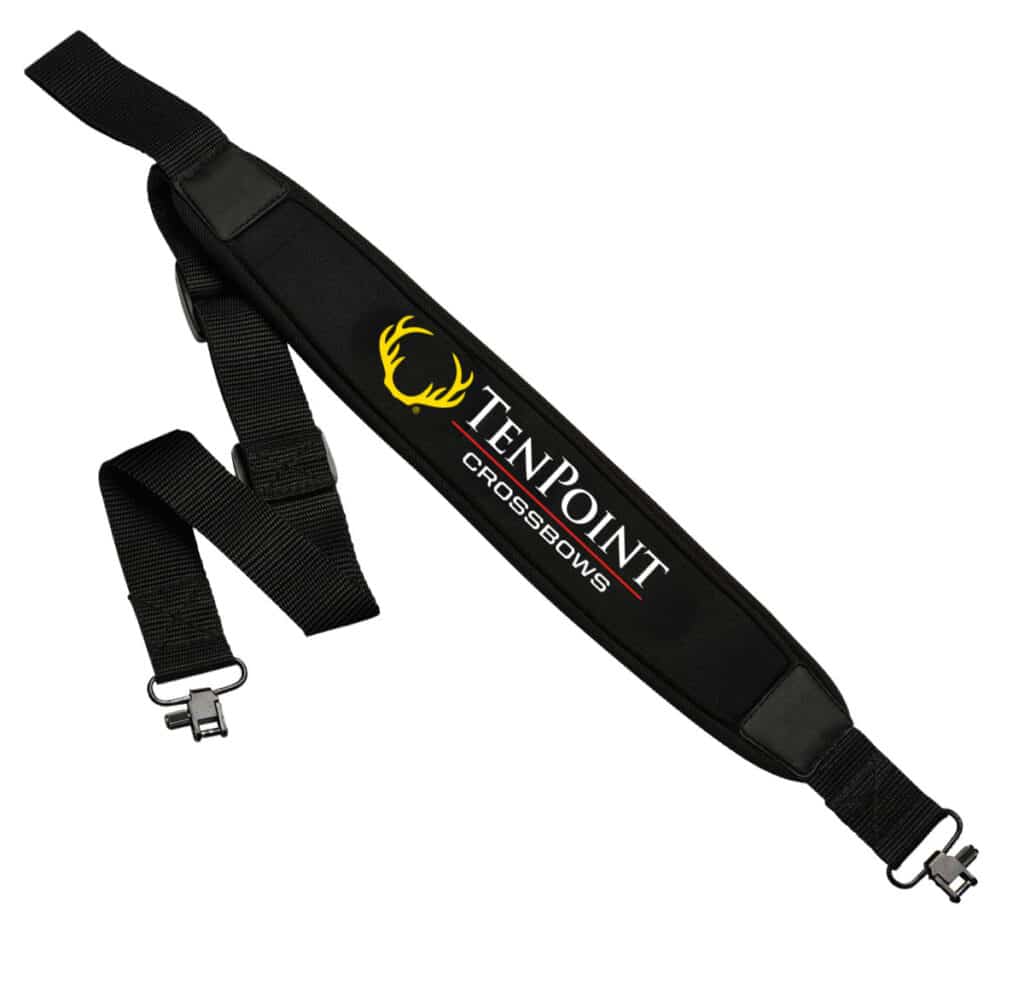 The Ten Point Neoprene Crossbow Cling HCA-004 makes a mark in the favorites because of its strength and ease-of-use features. This crossbow sling can fit any weapon that has sling attachments, and the 1.25-inch shoulder pad helps the bow to stay put without falling off.
The non-slip design with adjustable straps and custom swivels make it very comfortable to carry the crossbow around. The strap has an elastic band that's integrated to unload the crossbow. It also comes with a thumb loop that provides additional shoulder security.
This sling offers durability, strength, and comfort, making it a good option for crossbow hunters. Also, it has pockets to hold crossbow bolts, which are held by an elastic band that helps in easy loading and unloading.
Pros
Can fit any crossbow with sling attachment
Adjustable straps
Very easy to set up
Made of high-quality material
Shoulder pads keep the crossbow from slipping
Cons
2. LimbSaver Kodiak Air Crossbow Sling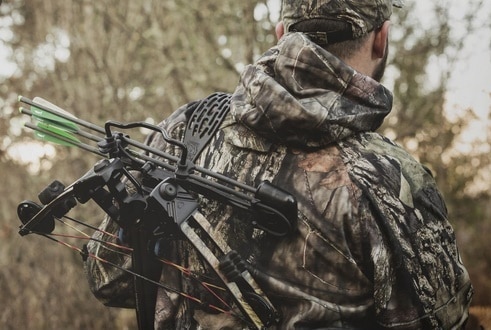 If you are searching for a sling that will keep your crossbow comfortable on your shoulders without causing discomfort or snapping off, the LimbSaver Kodiak Crossbow Sling Realtree Xtra is an ideal option for you. This strap has air-web patterns that will keep you comfortable despite the crossbow's heavy weight as it evenly distributes the weight.
The design has flexible molds that adjust and mold to your body, keeping the crossbow tight to your back. Additional features that make this crossbow sling stand out is the ergonomic and adjustable handgrip that gives optimum control. It also comes with a universal detach system with a strong stainless steel rod.
Pros
Comfortable on the shoulders
Easy to put on and take off
Adjustable hand grip
Evenly distributes weight to your body
Cons
It may not fit on every crossbow
3. Wicked Ridge Neoprene Crossbow Sling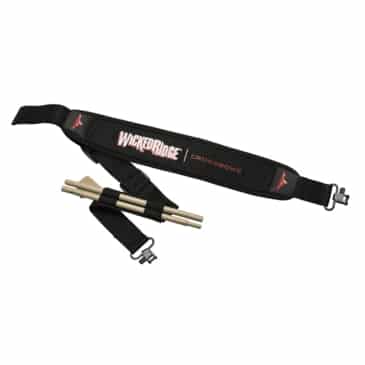 Another great option to look in an ideal crossbow sling is the Wicked Ridge Neoprene Crossbow Sling, designed to hold crossbow unloading bolts. This is one of the top choices because of its blend of functionality, durability, and ergonomic features.
The non-slip neoprene strap stays put on your shoulder for long hours without making you feel uncomfortable. The material is made of strong fabric, ensuring durability, and yet it is lightweight and breathable, making this sling a pretty good option.
The next time you go out hunting, when you have this sling, you can be assured that your crossbow will not snap or slip off from your shoulder while you have an uninterrupted time in the woods.
Pros
Non-slip shoulder straps
Highly durable material
Lightweight
Made of strong fabric
Good grip
Easy to install
Cons
A bit on the expensive side
4. Crossbow Sling Xbow Sling Quick Release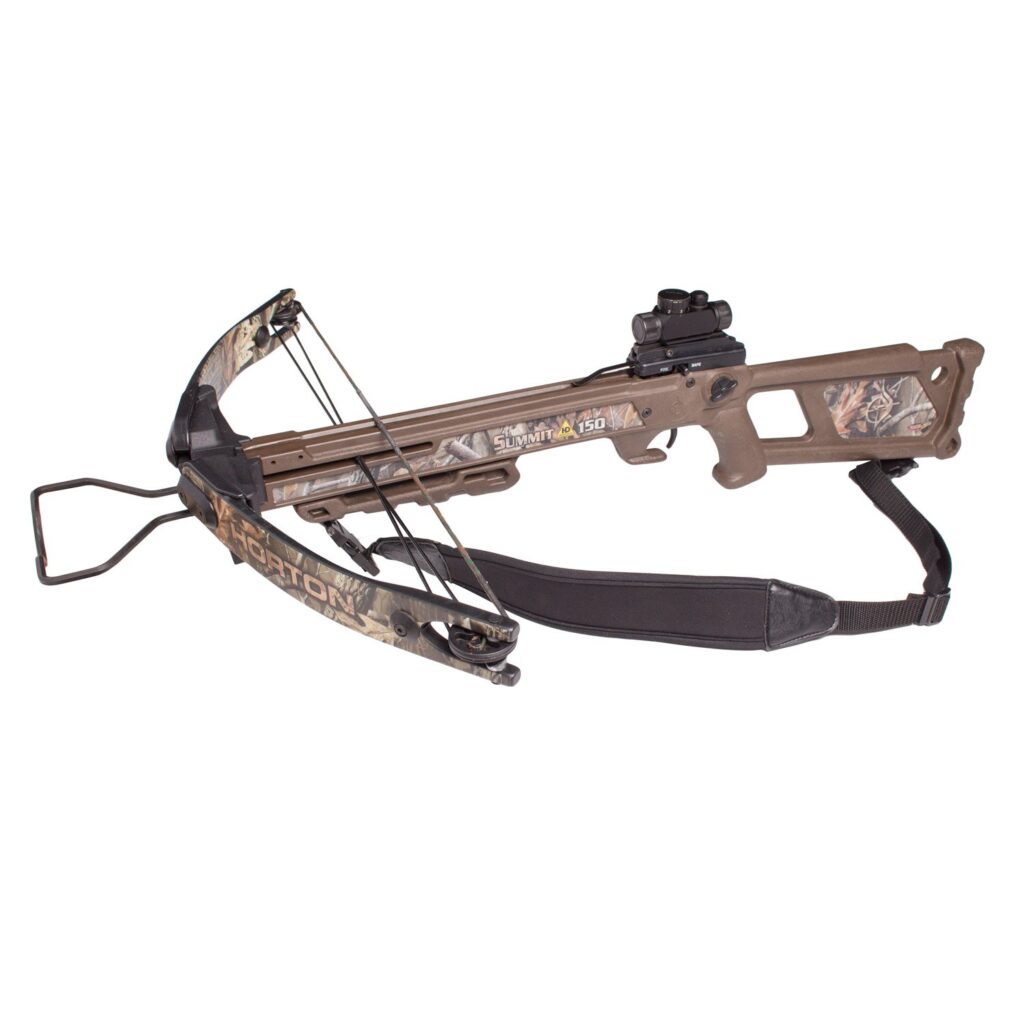 Another great addition to your hunting accessory is the Crossbow Sling Xbow Sling Quick Release that features the EZ detach buckle. This unique feature helps in easy release and attaching in just a matter of seconds.
The material is that of Delrin military-grade, ensuring strength and durability, keeping the crossbow secure on your back while keeping your hands free. The advanced buckle system has a tape loop with padded surfaces. The webbing is heavy-duty covered in mildew-resistant fabric.
 The 8mm-thick shoulder pad is made of neoprene material, which offers double gripping. To ensure comfort while taking the heavy load of the crossbow, the shoulder pads are 2 inches wide, and it can be adjusted up to 58 inches in length. Some additional features that make this sling the right choice is that it is easy to reverse when you feel the need to carry upfront.
Pros
Quick-release and reattachment of the buckle
Shoulder pad offers double gripping
The sling can be easily reversed to carry in front
Mildew-resistant material
Highly durable and strong
Comfortable enough to carry heavy crossbows
Cons
After the sling is removed, the buckle may remain on the bow
5. Slogan Outdoors Slings Ultraflex Firearm & Crossbow Sling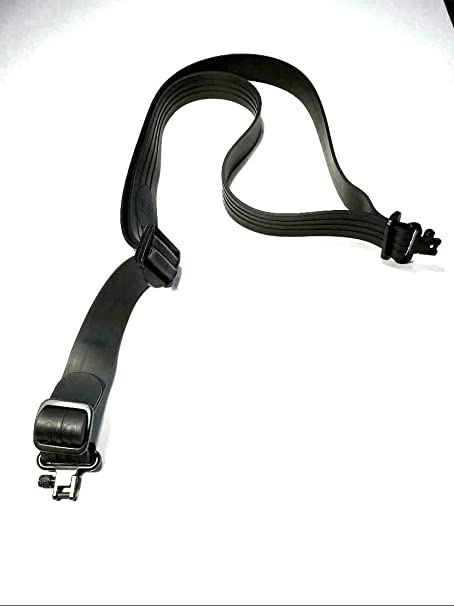 Whether you hunt with guns or crossbows, the Slogan Outdoors Slings Ultraflex Firearms & Crossbow Sling will steadily hold your weapon. This sling is best for carrying weapons that are 9lbs or less. The sling construction is a high-tech synthetic rubber, giving it a long life expectancy of 35 years and more without any dry-rot.
The material of the strap has high elasticity that keeps the weapon secure on your back while gripping comfortably on your shoulder. The elasticity of the strap prevents slipping, and the unique dual strap allows you to stretch it over your head and place it with ease over the opposite shoulder. This is a good way to secure the weapon like a backpack that fits snuggly on your back.
This rubber sling comes with full steel-locking QD swivels that ensure complete security. You get to choose among three swivel options for more versatility of adjustment. 
Pros
Water-resistant
Non-slip straps
Very flexible
Multiple options for carrying and shooting
High durability
Stays comfortably on the shoulder
Cons
6. Slogan Outdoors Slings Long Magnum Crossbow Sling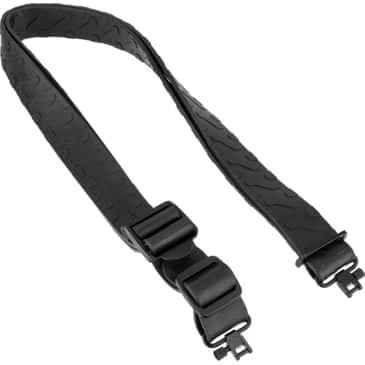 Another right choice for your hunting experience from Slogan is the Slogan Outdoors Slings Long Magnum Crossbow Sling, which has super steel swivels for easy adjustments. It comes with a double strap system to switch to backpack mode to make carrying your weapon easier. The rubber strap offers good grip and non-slip power.
This strap helps hunters to transition from carrying to shooting instantly without much hassle or adjustments. The strap material offers great durability, and it has high weather resistance and wears. The elasticity of the strap makes it great for carrying without the feeling of slipping off your shoulder.
The length of the sling offers the versatility of position without making a lot of adjustments. This sling has high compatibility with a variety of guns and crossbows.
Pros
Weather-resistant
Good elasticity
Highly durable
Non-slip grip
Compatible with a variety of weapons
Cons
7. Blend-In Ultimate Grip Anti-Slip Quick Detach Crossbow Sling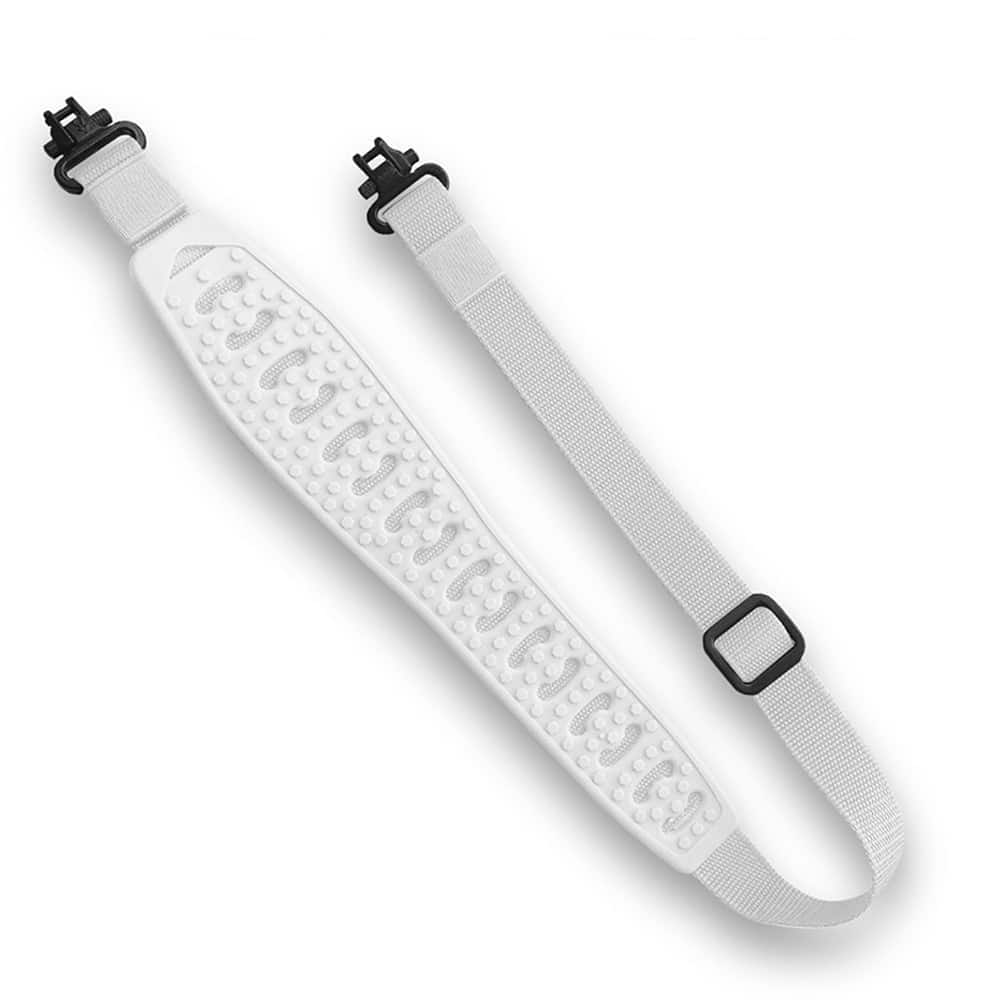 Our top pick mentions the Blend-In Ultimate Grip Anti-Slip Crossbow Sling for its features that includes its non-slip design and weather-proof material. What makes this sling stands out is its ability to withstand extreme temperatures, both hot and cold. Its temperature range is roughly between -112F to 230F, making this sling an ideal strap for any season and any weapon.
This sling is ideal for hunters in the wilderness for a simple and convenient way to carry their weapons that will not slip off easily. The Ultimate Grip design ensures the weapon to stay intake to your body without riding off your shoulders or pointing at others from behind.
The material of the sling is resistant to abrasion, chemicals, and extreme weather conditions. The metal parts of the strap are rust-resistant. The unique no-free-end length adjustment feature prevents any accidents where the sling gets caught in the trigger guard discharges the firearms.
Pros
Anti-slip design
Weather-proof
Metal parts are rust-resistant
Can withstand extreme temperature
Designed to prevent accidental firearm discharge
Cons
Not built for a petite body frame
8. Kosse 2 Point Crossbow Sling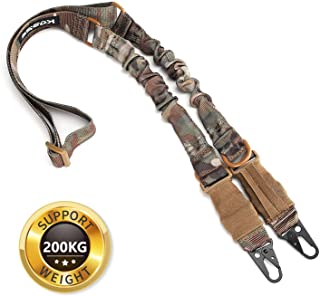 Get your hands on the ever-durable sling that will last for a very long time. The Kosse 2 Point Rifle Gun Sling offers a long-term use with its premium nylon webbing. The adjustable length and detachable straps are convenient to fit your body size.
Made of very tough material, this strap is quite stretchy but strong enough to hold up to 200 kilos of weight. The top-grade material of the strap is made of high-density nylon webbing that is resistant to scratches, chaffing, and spills. The large steel hooks on each side are covered with elastic sleeves that prevent them from making excessive noise. These sleeve coverings further avoid scratching on the surface and accidental release of the firearm.
The shoulder strap is thick, giving an even distribution of weight without any extra padding. The adjustable straps can easily fit a large person, with the elastic cord's length extending from 13.3 to 14.6 inches long.
Pros
Good value for money
Sleeves on both steel hooks to reduce excessive noise
It can be extended to fit a large person
Top-grade material
Flexible and strong
Highly durable
It can be used as two points or one point
Cons
It doesn't come with clear instructions for installing
Common FAQs
Can I use the crossbow slings on my guns?
Most crossbow slings are compatible with any other weapons that have the attachments for slings. As long as the hooks on your crossbow slings fit your other weapons, it will hold your guns as secure as your crossbow.
Will any sling fit my body size?
When buying a crossbow sling or rifle sling, check the measurements of the straps. The adjustable straps will show how big a person it will fit and if you are on the smaller side, you can even snip off the length for a better fit
Will the anti-slip work in extremely cold weather?
When it comes to the anti-slip feature of crossbow slings, cold weather can often lead to grip loss. Fortunately, some slings can withstand extreme temperatures without losing the grip.
If I wear a backpack, will the sling stay put?
The crossbow slings mentioned are all designed with anti-slip materials. This allows the straps to stay put to whatever surface is underneath them.
Our Final Verdict
Carrying your crossbow as you go hunting will be much easier with the right sling in sync with your body and well adjusted to the weather conditions. Now that you have brief but comprehensive information about what you need and what is available, making a decision won't be as difficult as it felt before.
There are no hard and fast rules about buying a crossbow sling; all you need is the necessary know-how of what is ideal for your adventure and the right budget. As long as you think the purchase is worth every penny, go for it.