Best Overall
RoyalBaby Kids Bike Boys Girls Freestyle BMX Bicycle with Training Wheels Kickstand Gifts for Children Bikes 16 Inch White
Highest Rated
16" Hot Wheels Bike with Training Wheels and Rev' Grip
Best Price
JOYSTAR 16" Pluto Kids Bike with Training Wheels for Ages 4 5 6 Year Old Boys & Girls, Black
Best for Girls
COEWSKE Kid's Bike Steel Frame Children Bicycle Little Princess Style 14-16 Inch with Training Wheel(16" Pink)
Best Overall
RoyalBaby Kids Bike Boys Girls Freestyle BMX Bicycle with Training Wheels Kickstand Gifts for Children Bikes 16 Inch White
Highest Rated
16" Hot Wheels Bike with Training Wheels and Rev' Grip
Best Price
JOYSTAR 16" Pluto Kids Bike with Training Wheels for Ages 4 5 6 Year Old Boys & Girls, Black
Best for Girls
COEWSKE Kid's Bike Steel Frame Children Bicycle Little Princess Style 14-16 Inch with Training Wheel(16" Pink)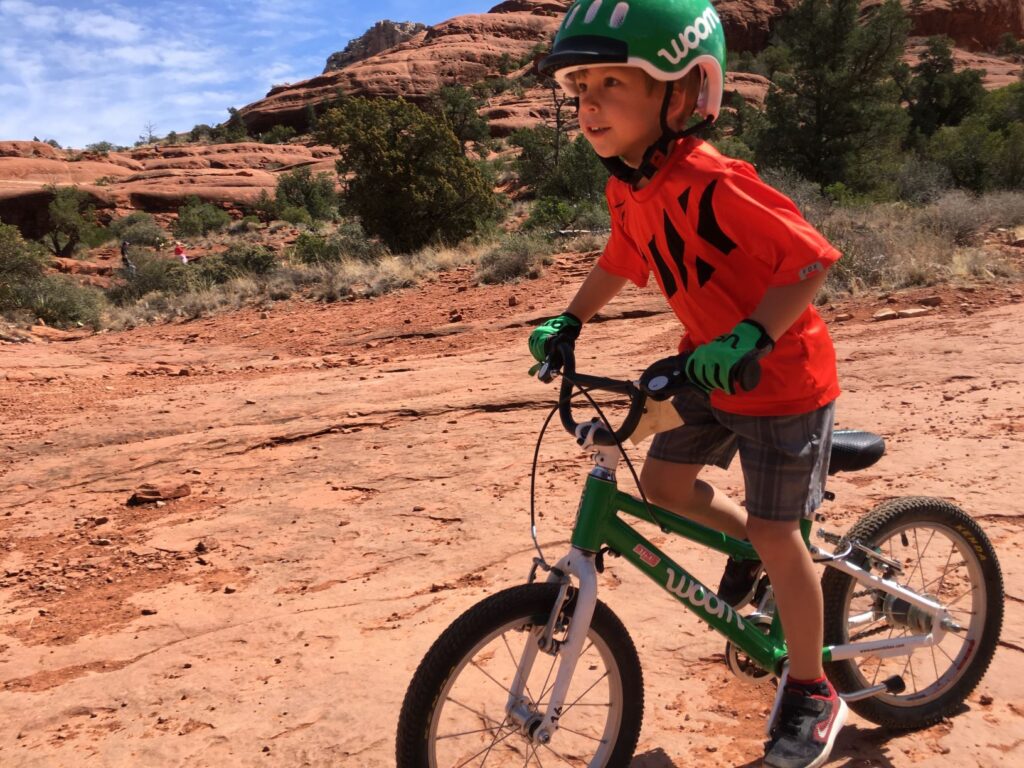 Is your child asking for a cool bike on his/her 5th birthday? Or, maybe you've always enjoyed riding a bicycle, and now you want your kids to have the same fun as they grow up. Riding a bicycle can be your child's next favorite activity, provided that you purchase the right bike. Now the question arises – what size bike for a 5 year old? Or, what is the best bike for your kids? If you have these kinds of questions, you've landed on the right page.
Check out our article to see which are the best bikes for a 5-year-old kid in our opinion here: https://www.bestof.info/best-bikes-for-young-boys/#Best_bikes_for_5-year-old_boys
Since kids grow up really fast, it can be quite challenging to pick the right bike from the many options available. You'll have to make sure that you pick the correct size, while also considering their safety and comfort. So, if you're wondering how to choose the right bike for your kids, don't worry! We've got your back. This article will take you through everything you need to consider before getting a bicycle for your little one.
What bike sizes are suitable for different ages
Here's a quick overview of what bike sizes are suitable for different ages:
| | | | |
| --- | --- | --- | --- |
| Age | Child's Inseam | Height | Wheel Diameter (Bike Size) |
| 2 – 3 | 14 – 17" 35 – 42 cm | 2'10" – 3'4" | 12" |
| 3 – 4 | 16 – 20" 40 – 50 cm | 3'1" – 3'7" | 14" |
| 4 – 5 | 18 – 22" 45 – 55 cm | 3'7" – 4'0" | 16" |
| 5 – 6 | 20 – 24" 50 – 60 cm | 3'9" – 4'3" | 18" |
| 5 – 8 | 22 – 25" 55 – 63 cm | 4'0" – 4'5" | 20" |
| 7 – 11 | 24 – 28" 60 – 72 cm | 4'5" – 4'9" | 24" |
As you can see in the size chart above, the main things to consider when buying the right bike size for your kids are – age, height, inseam, and the bike's wheel diameter. We'll discuss more on this below.
Top things to consider while buying a bike for a 5 year old kid
Size of the bike (wheel):
You can check the size of the bike by checking the size of the wheels (wheel diameter). Different manufacturers offer different bike size charts. Thus, it is always a smart move to check the manufacturer's size guide before purchasing a bike for your kids.
As you can see in the bike size chart above, for a 5-year-old, 18″ – 20″ wheels are suitable. However, remember that this is just a general estimation and not a one size fits all approach. If your kid is shorter or taller than the average age group, they may need a different sized bike as compared to other kids. This is why it is important to measure your kids' height and inseam before purchasing the right bike size. And this is what leads us to the next point.
Measure the height and inseam of your kids:
The best way to get the "perfect" size for your kids is by measuring the height and inseam of your kids and not just keep it at guessing. Even if you're gifting the bike for someone else's kids, it is best to know the measurements of the kids (you can simply ask the parents). This way, you can avoid any mistakes and get the right bike for the appropriate age.
As said earlier, two same-aged kids may not have the same height. Just because your kid is 5 years old doesn't mean he/she will measure 3'9″ – 4'3″ in height. Some kids may be shorter, while others may be taller than average. Thus, height is a major factor to consider while picking the right bike size. Generally, about 14 – 18-inch wheels are suitable for kids between 3 – 5 years of age.
The next important determiner is the child's inseam. This is the inside leg length. Here's how you can measure your kid's inseam:
Make your child stand straight against a wall and spread their legs about 3″ apart.
Use a measuring tape. Measure from the ground (between his legs) right up to his crotch. Record this measurement.
Or, you can even measure the inseam of a pair of pants that fit your child well.
You'll need the inseam measurements while checking the bike's stand-over heights and seatpost heights. You can learn more about this in the next point.
Check the bike's Specifications:
Different bikes offer different specifications like stand-over and seatpost heights. All 16″ bikes will not have the same stand-over heights. Thus, along with the size of the wheels, you must check other specifications. You need to make sure that the stand-over height of the bike is in proportion with your child's inseam.
So, what exactly is the stand-over height? This is the length of the top tube of the bike's frame to the ground. Measuring this length is important, as this will determine your child's position while standing with one leg on each side of the bike. Make sure that your kid's inseam measurement is at least equal to the stand-over height.
The next specification you should check is the bike's seatpost height. The minimum height of the seatpost will depend upon what kind of bike you're buying – a balance bike or pedal bike.
If you are buying your kid a balance bike, make sure that the height of the seatpost is equal to your child's inseam and not higher. This way, your kid is able to place their feet comfortably on the ground and learn to balance or scoot.
When it comes to pedal bikes, check that the minimum seatpost height is equal or not higher than 1″ as compared to your kid's inseam length. This measurement is suitable for your child's first pedal bike. It gives your child enough space to comfortably pedal and gives them the stability to place their feet on the ground if they wish to scoot.
If your child is already used to pedaling, then the minimum seatpost height should be about 1″ – 3″ higher than their inseam. For any kind of bikes, make sure that the seatpost height is not higher than 3″ than your kid's inseam. This is not safe.
Important aspects to consider while buying a bike for a 5-year-old
Safety aspects:
In the US, the Consumer Product Safety Commission (CPSC) checks all kids' bikes and makes sure that all dangerous features and designs are eliminated. Make sure to check the manufacturer's label on whether the bike is child-friendly and verified by the CPSC or similar organizations.
You might want to check the bike seat's material, handlebars, and the quality and position of the bike chain. Most child-friendly bikes come with chain guards.
Bike Weight:
Another important aspect to consider while purchasing a kids' bike is the weight of the bike. Some kids' bikes are extremely heavy, which you should completely avoid. If the bike is too heavy for your child, they'll find it hard to maneuver and get tired easily.
Make sure that the bike doesn't weigh more than half of your child's weight. You can go for aluminum or titanium bike frames. However, if the wheels and other parts of the bike are lightweight, you can even go for steel frames.
Brakes:
Brakes are one of the most important things to consider since it relates to the safety of your kids. Kid's brakes come in two types – coaster brakes and handbrakes. Coaster brakes are on the back wheel, which can be engaged by pedaling backward. On the other hand, handbrakes are the usual brakes you find on the handlebars.
Most people are of the view that a child's hand may not be strong enough to hold on to hand brakes. So, they usually recommend coaster brakes until a child is able to handle the handbrakes effectively.
However, nowadays, most kids' bikes come with well-made child-friendly handbrakes. Both coaster brakes and handbrakes have their advantages and disadvantages. So, it's best to choose the one your child is most comfortable with.
Additional Accessories:
Accessories may not be necessary, but they add a nice overall touch to the bike. Plus, your kids will love some extra accessories such as baskets, lights, racks, etc. They can play with the bells or keep their favorite dolls in the baskets while riding.
While some accessories are not must-haves, there are few essential ones, such as bells and kickstands. Balance bikes do not include kickstands. However, if you are buying a pedal bike for your kid, make sure that it comes with kickstands and bells. If the bike doesn't include such accessories, you can always purchase them separately at a local bike store and get them fixed.
Conclusion
Once you know the right size of your kids, there is no trouble in finding the right bike size. All you require are a few measurements of your kids and compare them with the bike size. Always remember, all 5-year-olds may not fit the same bike. All kids have different height and physical structures irrespective of their ages. So, make sure to take accurate measurements of your kid before getting them the bike.
Once your kid is all set to ride on his new favorite bike, make sure to teach them the necessary bike safety measures and make them wear a helmet at all times.