Best Binoculars with Biggest Magnification
Vortex Optics Razor UHD Binoculars 18x56
Best Price
Sunagor Mega Zoom Binoculars 30-160x70 ,Black
Most Popular Binoculars
Fujinon Techno Stabi TS1440-14x40 Image Stabilization Binocular
Best Binoculars with Biggest Magnification
Vortex Optics Razor UHD Binoculars 18x56
Best Price
Sunagor Mega Zoom Binoculars 30-160x70 ,Black
Most Popular Binoculars
Fujinon Techno Stabi TS1440-14x40 Image Stabilization Binocular
In order to make the best use of binoculars, you need to first consider why or when you use them. However, long-distance viewing binoculars are by far the most versatile binoculars. You can use them for both terrestrial as well as astronomical viewing. You can choose the best binoculars for long-distance depending upon a number of things like magnification power, weight, FOV, etc., which we will discuss more in the latter part of this article.
A binocular can be defined in simple words, as an optical instrument to get a closer view of distant images and objects. Whether you love stargazing, hunting, hiking, or attending extreme sports events, a binocular is a must-have gear.
However, with so many products and features available in the market today, it often becomes quite difficult to pick the best binoculars. So, in order to take the weight off your shoulder, we have compiled a buying guide for you along with the top ten binoculars available in the market.
If you are interested in binoculars with camera and night vision check out our recommendations here: https://www.bestof.info/best-binoculars-with-camera-and-night-vision/
Our Favorites:
Binoculars for Long Distance Buyer's Guide
Let's look into some of the things you should keep in mind while buying binoculars for long-distance:
Comfort and Durability:
Comfort and durability are something that you should look for in any type of binoculars. You will definitely be carrying it around, so you will need to get one that has rubber armor. This provides a good non-slip grip for your binoculars.
Apart from a good grip, a rubber amour will also add a layer of protection for your lenses in case you drop them. You should also look for a binocular that has water resistance. Water that seeps into your binoculars can distort the lenses. A water-resistant binocular can be used in all types of weather conditions.
For a durable and long-lasting binocular, you should also consider the material that is used for constructing the binocular. For example, a binocular with an aluminum body will provide a corrosion-resistant feature while also being lightweight and durable. Polycarbonate and magnesium are other materials which provide a great build for binoculars.
Low light Performance:
The low light performance is something which really matters a lot if you are looking for long-distance binoculars. The optics should be able to allow light transmission at the highest level so that the objects appear bright enough. But if you are looking for a long-distance binocular for the purpose of stargazing, then the low light performance should not bother you too much.
Field of Vision:
The field of vision refers to the size of the visible area that you see through a binocular. Most long-distance binoculars have a smaller field of vision. This means that you can only look at a small area at once. However, some premium long-distance binoculars have an amazing optic performance, which allows you to have a wide field of vision. So it is up to you to decide what you want.
Weight and Tripod:
Long-distance binoculars usually tend to be on the heavier side of the spectrum. If it is too heavy, then it can get exhausting, especially if you need to use it for an extended period of time. Therefore it is important that you look for a binocular that is light and easy to use. Or one that comes with a tripod.
Objective Lens Diameter:
A binocular that has a higher objective lens diameter tends to provide crisp and bright image quality. Every model of binoculars comes with a set of numbers, like 25×50. The lens diameter is represented by the second number. So now you know what to look for if you want a binocular with better image quality.
Lens Coating:
Binoculars that have reflective lenses tend to bounce back some of the light that hits the glass. As a result, the image becomes a bit blurry. But with anti-reflective coating lenses on your binocular, you will be able to get higher levels of light for a clearer image.
Type of Glass:
The type of glass that comes with the binoculars is also very important. The higher the refractive index it has, the better the light transmission you will get resulting in a clearer and brighter image. If a binocular has BAK-4, BK7, or SK15, then you can be sure to get a high image quality.
The best binoculars for long-distance viewing that we found on the market are:
1. Barska Waterproof Cosmos Binoculars For Long Distance Viewing
Barska's 25×100 Cosmos Binocular is an excellent pick if you want clear long-distance viewing, even under low-light scenarios. The BAK-4 Porro Prisms and 25×100 Cosmos multi-coated optics provide image clarity even during nighttime extraterrestrial viewing. This binocular is designed for both distant terrestrial and celestial viewings.
The Barska Waterproof Cosmos Binocular has a high durability with a strong aluminum body. It is also fog proof and waterproof.
Features:
Magnifying Power – 25x
Objective Lens – 100mm
Coated Optics for Clearer Images
Wide Angle View
Textured Rubber Grip
Waterproof and Fogproof
Why should you buy it?
If you're someone who enjoys astronomical views and looks into far off distances, the Barska Waterproof Cosmos Binocular is a no brainer. Though it has a sturdy build, it is lightweight and portable. So you can easily carry it around without any hassle. Also, the fact that it is waterproof and fog proof, making it ideal for use under any weather conditions.
2. Canon 18×50 IS All-Weather Binoculars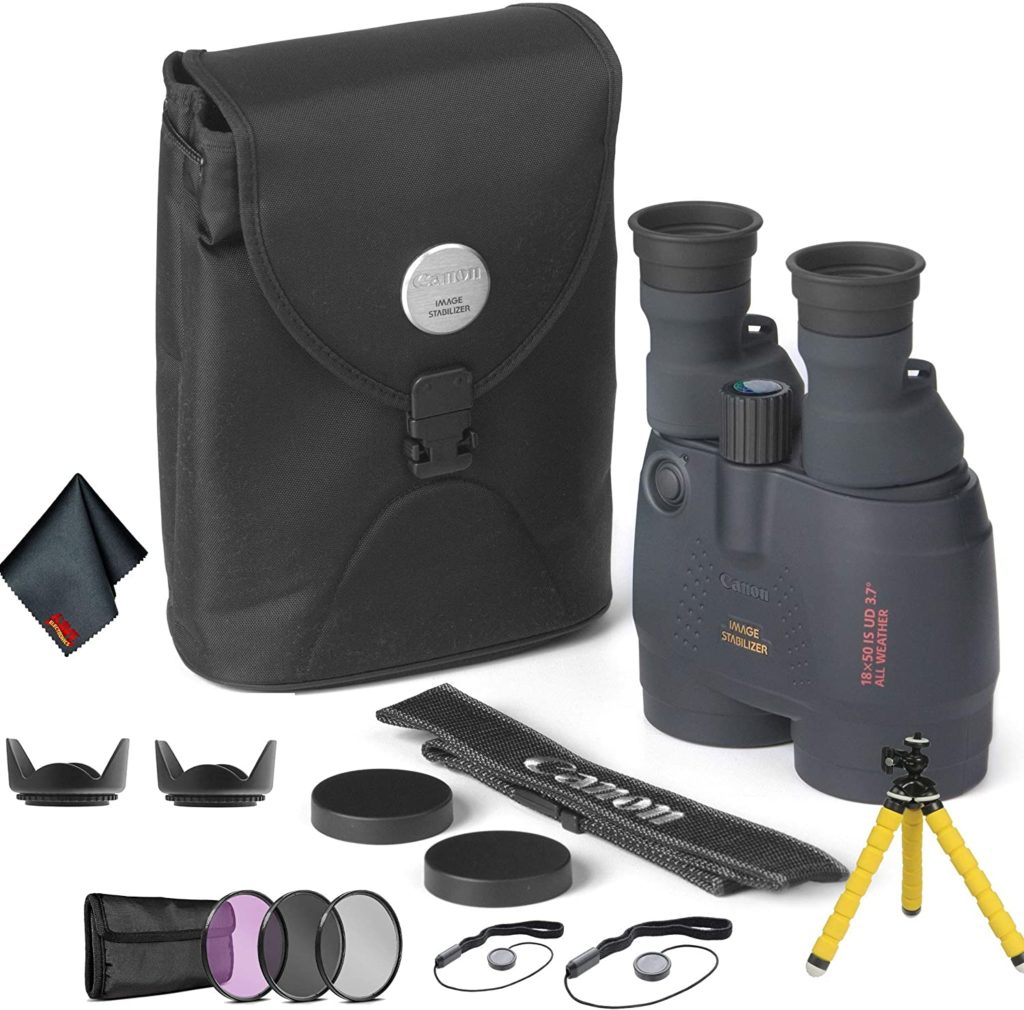 This 18×50 IS all-weather Binoculars from Canon is one of the best image-stabilized binoculars out there. It has been designed precisely to provide a clear and crisp view with high-magnification abilities. The interior has a four-layer build – Doublet Field Flattener, Image Stabilizer, Super Spectra Coating, and Lead-Free Glass.
What we love most about this spectacular product is its ease of use. You can easily adjust the interpupillary system by pushing two different levels. Also, you can conveniently use these binoculars without a tripod.
Features:
Lightweight
Ease of use
One of the most powerful magnification system
Coated lens for increased brightness
UV protected lenses
Excellent Battery Power
Why should you buy it?
Whether you want a magnified astronomical view or enjoy watching distant sports, the Canon 18×50 IS binoculars are your go-to. It is water-resistant and can be used on almost every type of tripod. Also, it is one of the most reasonable IS binoculars as compared to other similar products in the market.
3. Vortex Optics Razor UHD Long Distance Viewing Binoculars
For those of you familiar with the Vortex brand, the Vortex Razor UHD Binoculars is more like an upgraded version of the Vortex Razor HD 12x50s, with a superior magnifying focus. It has a 6.6' focus.
The Vortex razor UHD Binoculars includes apochromatic lenses and Abbe Koening roof prisms that provide great brightness, contrast, and sharpness. The interpupillary distance of this binocular is about 56-76mm. It has a massive field of view, 236' at 1000 yds.
Features:
12x magnification
Objective lenses – 50mm
Excellent under low-light conditions
Firm grip with rubber armor
Waterproof and Fogproof
Why should you buy it?
It is quite rare to find 12×50 binoculars with a close focus of 6.6'. However, this UHD binoculars from Vortex went the extra mile with its magnificent 6.6' focus. This makes it a great option for long-distance viewing. It is a great pick not only for hunting purposes but also for extreme activities like hawk-watching.
4. Swarovski Optik 15×56 SLC Binocular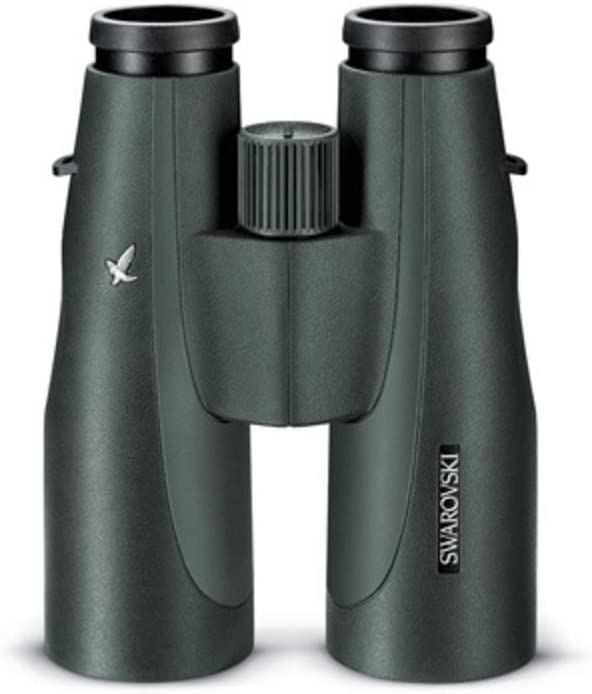 The Swarovski Optik 15×56 SLC Binocular is the latest addition to the SLC series from Swarovski. It has a large 56mm lens with HD features. The 15x magnification power of this binocular makes it an excellent pick even for stargazers and astronomers. It has a massive field view of up to 243ft FOV.
It doesn't end here yet, this excellent binocular comes with a wide 3.7mm exit pupil distance and has a unique 29 twilight factor.
Features:
Close focus – 12.8 ft.
Schmidt Pechan Prisms
93% Transmission of light
Lightweight
Why should you buy it?
This binocular from Swarovski is an all-time favorite of most hunters. The main reason behind this is its spectacular 29 twilight factor. It gives you a clear view even under low light conditions or when the sun goes down. Not only for terrestrial viewing, but this binocular is great for celestial viewing with a massive 15x magnification power.
5. ZEISS Victory Pocket 10×25 Binoculars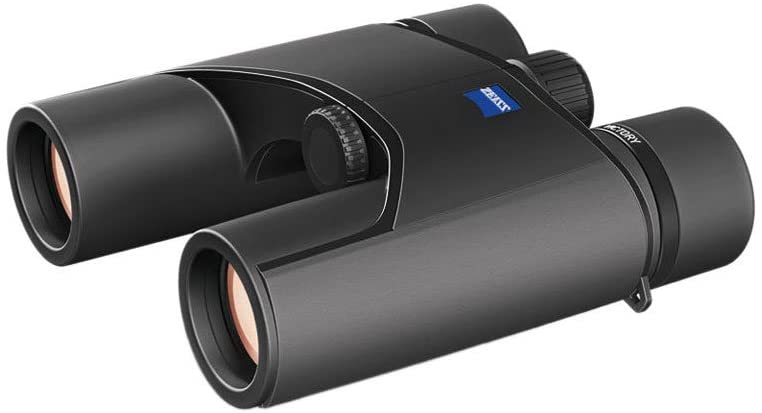 This binocular from ZEISS is one of the most compact and lightweight binoculars available in the market. It has been designed in such a way that even a newbie can use it smoothly without any hassle.
It includes premium fluoride lenses that have the signature Zeiss T* coating. This allows better transmission of light, giving you a clearer and crisp image. Another brilliant feature of this binocular is their classic LotuTec coating, making it waterproof and dirtproof.
In addition, this product has a foldable feature. Thus, you can easily carry this around wherever you go.
Features:
10x Magnification Power
Close focus of 6.2 ft
Weighs only 10.9 oz
Foldable and portable
Rubber armor
Why should you buy it?
The ZEISS Victory Pocket Binocular is a great pick for you if you are still a newbie. It has a minimalist design and can be operated without any hassle. It is waterproof, dirtproof, and comes with rubber armor. All these features make this product suitable for use under any weather conditions.
6. Fujinon Techno Stabi 14×40 IS Binocular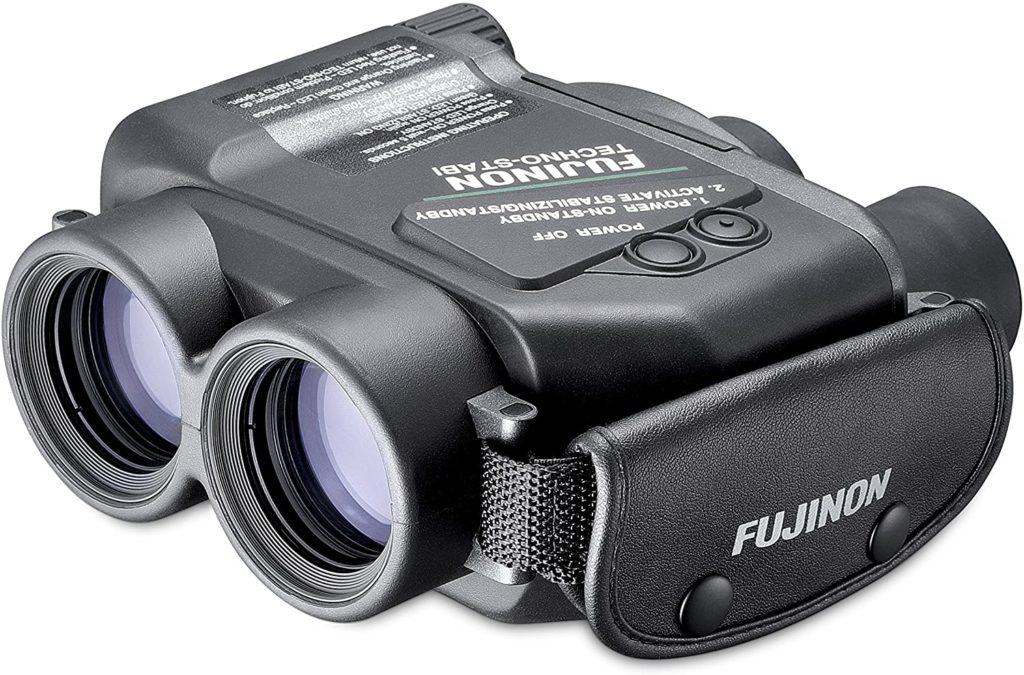 The Techno Stabi 14×40 IS Binocular from Fujinon comes with a great image stabilization feature. This feature is essential for viewing at a long distance when you are in motion. It has a ±5 degree vertical stabilization. With such a feature, you can easily create a stabilized FOV at high magnification.
This binocular includes phase-coated Porro-prism glass, which provides excellent image clarity. The optic lenses deliver exceptional performances with or without the image stabilization effect.
Features:
Waterproof and Fogproof
Magnification power – 14x
Rubber armor for better grip
5 degree IS feature
Why should you buy it?
This product is an excellent pick during activities like jungle-safaris or sailing. If you often use your binoculars for viewing while going on adventures or on road trips, you should definitely consider this item. It provides exceptional views of anything on the ground and air, and everything in between.
7. ZEISS Conquest Long Distance HD Binoculars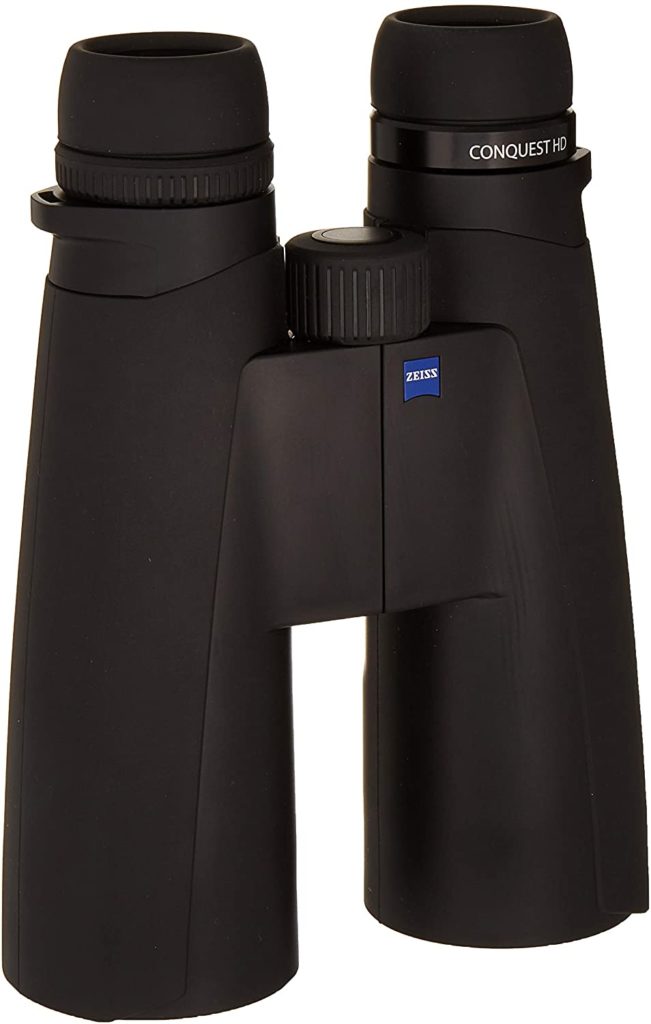 This binocular from ZEISS is one of the affordably priced products available in the market. It is an excellent binocular for long distances and activities like bird watching or other sports events. Though the size of this binocular stands only at 8x32mm (which is still great for the price you pay), one notable feature about this product is its FOV.
It has a massive field of view of 420 feet at 1000 yards. With such a massive FOV, you are sure to get an exceptional experience.
Features:
8x Magnification
32mm Objective lens
Massive 420ft at 1000 yards FOV
4.9 ft close focus
Why should you buy it?
The ZEISS Conquest HD Binoculars is for anyone who wants uncompromised quality at a reasonable price. With this binocular, you can get one of the closest yet wide views with its unique 420ft field of view.
8. Sunagor Mega Zoom Binoculars
Sunagor's Mega Zoom Binoculars is regarded as one of the most powerful binoculars out there. The optics of this binocular are multi-coated with high-quality BAK-4 prisms. It has strong rubber armor for a better grip. You can instantly zoom and focus on objects by its gliding zoom lever. It is easy to use without any hassle.
One remarkable feature of this binocular is the inbuilt diopter eyepiece, which can be adjusted to fit different individual's eyesight. It has a massive 30-160x magnification power. Even the starting point of their magnification power at 30x is quite impressive and huge as compared to other similar products, let alone the additional 160x magnification power.
Features:
Powerful magnification power 30-160x
Gliding Zoom-Lever
Inbuilt eyepiece adjustment system
BAK-4 prisms
Why should you buy it?
This Mega Zoom Binoculars from Sunagor has a "one-piece" construction. This avoids issues of alignment, which can be commonly found in most binoculars today. The massive magnification power can be used to observe distant objects such as stars, planets, and galaxies. Whether it is for entertainment, educational, or professional purpose, this binocular can be efficiently used in every field.
9. Snypex Knight ED Binoculars For Long Distance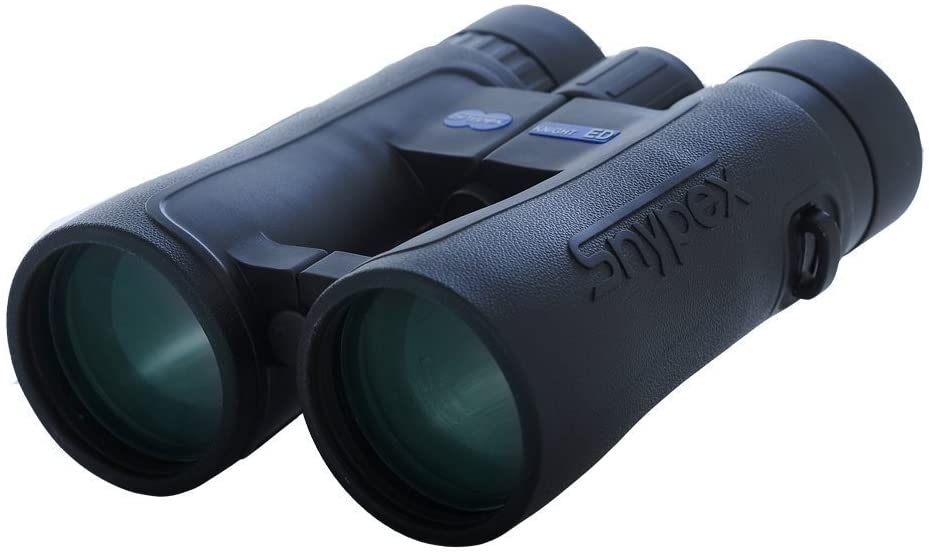 The Synpex 8×50 Knight ED binoculars include lenses that are slightly larger than most other binoculars. This feature allows you to get a brighter and clearer view, even under low light conditions. It has an ED (extra-low dispersion) glass, and the lenses are phase coated with BAK-4 roof prisms.
The diopter adjustment system on these binoculars comes with 'clicking-stops,' as you turn it. Also, the inter papillary distances on this item are 7.7 cm, which is quite large and convenient as compared to other similar binoculars in the market.
Features:
Extra-Low Dispersion lens for use under low-light conditions
Apochromatic Lens
Waterproof and Fogproof
BAK-4 Roof Prism
Multi-coated optics
Why should you buy it?
If you are not concerned with the weight of the binoculars, rather you are all about clear and bright views even under low-light settings; this binocular is a perfect pick for you. Because of its slightly bigger lenses, the weight seems quite heavier than other binoculars, but this is not a very big issue. If you often find yourself using a binocular after sunset or in places with dim light, you should definitely go for this product.
10. Celestron 20×80 Long-Distance Pro Binoculars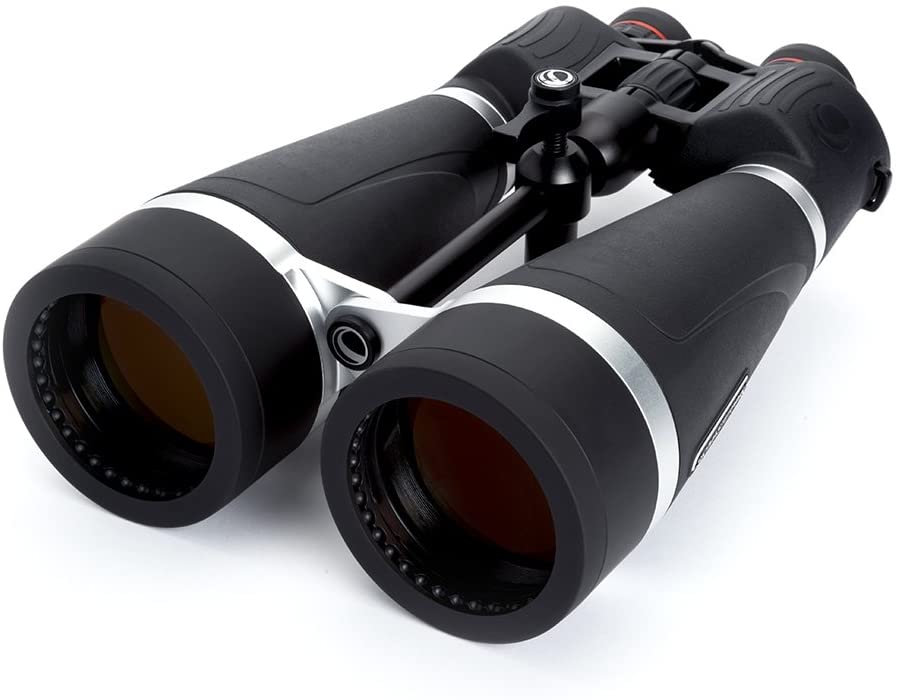 This binocular includes massive 80mm objective lenses for exceptional performances, even under dim and low light conditions. It has multi-coated optics along with the signature Celestron XLT coating system. All these features work together with its BAK-4 roof prisms to give you the best possible experience, any time of the day.
This binocular is more lightweight as compared to other models by SkyMaster. The item has a total of 168 FOV with a maximum of 15.5 mm eye relief. The entire body of the binocular is water-resistant and fog proof, thus making it ideal for use under any weather conditions.
Features:
Massive 80mm objective lenses
20x powerful magnification
Adjustable RSR Rail
Waterproof and Fogproof
Several additional parts included in the whole package
Why should you buy it?
Celestron 20×80 SkyMaster Pro Binoculars are the perfect option for celestial viewing. With its massive magnification power and objective lenses, it can easily focus and help you observe far off objects. Along with astronomical viewing, you can conveniently use these binoculars for viewing extensive terrestrial distances.
Conclusion:
All the above-reviewed binoculars are exceptionally excellent when it comes to performance and build. Each item works great during day time as well as under low light conditions. However, the slight differences lie in their physical features such as magnification power, size, or other additional technologies.
Since different people have different preferences, what works perfectly fine for one person may not work well for you. So depending upon your likes and purpose of use, you can pick the binocular that suits you best.
Frequently Asked Questions Regarding Long Distance Binoculars?
1. What should I look for when buying long distance binoculars?
If you are looking to buy a long-distance binocular, then there are some number of things that you should look for in order to get the best viewing experience.
First, you should look for a binocular with a high magnification along with a large objection lens. If the objection lens is too small, then you will only be to see a small area, and the image brightness level will also decrease.
If you are planning to get binoculars with a magnification of more than 16x, then a tripod is recommended so that the image is stabilized. A tripod will also eliminate the problem of holding heavy binoculars.
An anti-reflective lens is also very important to keep your image bright and crisp. Also, make sure the binocular is rugged and suitable for all kinds of weather conditions.
2. What magnification is best for bird watching?
If you are buying a binocular for bird watching, the first question you might have is what magnification to get. Most people that are new with binocular would naturally think that the more powerful it is, the better.
After all, the motive is to get as close to the bird as possible. However, that is not true. When the magnification is high, small vibrations will convert into high image shake. As a result, getting a clear view of the bird becomes difficult. Hence, a binocular between 7x or 10x is ideal for bird watching.
3. How can you tell the power of binoculars?
You can tell the power of a binocular through the number it comes with. If you look at a binocular, you will see that it has a set of numbers, for example, 25xz25 or 25×50. The first number indicates the level of magnification.
The larger the number, the closer the object will appear. The second number indicates the diameter of the objective lens. The larger lens will allow more light to enter as a result; it provides brighter and clearer images.
4. How much do binoculars cost?
The costs of binoculars can depend on a lot of factors. With better optics and build quality, the price also increases. Sometimes, if a binocular has high magnification, it can increase the price.
The typical cost of compact and small binoculars with 7×12 can range from $15 to $700. These types of binoculars are suitable for watching sports. Mid-size binoculars with 7×50, which can be used for hunting and bird watching, can cost about $70 up to $2000.
Full-sized binoculars with 25 x magnifications can cost about $100-$2500. These can be used for astronomy and stargazing.
5. Can you use binoculars for stargazing?
Yes, you can. In fact, binoculars can be a better choice than a telescope if you are new. A telescope can be very confusing and difficult to operate for first time users.
If you want to stargaze, than you can get any ordinary binoculars to give you the experience you are looking for. A normal 7×25 binoculars can do the job. And after you get the hang of it, you can start upgrading your binoculars to 7×50.