Best Overall Overnight Diapers Size 5
Huggies OverNites Diapers, Size 5, Big Pack, 52 Count
Eco-Friendly Size 5 Overnight Diapers
Seventh Generation Baby Free & Clear Overnight Diapers, Stage 5, 27-35lbs, 80 Count
Most Popular Overnight Diapers
Honest Overnight Baby Diapers, Club Box, Sleepy Sheep, Size 5 (44 Count)
Best Overall Overnight Diapers Size 5
Huggies OverNites Diapers, Size 5, Big Pack, 52 Count
Eco-Friendly Size 5 Overnight Diapers
Seventh Generation Baby Free & Clear Overnight Diapers, Stage 5, 27-35lbs, 80 Count
Most Popular Overnight Diapers
Honest Overnight Baby Diapers, Club Box, Sleepy Sheep, Size 5 (44 Count)
Babies are the cutest gift to humanity. However, only parents know the struggle of waking up in the middle of the night to their cute but high-pitched cries. So here is the question. Are you a parent searching for the best overnight diapers size 5 for your baby? If yes, then you have come to the right page.
Let's talk about one of the parents' most prized possessions: overnight diapers.
You will find various types of diapers in the market, but most overnight diapers are disposable. A size 5 diaper is for babies aged 3 and up with a weight of 27 to 35 pounds. Overnight diapers promise a peaceful night for your babies, providing 10 to 12 hours of protection from wetness and leakage.
An overnight diaper also differs from a daytime diaper with regards to size and its absorbing capacity. For most things, size matters a lot, and it is the same with an overnight diaper. Therefore, these diapers generally come in sizes bigger than the regular ones.
If your baby has sensitive skin, we recommend using diapers for sensitive skin, as you can find here: https://www.bestof.info/best-diapers-for-sensitive-skin/.
Why do you Need Overnight Diapers?
Most babies from 6 months of age start using overnight diapers. With the addition of solid food to their liquid intakes such as breast milk, their consumption increases in volumes.
Although overnight diapers may be bulkier, there is not much difference to a daytime diaper in terms of fit and feel. These diapers, designed with additional layers and ultra-thin cores, ensure comfort and dryness.
In addition, diapers are for liquid absorption, but the question here is, does it hold? Many diapers often explode when it is unable to lock in the excess liquids. Here is where overnight diapers come into play as it ensures leakage protection for up to 12 hours.
Buyer's Guide – Things to Consider while Choosing Overnight Diaper
Choosing the best overnight diaper for your baby is necessary. Let's look at some of the other features you need to consider while purchasing the perfect overnight diapers for your child.
Absorbency Power: Diapers of all kinds are absorbent. That's the whole idea behind creating this masterpiece. With that said, you need to consider the extra layers overnight diaper offers. It protects for up to 12 hours and keeps your toddler dry and happy.
Allergy Reactions: Some babies have sensitive skin so that they might react badly to the chemical substances present in some diapers resulting in rashes. Therefore, always check the diaper materials and the substances it contains before buying one.
Fitting: The diapers should not be too tight. Make sure it has enough legroom and ensure its breathability for a comfortable ad peaceful sleep.
Materials: If the materials of the diapers concern you, you can opt for the natural, chemical-free overnight diapers.
Cost: Overnight diapers are expensive, and most parents might think twice about purchasing it. However, they are worth the buy as it does its job of preventing leaks and sound sleep for your baby.
Sustainability: Environment-friendly diapers are the best choice for your babies as they are free of dyes, fragrance, or chlorine. The absence of all these chemicals has considerably less impact on the environment as well.
How to use Overnight Diapers
There are tips you need to follow to make sure the overnight diaper does its magic.
First and foremost, you need to change the diapers right before your babies' bedtime.
When changing the diapers, make sure it is straight and securely fitted. If it is crooked, there is a high chance of leakage.
Best Size 5 Overnight Diapers
Listed below are some of the best overnight diapers size 5 for your toddler:
1. Huggies OverNites Diapers Size 5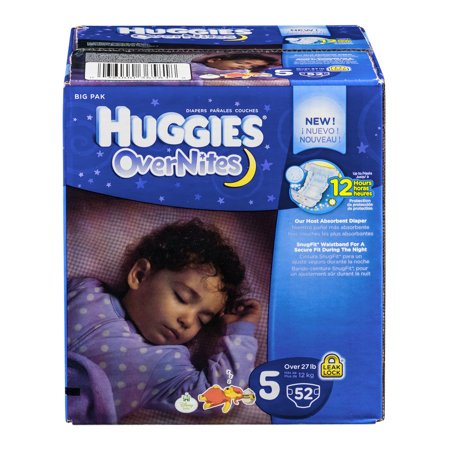 Tired of waking up in the middle of the night to change your baby's diapers? Well, worry no more as Huggies Overnites Diapers gives protection overnight. It protects against leaks for up to 12 hours, ensuring your baby's comfort for a long time.
Huggies Overnites diaper has a SnugFit waistband. It fits securely on your baby all night, no matter how many times they toss and turn. Its materials are free of toxins, safe for your baby's sensitive skin.
Pros:
With its design of leak lock, it controls leakage well.
The waistband is quite stretchy that it gives enough room for your baby to wiggle about.
2. Seventh Generation Size 5 Overnight Diapers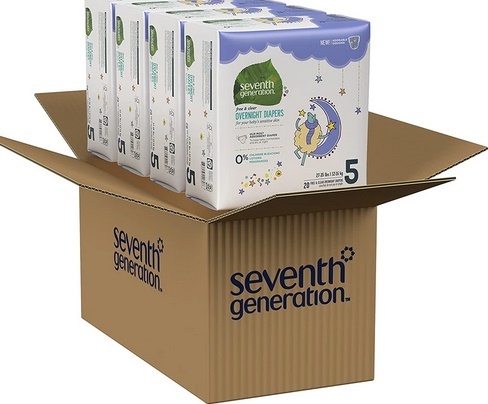 Seventh Generation Overnight Diapers are eco-friendly diapers made of wood pulp fluff. It is not bleached and free of chlorine and fragrance, so it prevents the release of harmful toxins into the environment.
These diapers are for the comfort of your baby. It consists of soft materials with back gathers that are stretchable and protect up to 10 hours. It also has enough leg room perfect for your baby to move about comfortably.
Seventh Generation Overnight Diapers are easy to tell from regular diapers as they come in rich color patterns.
Pros:
Seventh Generation Overnight diapers are unscented and free of chemical.
These diapers are biodegradable.
They are suitable for babies with sensitive skin.
Cons:
These diapers are not so budget-friendly.
3. Honest Overnight Size 5 Baby Diapers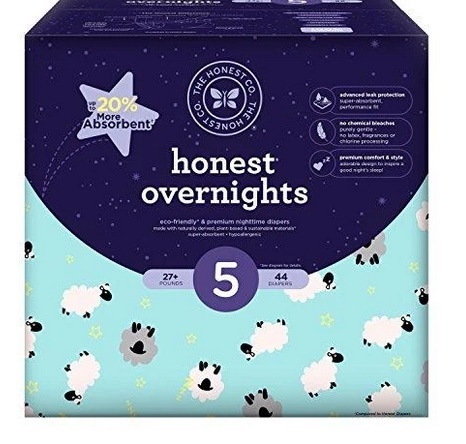 Many parents opt for honest overnight diapers because they are hypoallergenic and soft. To make the diapers, the manufacturers use ingredients free of chlorine processing, latex, lotion, or fragrances.
Not only does the Honest Overnight diaper absorb fast, but it also ensures a 12 hour overnight protection. With cute and adorable prints on the diapers, it protects from leakage, keeping your baby dry and comfortable.
Pros:
Naturally made of plants.
They are eco-friendly diapers.
These are perfect for babies with sensitivity.
4. Pampers Swaddlers Overnights Diapers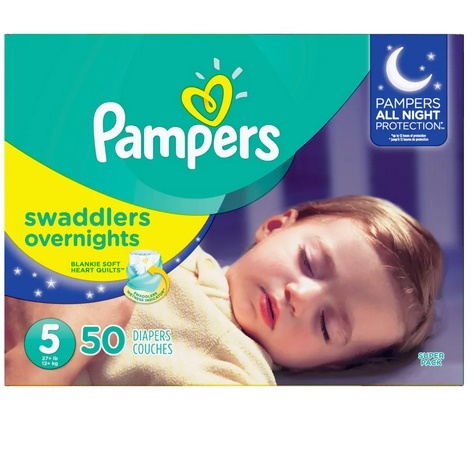 Are you looking for a good night's rest while your baby sleeps soundly and comfortably? Why not try Pampers Swaddlers Overnights Diaper? This diaper is of super soft material, which is perfect for your baby's delicate skin. The Heart Quilts liner keeps away the wetness leaving the skin dry, resulting in less nappy rashes.
Another significant aspect of this diaper is the wetness indicator. It indicates a color change, making you aware of the right time to change your baby's diaper. It is also good for sensitive skin as it is hypoallergenic.
Pros:
Budget-friendly and hypoallergenic.
Flexible elastic tabs to lock the diaper with adjustable fasteners to fit your baby perfectly.
A wetness indicator gives you an indication to change the diaper.
5. Huggies Overnites Nighttime Diapers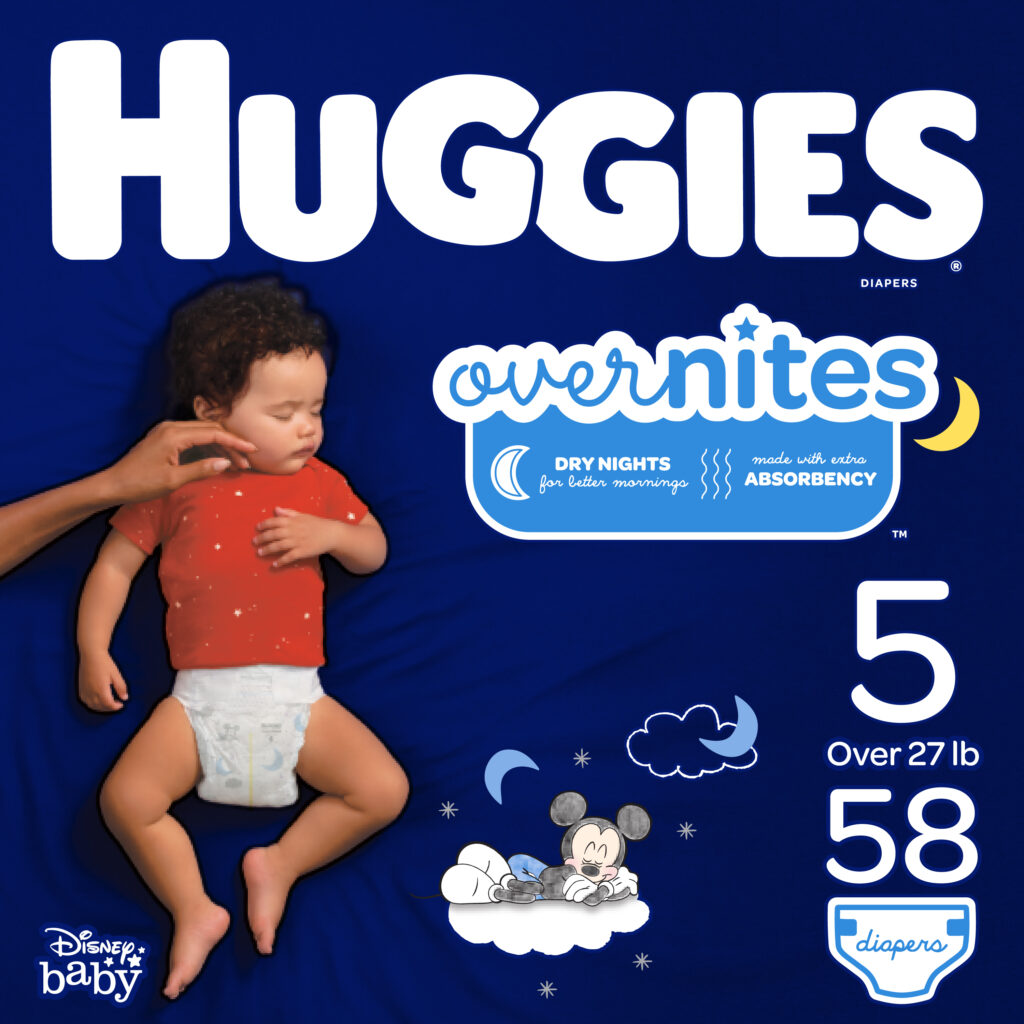 Huggies overnights nighttime diapers are for dry nights and better mornings. They are considered the most absorbent diaper. Its DryTouch Liner keeps the moisture locked, and the Double Leak Guards gives protection for up to 12 hours.
What is so amazing is that it comes with a wetness indicator. Its color changes when your baby needs a diaper change.
The plus point is it has a breathable outer cover, which helps in keeping your baby dry and cozy.
Pros:
Overnites SnugFit features and its double-grip strips give a secure fit.
Even with the diapers wet, the leak guards will lock away the wetness. You will not have to worry about diaper rashes.
It has 25% more absorbing capacity than the standard Huggies.
Other sizes of overnight diapers:
Frequently Asked Questions Regarding Overnight Diapers
1. How long does an overnight diaper last?
A: Overnight diapers usually last up to 10 to 12 hours, keeping your infant dry. It prevents leaking and has more absorbent capacity than a daytime diaper.
One overnight diaper is enough to last the entire night, and you do not need to change it. Using these diapers will ensure a sound sleep for both you and your baby. Simply make sure to change the diapers right before your baby goes to bed.
2. When is the right age to start using overnight diapers?
A: While it mostly depends on your babies, you can start using overnight diapers from 6 months of age. Around this time is most babies begin to consume solid food along with the regular intake of liquids and breast milk.
With the intake of more food, the babies will release more, and the diapers will soak much quicker.
3. Is it safe to leave regular diapers overnight?
A: Some regular diapers have chemical substances present, which might cause rashes or allergies on your babies. Therefore, you need to change it timely to avoid any harm.
It is advisable that you use an overnight diaper. It prevents leakage and has extra absorbency to keep your baby dry and comfortable throughout the night.
4. How do you choose the right size overnight diaper for your baby?
A: The right size diapers depend on how well it fits your babies. If it fits well, your babies can play and crawl freely without you having to worry about leakage.
In addition, always get a size up overnight diaper than a regular one when purchasing. It will give extra room to absorb more liquids. Having said that, you still need to ensure that the diaper fits perfectly well around your baby's waist.
Conclusion
Using overnight diapers are the best way to stop leakage overnight. You do not have to wake up at night to change your baby's diapers anymore!
With that said, we have reviewed some of the best overnight diapers size 5 for you and your baby. Now you can easily make an unbiased decision. Make sure to consider all the things mentioned above while purchasing the perfect overnight diapers.