Best Overall Bikes for 7 Year Olds
Segway Ninebot Kid's Bike for Boys and Girls, 18 inch with Kickstand, Blue
Best for 7 Year Old Boys
Mongoose Legion L18 Freestyle Sidewalk BMX Bike for Kids, Children and Beginner-Level to Advanced Riders, 18-inch Wheels, Hi-Ten Steel Frame, Micro Drive 25x9T BMX Gearing, Silver
Best Bikes for 7 Year Old Girls
COEWSKE Kid's Bike Steel Frame Children Bicycle Little Princess Style 14-16 Inch with Training Wheel (Pink, 18 Inch)
Highest Rated Bike for 7 Year Old Boys and Girls
JOYSTAR 18" Pluto Kids Bike with Training Wheels for Ages 6 7 8 9 Year Old Boys & Girls, Red
Best Overall Bikes for 7 Year Olds
Segway Ninebot Kid's Bike for Boys and Girls, 18 inch with Kickstand, Blue
Best for 7 Year Old Boys
Mongoose Legion L18 Freestyle Sidewalk BMX Bike for Kids, Children and Beginner-Level to Advanced Riders, 18-inch Wheels, Hi-Ten Steel Frame, Micro Drive 25x9T BMX Gearing, Silver
Best Bikes for 7 Year Old Girls
COEWSKE Kid's Bike Steel Frame Children Bicycle Little Princess Style 14-16 Inch with Training Wheel (Pink, 18 Inch)
Highest Rated Bike for 7 Year Old Boys and Girls
JOYSTAR 18" Pluto Kids Bike with Training Wheels for Ages 6 7 8 9 Year Old Boys & Girls, Red
Every kid loves riding a bike. It is the basis for building their childhood memories. As a parent, there is no doubt you would want to get a bike for your beloved child. However, the question is, what size bike for 7 year old should you get? Parents face this dilemma all over the globe.
Riding a bike is fun and it brings out a feeling of being independent. The comfort and enjoyment your child feels while riding their bike is the finest suggestion while trying to pick the right choice bike. Bicycling is a refreshing outdoor pastime as it boosts energy, strengthens muscles, relieves stress, and maintains fitness. As we go further into this topic, we will guide you in finding the right bike size for your child and various other considerations you need to look into while purchasing one.
Here are a few bikes that are best for a 7 year old kid: https://www.bestof.info/best-bikes-for-young-boys/#Best_bikes_for_7-year-old_boys
Choosing the Right Size Bike for Your 7-year-old Child
The most vital factor while choosing a bike is to find the ideal fit for your kid. Merely thinking that your 7 year old needs a 20-inch bike will not help, as bikes differ in features. To get the perfect fit, compare the inseam of your child with the height of the standover. The other aspect that you should focus on is the lower height of the seat-post.
In addition, the bike's wheel size also corresponds to the size of the frame as both the sizes increase simultaneously. Thus, the frame size should correlate to your child's height and inseam. Only then will you be able to get the right measurements for the right bike.
Wheel Size by Age and Height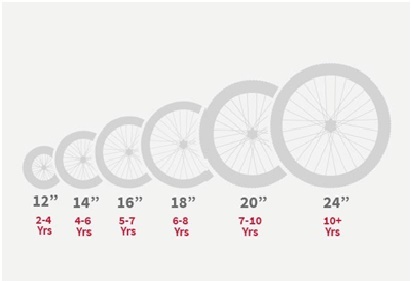 The size of the bike is what matters the most. It is an important factor to consider before you make a purchase. In that regard, the wheel size is what determines the size of the bike. To be more precise, you can take the help of the chart given below.
Kids Bike Chart
Age
Wheel Size
Height (cm)
2 – 4
10" – 12"
85 – 110
4 – 6
14"
105 – 117
5 – 7
16"
112 – 125
6 – 8
18"
117 – 132
7 – 10
20"
125 – 136
10+
24"
136+
As your child reaches the age of 7, their faith in bike riding begins to grow. In order to teach the enjoyment of riding a two-wheeler, you need to find the best kids' bikes. At this age, they are ready to handle a 20-inch bike according to their height and inseam. These bikes come in a variety of styles with different objectives. Thus, it is tough to choose as your child's choice also comes into play.
You also need to keep in mind that your kid should find comfort and ride the bike with ease. For all ground adventures, a 20-inch wheel mountain bike is the best choice. Its body is light and sturdy with a variety of gears to operate the bike efficiently without coming to any harm.
You can be more accurate by measuring your child's inseam length. These measurements will give you more specific details and will aid you in getting the right bike size.
Bike Size by Inseam Length
To measure the inside leg length, have your child lean their back against the wall and place a book vertically in between your child's legs. Make sure the book is touching the crotch area. Once you properly tuck in the book, measure the distance from the floor to the book. That is your child's inseam size.
| | | |
| --- | --- | --- |
| Age | Wheel Size | Inseam |
| 2 – 4 | 10" – 12" | 12" – 17" |
| 4 – 6 | 14" | 16" – 20" |
| 5 – 7 | 16" | 18" – 22" |
| 6 – 8 | 18" | 20" – 24" |
| 7 – 10 | 20" | 22" – 25" |
| 10+ | 24" | 25" – 28" |
Factors to Consider while Purchasing a Bike for a 7 Year Old
First and foremost is the brand of the bike. Some of the best 20-inch bikes for children are Original by Guardian Bikes, Rowdy by Raleigh, Legion BMX by Mongoose, etc. All these bikes guarantee safety, are lightweight, and have efficient tires.
Let us now go through some of the other factors you need to consider while buying a bike for your child:
The frame of a bike varies depending on the bike type. Different types of bikes are for various purposes. Some are for beginners, known as cruisers, while others are for sports like mountain biking. For a child around the age of 7, the bike frame should be firm and robust. It should also be resistant to rust and even moldings. All the components of the bike require proper fastening as well.
The next thing you need to focus on is the seat height. Now, why is this important?
If the seat's position is not in the right place, your child will not be able to ride the bike comfortably. It will cause them pain in the back as well. With a seat placed higher than average, your child will not be able to set their feet to the ground. Because of this, your child will be more prone to injuries. Children may end up discouraged from riding a bike further.
Therefore, always opt for a bike with a seat height that is at least 2 inches more than the length of your child's inseam. It will help them pedal efficiently and adequately. A bike with the right seat height will guarantee a safe and comfortable ride for your child.
Most bikes for a 7-year-old are equipped with a coaster brake, while some bikes come with a hand brake. Children around this age can easily manage a bike and have more strength than when they were younger. Therefore, they can easily pull the brakes either by using the coaster brakes or their foot manually.
While purchasing a bike, always remember that it should be lighter than the weight of your child. If it is a lightweight bike, they will be able to control it and ride effortlessly. A heavy weighing bike is not advisable for kids, as it will tire them out in no time. It will put a lot of strain on your child, especially while pedaling and taking turns.
Many manufacturers design bikes with an aluminum frame as it is very light in weight compared to the steel bikes. It is also safer if the bike falls on top of your child.
Some 20-inch bikes do come with gears. Hence, it weighs a little more than the bikes with smaller wheel size. However, once your child becomes an experienced rider, they will be able to manage the bike no matter the weight.
As mentioned above, many bikes with a 20-inch wheel size come with gears while some do not have it equipped. However, it is up to your child to decide whether they are more comfortable with gears or without. Using gears is quite hard for some riders, but it is nothing your child cannot learn if they keep trying.
There are different sizes and forms of bike tires such as the pneumatic tire, solid rubber, solid foam, hard plastic, and honeycomb tire. You will have to choose the type of tire for your kid's bike, depending on the terrains. If your child is to ride on flat streets, solid foam or smooth tires will be the best option. For more rough terrain, the tires should be sturdy and able to withstand pressure and damage.
Since your child is at the learning stage, the bike's frame design is very important safety-wise. Select a frame that is long with minimal seat height. The wheelbase of the bike should be big to ensure enough space for the cockpit for the rider to navigate the bike easily.
Understanding Safety While Buying a Bike for Your 7 Year Old Kid
Bells
The bell is also essential for riders, so you should teach your child to use it civilly. It signals people if they are unaware. It is beneficial to alert a pedestrian who is short of hearing or partially blind.
Lights
If your child must ride after dark, then bike lights are required legally. Lights enable the rider's visibility, so it is important as cyclists easily go unnoticed by others on the road. Bike lights help in areas where there is low visibility. It also makes you visible in traffic during night time.
Helmets and Neon Stickers
Finally, make it a point that your child wears a helmet even though it is a short distance ride. The helmet should fit your child well, forehead covered without tilting back, and straps secured. To let other drivers notice your child on the bike, paste neon stickers on the helmet.
Let's Summarize
The bike chosen should fit your child perfectly.
It should be light in weight for your child to enjoy the ride without getting tired.
Make certain that your child can handle the brakes capably.
The most significant thing is to let your child understand the importance of wearing a helmet for safety.
Conclusion
There are varieties of bikes that come in handy ranging from bikes for children to off-road bicycles for mountain riders. With that said, most of us are aware that riding a bike is one of the most preferred activities for children. Therefore, purchasing the right-sized bike of high quality for your child is essential as it will guarantee their safety and comfort.