Best Overall
Kuject 330PCS Solder and Seal Butt Connectors Kit, Self-Solder Heat Shrink Wire Connectors, Waterproof and Insulated Electrical Butt Splice for Marine Automotive Aircraft Boat Truck Wire Joint
Most Popular
250PCS Solder Seal Wire Connectors - Sopoby Heat Shrink Solder Butt Connectors - Solder Connector Kit - Automotive Marine Insulated Waterproof Electrical Wire Terminals
Highest Rated
Qibaok 220 PCS Solder Seal Wire Connectors Heat Shrink Butt Connectors Electrical Wire Terminals Insulated Butt Splices 22-18 A.W.G
Best Overall
Kuject 330PCS Solder and Seal Butt Connectors Kit, Self-Solder Heat Shrink Wire Connectors, Waterproof and Insulated Electrical Butt Splice for Marine Automotive Aircraft Boat Truck Wire Joint
Most Popular
250PCS Solder Seal Wire Connectors - Sopoby Heat Shrink Solder Butt Connectors - Solder Connector Kit - Automotive Marine Insulated Waterproof Electrical Wire Terminals
Highest Rated
Qibaok 220 PCS Solder Seal Wire Connectors Heat Shrink Butt Connectors Electrical Wire Terminals Insulated Butt Splices 22-18 A.W.G
This article will deal with some of the best solder seal wire connectors. Solder seal wires are the newest and one of the best addition to an electrician's toolbox. It makes connecting wires and fixing broken wires an easy job. The Solder seal wire connectors are a relatively new addition and are making quite some noise in Amazon with the products garbing an average of 4 stars.
Solder seal wire connectors are double-layered tubes. Inside, there is a metal ring in the middle and adhesive rings on both sides of it. The connector's outer layer is made with a plastic that shrinks when the heat is applied to it.
How To Use The Solder Seal Wire Connectors
All you need to do is slide one wire in through the connector, connect the wire to its other end by twisting the naked wires. Position the connector with the solder ring right in the middle of the naked wires and heat it using a heat gun.
The heat will do two things simultaneously. It will melt the metal and solder the wires together, and it will also activate the adhesive and stick it. Furthermore, it will also cause the plastic to shrink and make it a waterproof and dustproof seal.
Earlier, there were crimp and seal connectors that almost had the same design but without the heat sink plastic and the soldering metal ring. It was flawed because of its poor seal and absence of waterproofing qualities.
In this article, we will be reviewing some of the best solder seal wire connectors that you can find. Following this review, it will be easy for you to pick up the best solder seal wire, you won't go wrong. The reviews will emphasize on each of the product's features and performance in real-life usage as well.
Furthermore, in the end, we will also be answering some of the most asked questions about the solder seal wire connections. The article will highlight some of the most commonly made mistakes in regards to Solder Seal Wires and help you properly install them with ease. So make sure that you read through the whole thing.
Top 7 Best Solder Seal Wire Connectors Kits Reviewed
1. Kuject 330PCS Solder and Seal Butt Connectors Kit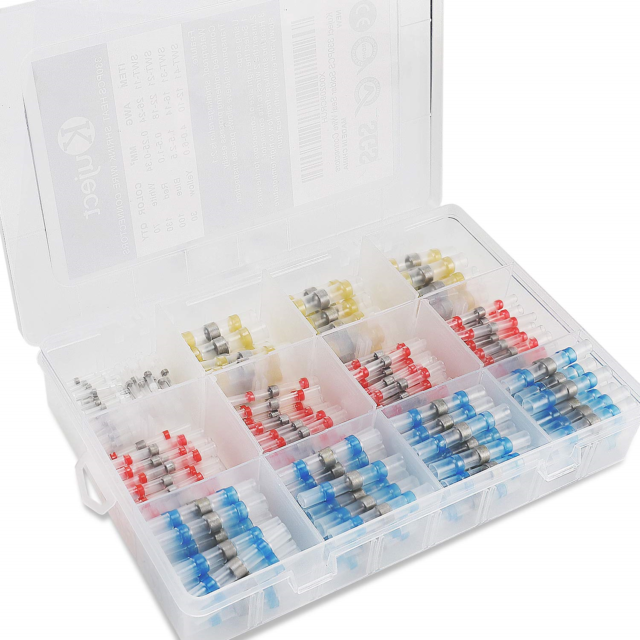 Kujectis one of the newer companies dealing with wire connectors. Established in 2016, it had made a name for itself among the customers with its high quality.
This time they have put together their excellence and made heat and connect write connectors. The Kuject Kit has excellent heat resistant capabilities, so you don't have to worry about your connectors melting.
Furthermore, with a sinking ratio of 2:1, a single sized connector can easily fit on a lot of wire sizes. If you use it on the specific wire it's supposed to fit on, then it provides incredible hold. You don't need to crimp or solder the connector at all.
The company strives to provide a DIY level of simplicity in its products, and it's successfully done with the Kuject 330 PCS. With 4.4 or 5 stars, it is one of the highest-reviewed connectors with excellent customer feedback.
The connectors use unique, high-quality adhesive to seal the two ends. The adhesive, along with the cover, makes an excellent waterproof seal. These characters can easily be used to connect wires on boats, in bathrooms, outdoor connections, and more. The connector also has excellent weatherproof qualities that provide it work high longevity as well.
Three other great feature of this connector is that out uses a unique material with low heat resistance, this means that you won't be needing high temperatures to melt it. This protects your wire while you're fixing it in place with your heat gun.
2. 250 PCS Solder Seal Wire Connectors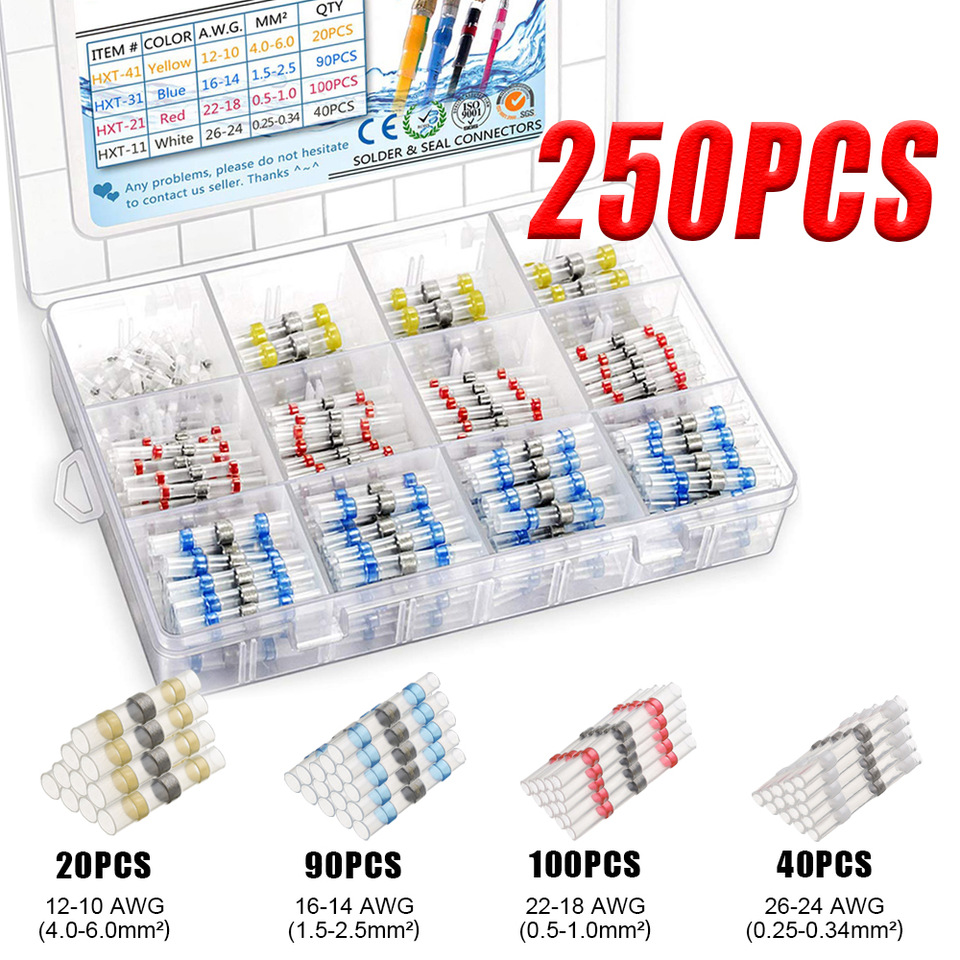 Sopoby is one of the most popular brands among customers when it comes to electrical and other types of accessories. The Sopofy connectors are rated 4.6 / 5 stars; this States that the customers are pleased with the quality of this product.
One of the first features that stand out about the Sopoby 250 PCS solder seal is the Polyolefin on the outside coating of the tube. Sopoby's connectors have double-layered tubing. The inner layer has a high power high durability adhesive, while the outer layer is a high-temperature resistant coating. Double layers of the connector provide excellent durability and IP67 water and dustproof rating.
The connectors have a 2:1 shrink ratio. 2:1 is the standard shrink ratio for heat and seal connectors. Sopoby's connectors make sure that the connectors fit like it's supposed to on the specified diameter of a wire. Superior fitting decreases hassle and increase the strength of the connector as well.
Sopoby is also known to have excellent customer after-sales support and provides multiple ways to connect with them. All of that boils down to excellent product feature addition and error fixing according to customer's needs.
The connectors can be used in a wide range of scenarios because of there high flexibility and lie thickness. They can fit into the tight spaces meant for thin wires without a problem. Moreover, their smooth outer coating prevents it from getting stuck with anything.
3. Haisstronica 350 PCS Solder Seal Wire Connectors and Shrink Butt Connectors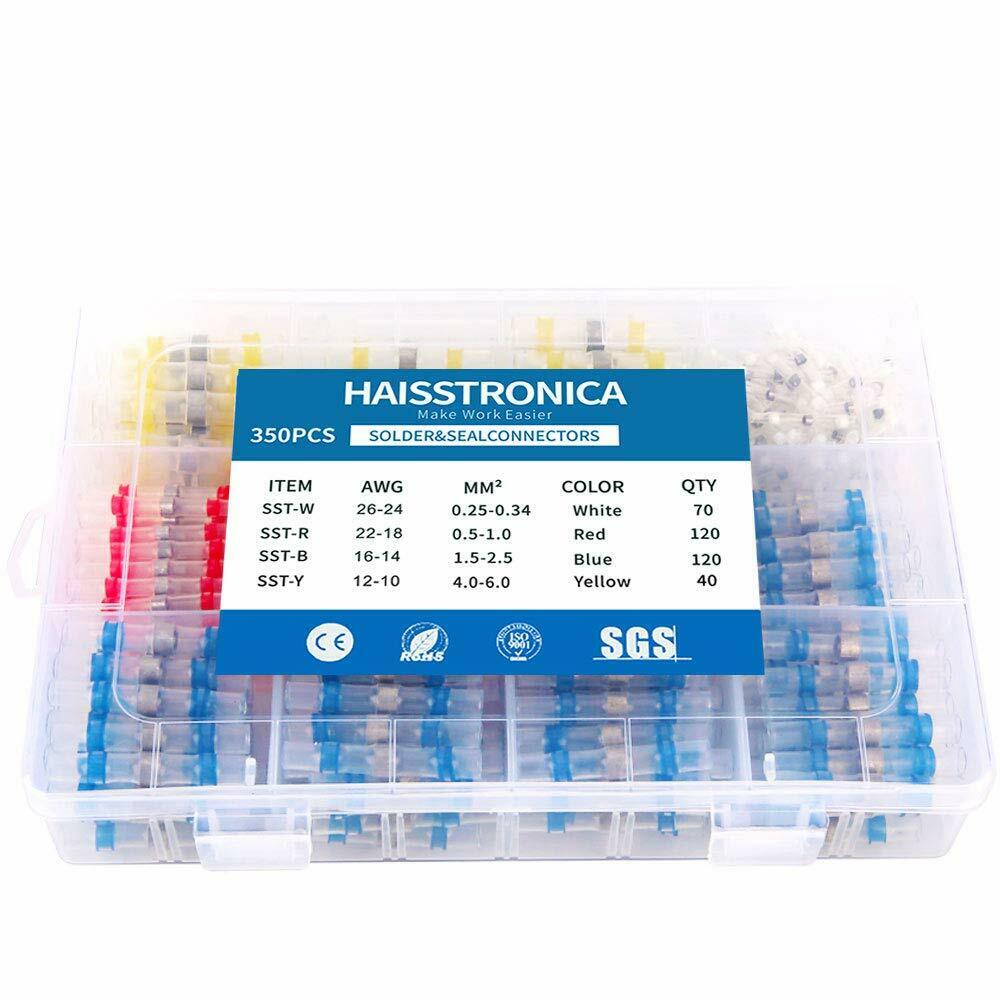 Haisstronicais a company that specializes in butt connectors for wires. Since its inception, it has been making fantastic quality connectors throughout the product's early life cycle.
This time they were not late to join the party and have introduced the Haisstronica 350 PCS Solder Seal Wire Connectors. These are high quality and heavy-duty heat and seal connectors made with superior materials.
The connectors need a minimum heat of 80°C to work, and this provides hassle-free installation and safety. Even if the wires themselves become hot due to some faulty in the circuit, the concert will not melt and expose the wire.
The outer layering can withstand temperatures of up to 138°C; this means even if you overheat the outer cost while installing it, there is no chance of melting it off. Haisstronica's connector follows the standard 2:1 shrinking ratio and therefore fits appropriately on the wires.
You can easily use the connectors for wirework within boats, cars, houses, and more. It is effortless to install and can be installed without the need for heavy power tools. It's also easy to know when you're done with the installation. The shiny soldering metal can be clearly seen melting through the transparent cover, letting you know when to stop heating.
4. Qibaok 220 PCS Solder Seal Wire Connections Electrical Wire Terminals Insulated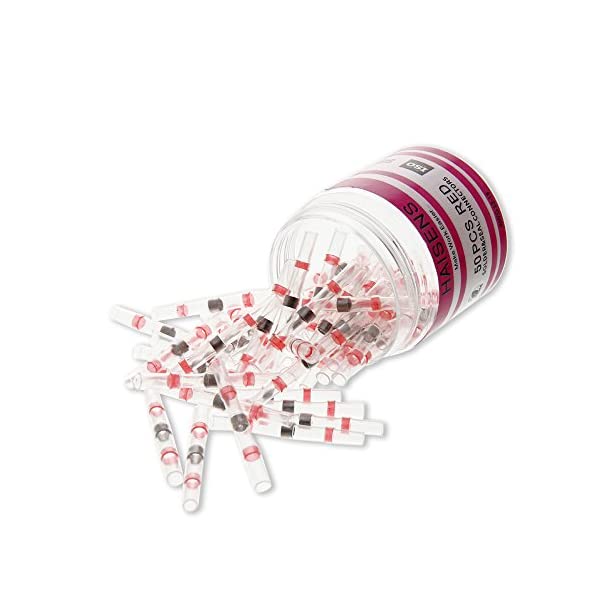 Qibaok heat and seal connectors are among the toughest contenders on our list. It provides a high level of waterproofing and stronghold capabilities. The connector can be easily used in amphibious vehicles like boats, water scooters, and more. Furthermore, the stronghold capabilities make it an excellent choice for off-road vehicles like jeeps, ATVs, and other such vehicles.
The transparent design of the connectors makes it easy to be installed. It can easily fit on household wires due to its 2:1 shrinking ratio. You can see the solder melt after you start applying heat. All you need is an average heat gun, and that should do the trick. It's straightforward to fix household wires with ease using the Qibaok connectors.
The covering layers of the connectors are made of Polyolefin. It provides a consistent shrink ratio of 2:1; thus, the Qibaok connectors can quickly and adequately fit onto its specific wire diameter. For increasing customer trust and safety, the connectors are made following ISO, CE, SGS, and other standards.
5. Haisstronica 120 PCS Solder Seal Wire Connections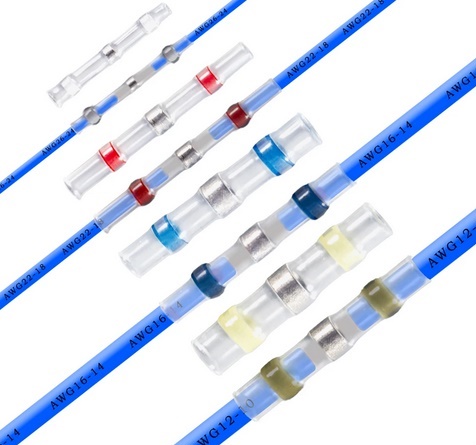 Haisstronica had proved itself to be one of the most customer-centric brands through the launch of the Haisstronica 120 PCS Solder Seal Wire Connectors set. The earlier edition needed some changes as per customer feedback, and they have introduced new changes like a low melt point solder, adding a high melt point casing of the connector, and a stronger hold.
Now, the connectors offer a far better hold and low hassle installation; anyone can easily use it. It has made DIY fixes of small household wire problems effortless. All you need to do is slip it on and use a heat gun that might be lying around in your home to heat and seal it. Even if you keep the settings of the heat gun on high, you won't melt the connector.
The company provides various options for replacements and guarantees if you are not satisfied with the product. There is a money-back guarantee of 30 days along with a 1-year warranty. So, if you feel it did not do its job correctly, you could always get your money back.
6. Manfiter 220 Pcs Solder Seal Wire Connectors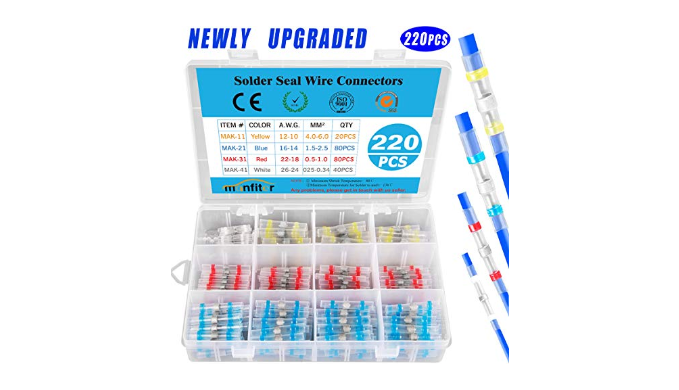 Manfiter is one of the safest heat and seal connectors on this list. It has improved over a lot of features of the connectors and has made them more trustworthy. The first thing to notice is that the company made different changes with the material so that it does not give off harmful fumes while being heated. Cheap plastics give off smell and chemicals as smoke, but this does not show any sign of it.
Manfiter's connector also comes with IP68 certification, and it lives up to that. The connector can easily handle rain and splashes without letting water into the connection. The connector is corrosion-free, which means that the solder will not give away, keeping the connection intact and robust.
The outer casing is thick and fully transparent; this makes it easy to see the melting point of the soldering metal. The company provides a highly generous 15-month money-back guarantee, though you will not need that.
Excellently build quality coupled with a risk-free fitting experience, makes this product one of the near choices in this list.
7. Volt 200 PCS Solder Seal Wire Connectors Low Temp Soldering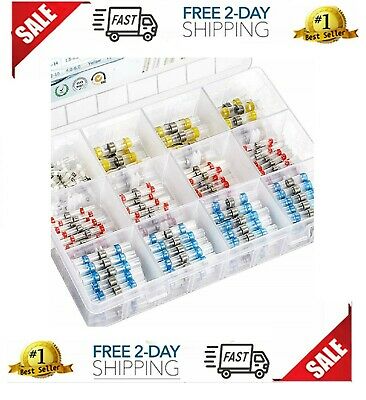 The last entry within this list would be the E – Volt 200 PCS Solder Seal Wire Connectors. These are made following the European standards, and therefore it delivers high-quality performance.
The 2:1 shrinkage ratio, along with four different sizes of connectors, means that it can fit onto excellent and high duty cables with ease. Just slide it on and heat it. Moreover, the high-quality adhesive makes sure that it stays in place no matter how tense the wire gets.
It withstands wire temperatures of up to 125°C and can work with wires that carry a maximum of 12 volts. This further increases the scenarios where you can use them without any sort of worrying.
To round everything up, if you're not sure about your wire diameter, then this is the product you should choose. The excellent adhesive and the shrinkage of the tube will make sure that it fits every possible wire you might have in your house, car, or boat.
Frequently Asked Questions
1. Does solder seal butt connectors require crimping?
No, solder seal butt connectors listed here do not require crimping. That is a different type of connector altogether.
2. Can I heat the connectors with an open flame?
No, you absolutely cannot heat the connectors with an open flame. You can quickly melt the connector if you use a candle or a match stick to heat it.
3. Can I use hairdryers to heat it?
Hairdryers are not the most efficient tool to heat the connector. It does not produce enough heat to melt the soldering metal properly.
4. Are the connectors waterproof?
Yes, they are waterproof, but to a certain extent. It can handle rains and splashes with ease, but it is not meant for 24/7 underwater work.
Conclusion
Solder and seal butt connectors are revolutionary. They provide fantastic efficiency and high quality; it makes the connecting wires an effortless job. All of the products listed in this article are equally good, all