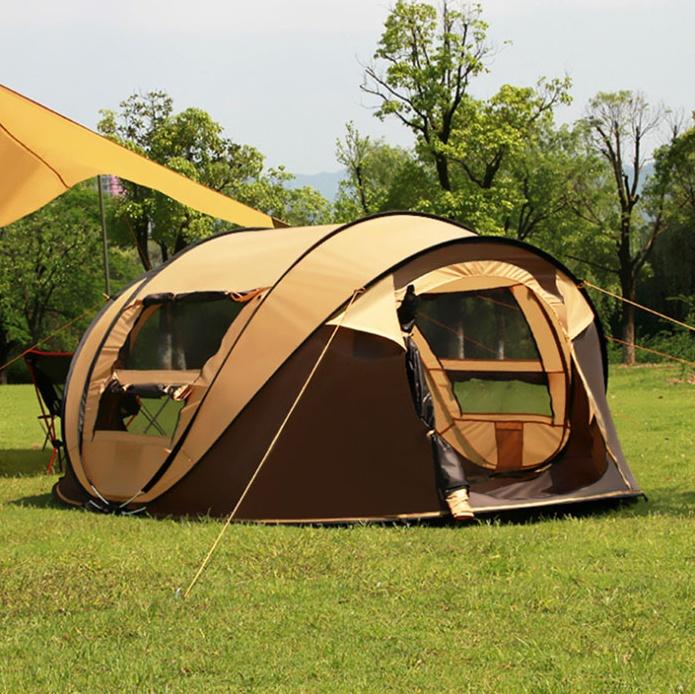 One of the best ways to escape the city noise and take a break from the busy daily schedule is going camping. But your camping experience can be awful if you choose the wrong tent. Imagine waking up in the middle of the night to the wet floor or seeing your tent fly along with the wind. There are lots of complications associated with camping and so choosing the right tent becomes so much important.
To help turn your camping experience into a fun activity, you should consider these tips while choosing your camping tent.
If you are looking for a family camping tent check our family camping tent guide here: https://www.bestof.info/best-large-family-camping-tents/
Sleeping Capacity
Camping can be fun with groups, but that means you should have a tent big enough to accommodate all campers. You should first evaluate your group and tent size and also the amount of space needed for your gears. There are different models to choose from, but that depends on the occupant's body structure or sleeping posture. You don't want your friend's elbow right in your face or feel claustrophobic because you've fit too much in less space.
Our advice – Choose a tent that has extra space for one more person after all the inmates fit in the tent. If things go wrong, you always have that extra space to keep your kit safe and dry inside.
Let us talk about the different types of tents that are available and which you should choose.
Types of tents
3-Season Tents
3-Season tents have grown in popularity since they are lightweight and provide adequate shielding during summer, spring, and fall seasons. These types of tents have sufficient mesh panels that help in improving the airflow and, at the same time, protect you from insects. But more mesh panel means that you lose on sturdiness, which can ruin your camping experience during harsh weather conditions. But the fact that they are lightweight and easy to carry acquiring a 3-Season tent can be the right choice.
Our advice – It's best to use a rainfly to make the tent waterproof for downpours and light snow.
Extended-Season Tents
These tents are based on the 3-Season tents platform but are more durable and sturdy. You can expect a better guard against weather conditions as they have more poles to make the tent more robust. Mesh panels are less, which provides strength and also balances the ventilation. They are also warmer than 3-Season tents if you plan to camp somewhere high or in cold destinations.
Our advice – Choose your tent material concerning your camp destination and make sure you stick with aluminum poles.
4-Season Tents
4-Season tents, also known as mountaineering tents, are the most rugged tents of all. They have a durable chassis to withstand harsh weather conditions. From fierce winds to sizeable snow loads, these tents can keep you out of harm's way at any place. And the best part of all is that you can use them in any season.
4-Season tents are made up of heavier fabrics and have more poles. This structural design makes them retain their ground more often. They have a round dome design, which means you don't have to bother about clearing the snow from the top of your tent. With fewer mesh panels, the shelter provides better resistance to cold weather outside, and with an extended rainfly, your belongings remain safe and dry.
Our advice – Although they are sturdy and durable, finding a suitable spot to set up camp increases durability.
Key tent features to look for
Height of the tent
Although not a necessity, having a taller camp can add more versatility to your camping experience. You can choose between a cabin-style tent and a dome-style tent depending upon your requirements. However, dome-style tents are better in terms of strength but lose out on space as compared to cabin-style tents.
Floor-length of the tent
Typical tents often offer floor length that may fall short for taller people. It would be best if you opt for a tent that has a floor-length over 88 inches. 90 inch can be an ideal size.
Tent Doors
If you are camping with your family, then having multiple doors is a plus point. Going for a cabin-style tent is a better option and make sure that the tent door has functional quality zippers.
Tent Poles
Poles are the most crucial aspect of any tent. They determine the strength of the structure. It would be best if you consider purchasing a tent, which has fewer poles and easy to setup. Avoid fiberglass poles if your camping destination is somewhere high and go for a tent that has aluminum poles. One thing that you should note is that tents having aluminum poles are more substantial than fiberglass.
Get a Rainfly
Rainfly is a must, especially if you are using a 3-Season tent. It is a waterproof cover that you can purchase separately. It helps in keeping you warm and also protects the shelter from rain and dew.
Choose the best Materials
When choosing the materials, you have to make sure that the fabric is of higher quality that is more rugged and avoid leakage.
Ventilation
Cross-ventilation is very important when you are inside the tent. Larger mesh panels will ease your airflow and also allow you to maximize viewpoints.
Interior storage spaces
Look for a tent that has more loops and pockets to maximize storage spaces. It will allow you to organize the interior space and provide handy pockets to keep small things safe.
External Loops
It is always better to have loops on the outside. It adds more stability to the tent as you can attach lines to counter high winds.
We also recommend these accessories that can enhance your camping experience.
Get a footprint and protect the tent floor.
Gear Loft can increase interior storage space
Anchors and stakes
Battery-powered accessories
Floor mats for both inside and outside
Repair kit for the tent
Utility cord
Seam sealer
Dustpan and broom
Conclusion
Buying a camping tent can be as tricky as it seems, but having the right knowledge and determining certain aspects of your proposed campsite will make it much more comfortable. With proper skills and a great tent, you will have the perfect home away from home.