Best Overall VR Game System
HTC Vive Pro Focus Plus 6DOF VR Headset in Almond White Bundle Including VR Headset, Controllers, face Cushion, QC 3.0 Charger and USB Type-C Cable
Most Popular Game System
PlayStation VR - Mega Blood + Truth Everybodys Golf Bundle
Highest Rated VR System
Oculus Quest All-in-one VR Gaming Headset – 128GB
Best Price
Playstation VR - Astro BOT Rescue Mission + Moss Super Bundle: Playstation VR Headset, Playstation Camera, Demo Disc 2.0, Astro BOT Rescue Mission + Moss Game
Best Overall VR Game System
HTC Vive Pro Focus Plus 6DOF VR Headset in Almond White Bundle Including VR Headset, Controllers, face Cushion, QC 3.0 Charger and USB Type-C Cable
Most Popular Game System
PlayStation VR - Mega Blood + Truth Everybodys Golf Bundle
Highest Rated VR System
Oculus Quest All-in-one VR Gaming Headset – 128GB
Best Price
Playstation VR - Astro BOT Rescue Mission + Moss Super Bundle: Playstation VR Headset, Playstation Camera, Demo Disc 2.0, Astro BOT Rescue Mission + Moss Game
Today's trend in the gaming industry is to experiment the virtual reality, and if you want to have an awesome experience you will need one of the best virtual reality game systems. Twenty years back, people would have never imagined that one day we will play football wearing some weird looking alien headsets from our couch instead of a field. But that's a reality today, which is getting better and smarter as we speak. Virtual Reality has seen a surge in demand as more and more companies are developing gears to deliver the best. With advancements in technology, it comes as no surprise that one-day virtual reality-driven games will be smart enough to take over their physical counterparts. But which virtual reality headset should we choose remains the most prominent question gamers often tend to wonder. In this guide, we will throw some light and possibly eliminate the shadows over confusion regarding the best VR headsets and answer some basic questions about virtual reality for games.
How is a game in Virtual Reality different?
Just like you play a real football interacting with the ball and the players around, virtual reality simulates the exact environment with the help of hardware and interactive software. Unlike conventional gaming, where you play on your monitor, virtual reality implements a three-dimensional approach to portray the surroundings, and you interact with it using different input methods such as controllers, mouse, and motion controls, among others. Virtual Reality system seems to be the ultimate choice for the best VR gaming experience for most gamers.
What is a Virtual Reality Game System, and why do you need one?
A Virtual Reality system consists of a VR headset, headphones, controllers, and motion-based controllers. VR headset is a vital part of any Virtual Reality System that helps to see your content and the controllers to interact with your games and applications. There are many VR headsets from various companies, including Sony and HTC. You can get a Virtual Reality System to connect with your computer or even get as convenient as using it with your Smartphone.
Why do you need one? Well, VR systems can portray the games as they should be and is more engaging as you are inside the game rather than playing it on a screen. The gaming experience in immersive as you can interact with the 3D interface of the game.
Virtual Reality Game System Buyer's Guide
Before considering a Virtual Reality Kit, one must keep these things in mind. If you want to experience the true potential of virtual reality, you will have to spend a lot. Smartphone driven VR headsets are available, but they don't often fall short when compared to high-end PC or Console based virtual reality systems. Let us talk about what you should keep in mind when purchasing one.
Design – No! We're not talking about how your VR kit looks but how efficiently it works with your computer or game console. It would be best to have a compatible game console or computer configuration that can work with your VR system.
Display – Choosing the right screen can change your entire gaming experience. VR headsets with OLED display tend to score more in terms of display quality, which has to be at least 1080 x 1200 for each screen. We also recommend a 90 to 150 Hz image refresh rate and more than 100 degrees field of vision angle to avoid scene cuts.
Audio – The audio experience is equally vital as visuals during a VR gameplay. Sound quality plays a vital role and elevates your gaming experience.
Comfort – You should consider the weight, strap and head size adjustments, and the connectivity front before opting for a Virtual Reality System.
In-built movement sensors – Instead of tripping over wires, it is better to have a complete wireless solution, which in turn will enhance your gaming experience.
Controllers – Controllers play the most crucial part in interacting with your game. You should opt for a wireless controller that is ergonomically designed and allows you to move freely.
Price – Most high-end VR systems cost a lot, but what makes them worth it is the immersive and engaging gaming experience they offer. You can expect a price tag of several hundred dollars for the cheapest ones, which can go higher with added accessories.
Top 13 Best Virtual Reality Game Systems
PlayStation 4 Slim Bundle Virtual Reality Game Systems
Oculus Quest All-in-one VR Gaming Headset – 128GB
HTC Vive Virtual Reality Game System
Oculus Rift S PC- Powered VR Gaming Headset
HTC Vive Pro Focus Plus 6DOF Virtual Reality Headset
HTC Vive Cosmos Elite Virtual Reality System
HTC Vive Pro Eye Virtual Reality System
Android 2K HD All in One VR Game Headset
Oculus Go Standalone Virtual Reality Headset System
Samsung Gear VR Game System
Playstation VR Deluxe Bundle with PS4 Pro
PlayStation 4 Slim PS4 1TB Virtual Reality Game Console and PlayStation
PlayStation VR with PlayStation Camera
The Virtual Reality Game Systems Reviewed in Detail
Here is the list of the best virtual reality game systems that you should put your money on:
1. PlayStation 4 Slim Bundle VR Game System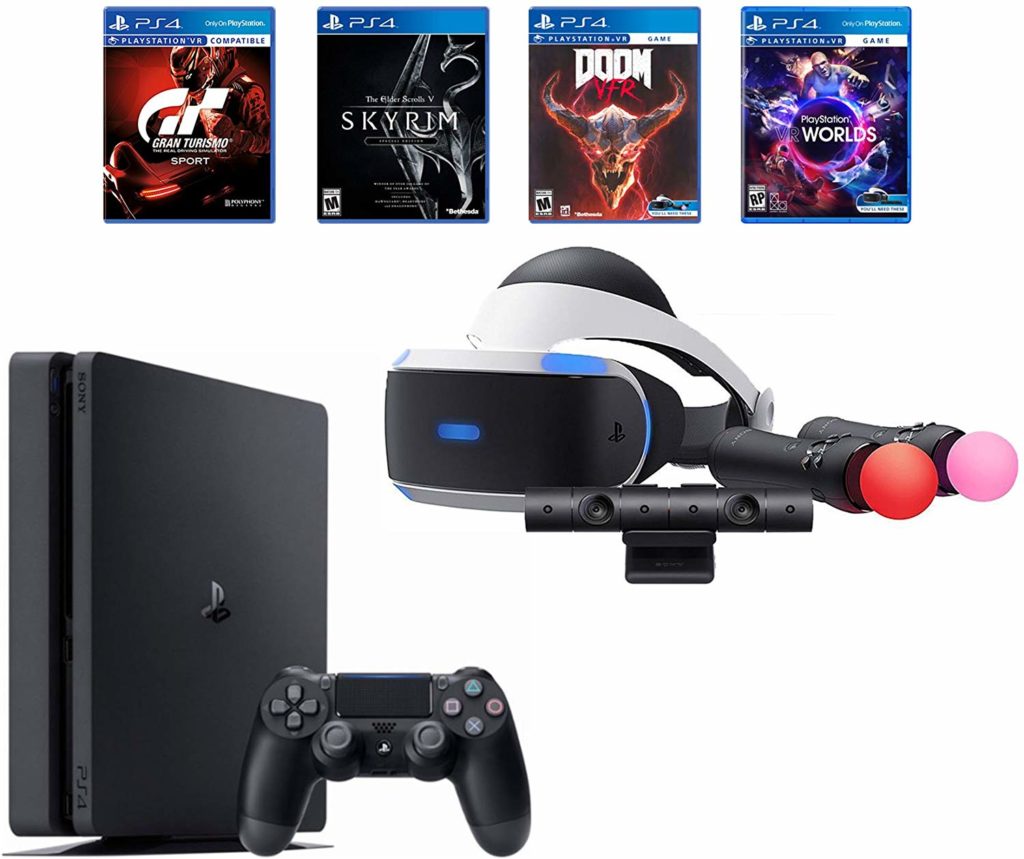 PlayStation 4 Slim Bundle is one of the best bundles you can get on the market today. Apart from the PlayStation VR, you also get the PlayStation 4 along with controllers in this bundle. The PlayStation VR is among the cheapest VR headsets that offer high-end results. The VR headset is compatible with both PlayStation 4 and PlayStation 4 Pro and can be used with the PS4 joypads as well. The most significant advantage of the PlayStation VR is the number of games available for it. Being a Sony product, you can expect hundreds of games for the VR kit, which makes it a perfect partner for VR gaming. What makes this deal even better is the fact that you can share your gameplay with your friends who can experience it on the TV screen with the help of VR Social Screen. With so many games on offer and a prospect to grow more, makes this Virtual Reality kit our number one choice.
Included in the bundle:
PlayStation 4 Slim 1TB Console, PlayStation VR headset, PSVR charging display
Stand, controllers, and 4 VR game discs.
Pros
Cheap for a high-end gaming experience
More games on offer than other VR ecosystems
VR Social Screen feature
Cons
No compatibility with other consoles
2. Oculus Quest All-in-one VR Gaming Headset – 128GB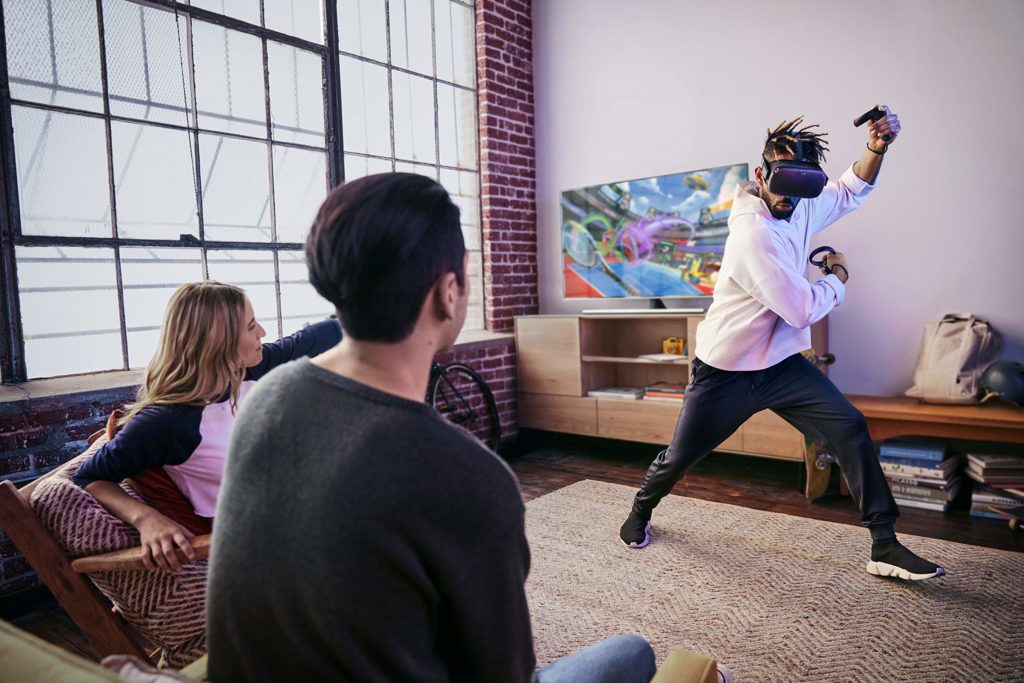 Oculus Quest All-in-one is a standalone device. You don't require a PC to run games on it as it has an in-built system that runs your games. The VR headset has four cameras that help you to keep track of your surrounding and also tracks your controller movements. It is effortless to set up the device, and the fact that it requires no wired connections means that you can take it anywhere and play even in a small space, unlike other VR headsets. The Guardian feature helps you to map your surroundings and warns you of any possible contact with objects or people. The Oculus Touch Controllers contain infra-red tracking sensors that copy the exact movement of your hands while playing, which enhances the gaming experience. If you want a standalone device that can offer VR gaming experience without the need for a PC, then Oculus Quest is the right choice for you.
Included in the box:
Oculus Quest headset, two touch controllers, 15W power adapter, AA batteries, and other accessories.
Pros
Easy to set up
Standalone device
Safety feature in-built
Lower price
Cons
The refresh rate is a bit lower
3. HTC Vive Virtual Reality Game System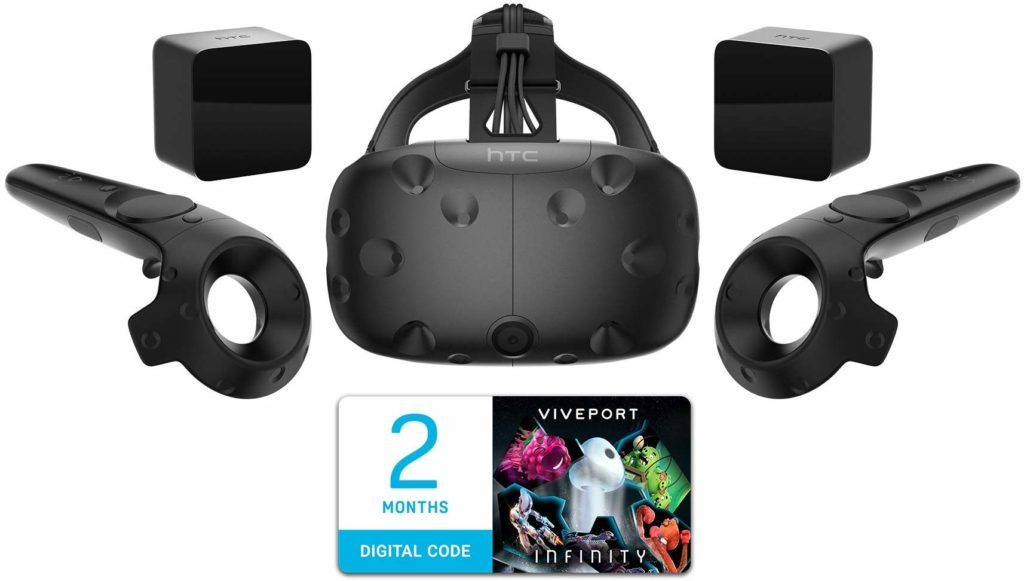 HTC Vive brings in a lot of excitement and game-changing features to amplify your gaming experience. The headset has a front camera that helps keep track of your real-world in some apps. The base station tracks all your movements and can be configured for small spaces as well, which comes with a warning system as well. You also get two controllers that are durable and designed to offer a firm grip to survive accidental falls or hits. The dual AMOLED screen provides an immersive experience, which has a refresh rate of 90 Hz. The Vive has the support of the Steam store, so there is a wide array of games for you to play on your Vive VR. It is among the best virtual reality game systems, and the Vive justifies its high price tag with a seamless and flawless VR gaming experience.
You can take the SteamVR Performance Test at http://store.steampowered.com/app/323910/ and ensure your computer can handle VR games and apps.
Box contents:
You get an HTC Vive VR headset, two wireless controllers, a Link box, 3-in-1 cable, two base stations, and accessories.
Pros
360-degree tracking
Flexible Play area
AMOLED display
Cons
Set up can take some time
4. Oculus Rift S PC- Powered VR Gaming Headset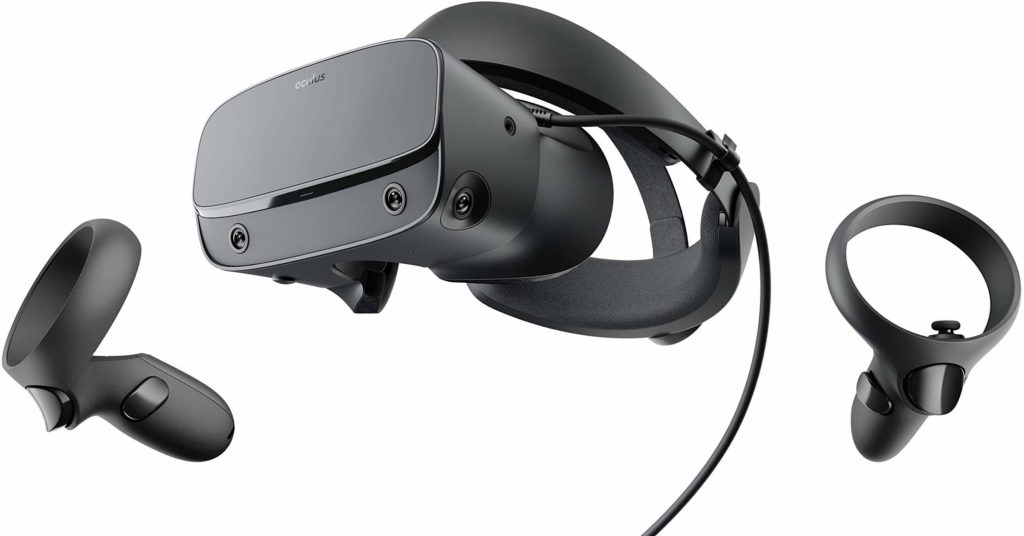 Oculus Rift S is the second generation of the original Rift that has seen some significant improvements and better features than its predecessor. Despite having an LCD screen, the Oculus Rift S produces crisp images and has improved a lot more, delivering bright and vivid colors. The headset is designed ergonomically and provides comfort and stability while playing for more extended periods. The set up is simple, and you don't need to install additional hardware to map your playing area. The headset uses five cameras in-built into it to measure your surroundings and also tracking your hand controllers. But what makes this product more appealing is the price point at which this device comes. The Oculus Rift S delivers a high-performance VR experience at a lower price. The ease of use and setup makes it a must-buy for every Virtual Reality game enthusiast.
Box contents:
Oculus Rift S headset, two touch controllers, headset cable, AA batteries, and video output adapter.
Pros
Crisp display
Easy to set up
Low price
Cons
5. HTC Vive Pro Focus Plus 6DOF VR Headset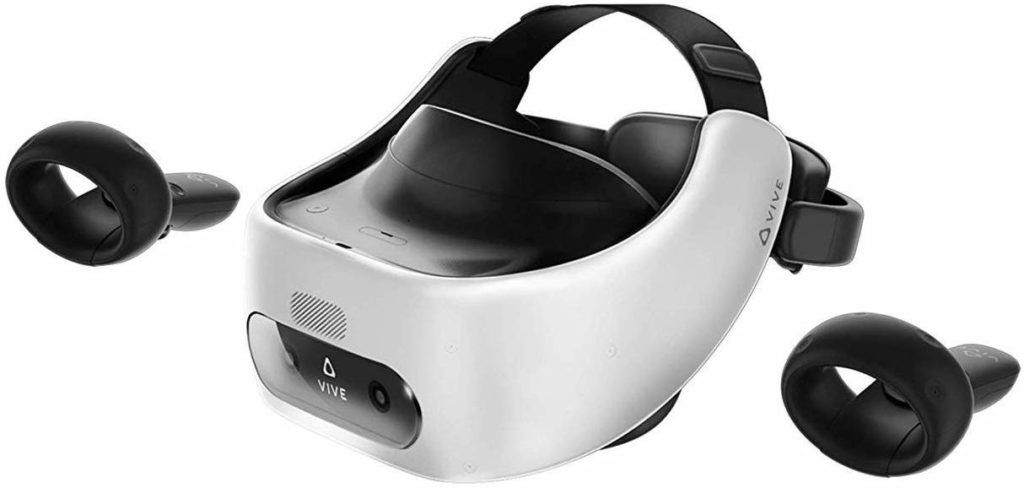 Another fantastic product that offers an amazing Virtual Reality experience comes from the stables of HTC. The Vive Pro Focus Plus carries forward the immersive experience that users had with the original Vive headset. Armed with a sharp and vivid AMOLED display, you can feel every bit of your game as if you were playing it in the real world. The headset does not require additional base stations or PC to track the subject, which means that fewer wires and a lot more free movement. The lightweight structure of the VR headset makes it a perfect companion for you and couple that with an advanced hand tracking system, and you will enjoy Virtual Reality more than ever.
Box contents:
Vive Pro Focus Plus headset, controllers, QC 3.0 charger, face cushion, and USB Type-C cable.
Pros
Lightweight
Dual AMOLED display
Easy setup
Cons
Price may be higher than other VR kits
6. HTC Vive Cosmos Elite Virtual Reality System
If you pay a high price for a VR headset, you would require the VR kit to justify its price tag, and HTC Vive Cosmos Elite does just that. Despite the hefty price you pay for it, the headset delivers on all fronts and makes VR gaming a breeze. The display puts out bright graphics at 2880 x 1700 and coupled with a 90 Hz screen rate. This headset is going to produce an experience like no other. The lighthouse tracking enables you to map up to 160 sq. Feet of play area that can make your gaming experience next to a real-life affair. The ergonomic design of the headset and the controllers provide a comfortable experience while gaming, especially the flip-up design of the headset that makes it very convenient to keep a check on your surroundings. The four cameras and sensors around the headset track your every move so that you get precise movements and freedom. And to top that all the Vive store grants you access to more than 600 games that can guarantee hours of nonstop VR gaming at your fingertips.
Box contents:
You get Vive Cosmos Elite Headset, two base stations, two controllers, and other accessories.
Pros
Lighthouse tracking
Crisp display quality
Flip-up design
More than 600 games on offer
Cons
7. HTC Vive Pro Eye Virtual Reality System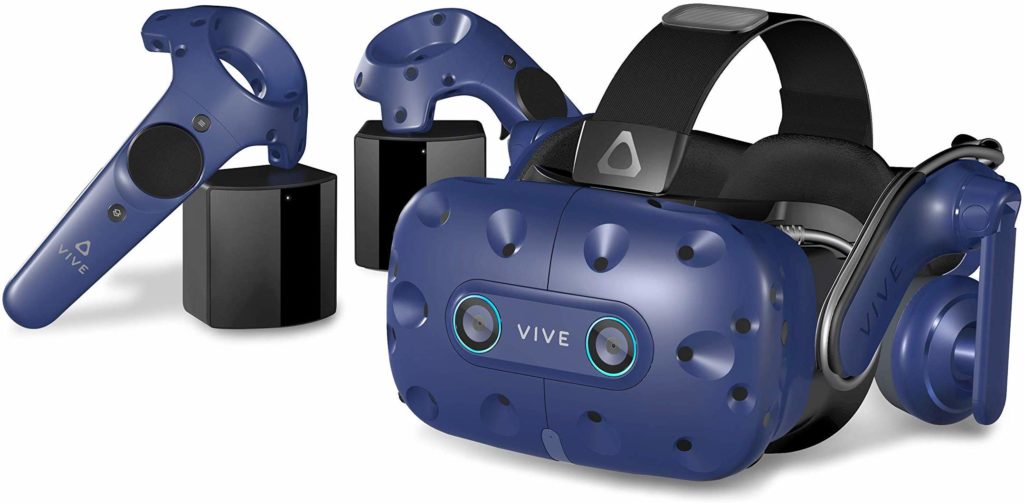 One of the premium VR headsets in the market, HTC Vive Pro Eye, comes with a set of features that will thrill most of the hard-core gamers. The headset boasts of a feature called Precision Eye Tracking that keeps a check on the movement of the eyes for better results. This feature allows the user to concentrate on a particular area where he is looking inside the virtual world by providing more screen resolution on the target area. The Vive Pro Eye is somewhat more suitable for commercial and creative purposes as per what HTC describes it. But as a gamer perspective, all these features make for an incredible gaming experience. The graphics are breathtaking, and the games look sharp on the screen. The Vive Pro Eye provides a comfortable fit along with options to choose for the perfect head size as per your requirement.
Box contents:
You get Vive Pro Eye headset, display port cable, link box, two controllers, two base stations, and a host of accessories.
Pros
Precision eye-tracking
Comfortable
Sharp and vivid display
Cons
8. Android 2K HD All in One VR Headset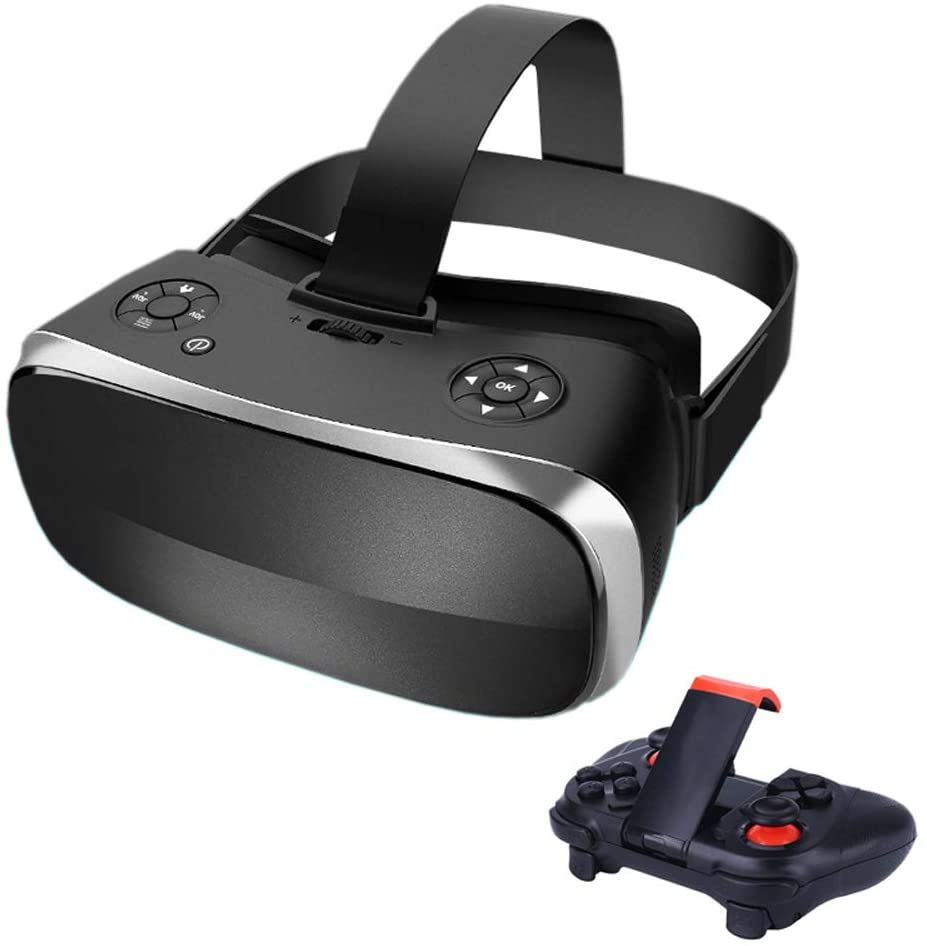 This Virtual Reality headset packs in a lot of features and gaming technology to the standalone VR headset line-up. Despite being a standalone device, the attributes packed in this VR kit can outdo many dedicated VR systems. You can hear everything in 3D thanks to its Hi-res headphones that elevate your gaming experience. The headset boasts of a 5.7" OLED display and 120 frames per second ensure you that your games will look sharp and vivid with its 2K resolution. The built quality of the VR headset is better than most other counterparts, and you won't mind playing games for long as it is very comfortable. Powered by a 4-core processor, the device will run any game or app smoothly that you throw to it, and the large 4000mah battery ensures that you will have hours of entertainment. But what makes the deal even better is that you can adjust the lenses independently and adjust your focal length. The device also filters blue light effectively and protects your eyes.
Box contents:
You get one VR headset, VR controller, and other accessories.
Pros
Sharp 2K HD screen
4000mah battery
120-degree field of view
Cons
Price may be a bit high compared to other VR game systems.
9. Oculus Go Standalone Virtual Reality Headset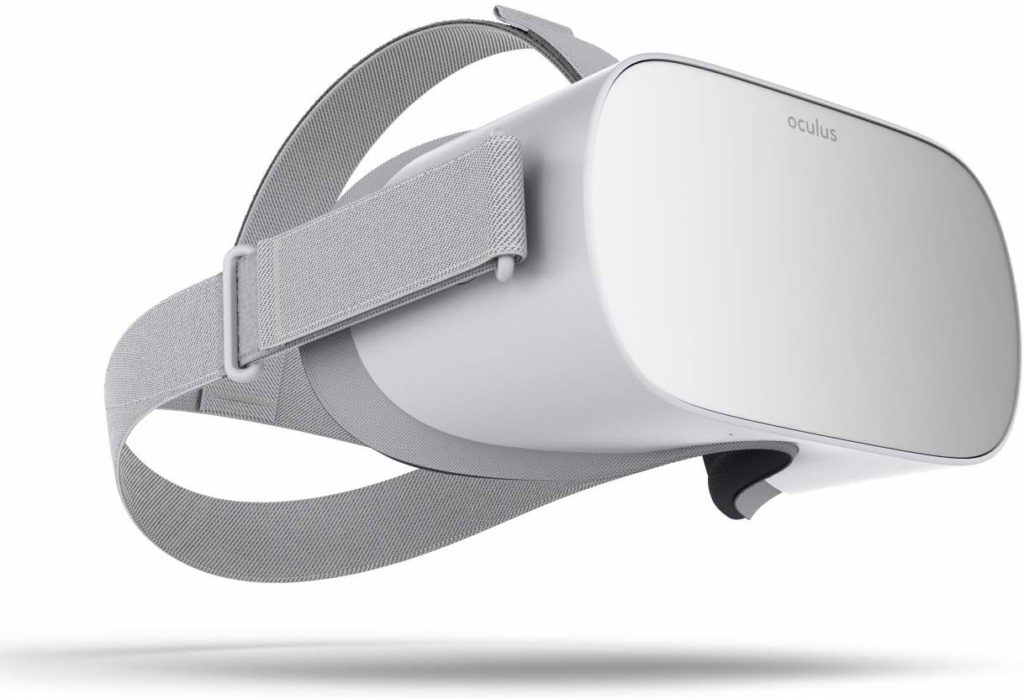 In a sea of VR headset, the dream of a compelling VR experience always ends up on the premium side, but you can get decent VR headsets at a lower price too. If you love casual VR gaming and don't want those fancy 120 Hz display, Oculus Go can be a smart choice. This standalone VR headset comes with some great features, which offers a great Virtual Reality experience at a lower price. The Oculus Go contains a Snapdragon 821 processor, which delivers enough power to run most of the games offered on its platform. Apart from gaming, you can also enjoy VR TV shows and movies with apps that are available on the platform. You can choose between the 32GB or the 64GB according to your requirements.
Pros
Good display
A wide array of apps and games availability
Works without a phone or a PC
Cons
In-built speakers are not that good
10. Samsung Gear VR Game System
Last on the list is a very affordable Virtual Reality Kit that changed the way VR stood for mobile devices. The Gear VR is the most advanced mobile-driven VR headset and packs in lots of features for its price. Its set up is effortless, and you need a compatible Samsung phone to power it. The touch controller included with the pack provides various functionalities, and with the Oculus store providing so many games for the headset, you can expect hours of entertainment anywhere. Samsung is making efforts to make it compatible with all its latest Smartphone releases, and if you own a compatible Samsung device, then choosing the Samsung Gear VR is a great choice.
Box contents:
You get Samsung Gear VR, a touch controller, and other accessories.
Pros
Easy to setup
Lightweight and comfortable
Oculus store support along with Google Play store
Cons
Only supports Samsung phones
11. Playstation VR Deluxe Bundle with PS4 Pro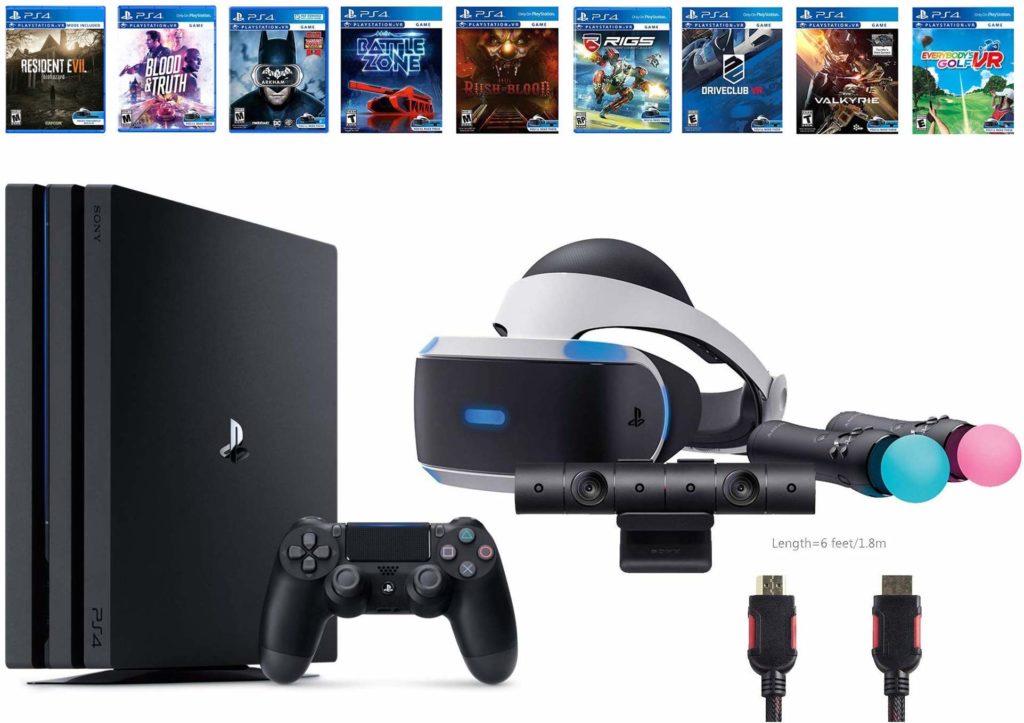 The gaming experience on your PlayStation 4 can get better if you add the power and functionality of a Virtual Reality headset. PlayStation VR is Sony's answer for a product that is built in-house and works seamlessly in the Sony ecosystem. The OLED display provides a clear and distinctive graphics that improve your gaming experience. The design of the PlayStation VR headset makes it very comfortable to wear and also very durable. You will enjoy all your games on that 90Hz display. And being tied to the Sony Ecosystem, PlayStation VR opens up the possibility of spending endless hours in Virtual Reality with a huge collection of games and apps.
Pros
Integrated microphone
Social screen
Value for money
Cons
Box contents:
A PlayStation VR kit, PS4 Pro 1 TB console, controllers, accessories, and eight VR games.
12. PlayStation 4 Slim PS4 1TB console and PlayStation VR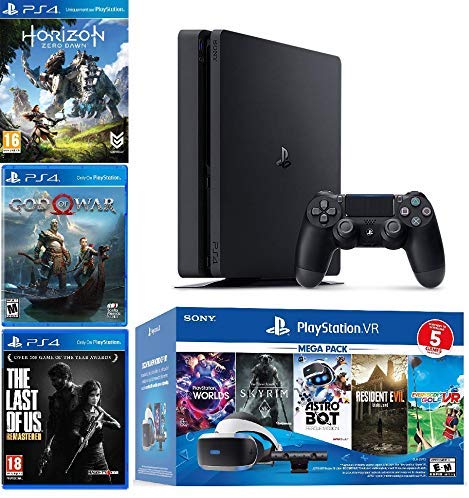 The updated PlayStation 2019 brings in lots of improvement with regard to performance and better graphics. The 2019 PlayStation 4 carries forward the same integration as an earlier version of the console but with improved connectivity, speed, and many more. The amount of games that are available for Sony PlayStation users makes this combo a must-buy for hardcore gamers. Storage should not be able to bother you as you get 1TB HDD that is adequate for most gamers. The slim design makes it handy and portable, and the setup is effortless, meaning that you can set a game space any place you like. The PlayStation VR complements the 2019 PS 4 and delivers the users with the best gaming experience.
Pros
Good CPU performance
Slim and portable design
Plenty of games available
Cons
VR headset may be a bit heavy
Box contents:
You get a PlayStation Pro 1TB, PlayStation VR, 8 VR game disc, and controllers.
13. PlayStation VR with PlayStation Camera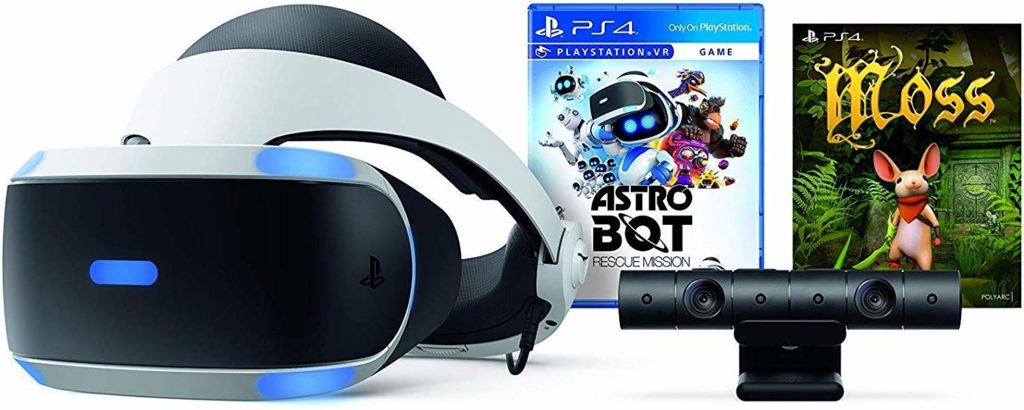 PlayStation VR provides a great value for your money if you are into gaming. The ability to play a game in Virtual Reality is a different experience altogether that surpasses gameplay out on a simple monitor. You can do hand gestures and interact with your virtual world with the use of Sony motion controllers. The processor in the VR headset provides 3D audio processing, which provides a sound experience that you never had. You can also share your gameplay with your friends by using the Social Screen function.
Pros
Screen mirroring
Cinematic mode
Good 3D audio processing
Cons
Box contents:
You get a PlayStation VR, PlayStation Camera, and two games.
Frequently Asked Questions Regarding Virtual Reality Game Systems
1. What is the best virtual reality game system?
If you consider ease of use and quality content, then choosing PlayStation VR would be a perfect choice. The price at which it comes and the amount of game support Sony has for its PlayStation series is overwhelming. The fact that Sony will add more titles in the future makes this deal more irresistible. You don't need to buy separate controllers as the PS4 controllers work well with the PlayStation VR.
2. How does VR work?
Virtual Reality is the technology that simulates the real world. The VR headset carries two separate displays that show a particular field of view, depending on the headset that you can interact with and experience. Along with other factors such as techniques and shading, Virtual Reality produces a realistic experience.
3. Is VR really worth it?
Yes, Virtual Reality is not only about games, but the prospect of using it as a service has forced many companies to develop commercial based VR headsets as well. For instance, if you can imagine a soldier learning to defuse a bomb without even touching it. That can be very helpful and safe, and that is also what Virtual Reality can offer. The possibilities are endless.
4. What are the benefits of Virtual Reality?
Virtual Reality has many benefits that can help us perform tasks that sometimes can be dangerous. Some of the benefits are:
Virtual Reality involves little to no risk and can help solve complex problems
You can experience life-like scenarios such as conducting conferences
You can use VR to train employees especially pilots using simulators
5. How much does a VR system cost?
There is a VR headset in every price range, but that depends on your requirements. Choosing your perfect VR system can be tricky as better performance means higher prices. For games, an average VR system can cost over $600, which can go higher according to their configurations and their platforms.
Conclusion
With Virtual Reality slowly making its way in changing the gaming experience to a different level, it is wise to know what you need as your VR game kit. Choosing the right VR headset can be tricky, but making a list of your requirements can help you a lot in deciding which one is the best VR for you. HTC and Oculus VR systems provide excellent value for the price you pay for them. Still, as a complete experience, we think Sony's PlayStation VR can be the ultimate partner for any VR gaming enthusiast.