Having a clean, fresh carpet in your room is a truly satisfying and pleasurable experience. A carpet makes your living space comfortable, warm, and cozy. You already know that carpets need a vacuum. But frieze carpets are going to require more than just any vacuum for cleaning. So read on this article to see some of the best vacuums for frieze carpet listed for you.
Also known as "shag," a frieze carpet is an excellent choice for making your room look luxurious and cozy. They have become a popular accessory for homeowners and designers alike. Because frieze carpets can be a comparatively costly choice, it is essential to care for it properly.
Apart from avoiding spillage on the frieze that may cause permanent stains, it is also important to clean/vacuum it the right way. It needs a vacuum that can reach its bottom to pick up dirt without damaging the carpet fibers or getting tangled in it.
Unaware of the carpet's unique construction, many people make the mistake of using standard vacuums and damaging its frieze. If you have also had this experience, you are not alone!
Here are some of the best vacuums for carpets with frieze to help you protect your beautiful investment and prolong its life for many more years.
If you are a car owner you might be interested in our article about cordless handheld vacuums for car: https://www.bestof.info/best-cordless-handheld-vacuums-for-car/ or in
Buyer's guide for best vacuums for frieze carpet
When you have a frieze carpet, it can be hard to find vacuums designed to clean them. By now, you already know that a standard vacuum isn't going to do the job for you. Here are a few factors to look out for while buying a vacuum for your high pile carpet.
Before, anything else, look for a vacuum cleaner that has extra venting. This is to make sure that the vacuum head doesn't get stuck to the carpet. Venting in vacuums is for regulating airflow that allows suction without the vacuum getting trapped to the rug.
So standard venting works well on short pile carpets or hard floors. But if you have high pile carpeting, you are going to want to look for machines with extra venting so that the suction is not affected while you vacuum the surface of the frieze.
The type of brush that your vacuum has is essential, depending on the surface you want to clean. For frieze carpets, go for brush rollers with gentle bristles so that you don't damage the carpet while cleaning. However, make sure that the brush cleans and captures dirt effectively.
High pile carpets require tender or gentle suction power to clean dust and dirt. This way, the fibers on the carpet are not damaged, which further results in longer-lasting carpets.
Check the manual to see the vacuum's suction power before buying. Some products may come with adjustable suction power buttons.
Look for a HEPA filtration system.
Frieze carpets tend to store dust and dirt because of their thick and long fibers. When you vacuum, the dirt will get freed into the surrounding air without being adequately filtered. Opt for vacuums that have a HEPA filtration system, which will filter the tiniest particles without releasing them into the air.
If you don't want moving around easily to be a problem while vacuuming, opt for one with large wheels. Vacuum cleaners usually get stuck in the fibers of the carpet if they have small wheels. So you often have to carry it and not roll it, making cleaning more troublesome. This is an essential criterion while purchasing vacuums, so consider the wheels to avoid all the inconveniences.
Go for vacuums that are lightweight and compact so that you can clean across the carpet with ease. You wouldn't want a bulky vacuum while cleaning a high pile carpet as it tends to get entangled in the fabric.
With a heavy vacuum, you will need to use more energy pushing the machine, eventually resulting in back pain and fatigue. Take a look at the weight of the vacuum cleaner before buying it.
List Of The Best Vacuums for Frieze Carpet
Below is the list of the best vacuums for frieze carpet reviewed in detail which will help you find the best one for your requirements.
1. Miele Vacuums for Frieze Carpet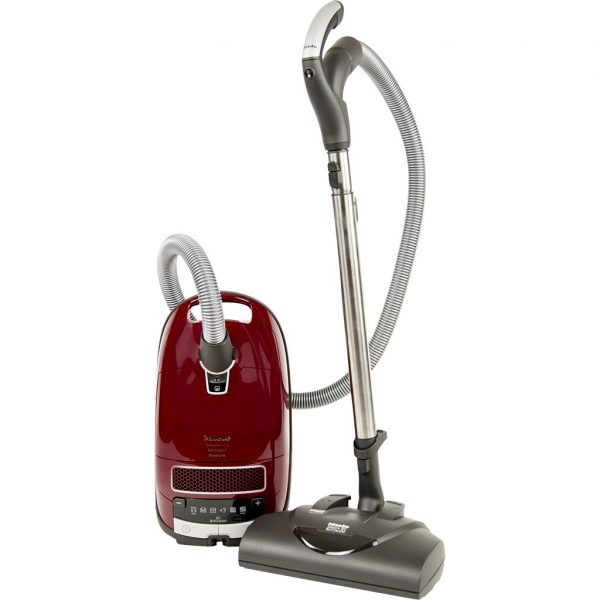 The first product on the list is this robust but quiet canister vacuum designed for the softest of carpets. It has an electro brush with five levels of height adjustment that will gently and deeply clean your favorite carpets of different heights.
This vacuum effectively cleans even hard floors with its Parquet twister. It has seven settings for suction power, including one for soft carpets.
You also don't have to worry about minute dust particles and allergens with the HEPA filtering system included in the vacuum, which filters 99.9% dirt. All you will be left with is a clean looking floor and carpet and fresh room air.
Pros:
It is compact, lightweight, and portable
The vacuum has five height adjustments
It comes with a turbo brush tool
Versatile – can be used on carpets of different heights
Washable filter
2. Soniclean Soft Frieze Carpet Vacuum Cleaner/Handheld Combo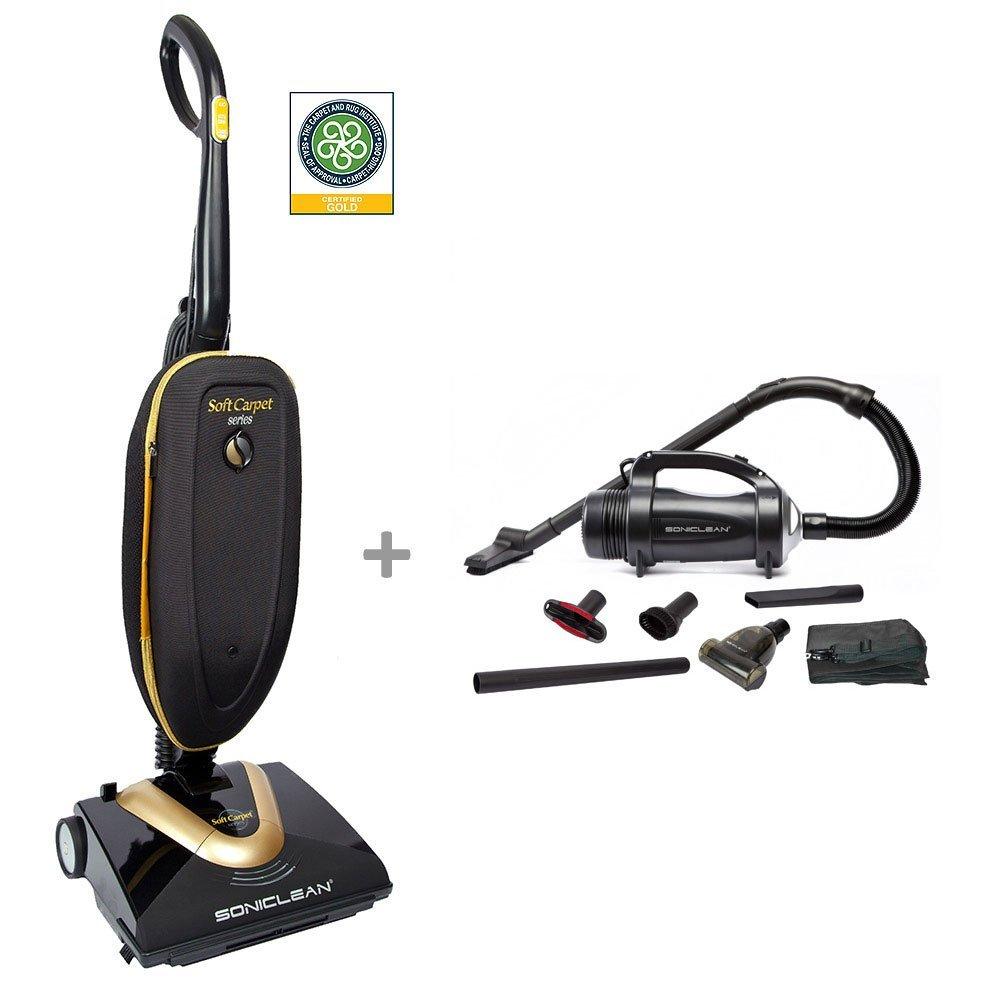 The Soniclean Soft Carpet Vacuum Cleaner has unique features that make it so appealing. It can thoroughly clean a variety of surfaces- from hard floors to soft style carpets. You will definitely appreciate the vent at the front of the vacuum, where you can set the right suction power for cleaning surfaces of various lengths, styles, and densities.
The Soniclean Soft Carpet Vacuum Cleaner has a unique, ash wood brush roll with nylon bristles for gentle, yet effective cleaning for carpet fibers, unlike others with stiff bristles. Also, this vacuum has large front wheels that float and glide on even the thickest carpets.
It is the only vacuum cleaner that uses patented sonic cleaning mechanism, producing 12,000 vibrations every minute for enhanced cleaning performance. This product is unbelievably lightweight and has a powerful suction. It has standard HEPA filtration and is not only ideal for soft carpets but also regular ones and hard floors.
Pros:
Easy to maneuver
Lightweight and easy to use
Easy to assemble
Cons:
The power cord isn't very long
3. Eufy Handstick Frieze Carpet Vacuums Cleaner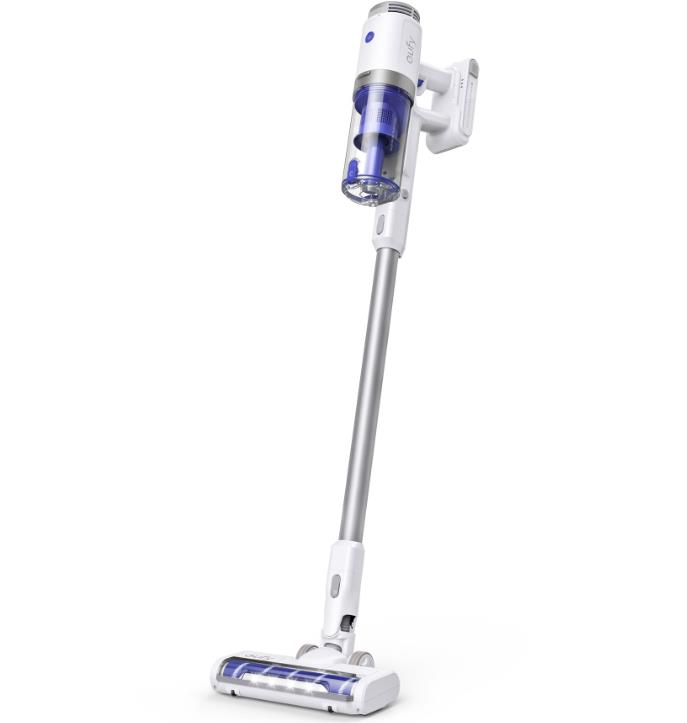 For those who don't want to drag around heavy vacuums but need powerful suction, the Eufy HomeVac S11 Infinity, Handstick Vacuum Cleaner is an excellent choice. With 20,000 Pa Suction, you will enjoy a high-pressure vacuum, which is also compact and easy-to-use.
The Eufy HomeVac S11 Infinity works exceptionally on hard floors, but you can also use it on carpets. On its lowest speed, you can continuously use this vacuum for up to 40 minutes on a single charge. However, the battery backup decreases as you dial to higher speeds.
This product comes with three handy cleaning tools. It consists of a small vacuum head that can be used for getting rid of fur from upholstery. The second tool is for cleaning stairs and corners, and the third one for deep cleaning between cushions.
In order to charge the vacuum, you need to mount on the wall. Like most stick vacuums, it takes about four hours to charge the battery fully. It has a filtration system of 5-tiers to ensure that every speck of dirt is caught.
Pros:
Easy maintenance
It has LED lights to spot dirt even in low light
Easy to dispense off collected dirt with a button push
It comes with an additional battery pack
5-tier filtration technology
Cons:
4. LG Cordzero A9 Charge Cordless Stick Vacuum Cleaner with Two Batteries, for Carpet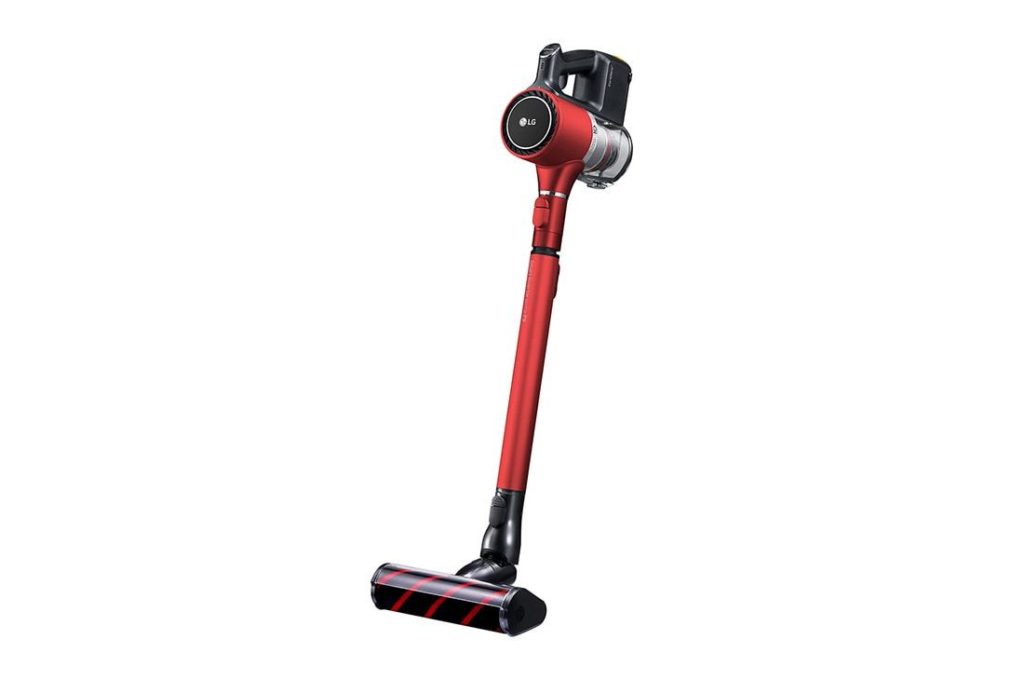 The next product is a cordless stick vacuum cleaner from LG. This vacuum comes with two long-lasting detachable batteries and is ideal for carpet cleaning. One remarkable thing about the batteries is that you can charge it while cleaning!
You won't have to drill unnecessary holes in the wall for storing this vacuum as it is has a stand. With a single touch, you can power on or off the device, and change the power settings. It features removable and washable filters making it easy to maintain.
The LG Cordzero A9 Charge, Cordless Stick Vacuum Cleaner is a handy and portable vacuum that would drain your energy while cleaning.
Pros:
Wand length is adjustable for easy storage
Filters are removable
80 minutes battery backup
Settings and power can be controlled with one-touch
It has five filters
Easy maintenance
5. JASHEN Cordless Vacuum Cleaner for Soft Carpets 350W Power Strong Suction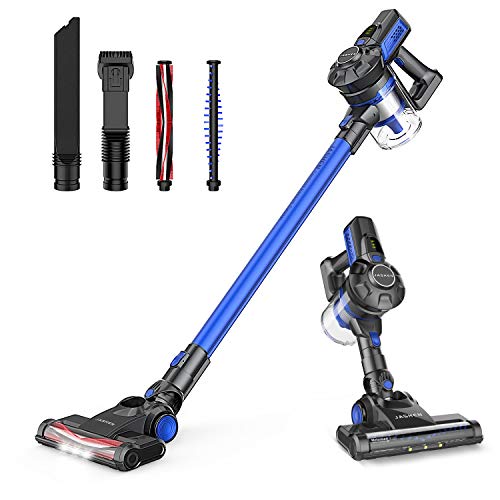 The Jashen V18 Cordless Vacuum Cleaner is a unique product that comes with a dust sensor for detecting hidden dirt. You can enjoy adjustable suction power without hassle for 40 minutes. And the most important thing for some of us- it is noiseless!
It contains a 2500 mAh removable battery that performs excellently. Jashen provides two easy-switch brushes- one hard roller for soft surfaces and a soft-roller to clean the hard floor. The LED lamp on the vacuum senses light around it and automatically turns on or off.
You can rely on the 4-stage filtration system that catches 99.99% of dust particles. It has a filter sensor built in the device that can show you the remaining battery power and also notify when its time to clean the filter with its LED panel. This feature can help you use the suction for years without clogging.
Pros:
LED indicators allow you to use the vacuum efficiently
Noiseless cleaning
Good weight and suction power ratio
It doesn't take much storage space
Adjustable modes for cleaning hard and soft surfaces
Cons:
6. Shark Professional Carpet and Hard Floor Vacuum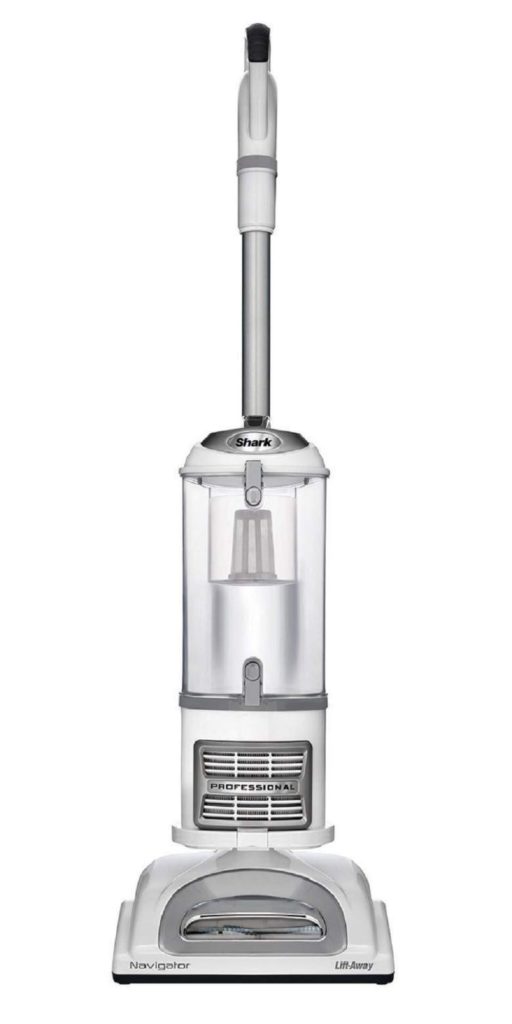 Featuring a large canister with a life-away system, the Shark Navigator Professional Upright Corded vacuum might be the perfect one for people who are not a fan of disposable bags. The best thing about this vacuum is that you can detach the canister from the device and hold it separately if you find it difficult to maneuver in smaller rooms.
So you have a three-in-one vacuum! Use it in large spaces with the canister attached, remove the canister for a slimmer vacuum for smaller rooms, or use it as a handheld vacuum for stairs.
Like any standard vacuum cleaner, this one has a HEPA filtration system that captures 97% allergens and dust. Its pivoting steer control makes the vacuum easy to maneuver around furniture.
This Shark vacuum is one of the best lightweight vacuums out there, which has so many wonderful features, enough to impress you.
Pros:
Lift-away canister with a button press
Excellently maneuvers around furniture
Large capacity for collecting dirt
It is versatile
Easy to assemble
7. Miele Suction Canister Vacuum Frieze Carpet Cleaner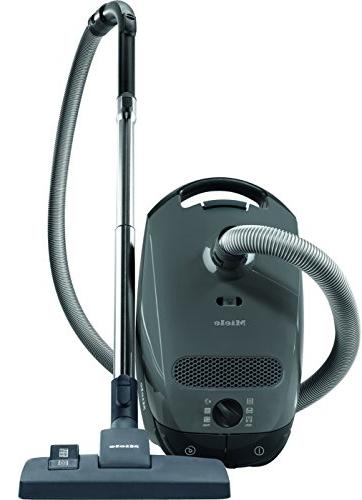 This German-engineered canister vacuum is a powerful yet quiet machine with a 1,200 W suction power. You will be impressed by its extremely lightweight and agile maneuverability.
Whether it's a hard floor or delicate upholstery you get up to 6-dial suction power settings to clean every surface specifically. You wouldn't have to worry about the machine harming the power supply as it has a light-start motor.
Enjoy a much cleaner room air and surrounding with the Miele AirClean technology, which contains a filter bag, and an exhaust filter. You can effortlessly clean large areas with its 29.5 feet cleaning radius.
Pros:
Stainless steel wand and ergonomic controls
It has a temperature limiter to prevent the machine from overheating
Automatic shut-off when the air passage is clogged
Versatile vacuum with six suction power settings
Rubber wheels to prevent marks and scratches on the floor
29.5 feet wide cleaning radius
8. Shark Rocket Ultra-Light Corded Bagless Vacuum for Carpet and Hard Floor Cleaning with Swivel Steering and Car Detail Set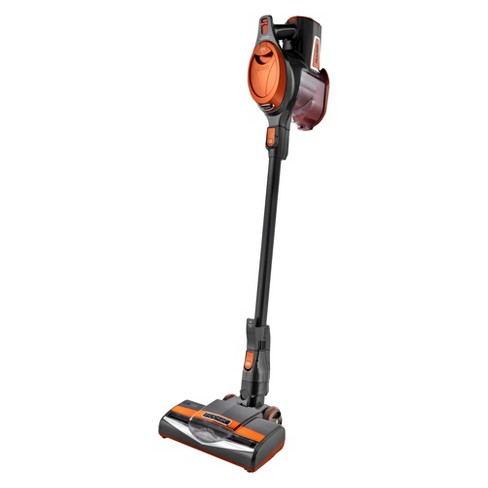 Weighing only eight lbs., the Shark Rocket Ultra-Light Corded Bagless Vacuum transforms into a hand vacuum easily for versatile cleaning. It has swivel steering for excellent maneuvering under and around furniture.
This product comes with micro tools to quickly clean small spaces so that you can clean every little corner in the house and other objects. You can switch from cleaning the hard floor to carpets with the fingertip control system. For superior cleaning, this vacuum is equipped with a powerful suction with a cleaning width of 8.5 inches.
Pros:
It is ultra-lightweight
Effortless conversion into a hand vacuum
Easy maneuvering
9. Shark Navigator Deluxe Vacuums for Cleaning Frieze Carpets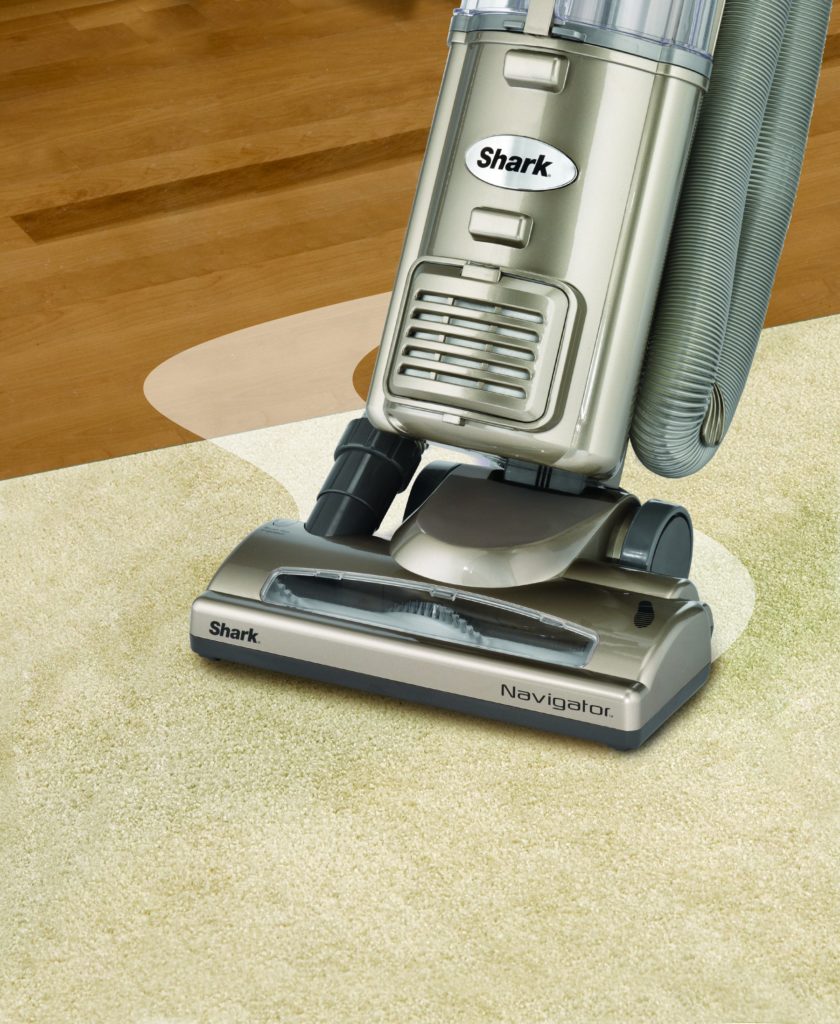 This is one of the most popular vacuum cleaners for frieze carpet or shag carpet in the market. Known for its solid build and intuitive design, the Shark Navigator Deluxe Upright Corded Bagless Vacuum is more advanced than most of the vacuums.
This machine never loses its strong suction power and is lightweight. You get a dust cup with a large capacity. For a superior cleaning of your beautiful carpets and bare flooring, this vacuum is an ideal choice.
You will get premium tools for cleaning pet hair along with the machine, so you don't have to worry about getting pet hair on your upholstery or shag anymore. With a 25-inch long power cord, say goodbye to back pains and get used to seeing clean rooms with clean air every day!
Pros:
Large canister
Strong suction power
It works without much sound
Long hose for easy mobility
Powerful dusting brush
10. Shark Vacuums for Carpets, Hard Floor and Pet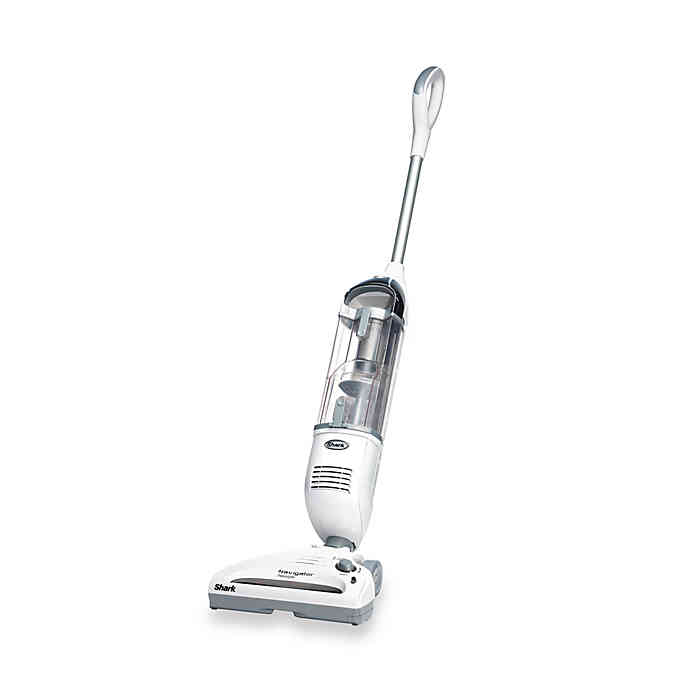 The Shark Navigator Freestyle Upright vacuum is a cordless and bagless machine designed to maneuver around tight places without any hiccups for 15 minutes. It has a large dust cup that is easy to empty and a washable filter.
It weighs only about 8 pounds so you can tirelessly clean a large surface. There are also two-speed settings available for optimized bare flooring and carpet cleaning. You are going to love this dual-action vacuum for its versatility and ease of use.
Pros:
It is noiseless
It has a powerful suction
Lightweight and portable
Impressively cleans pet hair on any surface
Effectively cleans both hard floors and carpets
Cons:
Battery life is a bit short
11. Oreck Commercial Upright Vacuum Cleaner XL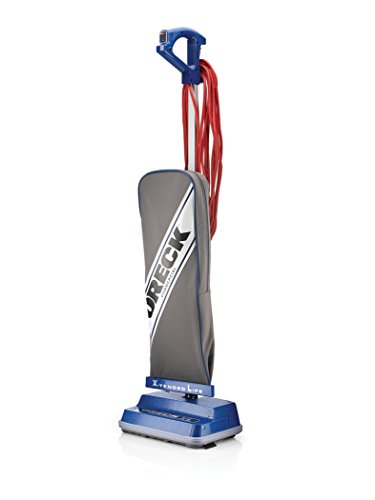 The final product on this list is Oreck Commercial Upright Vacuum Cleaner that has the best performance Oreck has to offer. This machine is one of the best in its range to clean your entire home, including upholstery and carpets seamlessly. It can easily fit in under your furniture and other stationary objects around the house.
With a weight of only about 9 pounds, carrying this vacuum around while cleaning isn't going to harm your back. For easy and fast cleaning, it has a fingertip on and off switch and paves an area width of 12-inch.
Its 35-foot long cord comes with a cord guard to avoid damage. It features a high-speed brush roll and auto-adjusts to different floor heights when in use, so you can clean without stopping.
Pros:
It has a long 35 ft. power cord
It has an inner bag that is disposable
High-speed brush roll
Switch to different floor heights without adjustments
Lightweight – weighs only 9 lbs
It can clean a wide variety of surfaces easily
Frequently Asked Questions Regarding Frieze Carpet Vacuums
Can you use the same vacuum cleaner for cleaning both frieze carpet and hard/wooden floors?
If you have a convertible vacuum cleaner, you can definitely use the same one for different types of surfaces. Opt for the vacuums that come with varying settings of suction, so you can switch from floor cleaning to carpet cleaning just by changing the vacuum settings. Otherwise, a vacuum cleaner solely made for cleaning hard flooring isn't recommended.
How many times should I vacuum my carpet in a week?
Experts recommend that you should vacuum your rugs and carpets at least twice every week. If there are pets at home, it is best to vacuum regularly to get rid of dirt, pet hair, and invisible allergens.
Can carpet fresheners damage vacuums?
Since carpet fresheners are powdered, these substances can clog the filters in vacuums that come without bags, when used regularly. You have to know that a jammed filter can alter the vacuum's effectiveness, resulting in low performance. So go easy on the carpet fresheners, especially when it's vacuuming day.
Will vacuum damage my carpet?
If you have set the height of the vacuum too low, it can ruin your frieze carpet as well as the machine. A common mistake made by many people while vacuuming is that they run the machine over the carpet in all directions. Avoid this if you want to make your frieze carpet last longer.
How do I know when to replace my vacuum cleaner?
Vacuum cleaners should typically last you for about eight years, but it depends on how you maintain it. If the hose is clogged, the drive belt is stretched out to the maximum, or the suction isn't as powerful anymore, its time to consider getting a new one. However, make sure not you're throwing away the vacuum because of small fixable glitches.
Conclusion
Frieze carpets used to be avoided by many people years ago because of the fear of damaging them while cleaning. And it's true; they cannot be washed or cleaned like other low pile carpets. Finding an ideal vacuum for frieze carpet requires something that wouldn't destroy your favorite shag.
But since the advancement in technology, there is a solution to almost every problem out there. You can easily find hundreds of models of vacuums now from where you can choose the ideal one for your cleaning purposes.
Not all vacuums are designed for frieze carpets; consider the mentioned factors earlier in the article while buying yours. And, as said, there are several options, hence, several price tags too. So keep your budget in mind and hopefully, you will purchase an awesome one that ticks all the boxes for you!