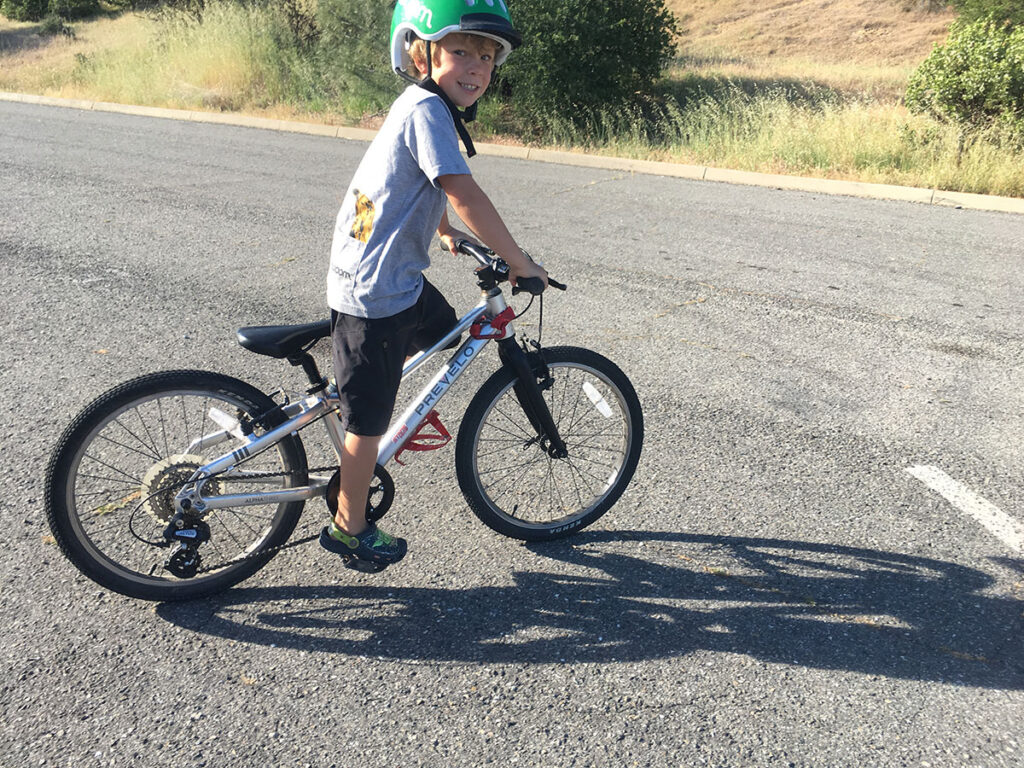 Everyone loves to ride a bike. We all enjoy that essence of feeling free, and kids think no less. It is a part of building our childhood memories, and your children should have the same. No doubt, as parents, you would want to get your child a bike. But there is always the question, "What size bike for an 8-year-old should I get?" 
Best overall bike for 8-year-olds
Schwinn Koen Boys Bike for Toddlers and Kids, 20-Inch Wheels, Black
Highest rated bike for 8-year-olds
Uenjoy Youth Kids Bike with 20 inch Wheels Detachable Training Wheels and Seat Height Adjustable Bicycles for 8+ Years Old Boys & Girls, Gray+Orange
Popular bikes for 8-year-olds
Ignyte 20" Boys Blue Quick Connect
Best overall bike for 8-year-olds
Schwinn Koen Boys Bike for Toddlers and Kids, 20-Inch Wheels, Black
Highest rated bike for 8-year-olds
Uenjoy Youth Kids Bike with 20 inch Wheels Detachable Training Wheels and Seat Height Adjustable Bicycles for 8+ Years Old Boys & Girls, Gray+Orange
Popular bikes for 8-year-olds
Ignyte 20" Boys Blue Quick Connect
Bike riding is like hitting two birds with one stone; your child gets to have fun and maintain his fitness at the same time. Picking the bike your kid feels comfortable on while riding is an ideal choice while buying. Cycling is always refreshing; it relieves stress, strengthens the body, and gives an independent feeling.
Kids by the age of eight years will have a developed body. Your kid will not need the child's seat or the training wheels anymore. They will have the right balance and physical coordination and master starting and stopping their bikes on their previous bike. By now, your eight years old kid will be mentally ready and motivated to ride a bigger bike.
Reading further, we will help you find your child the right-sized bike while taking various considerations into account while making the purchase.
Here you can find some of the best bikes for 8-year-olds: https://www.bestof.info/best-bikes-for-young-boys/#Best_bikes_ideal_for_8-year-old_boys
A bike guide for your 8-year-old kid
With so many bike brands kids, it will be challenging to collect data and reviews for all of them. Another problem with buying bikes is that most of the salesperson does not know much about bikes. They will not be able to tell the difference in the quality of the bikes or the effectiveness and easy to use brakes. Assembling bikes with no proper training is also a factor of putting the bike rider at risk.
Having your kid ride a bike that is too big or too small may put him in a dangerous situation. The main criterion to look for in a child's bike is whether he is comfortable on it. Measure the height of the stand over of the bike and your kid's inseam.
| | | |
| --- | --- | --- |
| Child' Age | Child's Inseam (in inches) | Wheel height |
| 2-5 years | 14-17 inches | 12 inches |
| 4-6 years | 16-20 inches | 14 inches |
| 5-7 years | 18-22 inches | 16 inches |
| 6-8 years | 20-24 inches | 18 inches |
| 7-10 years | 22-25 inches | 20 inches |
| 10+ years | 24-28 inches | 24 inches |
All adult bikes use the center of the bottom bracket to the top of the seat tube for measurement. Kid's bikes measure the diameter of the wheels of their bikes. For an eight years old kid, 18 inches to 20 inches wheel height will suit him best. The chart shown below will help you narrow down your search.
The chart should not substitute an expert's suggestion while finding a suitable bike for your child. Measurements taken in person will be more accurate.
Measure the length of your child's pants from the fly of his pants down the end. The number of this measurement will be the length of his inseam. His inseam's height should be longer than the bike's stand-over height (Length of the top tube of the frame of cycles.) If your child's inseam is 20" make sure the stand-over of the bike is 19" or shorter.
How to choose the right bike
There are so many brands of kid's bikes, and a child's bikes will not be the same quality as adult bikes. Adult bikes will be lighter and assembling a child's bike to the same quality as an adult bike is costly.
Here are some criteria that you can take while purchasing the perfect bike for your kid.
Bike stabilizers: Attach bike stabilizers/training wheels on your kid's bike if he is only starting to ride a bike. The attachment will help him ride confidently, as the bike stabilizers will allow him to maintain his balance without falling.
What if your kid is too big for one size but uncomfortable with the bigger wheel? Getting him the bigger wheel size would be better as they will eventually grow into it.
If it still bothers your kid, some stores can help you assemble different parts. But this will cost a little bit more.
Market bikes are hefty. Their bikes are usually heavier than adult bikes. Heavier bikes are rugged for children to maneuver and will be exhausting to ride. Kids will generally refuse to ride long distances if their bikes are too heavy. So, try to get a lighter bike.
Bike frames made of aluminum and titanium are going to be lighter. If the wheels and other components are lightweight, steel frames are also sturdy enough to use.
Bike frame: The bike's frame is generally strong enough to handle the moderate strain of weight and rough terrain. An average adult will not be able to bend it by hand. The tires of the bike should be in alignment. You can check this by standing a few steps in front or behind the bike a see if the wheels are in the same plane. Make sure the seat post and the stem of the handlebar are greased and bolted correctly.
You can know the bike size of your child just by trying it out in the bike store. If it does not fit him well, there will be complications like uncomfortable in his back, neck, and shoulders, among others. Buying a bike that is a more oversized fit for your kid will eventually cause these problems to occur more and may even be permanent in the coming days.
The brakes: Brakes are a vital component to have in a bike. Generally, kids do not have enough coordination to use the hand brakes. In that perspective, coaster brakes are ideal.
There is no modulation in coaster brakes and cannot backpedal with them. And this is difficult for your child if he is starting to learn how to ride a bike. A pedal bike will stop suddenly when your kid backpedals and fall over, mainly if he uses a pedal bike without training wheels.
Children who learn to ride on a balance bike with a hand brake can change to a pedal bike with handbrakes.
Weight of the bike: Traditionally, manufacturers use steel to build a bike's frame, but they are heavy. If the bike is heavier than your eight-year-old kid, it can be difficult for him to maintain his balance and control.
A heavier bike will put much more strain on your child. It will tire him out while pedaling and taking turns. Because of the bike's weight, unless the brakes are powerful, it will take longer to bring the bike to a complete hold. Another problem with using a heavy bike is that it may cause severe injuries if it falls on top of your kid.
These days manufacturers build bikes with aluminum. These bikes are much lighter and stronger than steel-framed bikes. Unlike steel frames, your child will be able to have effortless control of the bike.
Bikes with gears: There are many bikes with gears on them in the 20-inch wheel size. If your child is up for it, you can decide on buying one. Bikes with gears are difficult to adjust for some riders, but they can always learn after a few trials.
Tips for buying bikes in the store
Having your child ride the bikes in the store is the best way to measure his new bike. Some stores may have bike experts that will help your child try out on different bikes. They can get your child the saddle and handlebars at the right height.
Your kid should be able to have his feet flat on the floor while sitting on the saddle.
There should be enough room for your kid between his inseam stand-over tubes.
The bike frame will be too long if your kid seems to look hunched or stretch to hold the handlebars.
Some manufacturers will help in adjusting the gears in a geared bike appropriately.
Look for manufacturers that provide a lifetime warranty if the frame of the bike cracks or something similar happens to the other parts.
If you decide to use coaster brakes, add hand brakes for safety purposes.
Aluminum bikes are costly, but they are safer to ride.
Safety first:
Biking with friends and family is always fun. But there is still the risk of having your child getting into an accident. Here are some suggestions to keep in mind for your kid's safety.
Like the horns in cars, bells are great to save a rider from crashing into each other.
It will help if you teach the importance of wearing protective gear. It may be uncomfortable but, wearing a helmet protects your child from head injuries.
In conclusion, there are so many ranges of bikes for different purposes. There are on-road bikes for city-ride, and off-road cycles are suitable for riding in hilly areas. With options to choose from, considering the terrain and your child's comfort on his bike will help you get your child a great bike.