Best Bike Size for a 3 Year Old
RoyalBaby Kids Bike Boys Girls Freestyle BMX Bicycle with Training Wheels Gifts for Children Bikes 14 Inch Green
Highest Rated Bike for 3-year-olds
"Dynacraft Hot Wheels Boys BMX Street/Dirt Bike with Hand Brake 14"", Red/White/Black "
Good Choice
RoyalBaby Boys Girls Kids Bike 14 Inch Buttons Bicycles with Training Wheels Child Bicycle Blue
Good Bike Overall
JOYSTAR 14 Inch Kids Bike with Training Wheels for 3 4 5 Years Old Boys, Toddler Cycle for Early Rider, Child Pedal Bike, Blue
Best Bike Size for a 3 Year Old
RoyalBaby Kids Bike Boys Girls Freestyle BMX Bicycle with Training Wheels Gifts for Children Bikes 14 Inch Green
Highest Rated Bike for 3-year-olds
"Dynacraft Hot Wheels Boys BMX Street/Dirt Bike with Hand Brake 14"", Red/White/Black "
Good Choice
RoyalBaby Boys Girls Kids Bike 14 Inch Buttons Bicycles with Training Wheels Child Bicycle Blue
Good Bike Overall
JOYSTAR 14 Inch Kids Bike with Training Wheels for 3 4 5 Years Old Boys, Toddler Cycle for Early Rider, Child Pedal Bike, Blue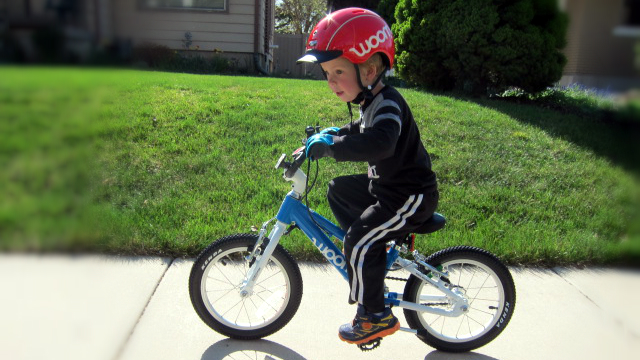 Most parents are trying to find out the answer to this one commonly asked question, what size bike for 3 year old should they buy?
Riding bike is a fun activity that kids enjoy a lot and who are we to deny them this happiness? Not only is it fun, but riding a bike is also a good exercise routine for their health. There are varieties of bikes, depending on the sizes. A bike designed for adults has a significant difference in proportion to the ones made for the children. In this article, we will help you identify the right bike for your kid that ensures both safety and comfort.
If you are interested in what bike size is suitable for a 5-year-old kid, check out this article: https://www.bestof.info/what-size-bike-for-a-5-year-old-kid/
Bike Size Chart for 3-Year-Olds
First and foremost, there are numerous aspects you need to consider before buying a bike for the child. Knowing the right size is your main priority.
Second is picking out a bike with the right frame and sturdy wheels. The frame size of the bike should correspond with the kid's height. We should not compromise when it comes to their safety. Therefore, choosing a bike of high-quality is a must.
Here below is a bike size chart with age, height, and other measurements you can use to buy the perfect bike for your child.
| | | | |
| --- | --- | --- | --- |
| Age | Height | Inseam | Wheel Size |
| 2-3 | 2'10"-3'4" (85-100 cm) | 14-17" (35-42 cm) | 12" (30 cm) |
| 3-4 | 3'1"-3'7" (95-110 cm) | 16-20" (40-50 cm) | 14" (36 cm) |
| 4-5 | 3'7"-4'0" (110-120 cm) | 18-22" (45-55 cm) | 16" (41 cm) |
| 5-6 | 3'9"-4'3" (115-130 cm) | 20-24" (50-60 cm) | 18" (46 cm) |
| 5-8 | 4'0"-4'5" (120-135 cm) | 22-25" (55-63 cm) | 20" (51 cm) |
| 7-11 | 4'5"-4'9" (135-145 cm) | 24-28" (60-72 cm) | 24" (61 cm) |
As shown in the chart above, you mainly need to focus on four key details. It includes your child's age, height, inseam, and of course, the wheel size.
Types of Bikes You can Buy for 3 Year Old Kids
Purchasing a bike is entirely a different topic. It is not as easy as simply walking into the store and get the bike the child sets their eyes on. As a parent, you have your concerns regarding your child's well-being and rightly so.
There are several types of bikes fit for kids of different ages. Balance bike and small wheelers are the most suitable ones for kids around the age of 3 to 5. Now, let's have a look in detail as to why you should opt for these bikes.
Balance Bikes
Kids aged around three mostly try out on a two-wheeler such as a balance bike that does not have pedals. On this, the child simply uses the feet to push and stop while racing along.
A balance bike with 12-inch wheels is best for a starter. It will instill in your child a sense of balance and belief in oneself.
Small Wheelers
Primary pedal bikes are known as a small wheeler. Most often, these bikes are 14-inch. We should keep in mind that the change-over from a balance bike to a small wheeler should be as easy as possible. Therefore, most small wheelers have only a few parts.
Identify the Right Frame and Wheel Size Depending on the Height and Age
Kid's bikes are mostly categorized by the wheel size, whereas for adults, it depends on the frame size and height of the seat. In addition, the height and age of your child determine the wheel size.
Height
In order to make the right choice in the first place, the accurate measurement of your kid's height is crucial. It will provide you with the correct size of the wheel. For a 3-year-old, the height should be approximately 85-100 cm. You can take the help of the chart provided to help you with choosing the bike. To ascertain the height proportion, the measurement of your child's feet to the crotch is necessary.
Age
The 12-inch wheel size is perfect for younger kids aged two to three, as per their height and inseam length. In order to learn how to ride and balance, you can also choose a balance bike to switch to pedaling easier.
Using the Height and Inseam Approach
The next step is to determine the height and inseam of your child. It is an easy task to measure height. So once that's done, go for the inseam.
Measuring the length of the inner leg is the accurate method to get the perfect sized bike for your kid. For this, you need to make your child stand and lean on the wall with their legs a few inches apart. It usually has the measurement of 14-17 inch inseam length for a 3 year old.
To be more precise, place a book with its spine facing upwards in between the legs. Move the book up until it closely fits against the top of the inner thigh. It will give you an idea of the bike seat. Finally, measure the distance from the feet up to the crotch, and that is how you get the inseam length.
Find your 3 Year Old Child the Right Bike that Fits
The most important thing for your child is choosing the right bike that fits. They should grow into it so that they develop their ability and confidence. Accordingly, the height of the seat has to be in the right position. It should be such that your child should find it comfortable and easy to place both feet on the ground.
Furthermore, ensure that the brakes are working perfectly fine. You need to make sure your child knows when to use the brakes in the front and at the back. Because kids are always hyper and up to no good, they may try to pull a stunt. So to avoid any injuries, minor or severe, wearing a helmet is a must.
The bike should also be one that your kid favors. Imagine you buy a bike with everything specified, yet your kid does not like its color. That would be a total waste! So, be sure to buy your child the bike they love.
Things to Consider before Purchasing a Bike
Brands – Brands like Woom, Frog, Cleary Gecko, etc., develop the best 12 to 14-inch bikes. Their products are superior, long-lasting, and ensure safety. They offer a wide range of designs and colors as well.
Gears – Bikes for a 3-year-old should not have multiple gears or chains. A chain-guard is enough, and it helps the kids pedal the bike smoothly. You can remove it too once your child learns to ride better.
Materials – Manufacturers use mostly aluminum and steel to build a kid's bike. Steel bikes are cheap as compared to the ones made of aluminum. However, many recommend that you buy an aluminum bike for your kid. They are not as heavy as the steel bikes which your kid can handle with ease.
Weight – It is always advisable to get a lightweight bike for children. If the bike is bulky, your child will find it difficult to operate and steer, which will tire them quickly.
Brakes – Children do not have much strength in their hands as compared to adults. Therefore, brakes should not be hard to pull.
Helmet – Helmets ensure safety. Do not forget to get one when you purchase a bike for your child. Make sure it is also the right size so that it fits their head correctly. You should take into account the weight of the helmet as well.
Are Training Wheels Advised?
Training wheels are something that many equally agree and disagree on. The good thing about using training wheels is that they ensure balance and safety. For kids riding a bike for the first time, it will be challenging to stabilize the bike without any support.
There is also a downside in using training wheels. Once your child gets used to it, they will find it hard to ride their bike after removing the support. It also affects the brakes when making turns as the pressure is put on the training wheels and not the back wheel.
Hence, if you decide to go for the training wheels, make sure you begin at the ground level. As your child starts to gain confidence, lift the wheels bit by bit. You can remove it once your child becomes a confident rider.
Let's Sum It Up
Height and age will determine the right frame and wheel size for your 3 year old. You can also check out the chart provided above.
Determining the inseam length of your child is the best method to get the perfect bike size. This method will make sure your child's feet touch the floor without any difficulty.
Measure your child's inseam using a book with its spine touching the crotch. You can then measure the length from the crotch down to the floor.
Balance bikes and small wheelers are the best bikes for 3 years old. These bikes excel in maintaining balance and control.
Conclusion
Always make sure to get a bike with all the right specifications for your child. It is never wrong to be a little cautious about everything, especially if it concerns your children's safety. On that note, seeking the guidance of an expert is advisable. To understand better, you can also research first before you make your decision. Last but never the least, get your child accustomed to always wearing a helmet.