Best Zero-Turn Mower Overall
Husqvarna Z242F 42 in. 18 HP Kawasaki Hydrostatic Zero Turn Riding Mower
Most Powerful Zero-Turn Mower
Snapper 360Z 23HP 724cc Briggs Intek Engine 46" Z-Turn Mower #2691500
Best Price
Husqvarna Z142 42 in. 17 HP Kohler Hydrostatic Zero Turn Riding Mower
Best Zero-Turn Mower Overall
Husqvarna Z242F 42 in. 18 HP Kawasaki Hydrostatic Zero Turn Riding Mower
Most Powerful Zero-Turn Mower
Snapper 360Z 23HP 724cc Briggs Intek Engine 46" Z-Turn Mower #2691500
Best Price
Husqvarna Z142 42 in. 17 HP Kohler Hydrostatic Zero Turn Riding Mower
A spacious backyard is an ideal feature that every homeowner dreams of. You can host parties, throw barbeque events, or just chill out on a warm summer evening. But….but, that vast land of greens does come with its fair share of the burden when it's time to trim/mow it down. Best zero turn mowers under $3000, in such cases, provide the simplest and most effective solution.
Unlike other types of conventional mowers, zero-turn mowers provide a unique maneuverability feature. This feature allows it to turn 180º effectively with zero turning radius. Apart from their incredible maneuverability, zero-turn mowers are also known for their exceptional speed. This combination of zero turning radius along with excellent agility means you get the job (mowing) done much quicker and faster as compared to other conventional mowers.
At present, the total number of zero-turn mowers in the market is quite substantial. Hence, picking out your ideal z-turn mower may not be quite as easy as you might think. Also, when you think of zero turn mower, paying the right price plays a crucial role. We would say $3000 is the sweet spot. At this price range, you will get some of the best zero turn mowers with all the fundamental features that you will require to get the job done. Of course, there are even more higher-end products. But, in our opinion, there are some zero-turn mowers under $3000 in the market at present that gives you an incredible value for money.
In this article, we will give you a detailed review of those specific zero turn mowers under $3000 to help you pick your ideal mowing companion.
But first, here are some of the most important features that you should always look out for before buying any zero-turn mowers.
Zero Turn Mowers Buying Guide
Engine Horse Power
The power capacity is the first thing you should consider. After all, the entire performance of the mower is going to depend on its Horse Power rating. Horsepower indicates the magnitude of output power a z-turn mower is capable of delivering. Hence, the higher the Horsepower rating, the better.
Of course, the ideal power rating of z-turn mowers mainly depends on the type of your lawn and also its size. But, traditionally, the Horse Power of an efficient z-turn mower should lie between 12HP-18HP. This Horse Power range is more than sufficient to take care of your usual mowing needs.
Cutting width
Next, comes the cutting width of the z-turn mower. The cutting width represents the effective area that the mower can clear out with every rotation. The larger the cutting width, the quicker you will be able to trim out your lawn without having to maneuver back and forth.
For the contextual purpose, a cutting deck of 32″ – 60″ is ideal for dealing with grass areas ranging from 20,000 sq. ft to about 4 acres. However, if you have a smaller lawn, it is best to go with small mowers, so you can easily maneuver around the small corners.
Pricing
As we mentioned earlier, pricing plays a key role when you are trying to purchase a z-turn mower. Zero-turn mowers are present in abundance with varying price tags. So, it is extremely normal for an amateur to end up paying a premium price for a modest product, while others settle for significantly cheaper options.
However, if you want to make a good investment, we recommend you keep your wallet limit flexible. $3000 is a good price point where you can get some of the best z-turn mowers in the market.
Comfort
The comfort factor of a mower is something that you cannot afford to overlook. The quality of seat cushioning and the degree of vibration that the motor produces play a key role in promoting a comfortable mowing job.
Apart from that, you can also look for a good footrest and well-padded handles as well.
Versatility
The majority of zero-turn mowers will perform exceptionally well in flat terrains. However, the same cannot be said for lawns that have steep terrain. This is where most of the mowers struggle to deliver.
If your lawn has steep terrains, you should consider a z-turn mower that has a spacious deck clearance room, or a deck that moves independently. Such features will allow you to trim your steep lawn with ease.
The above buyer's guide should give you a good idea of what features to prioritize before selecting a z-turn mower.
Here are some of the best zero turn mowers under $3000 that you can buy
1. Husqvarna Kawasaki Hydrostatic Zero Turn Riding Mower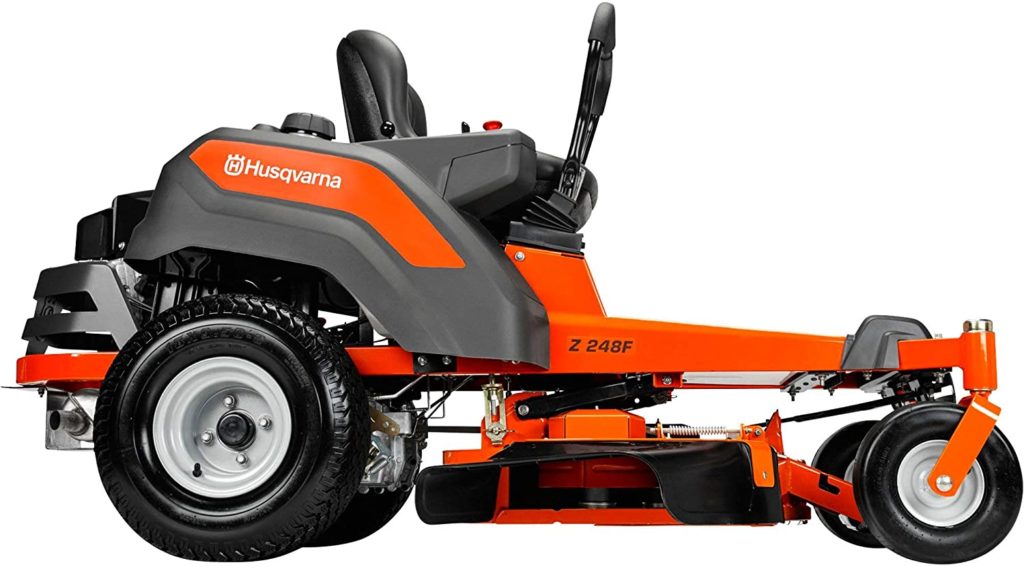 If you are looking for a zero-turn mower that can chomp through your lawn grass with ease, you don't have to bother looking past the Husqvarna Z242F z-turn mower. It is easily one of the best zero turn mowers under $3000 with its impressive spec list and powerful engine.
The Z242F belongs to one of the most popular and successful z-turn mower series from Husqvarna – the Z200 series.
The Z200 series boasts of some of the best z-turn mowers in terms of their sheer performance and exceptional build quality. The Z242F is no exception to this, making it a compelling purchase option.
Here are some of the key features of the Husqvarna Z242F Zero Turn Mower.
The Husqvarna Z242F comes in two engine options – Kawasaki and Kohler engine. Both of these are top-tier engine parts with some serious power capacity. But, in this case, we are reviewing the Kawasaki model.
The engine has a reliable power rating of 18HP. The numbers might not seem convincing on papers. But, the mower backed by a premium engine performs exceptionally well on small backyard lawns.
The unit also performs well under steep terrains, at least up to 10º. Beyond that, you might need some extra hands.
Cutting/mowing performance
Husqvarna z-turn mowers make use of a unique cutting technology called the ClearCut technology. This technology incorporates some useful features such as enhanced blades, smart airflow, and broad deck design.
The result? You get a clean and consistent cut every time you take the mower out for a spin.
The Z242F features a wide 42" cutting deck size that helps you clean out a large area of grass in no time. The mower can also attain the maximum speed of 6.5 mph, which helps to further cut down your mowing time.
Husqvarna has a good reputation in the market for its impressive build quality, and the Z242F is no exception. The mower is built with premium-grade steel material all around, making it extremely sturdy and durable.
There is also adequate protection on both the front and the rear end, in case you run into some unprecedented obstacles as well.
The Husqvarna Z242F comes with a 15″ high back seat with adequate cushioning. The rubber isolators do excellently well in filtering out the majority of vibrations coming from the Kawasaki engine.
Besides, the anti-slip footrest with a significant bump helps you sit stretch out your legs comfortably as well.
What we like
Easy to operate
Exceptional performance for small lawns
Automatic park brake system
Wide cutting deck
2. Husqvarna Z248F Zero Turn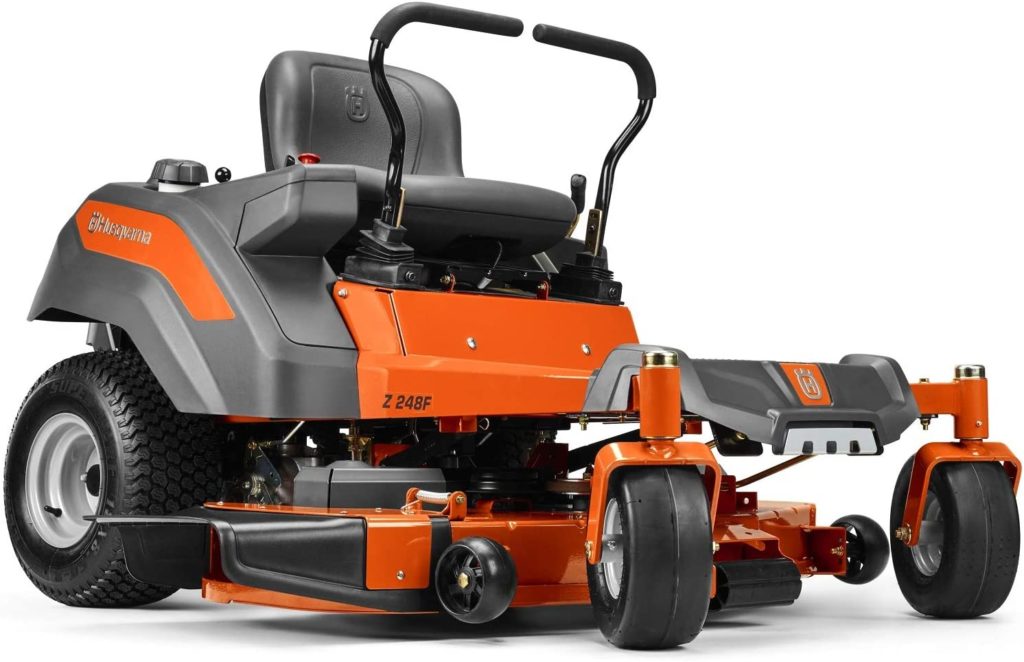 The next z-turn mower is again another Husqvarna product. Think of it as an upgraded version over the previously mentioned Z242F zero turn mower. It comes with a bigger and, of course, a better engine capacity.
The cutting deck is significantly wider in the case of the Z248F model. So, if you are in the market looking for a mower than can do some serious work over a large stretch of green lawn, the Z248F zero turn is as good as you can get.
Here are some of the key features of the Z248F Zero Turn Mower.
Like any other Z200 series zero-turn mowers, this unit also comes with the option of choosing either a Kawasaki or a Kohler engine. But again, we are looking at the Kawasaki engine variant.
The engine is rated to provide an effective 21.5 HP with a 44.3cc displacement system. This power figure is more than convincing enough to run through your medium-large sized lawn with ease.
One more crucial feature of the Kawasaki engine is that it comes with a hydrostatic transmission. This transmission system ensures negligible maintenance, even if you use it for long hours.
Cutting/mowing performance
Like any other typical Husqvarna zero-turn mowers, the Z248F also comes with their signature ClearCut technology. As much as that sounds gimmicky, the technology does indeed work in ensuring an impressive cutting performance, especially due to its exceptional airflow.
The unit comes with a wide 48" cutting blade that covers quite a significant grass area. The deck has a triple-blade design to ensure a thorough cut every time.
The cutting deck has a unique design mechanism that pulls the grass upward. This ensures minimal clumping on the deck, which, in turn, provides a smooth cutting performance.
The frame and chassis of the Z248F zero turn are both made out of reinforced high-tensile strength steel material. This gives it a best-in-class build quality with tremendous durability.
The rear wheel and the front casters feature an anti-slip and rugged design to roll through the small bumps easily. Other than that, there is a safety bumper on the front and an engine guard on the rear end as well.
The Z248F comes with a 15″ high back seat that provides good comfort and an ideal sitting position for operating the hand throttles. The seat is adequately cushioned for comfort, and you get a steep leg rest arch.
The chassis and the frame are extremely sturdy and well optimized to minimize the majority of vibration that results in a smooth and comfortable ride.
What we like
Automatic parking brakes
Exceptional power output
Excellent build quality
Smooth and comfortable mowing
Ergonomic design
3. Snapper Briggs Z-Turn Mower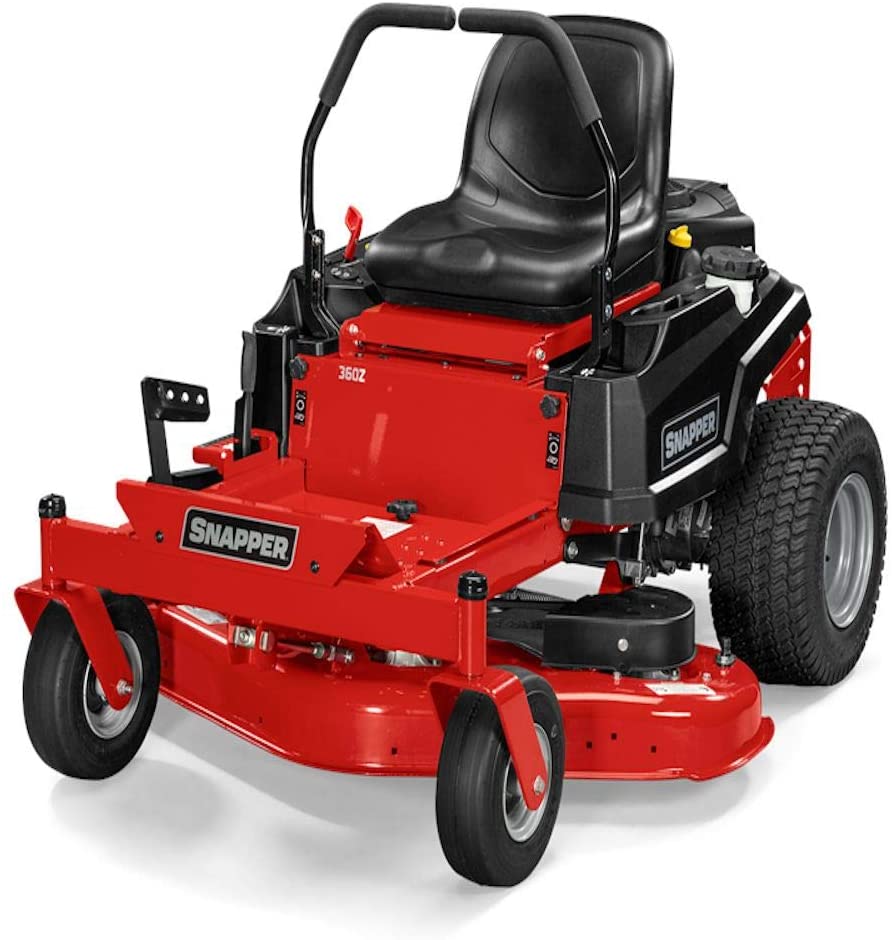 The Snapper 360Z z-turn mower makes for a compelling purchase option if you are looking for a product to use for both residential and commercial purposes. The unit belongs to probably the most popular zero-turn series from Snapper – the 360Z series.
The 360Z series boasts of a wide variety of products will varying spec sheets. The 23 HP, 46" model, in specific, is an intermediate unit between their entry-level and their top-end z-turn owners.
Overall, the Snapper 360Z 23HP is one the best value-for-money zero turn mower under $3000.
Here are some of its key features
The Snapper 360Z 23HP zero turns comes with the best and also the most reliable engine part in the market – Briggs, and Straton. As the name suggests, it features a 23HP v-twin engine system with a displacement of 724cc, making it a mowing beast.
At $3000, the magnitude of sheer power output that this unit provides is simply incomparable. The exceptional power from the Briggs and Straton engine combined with a special hydro-gear transmission makes the unit butter-smooth and easy to operate.
Cutting/mowing performance
The Snapper 360Z 23HP mower has a cutting deck size of 46" which is quite sufficient for cleaning out any small-medium sized lawn grasses. The unit features a standard triple-blade cutting blade design that ensures an uninterrupted cleaning performance.
The best part about it is that the deck can be adjusted to seven (7) different height settings from 1.5 to 4.5". This allows you to adjust the blade heights according to your specific cutting requirements, or uneven terrains.
The Snapper zero-turn is built like a tank with a top-notch welded steel frame that supports the chassis and the entire unit convincingly well. The front axle is also constructed using specialized aircraft-grade aluminum material.
Of course, there is also substantial protection on both the front and the rear end to ensure it stays unscratched from any type of accidental bumps.
The unit is designed to promote as much comfort as you can expect from a standard zero turn mower. The foot-operated mower deck allows you to easily switch between different deck heights, and the steering throttles are well-padded and easy to operate as well.
The seat is placed at a good height (15") with just about sufficient padding. There are also some easy-to-access control buttons on the right-hand side, making everything super convenient.
What we like
Best-in-class engine performance
7-different deck height settings
Durable build quality
Large cutting deck
Ideal for both residential and commercial use
4. Husqvarna Zero Turn Riding Mower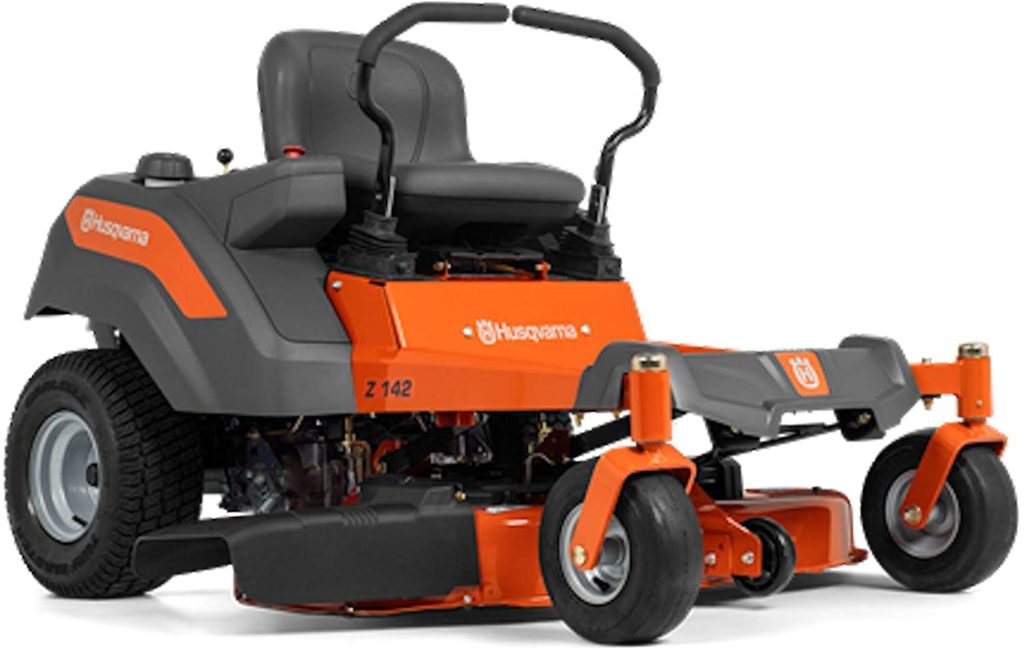 Husqvarna Z142 is another great option you can consider if you have a considerably small lawn. Unlike the other Husqvarna products in the list, this unit belongs to a different series – the Z100.
It is an entry-level z-turn mower that provides an ideal balance of performance with a moderate price tag. So, if you need a mower that can handle any type of standard mowing requirements at a budget price segment, the Husqvarna Z142 is your best shot.
Here are some of its key features
The Husqvarna Z142 zero turn comes packed with a reliable power rating of 17 HP from Kohler (v-twin) engine. It can go up to a maximum speed of 6.5 MPH in the forward direction, helping you cut through the grass in no time.
The engine is convincingly capable and produces adequate power to push through your standard mowing needs with ease. The no-maintenance zero turn transmission works well with different cutting conditions as well.
Cutting/Mowing performance
The unit comes with a wide 42" cutting deck, allowing you to cover a good surface area at one go. Considering it is best suited for small-medium lawns, the wide cutting deck should help you finish cutting the grasses in no time.
The unique air induction mowing technology also improves the grass cutting performance and provides an elegant cut.
Like most Husqvarna mowers, the Z142 zero turn also comes equipped with the top-notch build quality. The frame uses a reinforced steel material that holds up the entire weight of the unit quite convincingly.
There are, however, limited protection on the front and the rear end. Apart from that, the cutting deck is also made of heavy flat-stock steel.
The Z142 has a good comfort space with a well-padded medium-back seat, and a hand throttles as well. The footrest arch isn't as significant as the other higher-end units but is easily manageable.
The Kohler engine doesn't produce high vibrations due to its moderate power rating.
What we like
Excellent value for money
Kohler engine provides sublime performance
Minimal maintenance
Good build quality (durable)
Wide cutting deck
5. Snapper Kawasaki Zero Turn Mower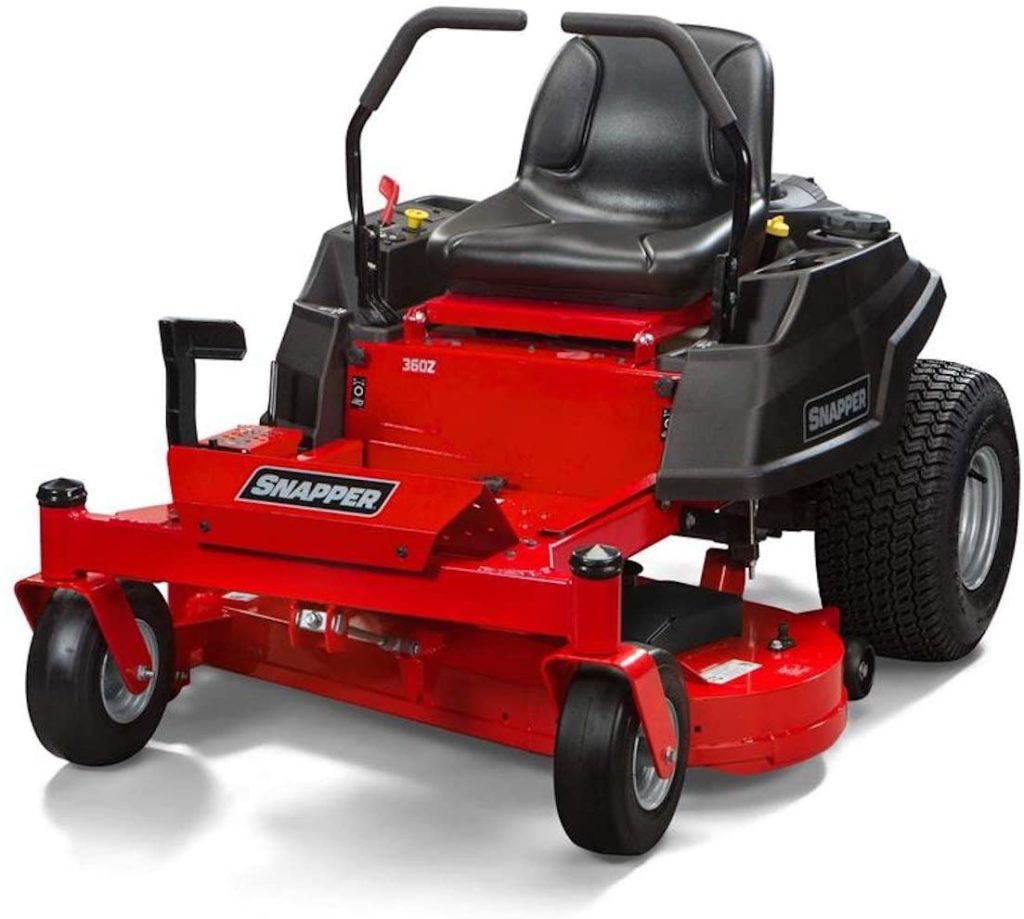 The last product on our list is the Snapper 360Z 18HP Zero turn mower. This is another excellent entry-level z-turn mower under $3000 that you can purchase if your pocket is running low.
Here are some of its key features
The 360Z zero turn series from Snapper boasts of some of the best zero turn mowers in the market with exceptional performance capabilities.
In this case, we are looking at the 18 HP variant. This power is backed by a class-leading V-Twin Kawasaki engine. The engine is highly efficient and runs smoothly throughout the entirety of the mowing duration without any stutters.
Cutting/Mowing performance
The unit features a decent size 36" cutting deck. As you might have imagined, it has the smallest cutting width amongst all the listed products. But, the Mower does an excellent job of cutting through the grass with ease.
It also features a dual-blade design, unlike the standard triple-blade set-up. So, it is strictly a residential mower with a small lawn area.
The Snapper 360Z 18HP is built to last. The frame of the unit features a durable 12-gauge steel material that ensures a sturdy and solid form factor. The cutting blade, on the other hand, has an aluminum build.
The front and rear end have adequate protection. Overall, the unit is quite sturdy, considering its light-duty capacity.
The medium-back seat of the mower is placed at the height of 15," which is the ideal height setting. The seat cushioning isn't the best, but is manageable, considering its price tag.
The easy-to-reach controls on the right side and an average-sized cup holder on the left make the operation easy and effortless. The steering levers are also well-padded to ensure minimal hand fatigue.
What we like
Good value for money
Excellent Mower for small lawn size
Exceptional engine performance
Sturdy frame construction
Adjustable cutting deck height
What we don't like
Suitable only for light-duty work
Limited accessory support
Frequently Asked Questions on Zero Turn Mowers
What should I look for in a zero-turn mower?
The answer to this is already covered in our buyer's guide section above. But, if you want a brief overview of things to look for in a Zero Turn Mower, here are the key factors –
Engine performance/quality – look for top-tier engine systems like Kawasaki, Briggs, and Straton, or Kohler. Also, look for higher Horse Power (HP) rating for more efficient performance.
Size of the cutting deck – prefer a wider deck for the larger lawn grass area.
Build-quality – look for products that are built with reinforced steel to ensure optimum durability.
Safety and comfort – good zero-turn products come with ample protection on the front and the rear end. Also, look for units that have good seat padding and minimal vibrations as well.
Are zero-turn Mowers worth the money?
If you are looking to invest in a Mowing machine, it doesn't get better than Zero Turn Mowers. There are numerous reasons why z-turn Mowers is a smart investment choice.
They require minimal maintenance in the long run
They are much more efficient in cutting grasses due to their superior maneuverability
They are quicker than most conventional lawn mowers
They are extremely easy to operate
With proper accessories you can either clip, trim, or, mulch the grasses for a more efficient mowing experience
Do Zero Turn Mowers mow faster?
Yes! As we mentioned earlier, one of the prime advantages of z-turn mowers is their superior agility or speed. Zero Turn Mowers are capable of running with up to twice as fast as the traditional lawn tractors.
This means z-turn mowers can mow out a specific area of grass with up to 50% more time efficiency. A normal lawn tractor's speed generally ranges from a mere 3-4 MPH.
Zero Turn Mowers, on the other hand, can attain the speed of about 5-8 MPH on average. All the z-turn mowers mentioned in the list above also falls under that speed category.
Which Zero Turn Mower is best on hills?
If your requirement includes climbing steep terrain, you have to look for some specific features that will allow you to do the same. The most important thing is to look for good traction performance.
Good traction comes with good quality of tires with anti-skid features, and good weight distribution as well.
Another crucial factor that helps with hill climb is the Horse Power rating. For obvious reasons, mowers with higher HP will have a better hill-climbing performance.
From the products listed above, the Husqvarna Z248F and the Snapper 360Z 23HP are the best options to climb hilly terrains.
What are the advantages of a Zero Turn Mower?
Zero Turn Mowers have the following advantages:
Ability to perform 180º turns with an effective zero degrees radius
They are twice as fast as the traditional lawnmowers/tractors
They require little to no maintenance over a long duration of usage
Their operation is amateur-friendly, due to their straightforward operating system
They are more comfortable to operate
They provide exceptional versatility, especially with additional accessories