Best Overall Competition Subwoofers - All Sizes
Skar Audio ZVX-8 D2 8" 900 Watt Dual 2 Ohm SPL Car Subwoofer
Best 15-inch Competition Subwoof
Scosche C154D 15-Inch Competition Dual Voice Coil Subwoofer
Best 12-inch Competition Subwoofer
(2) American Bass ELITE-1244 2400w 12" Competition Car Subwoofers 3" Voice Coils
Best 10-inch Competition Subwoofer
Massive Audio SUMMOXL104-10 Inch Car Audio 3000 Watt SUMMOXL Series Competition Subwoofer, Dual 4 Ohm, 2 Inch Voice Coil. Sold Individually.
Best Overall Competition Subwoofers - All Sizes
Skar Audio ZVX-8 D2 8" 900 Watt Dual 2 Ohm SPL Car Subwoofer
Best 15-inch Competition Subwoof
Scosche C154D 15-Inch Competition Dual Voice Coil Subwoofer
Best 12-inch Competition Subwoofer
(2) American Bass ELITE-1244 2400w 12" Competition Car Subwoofers 3" Voice Coils
Best 10-inch Competition Subwoofer
Massive Audio SUMMOXL104-10 Inch Car Audio 3000 Watt SUMMOXL Series Competition Subwoofer, Dual 4 Ohm, 2 Inch Voice Coil. Sold Individually.
If you're looking for a good sound system upgrade, then amongst all the regular subwoofers out there, the competition subwoofer is the way to go. Whether you are particularly serious about the SPL in your subwoofer, or you just want to turn up the volume and enjoy an excellent, loud, thumping bass, the competition subwoofers have them all. They give you the best intense bass your car needs.
These competition subwoofers are a combination of high power, high output, which gives the most significant impact that will leave your car vibrating, which a regular subwoofer can in no way compete with.
With a competition subwoofer, you will get the loudest and the best sounding audio system that no other speaker can offer.
But before you jump in to buy your competition subwoofer, for a better shopping experience, let us first learn about the types of competition subwoofer. If you are looking to improve your sound system at home, check our guide about bedroom soundbars.
Types of Competition Subwoofers
· Component Subwoofer
This type of subwoofer is the speaker itself; it does not come with an external amplifier or any enclosures. For component subwoofers, the sound quality largely depends on the type of amp you use. So this is ideal for someone who wants to personalize and build the system from scratch.
· Enclosed Subwoofer
The enclosed subwoofer is the one that comes with an enclosure box. Although you will still need to get an external amplifier, they work pretty amazingly in enhancing the quality of the bass.
· Powered Subwoofer
A powered subwoofer is a compact speaker system that comes with the amplifier. This type of subwoofer produces good, deep bass, and its convenient size makes it so simple for installation.
· SPL And SQ
SPL (Sound Pressure Levels) and SQ (Sound Quality) is another type of subwoofer that gives out a different quality of sound, which in the end depends on your preference.
SQ focuses on clarity and accuracy, where you can hear every frequency clearly, whereas SPL audio system is all about loudness.
Competition Subwoofers Buyer's Guide
Deciding on the right and the best competition subwoofer for your car can become a difficult task if you have no clue what to look for. Therefore, to help you make your search easier, here are a few things to consider when buying a competition subwoofer.
Buyer's Guide
· Power
You should check that a competition subwoofer has high power because, with a higher power, you are more likely to get a louder, deeper, and cleaner bass. Therefore, do check the RMS power handling for better performance of the subwoofer.
· SPL
A good professional speaker is measured in SPL (Sound Pressure Levels). So it is suggested to look for a competition subwoofer with SPL below 80db to be safe. Because there is a chance of possible ear damage if it goes above 85db.
· Bass
It is essential to check the quality of bass a competition subwoofer has. Check the ranges of frequency, since it is crucial to have the right frequency to receive the right kind of bass. And to make sure that you have the right frequency, it is preferable if the frequency ranges between 20 Hz to 200 Hz.
Although, with a good professional audio system, you can typically use a subwoofer that comes with 100 Hz or under.
· Voice Coils
The competition subwoofer comes with two types of voice coils. A single voice coil and a dual voice coil, and both types of voice coil works amazingly, giving excellent quality of bass sound.
However, a single voice coil is more comfortable to install, and is cheaper, hence it is ideal for someone new to competition subwoofer. But if you want to go all out, then dual voice coil should do you good. Although they are a little more challenging to install, they provide a high-quality sound just in general. So, depending on your requirements, you may make your choice.
· Size
Irrespective of the size of the subwoofers, the good ones will always have a better overall performance. There are massive subwoofers that give the best sounding bass, and likewise, there are compact-sized subwoofers with strong bass.
Therefore, the size of the subwoofer does not affect their performance. However, when it comes to its set up or fit of the car, you cannot overlook the size of the subwoofer. You will need to consider the space you have in your vehicle and accordingly buy the subwoofer that best fits it.
· Enclosure
When shopping for a subwoofer, check if they come with an enclosure box, because not all subwoofers come with enclosures. Also, there are different types of enclosures, and they perform differently, too. The quality of the sound is mostly dependent on the type of enclosure you mount them on.
The subwoofer that comes with a sealed enclosure gives you deep and intense bass, while a subwoofer with an open enclosure produces a precise and tight bass. And the one with a ported enclosure gives a louder bass than compared with the first two, which makes it perfect for those who love volume over accuracy.
Best 8, 10, 12, and 15-inch Competition Subwoofers Reviewed in Detail
Here's a list of some of the best competition subwoofers with sizes ranging between 8-15 inches.
Best 15-inch Competition Subwoofers
1. Scosche 15-Inch Competition Dual Voice Coil Subwoofer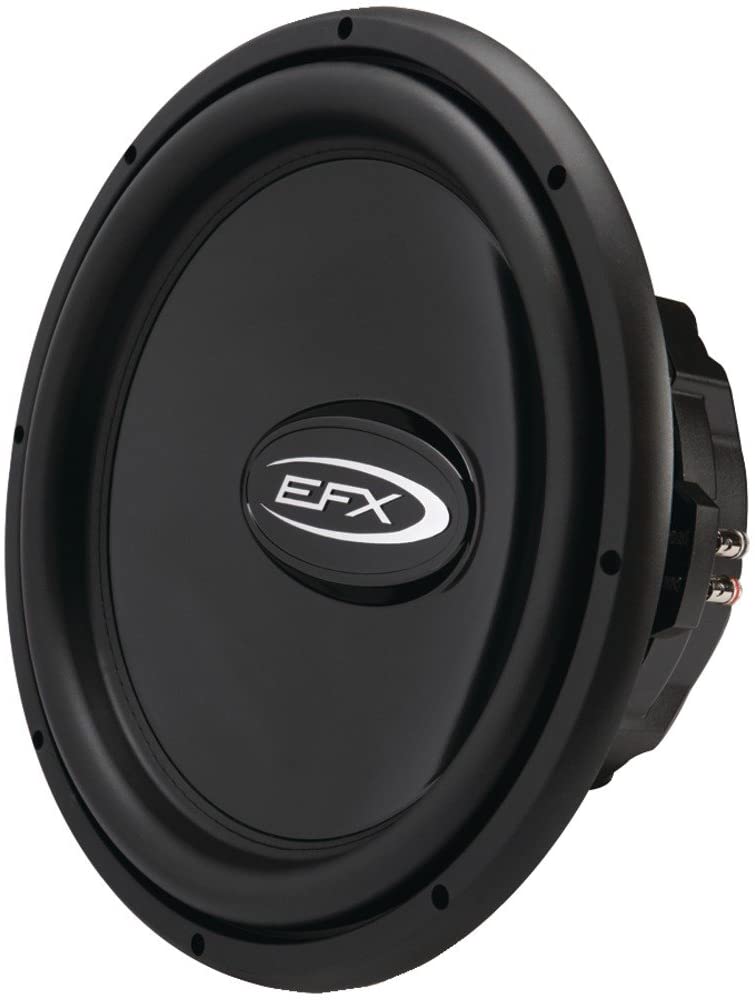 The Scosche C154D Competition subwoofer is one of the most massive and powerful subwoofers ever made. They are designed to be highly durable. This subwoofer comes with a bonded, secure rubber surround, and an integrated gasket. This model can handle intense power and is louder than any EFX subwoofer you can find.
The Scosche 15 inch competition dual voice coil is made for smaller enclosures. It is a smart, all black, sleek design that has woven tinsel leads, and an intense nickel-plated push terminal. It also has a one-piece IMPP cone woofer, and its dual high-temperature voice coil ensures that it provides the best sounding, a high-quality sound that has been praised by so many.
Some other features include:
· A power handling of maximum power 700 watts and 350 watts RMS power, promising a clean and intense bass.
· It has an ultra-high temperature, and its frequency response is from 25-500 Hz.
Pros
· Highly durable
· It provides full power and has volumes louder than most EFX subwoofers out there.
Cons
· None
2. Rockville 15″ 8000w Car Subwoofers Dual 2-Ohm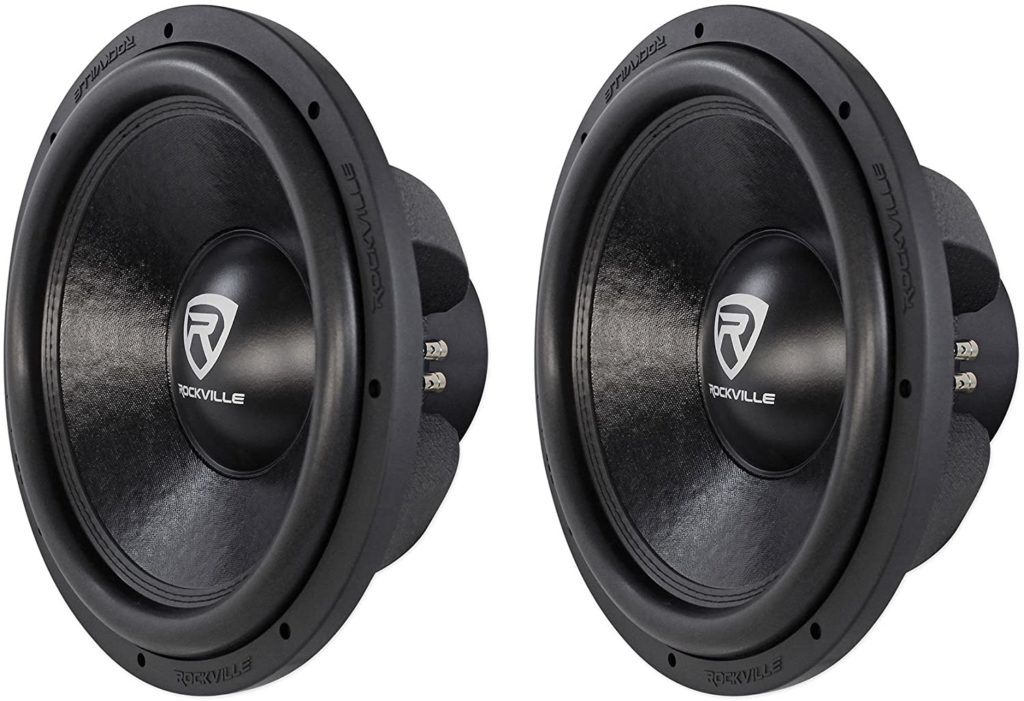 This Rockville W15K6D2 V2 model is a 15-inch dual voice coil competition car subwoofer. A dual voice coil promises a high-quality bass sound.
It is a 2 ½- 3-inch black aluminum voice coil with a 100% copper wire that is made in the USA, and this plays an integral part in making the subwoofer a better quality and last longer. It comes with a high quality double stacked magnet with a size of 112 oz.
This subwoofer is housed in a beautiful cast aluminum basket and has a sanded finish, thus adding more efficiency to the output. Also, the build of this subwoofer completely separates them from other subwoofers you get in the market.
This model also provides impressive sound quality while minimizing the amount of distortion which you tend to hear at loud volumes. It also has a binding post terminal at the back of the subwoofer. They are one of the best terminals you can find out there, and a plus point is that they receive any gauge wiring.
Also, this subwoofer comes with a sealed enclosure resulting in a deep and robust bass. Its power handling is at 1000 watts.
Pros
· Its impressive build.
· High-quality bass
· It comes with a sealed enclosure.
Cons
· N/A
Top 12-inch Competition Subwoofers
3. American Bass 2400w 12″ Competition Car Subwoofers

If you are on a hunt for a subwoofer with the potential of an XFL woofer but is easier on your pocket, then the American Bass ELITE-1244 is absolutely what you need. Both Elite subwoofer and the XFL subwoofer are very similar when it comes to performance except that the elite subwoofer comes with a stamped basket instead of the traditional basket.
The features that make it unique are its high temperature, four layers of the voice coil, which provides this subwoofer with a whopping 2400 watts maximum power handling. It is a 150 oz stacked magnet with non pressed fiber cone and surrounded by high-density foam provides the subwoofer with an incredible quality of sound.
Also, this subwoofer comes with a dual vented chamber enclosure. This type of enclosure is specifically for those subwoofers that need larger air space. The enclosure is designed in such a way to target an excellent sound quality. The subwoofer performs efficiently, and with its functional design, it makes it so easy to handle them. This American Bass subwoofer handles extreme power very well. It beats the low excellently, giving out the excellent sound quality.
With so many benefits it has to offer at an affordable price, this subwoofer is definitely worth the purchase.
Pros
· Powerful and is affordable
· It is a high-quality subwoofer giving loud, deep, and clear bass.
Cons
· None
4. American Bass XR-12D4 12 Inch Subwoofer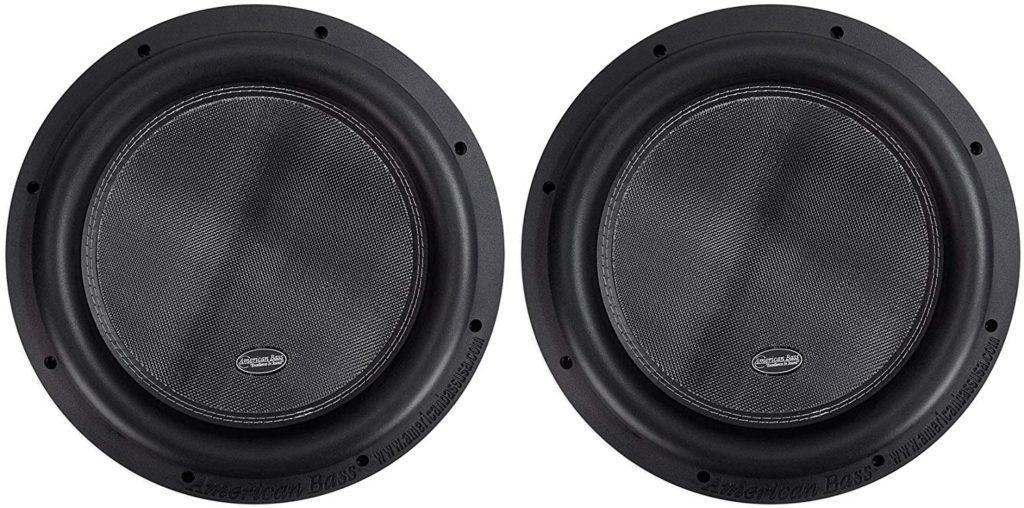 This subwoofer is the newly designed American Bass XR from the American Bass series. The American Bass XR-12 D4 12-inch subwoofer is specially designed for those who love low bass. It also gives the smoothest and the cleanest bass.
The subwoofer comes in a particularly massive size. This newly designed model now has all the wire terminals on one side of the subwoofer, which allows a more straightforward installation. It has a cool cast aluminum basket with a rough texture finish.
This product has a fiberglass cone with a smooth stitched rubber surround, giving the subwoofer incredible rigidity. It also comes with a huge magnet of 200 oz, making it one of the strongest magnets for the most durable power handling.
The subwoofer has a fine and sleek overall craftsmanship loved by many. It is packed with dual 4 ohms and its 3-inch voice coil, sending out a peak power of 2400 watts, ensuring that the subwoofer delivers a pure quality neat bass for you. It also comes with a dual-chamber subwoofer enclosure.
Pros
· It hits the low perfectly and cleary
· Has a strong magnet durable for power handling
· Heavy bass
Cons
· N/A
Best Overall 10-inch Competition Subwoofers
5. Massive Audio 10 Inch Car Audio 3000 Watt Competition Subwoofer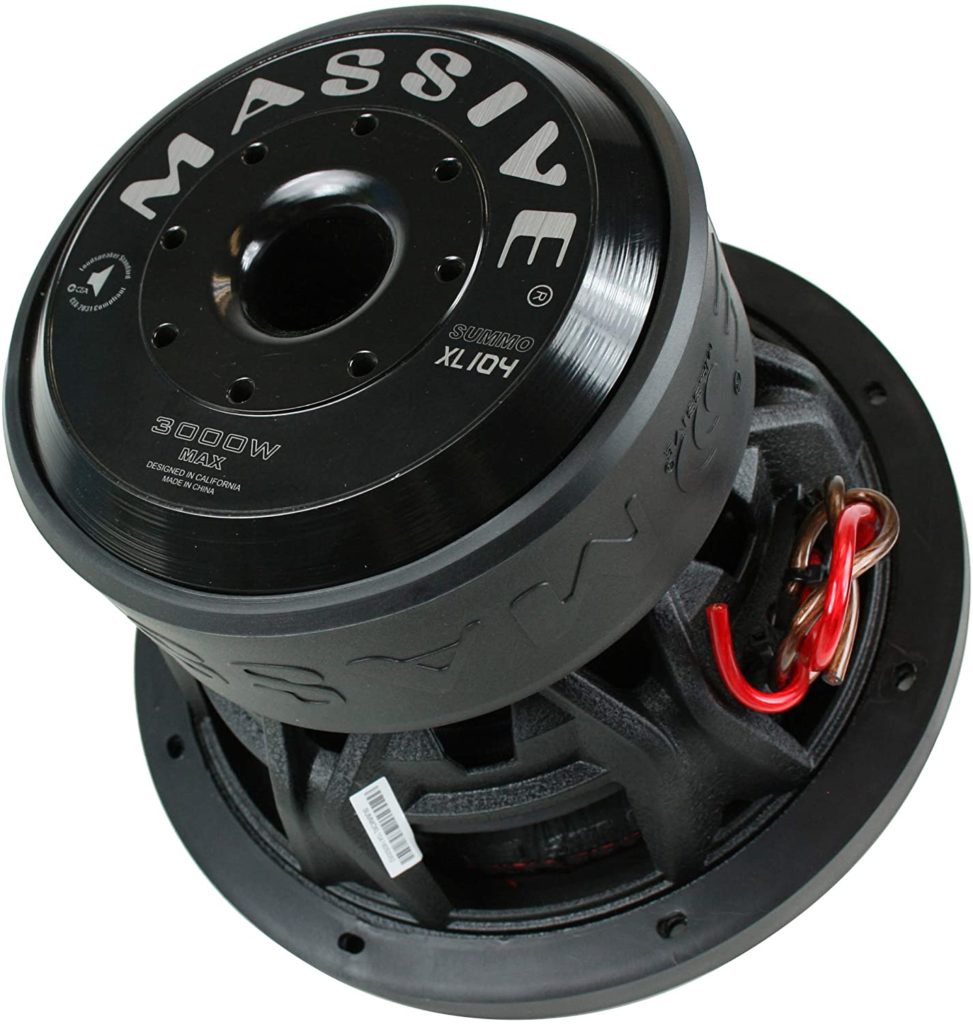 The Massive Audio 1O inch subwoofer is built for the competition since they are solidly constructed. The subwoofer is designed with the right technological components, which enables it to give a deep and groundbreakingly loud sound.
If you want your bass to be intense and crisp, then this model is definitely for you. Do not underestimate the fact that it is a 10-inch subwoofer. This subwoofer is capable of providing a powerful thumping sound.
Some of the features include:
· This subwoofer is built with large magnets, heavy-duty textured aluminum basket, and dual Poly/Nomex spiders. They are most sought after for car audio as they support high scores and big sound.
· It's deep bass massively improves the quality of the sound in your car while controlling the distorting sound speakers tend to have when you crank up the volume.
· The subwoofer also features dual anodized voice coil with Kevlar fiber paper cone and stitched surround. These features add to the strength and durability of the subwoofer.
· The subwoofer features maximum power of 3000 watts and an RMS power of 1500 watts. It has a considerable amount of power, but it doesn't compromise the quality of the audio.
If you're looking for a powerful, heavy-duty sound yet with a compact size and is affordable, the SUMMO subwoofer is for you.
Pros
· Superb sound reproduction
· Excellent sound clarity
· Attractive design with high durability.
Cons
· A slight hitch sometimes when hitting low.
6. Power Acoustik MOFO 10-Inch Competition Subwoofer Dual 2-Ohm Voice Coils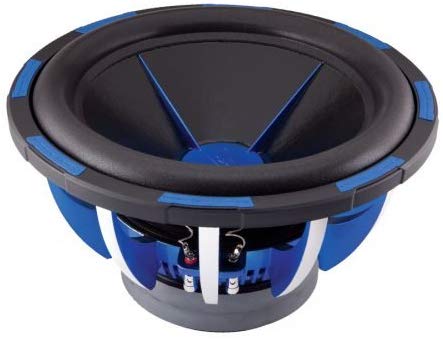 This Power Acoustik Mofo is the beginner subwoofer of all the subwoofer. The subwoofer has been praised by many for the high performance it delivers at such an affordable price. It has a good quality build, gives deep and powerful bass while efficiently handling the lows.
The subwoofer comes with a 4-spline pending heatsink. What this technology does is that it helps reduce the heat, especially while you are enjoying some intense bass.
The subwoofer has a non-magnetic aluminum basket that helps deliver more volume to your subwoofer. At just 10 inches, the subwoofer has impressive power. Its maximum power is 2400 watts with 1200 watts RMS power and gives good quality, high level of sound. It comes with a dual 2 ohms, which ensures a full frequency range.
The Power Acoustik Mofo is a beautifully designed subwoofer made of high-quality materials, such as- non-compressed paper composite cone, with nickel-plated compression terminals and a foam surround that is UV coated. These features ensure a highly durable subwoofer. Therefore, the Power Acoustik Mofo Subwoofer sure is an excellent option at an affordable price range that will undoubtedly improve the intensity of bass in your car.
Pros
· Solid quality materials
· Affordable price range
· Powerful sound for its price
Cons
· It does not sound as good as the expensive subwoofer.
8-inch Competition Subwoofers
7. Skar Audio 8″ Car Subwoofer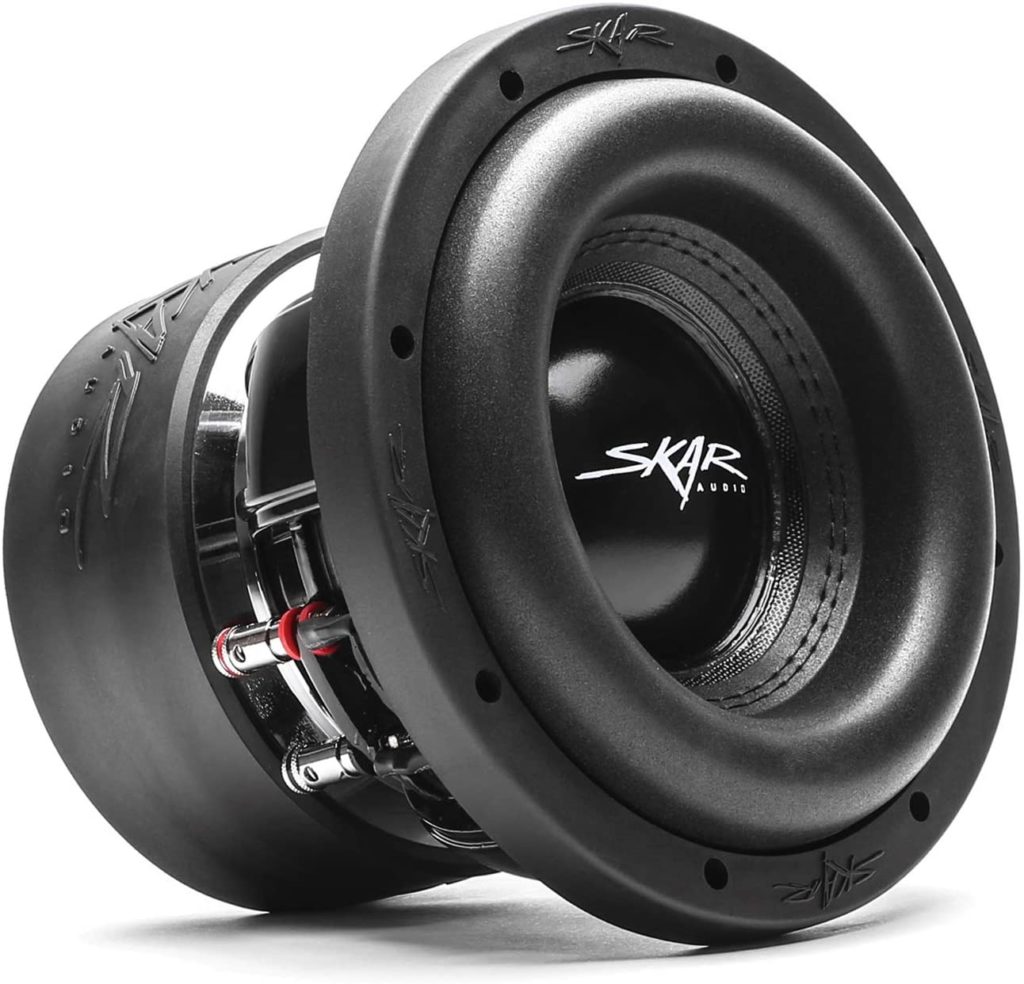 The Skar Audio ZVX-8 D2 is a competition 8-inch subwoofer. If you think a small subwoofer is incapable of handling powerful sound, then you are wrong. Because that is not at all the case with Skar Audio ZVX. The Skar Audio ZVX-8 D2 subwoofer has an excellent output quality.
The maximum power handling rate of the subwoofer is 1100 watts, and its RMS power is 900 watts. Although small, the subwoofer is designed with the right combination of compact size and power. This subwoofer can withstand any harsh everyday use while providing an efficient performance even at the maximum level of power input. With its convenient size comes excellent benefits. Because of its suitable size, it will conveniently fit any stereo setup and save you from the trouble of changing any setup.
This competition also comes with a dual 2.5-inch voice coil with a 2-ohm impedance. And this coil has been designed to remain unaffected with high temperatures. Also, the subwoofer comes with a pressed paper cone, surrounded with a stitched high roll foam, thus making the subwoofer flexible and highly durable. On top of that, its metallic base not only gives a unique look but also adds strength to the subwoofer.
Pros
· Convenient size suitable for any setup
· Loud, catchy bass
· Sturdy build, highly durable.
Cons
· The loud bass might sometimes lead to high frequencies loss.
Conclusion
A competition subwoofer offers a level of bass that no other regular subwoofer provides. A good competition subwoofer is a great addition to your sound system to enjoy a higher level of music. Considering the amount of time we spend in our cars, there is no reason not to get the best of the competition subwoofer and experience your favorite tunes in intense bass.
However, you need to be sure to choose the appropriate size and the right type of competition subwoofer to ensure that your car's subwoofer, with its best quality sound, will go a long way.
Thus, the above list of the best competition subwoofers provided represents different styles, price points, and designs. So, depending on what will suit you the best, make your choice and have the best experience with the deep and powerful quality sound, the competition subwoofer has to offer.
Frequently Asked Questions Regarding Competition Subwoofer
What is a Competition Subwoofer?
A competition subwoofer is a loudspeaker that produces a low-frequency sound called bass. They play an essential part in enhancing the sound quality of your music. The competition subwoofer is praised by many over the standard subwoofer because they offer better benefits. They not only provide powerful sound but also have a high output enabling them to produce the loudest sound and easily beat the other competitors.
A competition subwoofer is a go-to for anyone who loves intense music sessions. The depth this competition subwoofer offers will no doubt surprise everyone around you.
What subwoofer has the deepest bass?
The American Bass Elite-1244 is one of the deepest bass producing subwoofers in the market. The catch of this subwoofer is that it has the power equivalent to that of XFL woofer but at a more affordable price range than the XFL woofer.
With its high temperature, four layers of voice coils, and a whopping 2400 watts peak power handling, this subwoofer is no doubt one of the best powerful subwoofers you can find. This subwoofer hits the low smoothly and excellently and produces an incredible quality of sound.
Are 15-inch subwoofers louder than 12?
The frame and the size may, to some extent, impact the subwoofer's overall performance. The 12-inch subwoofer will have more space for more air to move than compared to the 12 inches. But also, this does not imply that a 15-inch subwoofer will go deeper than 12-inch ones.
Because a 12-inch subwoofer in the right enclosure is capable of going deeper than the 15-inch subwoofer, this goes to show that the size alone does not determine the loudness of the subwoofer. You need to look into the details such as the response frequencies, passive or active, if their enclosures are sealed or ported, etc.
Should I get a 10 inch or 12-inch subwoofer?
If a 10 inch and a 12-inch subwoofer have the same specification or the same wattage, then the 12-inch subwoofer, since it is bigger, will move more air than the 10 inches, meaning that it can go louder. But apart from this, there are so many more factors you should consider to decide between the two, factors such as enclosure type, power, a specific vehicle, etc.
So, to choose which subwoofer to get purely depends on your personal preference. But a point to note is that smaller subwoofer tends to be slightly more controlled when it comes to tight bass. But again, every opinion differs depending on the type of bass you prefer.
Is it better to have one or two subwoofers?
In general, it is always better to have more subwoofers because it will significantly yield smoother and better sound. Thus, it is definitely better to have two subwoofers as their combined surface area produces more pressure; this results in a deeper and cleaner sound.