Best Overall Electric Tankless Water Heater
Stiebel Eltron Tankless Water Heater – Tempra 29 Plus – Electric, On Demand Hot Water, Eco, White, 23
Best Price on Electric Tankless Water Heaters
Camplux Tankless Water Heater Electric, TE27 27kW Whole House Instant Water Heater, On Demand Electric Water Heater Digital Display and Remote Control, 240V, Black
Best Overall Gas Tankless Water Heater
Takagi T-H3-DV-N Condensing High Efficiency Natural Gas Indoor Tankless Water Heater, 10-Gallon Per Minute, 199,000 BTU
Best Price on Tankless Gas Water Heaters
Noritz NRC66DVNG Indoor Condensing Direct Tankless Hot Water Heater, 6.6 GPM - Natural Gas
Best Overall Electric Tankless Water Heater
Stiebel Eltron Tankless Water Heater – Tempra 29 Plus – Electric, On Demand Hot Water, Eco, White, 23
Best Price on Electric Tankless Water Heaters
Camplux Tankless Water Heater Electric, TE27 27kW Whole House Instant Water Heater, On Demand Electric Water Heater Digital Display and Remote Control, 240V, Black
Best Overall Gas Tankless Water Heater
Takagi T-H3-DV-N Condensing High Efficiency Natural Gas Indoor Tankless Water Heater, 10-Gallon Per Minute, 199,000 BTU
Best Price on Tankless Gas Water Heaters
Noritz NRC66DVNG Indoor Condensing Direct Tankless Hot Water Heater, 6.6 GPM - Natural Gas
Tankless Water Heaters are instantaneous water flowing heaters that immediately heat water as the water flows into and out of the device, and does not keep any water inside except for what is present within the heat exchanger coil. We always want to associate Tankless Water Heaters with being economical, as it saves a lot on utility bills every year in comparison to Tank water heaters. These types of water heaters are also known as an on-demand water heater that works in turning on the faucet, starting the cycle of a washing machine, turning the dishwasher on, or any other user of hot water.
Tankless heaters are better than tank water heaters because they carry a longer life span, takes up minimum space, consistency of hot water, and most importantly it saves us from paying huge amount of bills.
Types of Tankless Water Heaters
There are different types of tankless water heaters, such as Electric heaters, Gas heaters, Commercial heaters, Small heaters, Whole-House water heaters, Hybrid water systems, Portable and RV heaters. The most popular ones are the Electric and Gas tankless water heaters. Their advantages are listed below:
Highlights of Electric Tankless Water Heaters
They possess an energy efficiency of 99%.
The installation process is incredibly easy.
It takes up very little space and supplies hot water 24×7.
Highlights of Gas Tankless Water Heaters
It has powerful machinery that is convenient for big families and commercial purposes.
Possesses a condensing unit that is more energy-efficient in comparison to other tank and tankless water heaters.
Comes with cheap installation as it does not require luxurious parts for venting cooler exhaust fumes.
What You Need to Know Before Buying a Tankless Water Heater
Since energy efficiency forms the core part of switching to a tankless water heater, the factor that you need to look out for is selecting the correct unit based on your convenience and needs. The higher the rating of energy factor, the more efficient the heating of water.
Warranties are something most buyers should look out for. When the procedures and the time frame of the manufacturer are reasonable, it usually stands for a good and trustworthy product. It reflects the authenticity and reliability of the brand.
Generally, you can expect 2-5 gallons of water flowing per minute. The units of these devices are determined based on the rise in temperature and the flow rate as well. Once you examine these factors, you will be able to make the right choice.
A Crucial factor would be the fuel type you decide to use that will impact the efficiency of energy and the size of your unit. This decision will determine your expenses on the annual operation of the device. An output of high heat and faster response time are the two main traits of Gas tankless water heaters, and they will work even better with propane or natural gas. It is always smart to make comparisons between the fuel type.
Top Indoor Tankless Gas Water Heaters
1. Takagi Gas Indoor Tankless Water Heater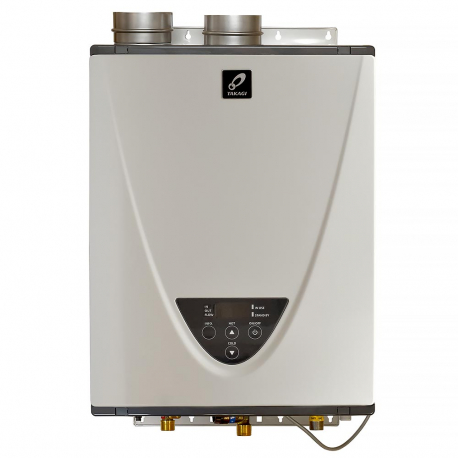 This product is for on-demand usage and provides an endless flow of hot water. It weighs over 59 pounds and comes in a medium-sized shape that makes it convenient in case of space issues. Its system has a Gas power source and has a maximum voltage power of 120 volts. The temperature range of the product falls on 100-185 degrees Celsius, which is perfectly suiting for everyone. This product has a flow rate of 10 GPM, which is extremely impressive. It also has a sound level of 55DB, which is perfectly convenient and isn't noisy. The product is meant for indoor use only and does not require the use of batteries. What stands out is the fact that this product also has computerized safety features, and you don't have to worry about pilot light. You will love this product as it passes the SCAQMD 1146.2 rule of Ultra-Low Emissions of NOx in 2012. It retails for over $700 in the market right now.
Pros:
It comes with an impressive warranty tag of 10 years. It shows the ingenuity of the brand.
Has a built-in heater that prevents it from freezing during winter. This is a major highlight of the product as it is a big issue during the cold season.
You can have overall savings up to $250 per year in the gas bill.
Cons:
N/A
2. Noritz Indoor Condensing Direct Tankless Hot Water Heater – Natural Gas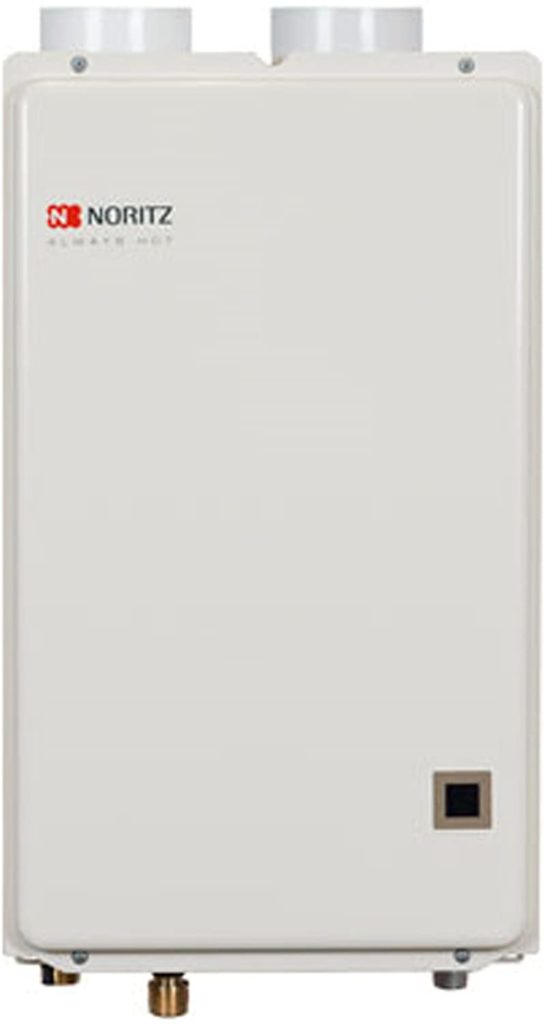 This product is a tankless water heater that is fully condensing with a built-in design of heat exchanger and controller. There are numerous terminations and also adaptors for allowing a multitude of options for venting. The product comes with a power cord of 6 inches. An IK-WV-200-1-XX-LF valve kit is also required for the process of installing the product, but it is sold separately. You can also expect a PVT-HL horizontal intake, a (PRC-1) rain cap, and also an (SVCK-3) atmospheric conversion kit with the product. Buyers will be impressed by the flow rate of the device that goes up to 6.5 gallons every minute, delivering the highest flow rate. You can use a 3-inch schedule of 40/80 PVC, PP, or CPVC to vent it out. The product also does not require the use of batteries.
Pros:
It comes with 12 years, five years, and one year for Heat exchanger, parts, and labor respectively, which is an awesome deal.
This product is highly efficient and provides hot water endlessly with quiet operation. It does not affect the mood of the atmosphere with noisy performances.
It has an output temperature that is digitally regulated and is consistent.
Cons:
The problem of a cold-water sandwich. This issue isn't normally NORITZ's fault. It is a general problem that all users of tankless water heaters face.
3. Takagi Condensing High-Efficiency Natural Gas Indoor Water Heater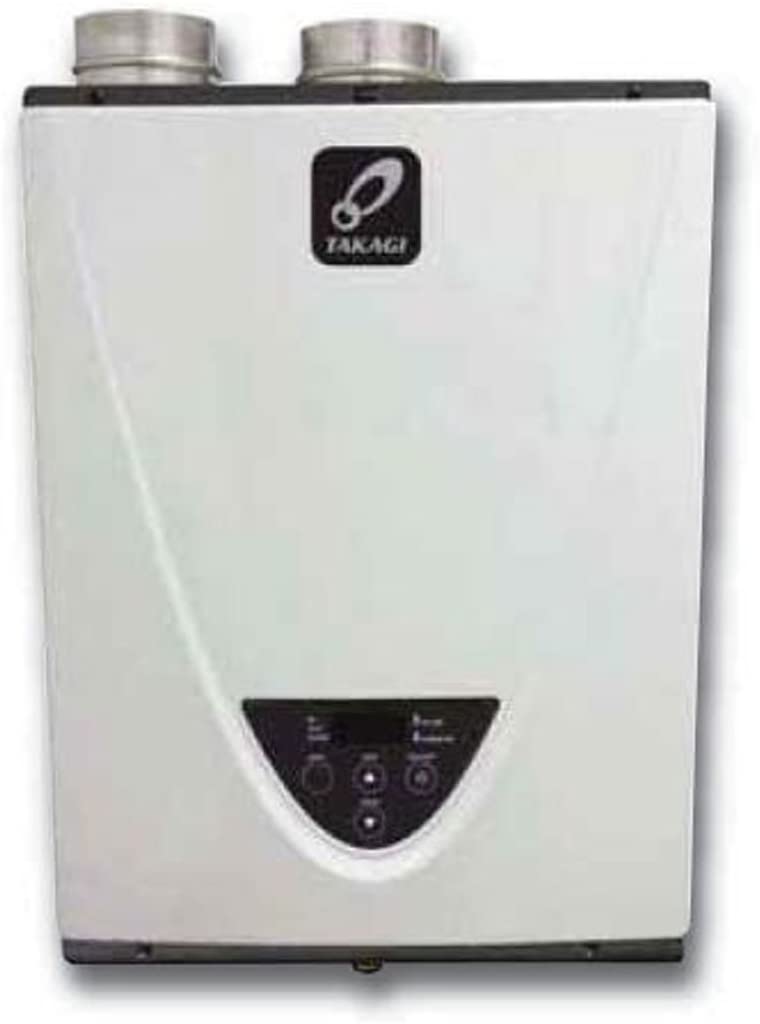 This product is also for on-demand usage and provides heated water endlessly. It is very compact and excellent for space-saving purposes. The product weighs over 58 pounds, which is very convenient for almost every buyer. It is medium-sized and is meant for indoor use only. Its power source comes from gas and has a voltage capacity of over 120 volts. The range of temperature of the product falls on 100-140 degrees Celsius. It garners a flow rate of 6.6 GPM and possesses a sound level of 55dB, which provides peaceful operation. The product stands out for its certification of energy conservation that makes it highly efficient in comparison to most products. Buyers will also love the fact that it has computerized safety features and eliminates the worry of no pilot light. It also satisfies 1146.2 SCAQMD rule of Ultra-Low Emissions of NOx in 2012. The fact that it comes with two mesh screens that do not rust for exterior 3-inch PVC Pipes is incredible and makes it worthwhile for you to buy.
Pros:
It possesses an efficiency rate of 95% and takes up very little space than a tank water heater.
This product has a very low humming in operation, which provides a peaceful atmosphere.
It possesses a life expectancy of over 30 years.
Cons:
N/A
List of The Best Outdoor Tankless Gas Water Heaters
1. Noritz Outdoor Tankless Water Heater – Natural Gas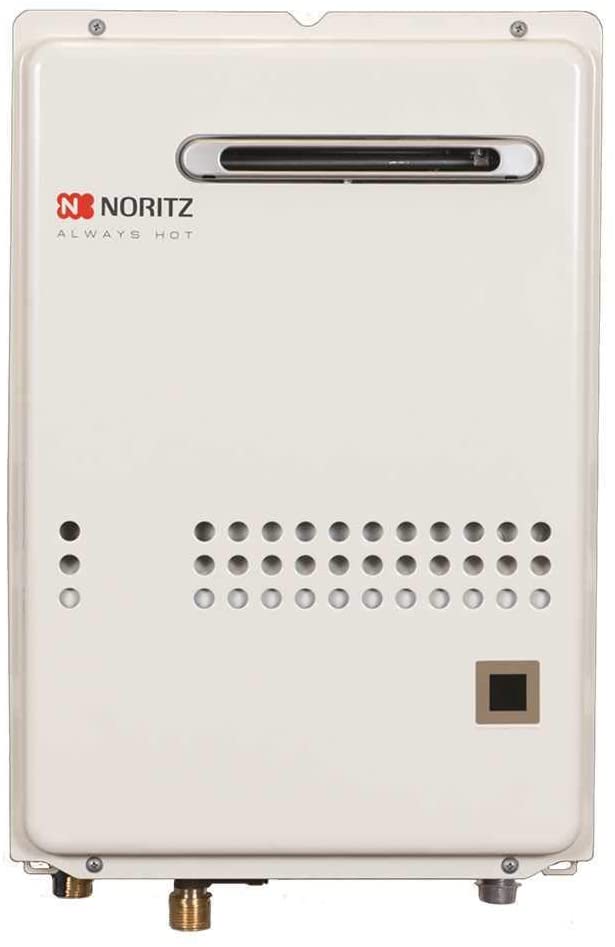 This product is an outdoor water heater that is designed with over 6.5 Gallon Per Minute (GPM), which is convenient for most buyers to use. The item also weighs over 36 pounds, which is extremely light and something that catches most buyer's attention. Its power source is gas, and it does not require the use of batteries. Product's warranty of 12 years, five years, one year for heat exchanger, parts, and labor, respectively, is what stands out for most customers. The IK-WV-200-1-XX-LF valve kit is required for installing the heater; however, it is sold separately. The connections are available in copper sweat and threaded, and the preference of the customer varies, and that is why the valve kit is sold separately. Users will love this device as it provides endless heated water, High efficiency, Low NOx, UEF: 0.81, etc.
Pros:
It is highly compact and can easily work for 3BD, 2BA, five-member household.
The installation process is smooth and easy. You can also carry the installation out by yourself.
It is ideal for outdoor use. You can perform any type of activity using this heater.
Cons:
N/A
2. Camplux Portable Water Heater with Overheating Protection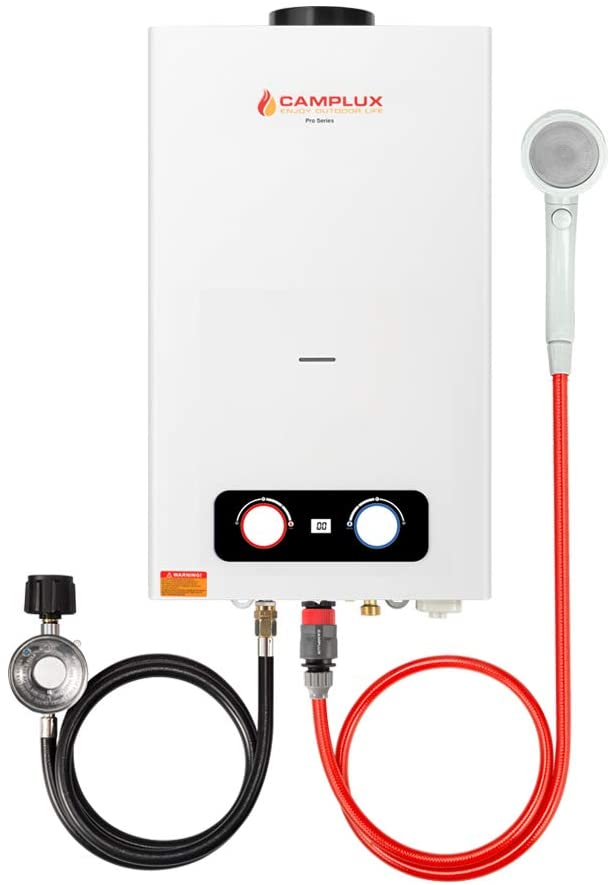 The product had a portable design and is compact and lightweight. It weighs over 24.2 pounds that makes it an impressive device to own for all buyers. It allows 2.64 GPM of instant hot water. Its anti-freezing feature of the drain plug releases the residual liquid to prevent freezing for longer maintenance in cold areas. The output of maximum power it possesses is 68,000btu/hour that will provide you with heated water 24×7. The Propane-based water heater exchanger including the main burner are both designed with the technology of advanced combustion to reduce the consumption of gas and burning noise. Its 2D cell batteries provide the process of ignition, which eliminates the use of electricity in powering up the unit. The operating range is 3.6-110.0 PSI.
Pros:
It can also be used indoors if a flue pipe or a duct is installed and well ventilated.
It is very convenient for apartments, tony houses, lodges, campsites, cabins, outdoor showers, and boathouses.
The product can also work by associating to a 12-volt pump in efforts to land the desired pressure.
Cons:
The only drawback might be the size preference of the customers as the product is small. Some buyers tend to find appeal in bigger sizes for their reasons.
Best Electric Tankless Water Heaters
1. Stiebel Eltron Electric Tankless Water Heater Electric Eco
The product consists of an advanced feature of flow control that helps maintain the temperature of water for continual comfort. It utilizes 15-20% minimum energy in comparison to conventional electric water heaters. The heater has a sleek design that saves maximum space without the use of venting. It requires a hard-wired electric service of 240 volts or 208 volts. It has a maximum draw of about 28,000 watts for 240 volts and 21,000 watts for 208 volts. It saves energy with the feature of auto-modulation and displays the digital temperature. It has heating chambers made of solid copper and continuously provides heated water. It has a water flow controlled electronically for energy savings. It also highlights the cost savings through the savings monitor. The product retails for over $700 in the market.
Pros:
It has a user-friendly interface. The heater isn't complicated to use in any way and is easily functional.
The life expectancy of the product spans more than a decade. It is extremely durable and reliable.
It produces a major reduction in your utility bill. It boosts your savings every year.
Cons:
N/A
2. Sio Green Infrared Electric Water Heater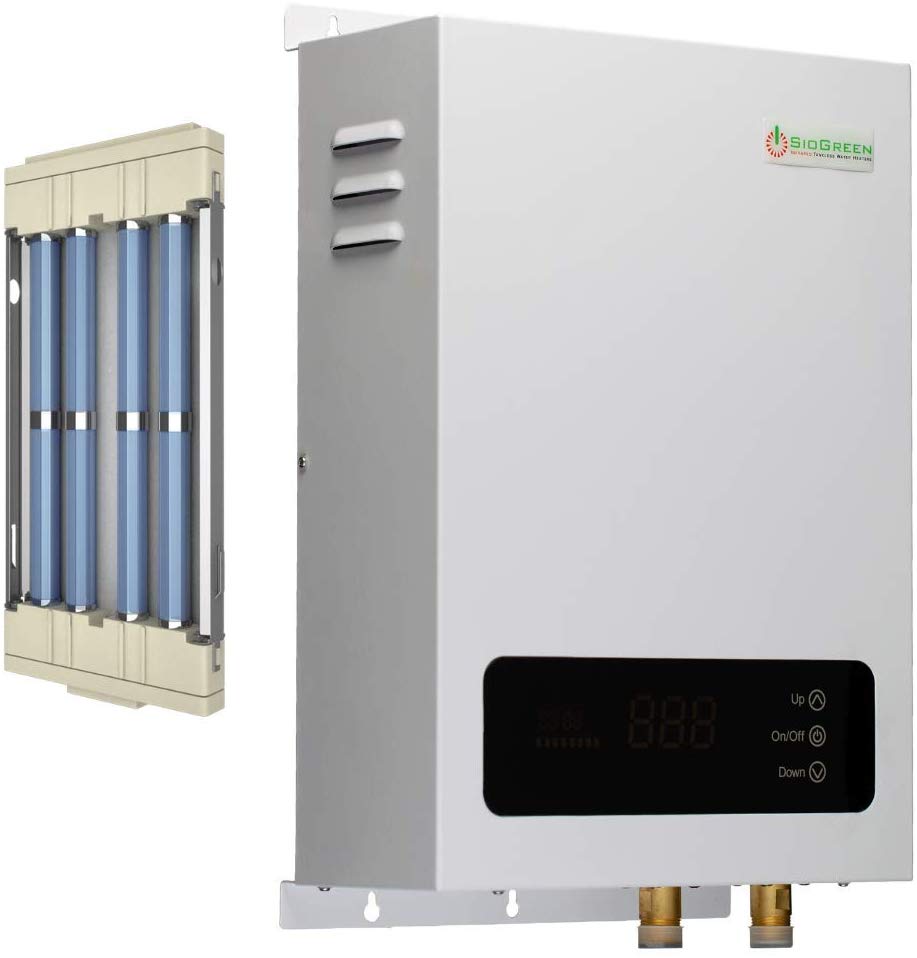 The heater has the feature of infrared heating that will only heat the water you are about to use, resulting in saving time and money. What most buyers also love about this product is its ability to produce heat without direct metal contact. It prevents calcium build-up, corrosion, and depositing of limescale. The ergonomically designed size and innovative construction allow for easier installation anywhere. The feature of Automatic powering technology that will allow you to make adjustments based on your needs and convenience. It weighs over 28.4 pounds, which is lightweight and convenient for everyone. It has an AC Power source and has a voltage capacity of 240 volts.
Pros:
It possesses superior heating efficiency. It possesses a top-notch performance.
The heater is environmentally free and has recyclable materials. The device is ergonomically built with sensitivity to the surroundings.
It has operational longevity. The device is well-rounded in all aspects and isn't prone to untimely malfunctioning.
Cons:
N/A
3. Camplux Electric Heater with Digital Display and Remote Control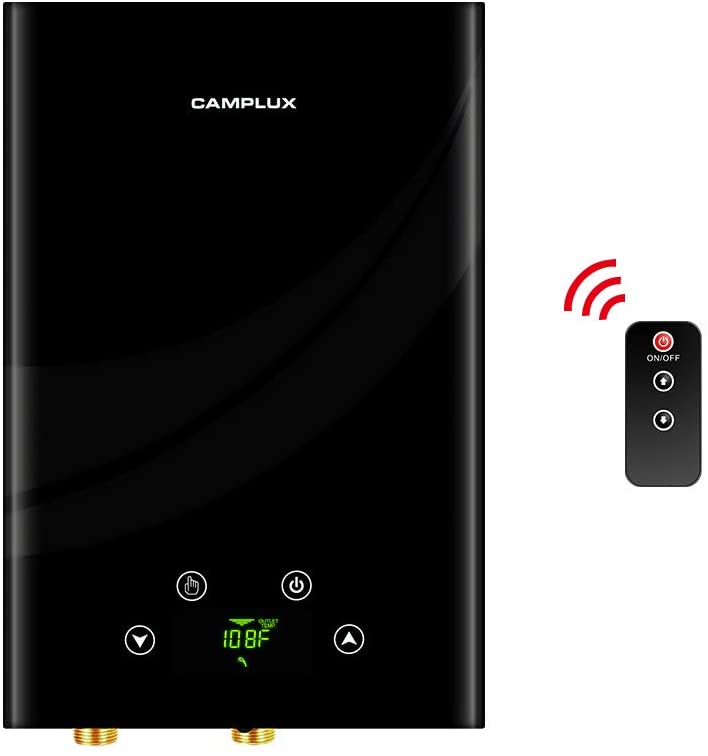 The product has rated power heat of about 87,500 BTU, and heated water is easily accessible between 86F – 125F that allows for instant and never-ending water supply. It also comes with a digital display and touch control that helps set temperature and other necessities. The heater comes with a smart remote controller. It requires about 0.85 GPM of flowing water to activate it, which eliminates the need for pre-heating and waiting. The heater has multiple protection and is NFS approved, which provides lead-free water. It is also ETL approved, which provides safety as well as excellent performance. The product weighs over 17.8 pounds and does not require the use of batteries. It carries a voltage capacity of about 240 volts and a wattage of 27kW. A Really special feature about this heater is the fact that it's waterproof.
Pros:
The heater comes with a cheap price tag.
It easily heats water in seconds and does not take several minutes to operate.
It is built out of stainless steel that makes it efficient and durable. You can expect the device to work for several years, amounting up to decades.
Cons:
N/A
4. Stiebel Eltron Whole House Tankless Electric Water Heater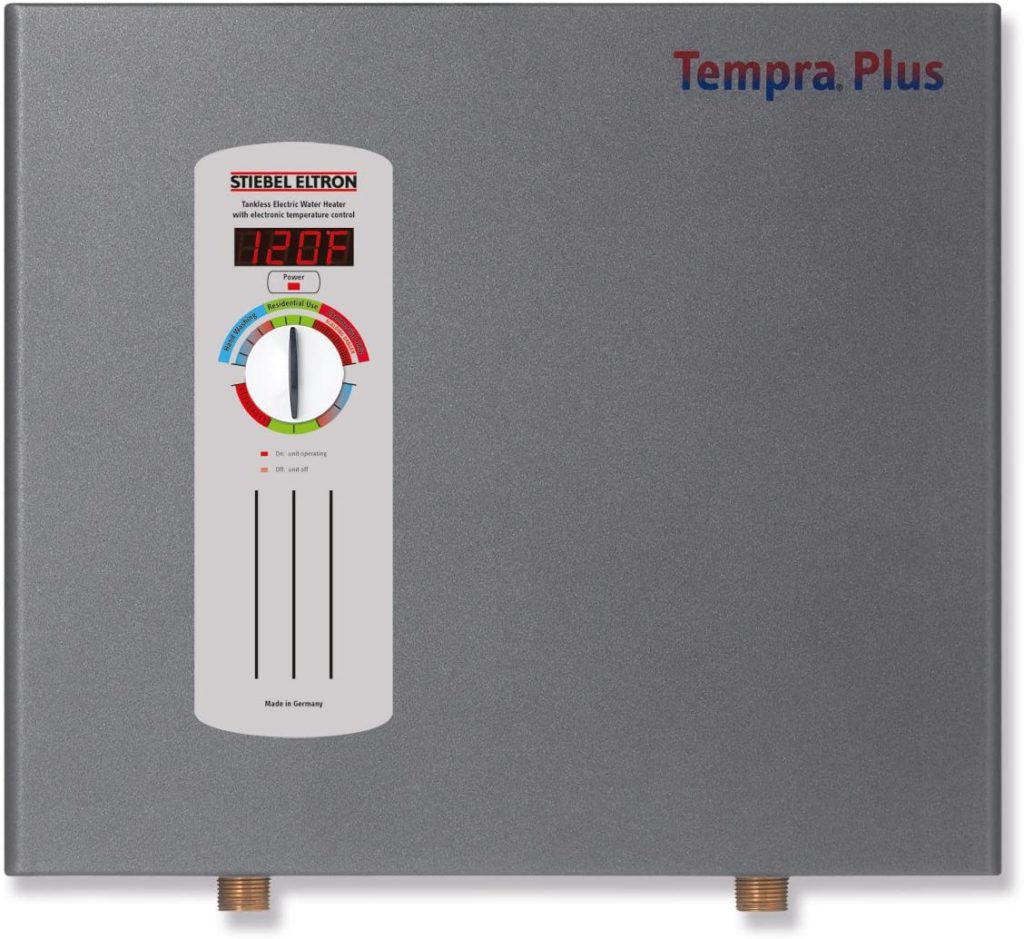 The product is recognized because of a multitude of features such as digital control in temperature and advanced flow control in keeping the temperature constant. It also features an auto-modulation characteristic that is excellent for saving energy. It also possesses healing chambers of solid copper and provides a continual flow of heated water. The heater possesses a voltage capacity of over 208 volts and a wattage capacity of 18,000 watts. It has warranty coverage of seven years for leakage and over three years for parts. The item weighs over 16.1 pounds and does not require the use of batteries. It is built in a sleek manner that fits anywhere and does not require venting.
Pros:
This heater saves up to 15-20% on your electric bills. It is a clever investment.
It does not take time to heat water for showering or any other usages. You can enjoy a warm bath at any hour of the day.
It is extremely reliable. You can expect to shower or use it for anything at any time of the day without having to wait for hours.
Cons:
N/A
5. WiseWater Tankless Water Heater Electric for Domestic Hot Water Heating in Kitchens, Bathrooms, Apartments, Cabins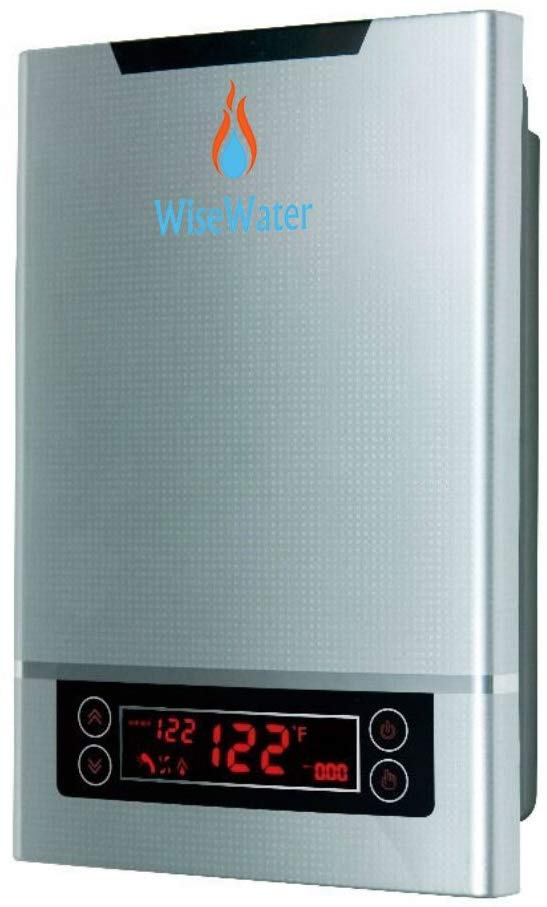 This product is built for on-demand usage of heated water and is highly efficient. Most buyers love the fact that this heater only heats water when needed and saves energy. It is small in size, which makes it extremely convenient for installation and space-saving. The feature of automatic memory stores the past entered input and saves you all the trouble of repeating it. The feature of IMC Casing for splash-proof is also a major highlight. It has a heating element of stainless steel that provides consistency in the water's temperature. It also possesses aging-resistant as well as anti-corrosion materials. The item weighs over 14.65 pounds and has a voltage capacity of over 240 volts and a flow rate of about 4.5 GPM. The device does not require the use of batteries and comes with a 1 Year warranty.
Pros:
It utilizes less energy of 50% in comparison to regular water heaters. They are far convenient than conventional water heaters.
This product is very compacted in size and promotes active space-saving for each household.
It is NSF and ETL approved, which is all about safety and the environment.
Cons:
N/A
Verdict
There are tons of tank and tankless water heaters in the market right now. However, Electric and Gas Tankless Water Heaters, in particular, stand out because of the array of benefits they come with. Electric and Gas tankless water heaters save you a lot of time and money. They help reduce the increasing utility bill at home. They have proven to be very useful with little or no drawbacks at all. Most buyers tend to shift towards tankless water heaters as they have a higher life expectancy in comparison to regular tank heaters. Their longevity spans over three decades, which is extremely impressive. These products don't take up a large number of spaces at home as the regular heaters. These products are all about versatility, and they can be installed for both indoor and outdoor applications. You can have heated water at any time of the day without delay. Tankless water heaters have surely earned the badge of energy conservation. These products have earned their place in the market, and we aren't surprised at all.
Frequently asked questions regarding tankless water heaters:
1. Is a Tankless water heater worth it?
A Tankless water heater is surely worth on all the hype and usages. It will cost a little more than the regular tank heaters, but they are a clever investment. They help save a lot of energy and decrease the utility bill at home.
2. What are the advantages and disadvantages of a Tankless water heater?
Advantages: It has a greater life expectancy. It takes up very little space. Endless supply of hot water without delays.
Disadvantage: It comes with a higher price tag.
3. How long does it take to install a tankless water heater?
It usually takes about 2 to 3 hours to install a tankless water heater. However, it is advisable to always take the help of a licensed plumber.
4. Is Gas or Electric tankless heater better?
A Gas water heater produces heat by burning fuel, which usually consists of natural gas for heating water. Whereas, the Electric water heater makes use of electric resistance coils in heating water. Both heaters have their unique way of getting the job done, and one does not seem to come off as better than the other.
5. Is a Tankless water heater worth it?
A Tankless water heater is by far more efficient in comparison to a conventional water heater resulting in over more than $100 in annual savings. They provide heated water 24×7 and do not wastewater. They are very durable and reliable in all aspects.