Driving is an exciting and fun experience for adults as well as for children. Driving gives you the feeling of being adventurous and free. It can be the best way to help your child learn and develop his motor skills from an early age while driving one of the best power wheels.
Studies have shown that letting your children play with cars at an early age will aid in their social and emotional development. Electric ride-on cars are a huge success in today's market as parents want their children to have the best toys. These ride-on power cars are great to gift children to celebrate any special occasion. Another great gift for a kid can be a build your own RC car kit, which will help your kid improve creativity, imagination, problem-solving skills, etc.
Also, you can check our guide on the best 2 seaters cars that can be controlled by parents with remote control.
It is always good to let your children have an early start by giving lessons on how to be a responsible driver once they are old enough to drive on the road. As a parent, you cannot let your child drive a life-size car, and the best bet is a scaled-down version of a car. Powered wheels are the perfect option for your children to begin their driving lessons.
About Power Wheels
Power wheels are miniature cars for kids that function like real cars. These miniature cars are built for children between 0 to 8 years old. Power wheels look exactly like a real car, and depending on the preferences or the age group it is designed for, it comes with a ton of features. Like a real car, power wheels feature seatbelts, speed gears, horns, battery level indicators, heavy-duty performance tires, etc. Although miniature in design, power wheels are made for durability and toughness to easily accommodate even two children at a time.
Depending upon the price, model, or the age group they are meant for, not all power wheels will feature all the facilities you want. So, you have to do the necessary research before you decide to buy one for your kid. By having an idea of what features you would want in the ride, you can purchase the one which your child will enjoy, while at the same time, he will be safe riding it.
Power wheels are designed to be highly safe and durable for children, so you can leave your child to enjoy the ride without having to worry.
The use of Power Wheels
To ensure the highest level of quality and safety standards, power wheels are designed, manufactured, and then tested before they end up in the stores. Spending your money on a good quality power wheel is one motivating way to let your little ones enjoy the fun and excitement of being outdoors.
However, before you decide to let your child ride a power wheel, you need to check if this is going to be a safe choice and if your child can handle the wheel. Power wheels bring fun and entertainment, allowing children to enjoy the benefits that come with it. Your child can have a lot of fun riding a power wheel as these rides are designed to be docile and manageable even for toddlers. These day power wheels come equipped with entertaining features and gizmos, giving your child a lot more than a simple driving experience.
Children these days are held hostage by video games and the internet so, gifting a power wheel to your child will be the perfect way to let them enjoy the outdoors at their own will.
Power Wheels Buyer's Guide
Before you settle on a particular model to buy for your kid, there are several safety precautions that you need to observe. Power wheels are manufactured under strict standards to ensure that they are 100% safe for little children. However, it is recommended that you should follow some extra precautionary measures so that your child can truly enjoy riding the power wheel.
Taking into account the safety of your child, there are some features that you need to consider before buying the power wheel. Some of the important features as follows:
• The power wheel should have a remote-control feature. This will give you control over the toy, and you can control which direction to steer or when to stop while your child is riding the car.
• Make sure that the power wheel features a seat belt. The seat belt will keep your child secured and protected even if there are minor bumps or collisions on the road.
• Buying a power wheel for your child, which is manufactured from polycarbonate material, will provide the protection necessary if the car runs into some object.
Once you are assured that the power wheel is safe for your child to ride, you can check for other conditions like inspecting the power wheels to check if all parts are working properly. You should also consider the riding environment to see if it is safe for your child. Power wheels are made for the outdoors but, if you are not careful, the vehicle can topple over in rough terrains, leaving your child with injuries.
Make sure that you replace the battery in the power wheels frequently and keep it in proper storage when not in use. Protecting the toy with proper covers will keep the engines intact and safe from rust or mold, thus, ensuring better performance.
Best Power Wheels For Kids Reviewed in Detail
Best Power Wheels For 2-Year-Olds
Ford Lil' F-150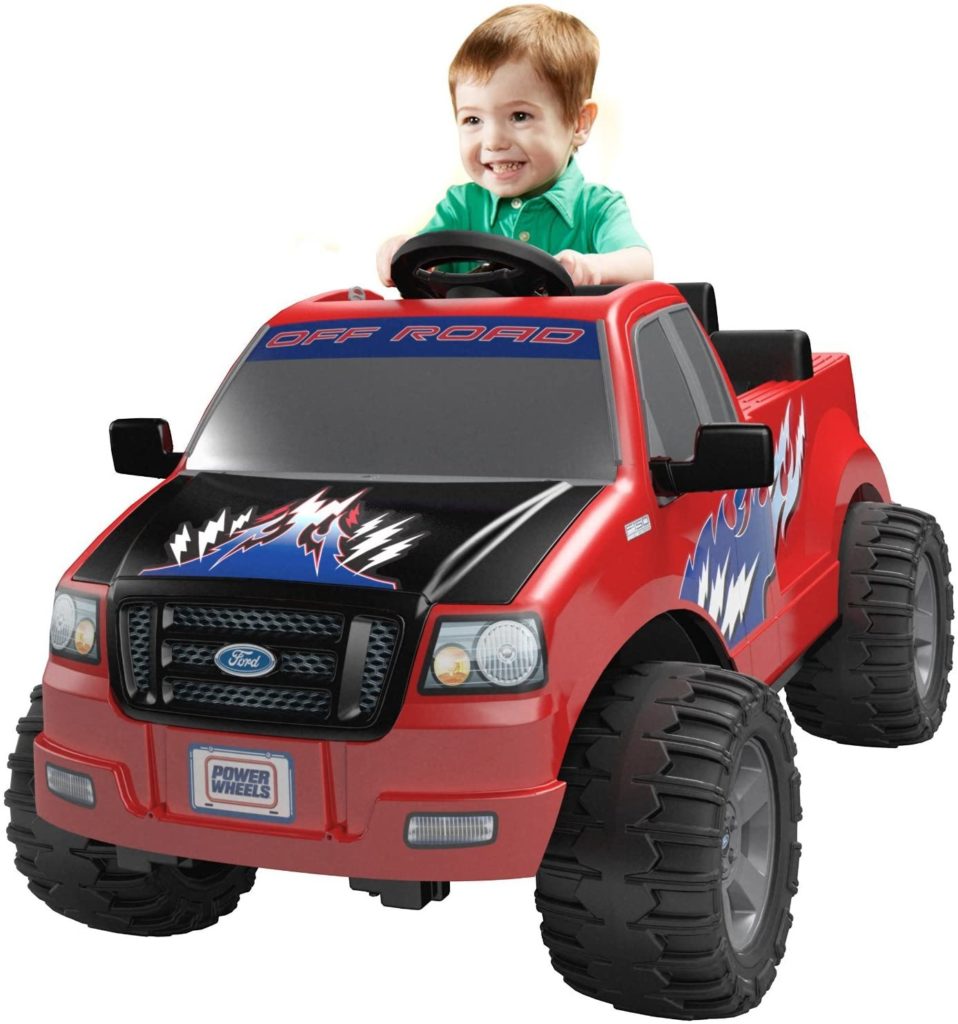 Ford Lil' F-150 is a battery-powered wheel ideal for young riders around the age group of 2 years old. It has a foot pedal power, with reverse and forward features, generated by a 6V battery, which gives a maximum speed of 3.5 mph. The power truck features wide tires that provide extra grip for off-road rides. The hood of the truck pops open to give a more realistic look to the wheels, and the bed of the truck also has a storage space where your kid can also store any gears.
Pros
– The realistic-looking engine of this power wheel is ideal for role-play fun
– It can run on hard surfaces as well as grass grounds
– The power brake system provides an instant halt
Cons
The side flame stickers are tricky to align perfectly, which is why you will need to make some manual adjustments.
Best Power Wheels For 3-Year-Olds
Jurassic World Jeep Wrangler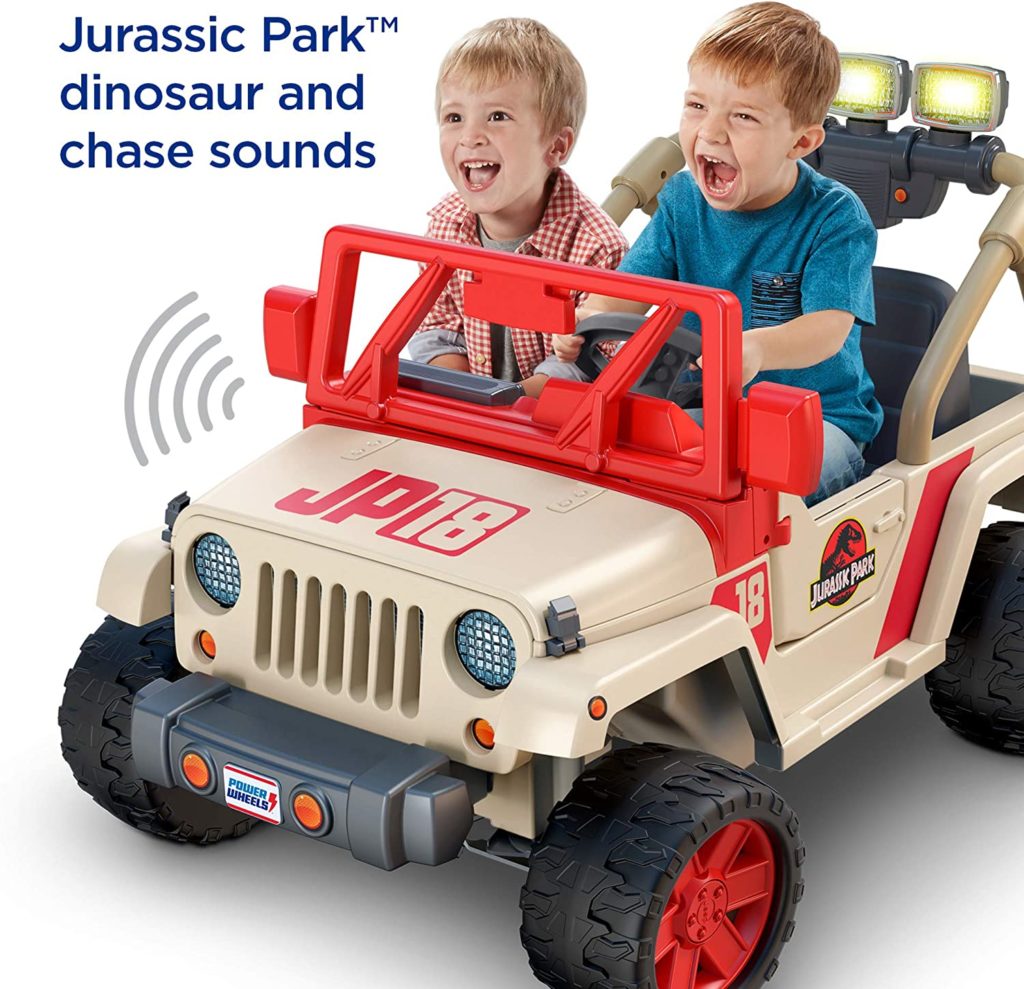 The Power Wheels Wrangler Jeep comes with exciting Jurassic Park styling and graphics. It has a roaring dinosaur sound effect, a functional light bar, and can go to a maximum speed of up to 5 mph. This power wheel is ideal for driving on solid surfaces as well as grassy grounds. The power-lock brake has a parental lock feature which you can use for controlling the speed of this monster.
Pros
– It can accommodate even two children at a time as the engine can easily hold up to 130 lb of weight
– The dinosaur sound effects make it an exciting gift for children
– The forward speed has an average of 2.5 to 5 mph, and the reverse speed gives around 2.5 mph
– Ideal for beginners as it has a parent-control lock, for adjusting the speed and brakes
Cons
The power wheel comes in individualized parts, so you will need to assemble every part on your own.
Best Power Wheels For 4-Year-Olds
Licensed Mclaren 720S 12V Ride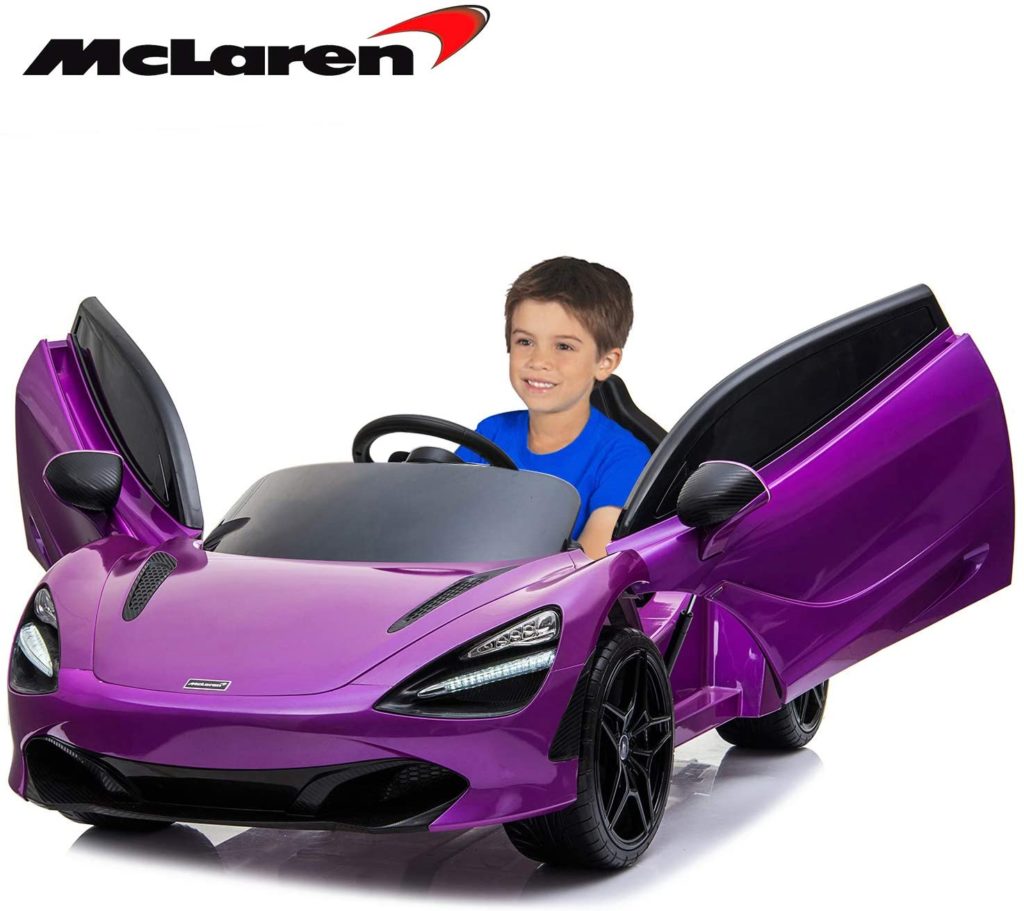 The Licensed Mclaren 720S 12V Ride features a multifunctional steering wheel with music effects, Bluetooth, butterfly doors, LED lights, suspension devices, and a battery with a 12V7A power system. The leather seats give a sophisticated look to this power wheel while at the same time providing comfortable cushioning to the rider.
Pros
– Easy to operate pedal and steering makes it a fun ride for kids
– The handle is designed for easy handling
– Children can have smooth driving experience with the effective suspension system experience
Cons
Although the headlights are perfectly functional, they can be a little dim for use during the night time once it gets darker.
Best Power Wheels For 5-Year-Olds
Power Wheels Ford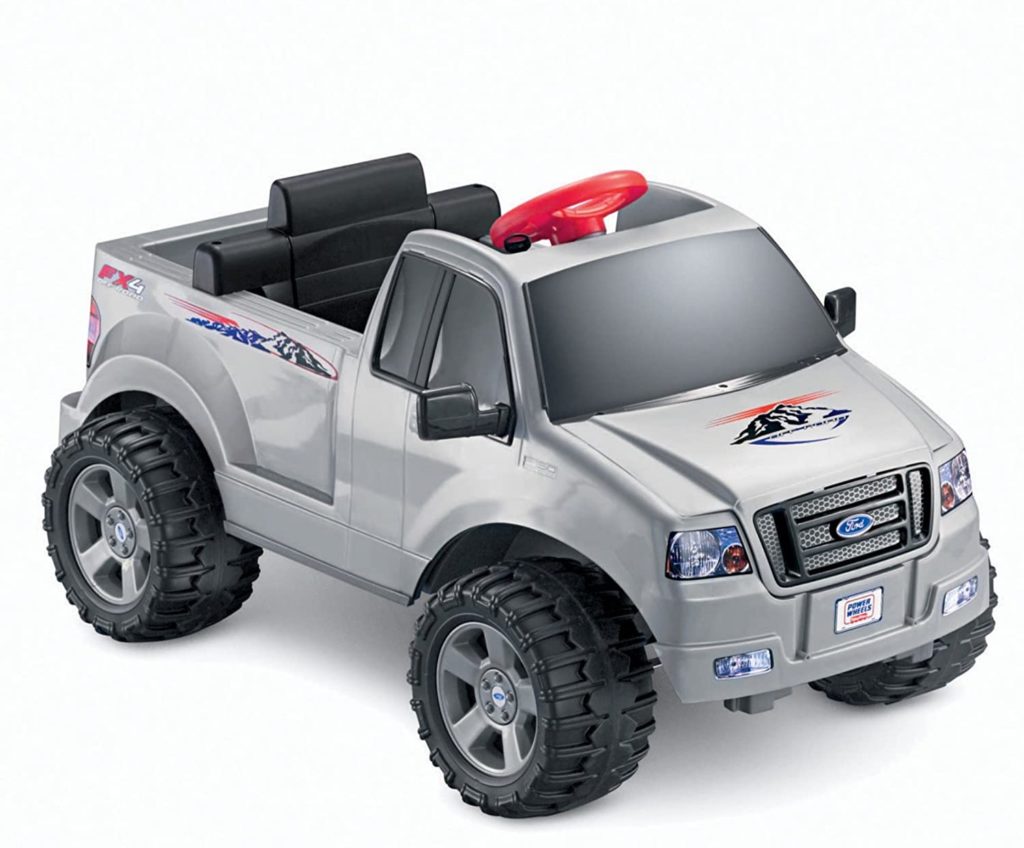 An adventurous ride for little children, Power Wheels Ford Lil' F-150 has a mirror with realistic side-view. The built-in windshield protects from wind and debris, while the roomy storage space on the truck bed is ideal for storing toys or play-tools. Children can take an adventurous drive in this truck as the big tires give a smooth ride, even off-roads.
Pros
– The roomy storage in the truck allows children to store their favorite toys neatly
– Children can enjoy the ride safely as the big tires provide extra protection off-road
– While driving the power wheel if there is an obstacle on the way, the power-brake system can stop the engine in split seconds
Cons
You will need to keep the battery charged when not in use because the lead-acid batteries might decay if left unattended for long.
Best Power Wheels For 6-Year-Olds
Ford Mustang Boss 302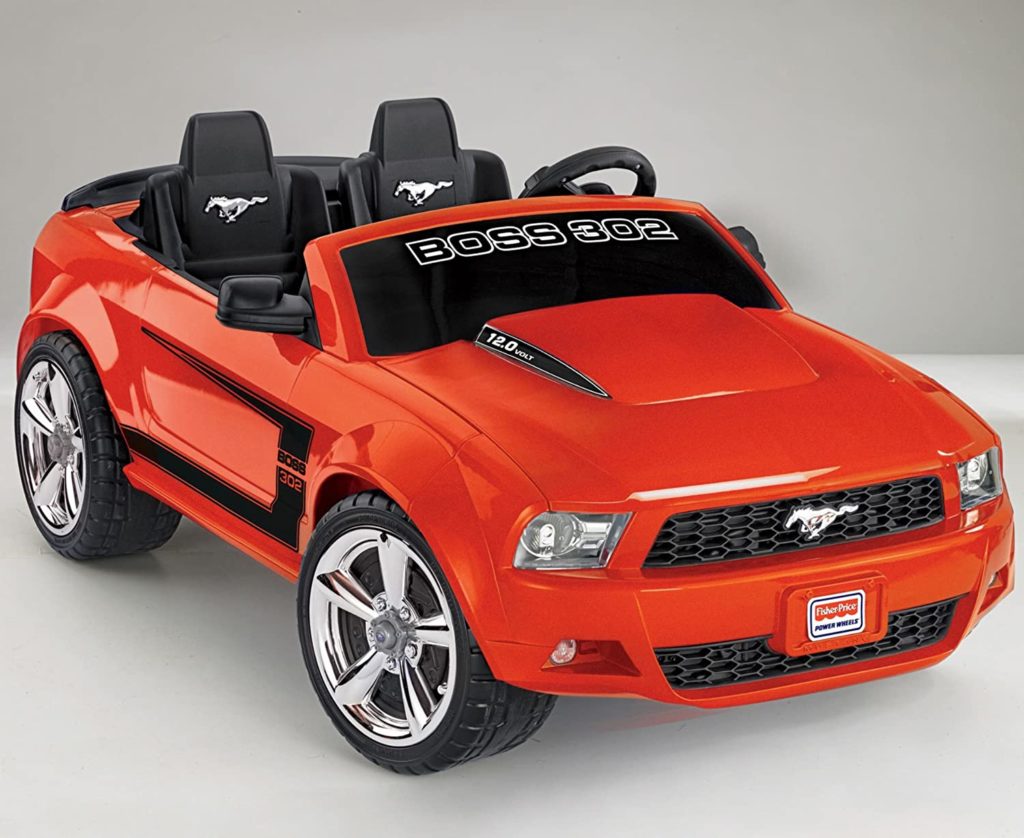 Sleek and sporty in design, the Mustang Boss 302 is a flashy ride that gives an exciting, thrilling experience. Complete with a fully decorated interior, comprising of cup holders, radio tuner, and cool finishing, this ride is the boss of all power wheels. It operates on a 12 Volts battery power, which generates a forward and reverse speed of 2.5 to 5 mph.
Pros
– More than just powerful and stylish in design, this power wheel has been manufactured with high-consistent safety measures
– Equipped with high-speed, lock features, it a perfect ride for small children
– The wheels and accents of this sporty wheel come with chrome finish
Cons
The assembling process can take some time as there many bolts screws and body parts to put together to give it a complete look.
Best Power Wheels For 7-Year-Olds
Power Wheels Dune Racer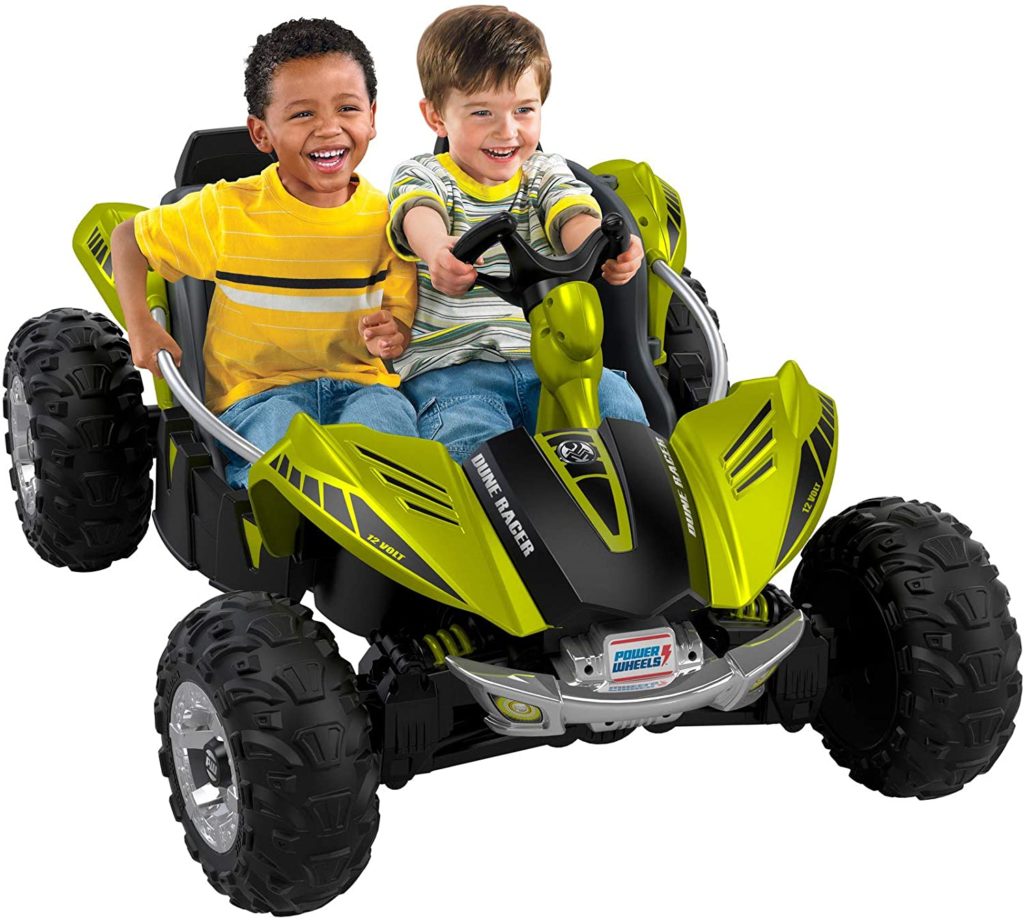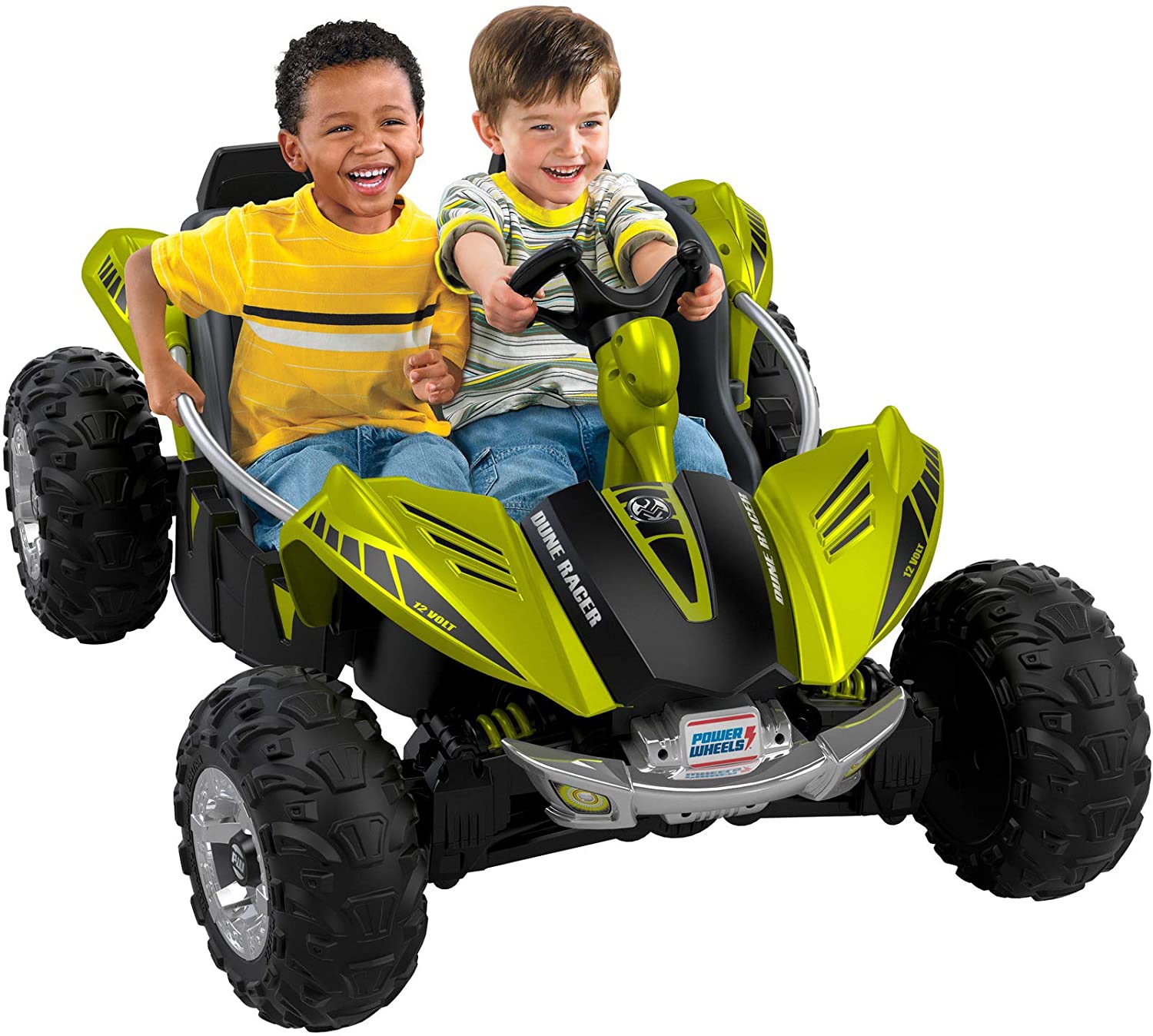 Perfect for young drivers who love racing and experiencing off-road rides, the Power Wheels Dune Racer is the real deal. Designed for your little thrill-seeker, it has a sturdy frame, and it can accommodate two riders at a time. The Monster Traction drive system of the engine is made for high-performance and can be driven over terrains. It comes with a drive speed of 2.5 to 5 mph and a rechargeable battery of 12 Volts.
Pros
– The metal sidebars provide perfect hand support for children
– Its power engine consists of Monster Traction system making driving easy on different types of surfaces
– This battery-powered power wheel is built for long hours of fun and adventures
Cons
Assembling the tires and stickers can be time-consuming, especially if it is your first time putting together a power wheel.
Frequently Asked Questions Regarding Power Wheels
What age is Power Wheels for?
Power wheels are battery-powered, ride-on cars designed for children between the age groups of 12 months to 8 years old.
How much does a power wheel cost?
The cost of a power wheel depends upon the brand, features, and model of the car, but the average price usually comes between $250 to $350.
How fast does a 12-volt power wheel go?
Depending on the type of power wheels, different models have different levels of speed. Power wheels come with speed limits of 2 mph, 2.5 mph, 3.5 mph, 5 mph, and so on. Most power wheels have parental speed lock, so if you remove this lock, the speed will become higher.
Power wheels with 6 Volts battery can go to a speed limit of 2 mph to 3 mph while those wheels with 12 Volts have speed limits of 4 mph to 5 mph.
Are Power Wheels safe?
Power wheels are designed to handle rough outdoor conditions, but you should not allow your kid to ride on terrains that are steep or rough. The car can easily flip on these surfaces and cause injuries to your child.
Make a point to let your kid drive in environments that are safe for driving. Inspect the wheels and engine to ensure that they are working perfectly.
How long does a Power Wheels battery last?
The battery life of a power wheel will vary depending on the way you follow the instructions for charging and care. On average, the battery life usually lasts between a year to 3 years.
To elongate the life of a battery, you can follow certain measures like keeping the battery on charge for at least 14 hours after each use. If the power wheel is not in frequent use, then charge it at least once every month.
Conclusion
Power wheels provide a great source of entertainment for little children. Apart from the fun part, driving a power wheel will also help in the development of skills in children, which are crucial for growth. To let your child truly enjoy the experience of the outdoors, gifting a ride-on toy makes the perfect option.
While buying a power wheel, you should choose the ones that come with safety features and also remember to follow safety measures to keep your child away from harm's way.