Best Overall Wood Chippers for Home Use
Powerhorse Chipper/Shredder - 420cc OHV Engine, 4in. Chipping Capacity
Highest Rated Wood Chippers for Home Use
Powerhorse 3-in-1 Wood Chipper/Shredder - 212cc Rato OHV Engine, 3in. Chipping Capacity
Good Wood Chipper Choice
Landworks Mini Wood Chipper Shredder Mulcher Heavy Duty 7HP 212cc Compact Design 3" Inch Max Capacity
Best Price
Sun Joe CJ603E 15-Amp 1.7-Inch Cutting Diameter Electric Silent Wood Chipper/Shredder, green
Best Overall Wood Chippers for Home Use
Powerhorse Chipper/Shredder - 420cc OHV Engine, 4in. Chipping Capacity
Highest Rated Wood Chippers for Home Use
Powerhorse 3-in-1 Wood Chipper/Shredder - 212cc Rato OHV Engine, 3in. Chipping Capacity
Good Wood Chipper Choice
Landworks Mini Wood Chipper Shredder Mulcher Heavy Duty 7HP 212cc Compact Design 3" Inch Max Capacity
Best Price
Sun Joe CJ603E 15-Amp 1.7-Inch Cutting Diameter Electric Silent Wood Chipper/Shredder, green
Getting your hands on one of the best wood chippers for home use is what you're going to need as you prune, cut, and clip away overgrown trees and vines. These tools are ideal for making sure that you can quickly take care of the debris in your garden. Besides cleaning up space, a wood chipper will help you transform the branches into useful mulch that you can use to enrich the soil for your plants.
When considering which wood chipper to buy, the plethora of options available on the market can get overwhelming and confusing. There are so many factors that you have to look at before purchasing the ideal one for your needs.
Before you head on to read about some of the best wood chippers out there, take a look at the buyer's guide provided below to help you find the product that suits you best.
If you own a small farm, check these wood chippers, which are perfect for a small farm: https://www.bestof.info/best-wood-chippers-for-small-farm/.
Buyer's Guide: What To Look For When Buying A Wood Chipper For Your Home
Here are some of the aspects of a chipper/shredder that you might want to consider before buying one:
The chipper on your machine will help you take care of the tougher woody waste fallen on your yard. It will minimize the size of the twigs and branches into manageable pieces in no time. The blades on the chippers are much stronger and heavier than on the shredders as they are made to cut tough woods.
Choose the size of the chipper, keeping in mind the wood size you will be cutting with it. If you usually cut wood that has a diameter exceeding three inches, you're going to need a larger chipper with a robust motor designed for chipping.
A shredder on the machine helps process smaller branches and twigs, and also vines, leaves, and stalks. It has hinged flails that rotate inside, quickly chopping all the debris in it efficiently. A shredder has a vacuum that reduces the waste in a chamber before releasing it into the debris bag through an exit channel. It can turn the waste into compost and mulch.
Chipper & shredder in one machine
You can have access to both a chipper and a shredder in one unit. It will help you deal with small wastes and larger twigs and branches measuring up to three inches in diameter. When it comes to the cost of a chipper/shredder, electric ones are much cheaper than those that are gas-powered. However, gas-powered units are more robust and powerful and can cut larger branches. Therefore, consider the power you need in a product that will work for your yard.
There are two types of drives- direct-drive and clutch drive. In the direct-drive type, the blades will start rotating immediately as you turn the motor on. This type is more affordable. And in the clutch drive, you will have to use a lever to get the machine to start. Clutch drive models prevent jams as they stop moving when it's empty.
Some other factors that you will need to consider while buying a chipper/shredder machine are its size, feeder type, collection bag size, reduction ratio, noise levels, power source, and most importantly, your budget.
List of The Best Wood Chippers for Home Use
Gas Wood Chippers
1. Powerhorse Home Chipper Shredder 420cc
For those looking for a model that stands out among the others, the Powerhorse brand brings for you a premium quality 420cc chipper shredder. Its robust gas-powered motor can easily cut down branches of 3-inches diameter in thickness.
The machine is operator-friendly, self-feeding, and has a chute that works in two ways. Its top-funnel can take in 4-inches thick twigs and branches easily. The machine has a belt-drive function with a clutch drive.
You can carry this product easily around your yard as it comes with a tow bar. Its optimal construction and design feature high-quality materials that ensure the durability of the product. The body is made of heavy steel, and the blades and hammers are made of chromium-steel for efficient chipping and shredding.
This model is a great pick for those who own large yards and looking for a power tool that delivers high performance and power.
Pros:
Durable design
Powerful 420cc engine
4.7-bushel bag
It is self-feeding
Long-lasting product
Contractors and landscapers can use it
2. Powerhorse 3-in-1 Wood Chipper Shredder for Home Use, 212cc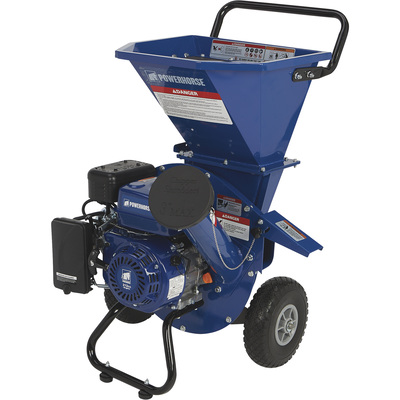 The Powerhorse Wood Chipper Shredder is a compact and versatile unit that effectively cleans up the garden/yard and gives mulch that you can use on your plants in the next growing season. It is a 3-in-1 multifunctional machine that gets your job done quickly with its 212cc gas engine.
Built to chip twigs and branches up to 3 inches in diameter size, this compact tool will give an incredible performance when it comes to taking care of your garden waste. You can use the hopper at the top to chip larger branches, the chute on the side for smaller twigs, and the back vacuum for shredding leaves.
Besides all these amazing features, it is worth mentioning that this product has durable components that let you work quickly and efficiently.
Pros:
15:1 reduction ratio
Compact design
212cc gas engine
Durable 10×3 inch tires
3 inches chipping volume
Top, rear, and sideloading inlets
3. Landworks Mini Wood Chipper Shredder Mulcher, 212cc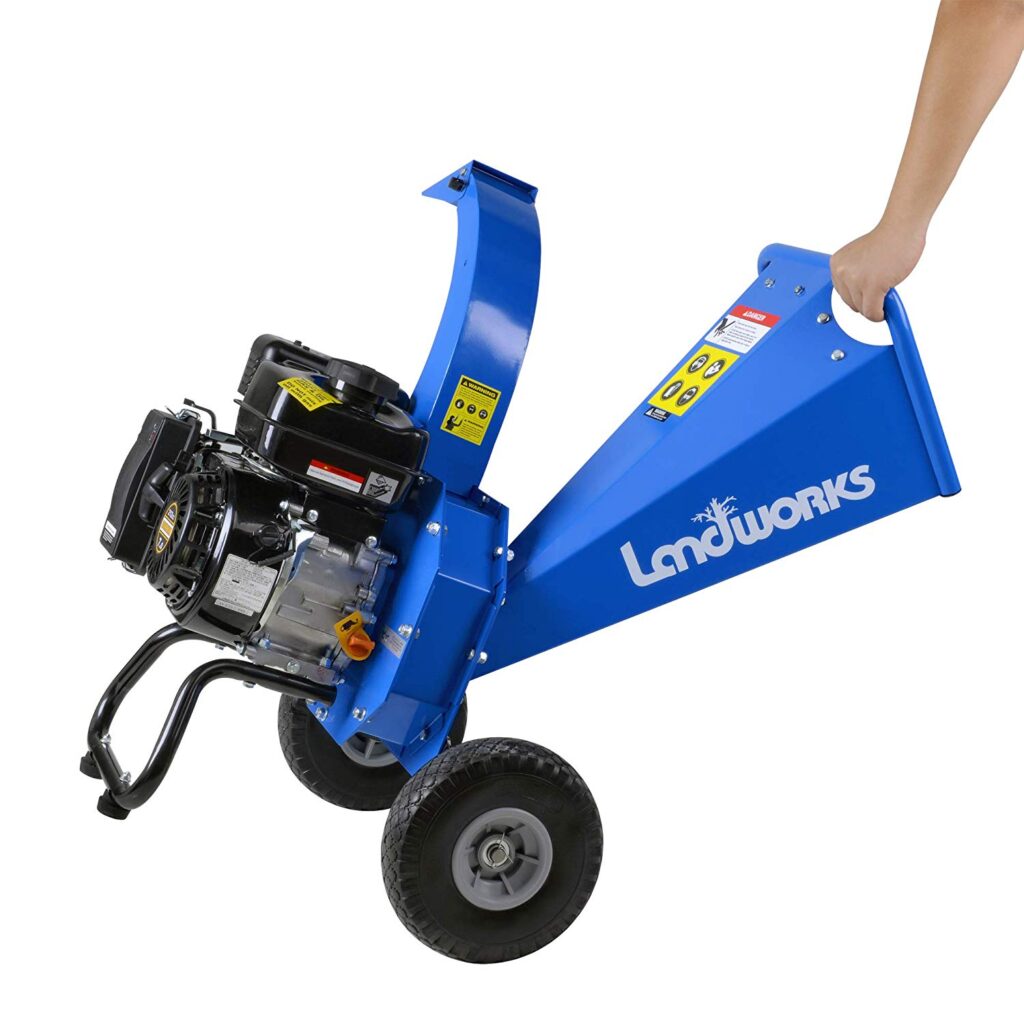 One of the most astonishing features of this mini wood chipper shredder mulcher is its functionality despite the compact size. It has a 15:1 reduction ratio, which makes cleaning large areas efficiently and quickly. With a powerful recoil and 212cc four-stroke gas-powered engine, this product can chip wood of 3-inch diameter effortlessly.
You can use it for landscaping, gardening, waste recycling, chipping and shredding branches, and mulching leaves. However, it is not ideal for handling fresh leaves, palm branches, and pine cones, as they will jam. Besides this, the unit pretty much is quite a powerful and safe tool that you can use for heavy or light work.
Unlike some other steel units, this product is lightweight and compact and has a highly admirable design that delivers great results. It has a spacious hopper for shredding/chipping maximum volume. You can attach it to your small tractor, ATV, or lawnmower for convenient transportation. The maximum oil capacity is 0.7 gallons.
Pros:
Lightweight and compact
Durable materials
212cc 7HP heavy duty engine
3-inch diameter capacity
15:1 reduction ratio
Electric Wood Chippers
4. WEN 41121 Rolling Electric Wood Clipper and Shredder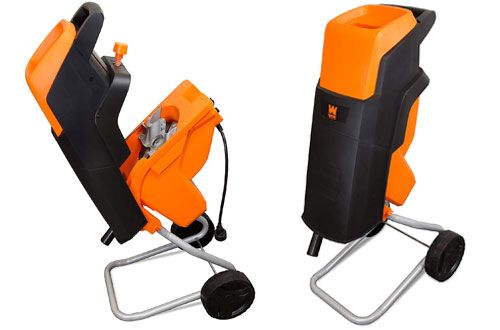 This one from Wen is a great product for those shopping with a budget. The Wen 41121 electric wood chipper is a compact unit and ideal for smaller yards. However, don't let its compactness fool you! It has a 15amp electric motor that can cut up to whopping 8000 times per minute. Need to quickly chip off your yard waste? This product is what you need.
Besides the ability to shred branches of 1.5inches diameter, you can also transform foliage and twigs into mulch. It has two 7-inch blades that chips effectively and a push stick that lets you safely place the waste into the machine. The safety mechanism of the Wen 41121 prevents the machine from working when it is open.
Pros:
Safety mechanism
1.5 inches shredding capacity
8000 cuts/minute
Powerful 15 amp motor
Compact and portable
Efficient working
17:1 reduction ratio
5. Sun Joe CJ603E Electric Silent Wood Chipper Shredder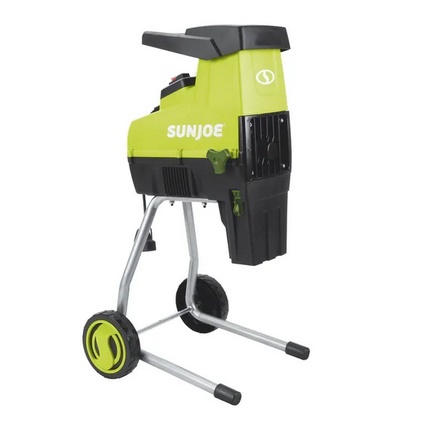 If you are looking for an efficient electric chipper/shredder, check out this one from Sun Joe. This machine can shred twigs and branches of diameter up to 1.73 inches. With the locking knob and a safety hopper, you don't have to worry about accidentally operating the motor when it is open.
The Sun Joe CJ630E works excellently for dry leaves and transform them into mulch rich in nutrients for your plants. The 15 amp electric motor runs on electricity and has a reduction ratio of 21:1. This model is one of the best for those searching for a simple garden shredder that can efficiently chip and shred garden waste and turn it into mulch.
Pros:
Compact structure
Safety features
Portable
Powerful 15 amp electric motor
Cons:
It works best for dried leaves and branches.
6. Earthwise GS70015 Garden Corded Electric Chipper and Shredder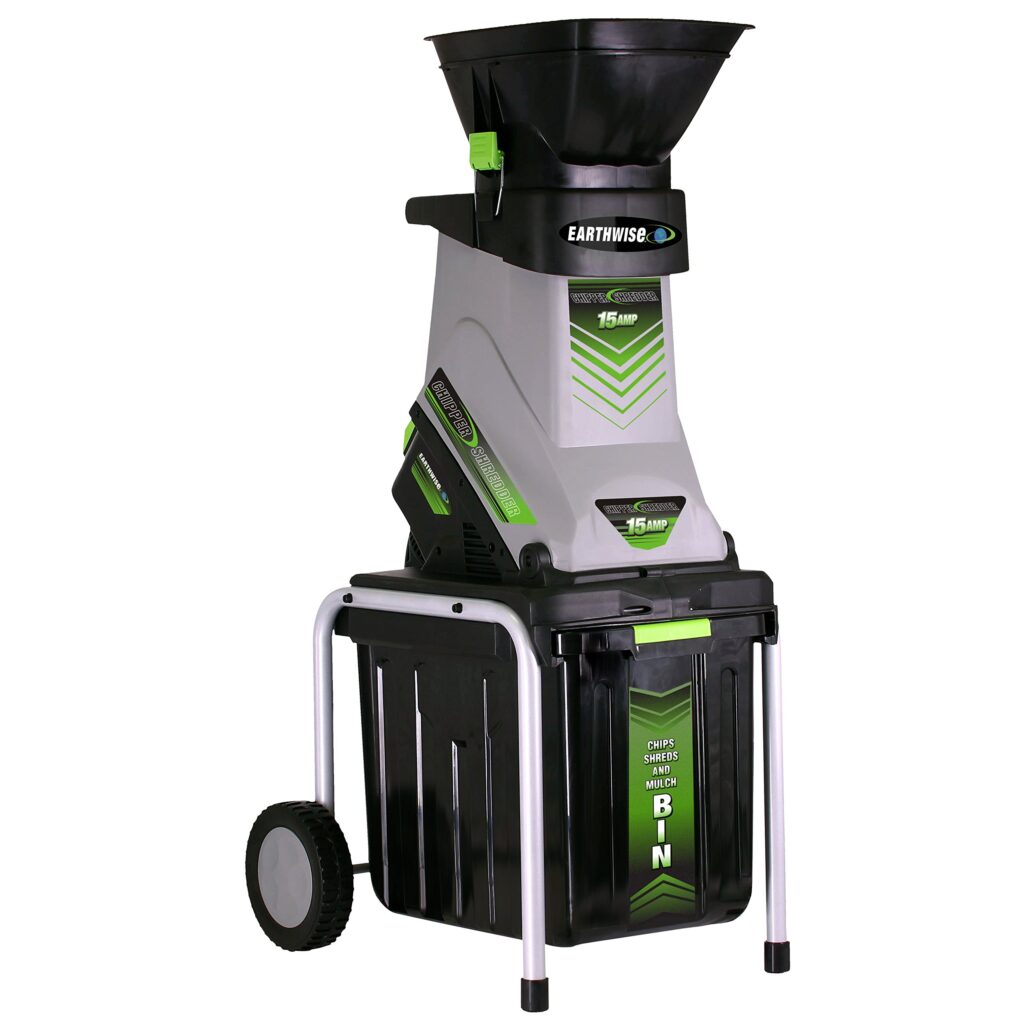 This electric unit is an ideal pick for homeowners who have yards that are smaller in size. It features a robust 15amp motor that can chip 1.75 inches thick branches. With this model, you can enjoy a safe operation as it comes equipped with several safety features. The tamper tool and chute will provide hands-free chipping and shredding.
In the case of machine overloading, there is a kill switch that you can press to immediately turn off the power and prevent the motor from burning out. The sturdy design of this model gives you long service, and it has large wheels at the rear to make maneuvering easy. The best part about this power tool is that it works noiselessly and efficiently.
Pros:
It is loaded with safety features
Powerful 15amp electric motor
Rear wheels ensure easy maneuvering
1.2-bushel bin for collecting debris
10:1 reduction ratio
Cons:
Not ideal for heavy operations
7. SuperHandy Electric Wood Chipper Shredder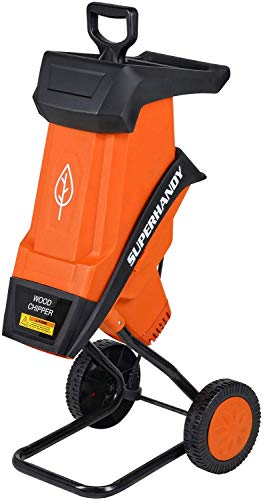 SuperHandy may not be a very well-known brand; however, it offers a variety of models, one of them being the electric wood chipper shredder. It has a stylish and durable body made of polypropylene, and unlike gas-powered models, this one doesn't produce smog and is also much quieter.
The 15amp motor is capable of chipping 1.57 inches thick branches with a reduction ratio of 17:1. It features a start button and a switch for overload protection so you can operate the machine safely and conveniently. The package includes a strong push stick and a 13.7-inch supply cable.
Pros:
Rust-free polypropylene body
It includes a switch for overload protection.
Reversible double-edge blades
Silent operation
Portable
Cons:
Not ideal for larger branches
Frequently Asked Questions
How does a wood chipper work?
Wood chippers are power tools designed to cut down the sizes of clipped and pruned branches, leaves, and twigs and turn them into products useful for your garden, such as mulch. These machines have blades that spin inside them, which break down waste into smaller pieces. You can use them in your yard or garden to help you clean up space and use the waste for other purposes instead of throwing or burning them.
They come in two types- gas-powered and electric chippers. The gas-powered chippers run on fuel, and the electric ones need a power source to work too.
Are wood chippers loud?
If you are using a gas-powered wood chipper, it can get as loud as a power saw or a jackhammer. So some people might find it annoying, and it can disturb the neighbors too. Also, exposure to such a sound level (110 decibels) can be painful for your ears, so you might want to put on some ear defenders. However, it should not be a problem if you only use it occasionally.
Electric chippers, however, are much quieter compared to their counterparts. It is because the machine runs on electricity, and there will be no engine sound; just some noise from the wood getting chipped.
What kind of chipper/shredder should I select for a large garden?
One important factor that you need to consider while buying a chipper is the size of your yard and how much waste you have to process. Even if your garden is small, it might produce more waste than a larger garden that has lesser plants and trees. So the amount of processing should be the primary factor when selecting your model. If you need a machine to run for long durations without burning out, a gas-powered unit will help you achieve it.
What should I do with the processed waste?
Having a chipper shredder will help you turn your waste into useful material by turning them into mulch that your plants will be thankful for. This is one of the main advantages of using a chipper shredder. Instead of tossing out the garden waste, you can make something resourceful out of it.
If you collect enough processed waste during the planting season, you can turn them into compost and mulch for the next season. Owning a good chipper shredder will minimize your gardening expenses by giving you home-grown mulch for your plants.
How should I feed my chipper?
Whenever you use your chipper shredder, always feed it by pushing the materials into the blades using a push block or stick. Do not use your bare hands. Also, make sure that you have gloves and eye gears on while you use the machine to avoid debris from getting into your eye or injuring your hands. The shredder will then process the waste and transfer it to a chute through which it will go into the collection bag.