Best Overall Welding Lead Reels
Coxreels SEPTLS170EZSHW1100 - EZ-Coil Welding Hose Reels, 1/4" Hose ID, 100' Length
Good Choice
Coxreels 1125WCL-6-C Large Capacity Hand Crank Arc Welding Cable Reel - Holds up to 300' pg #2 Cable - Electrode and Grounding Lead Reels (Cable Not Included) Professional Grade Made in USA
Best Price
Coxreels SG17W-150 Side mount welding hose reel with guide arm 1/4"x50' 200PSI oxy-acetylene applications
Best Overall Welding Lead Reels
Coxreels SEPTLS170EZSHW1100 - EZ-Coil Welding Hose Reels, 1/4" Hose ID, 100' Length
Good Choice
Coxreels 1125WCL-6-C Large Capacity Hand Crank Arc Welding Cable Reel - Holds up to 300' pg #2 Cable - Electrode and Grounding Lead Reels (Cable Not Included) Professional Grade Made in USA
Best Price
Coxreels SG17W-150 Side mount welding hose reel with guide arm 1/4"x50' 200PSI oxy-acetylene applications
All professional welders and mechanics know the importance of owning one of the best welding lead reels. It's quite apparent that you too might have realized how troublesome the cables and hoses can be if you've been working in a fabrication shop or a welding rig.
Welding is a job that involves a lot of danger. Moreover, it requires a good amount of skills, experience, and one has to follow strict safety rules to ensure the safety of the welder and the people around him. Speaking of safety, we cannot deny that the employees who work in this environment need all the essential safety equipment, including work gloves, safety glasses, helmet, and a welding lead reel.
We will discuss in-depth about welding lead reels in this post. We will also talk about why it is a piece of essential safety equipment, and how you can find the best deal.
Why do you need lead welding reels?
Tripping or stumbling upon a cable or a hose in a welding shop is not uncommon. This is where lead welding reels come in. While its primary purpose is to store the cables safely when not in use, it also increases the lifespan of the wires and hoses.
Therefore, it is not just equipment that prevents trip hazards and creates a safe work environment – it saves you a lot of money, as you won't be replacing the welding cables frequently.
Another good reason why you should own a lead welding reel is that it ensures that the wires, cables, cords, or hoses do not get tangled up, which is not easy to fix. This entanglement of gear can also be very annoying.
In short, by eliminating a trip hazard, and the possibility of tangling, you get to work safely. Correspondingly, you also get to increase your work efficiency.
What to Look for When Buying a Lead Welding Reel
Welding reels are simple machines or equipment that does not have many parts, and there aren't many things you should look for. However, there are some of the crucial factors you should consider before buying one.
When buying a welding reel, its built quality is the first thing to consider. This is especially true if you have one of those lengthy and heavy cables or hoses. The reels are going to be used daily, so there is no need to spend extra dollars on getting this equipment repaired from time to time.
Regardless of the type of reel you buy, you need to make sure that it has top-notch qualities for durability. Also, make sure that the reel has anti-rust or anti-corrosion properties. If your equipment is not protected from corrosion and rust, it would be pointless even if it is built as sturdy as a tank.
Auto or manual retraction system.
All welding reels are for the same purpose, but they work differently. Some reels require manual operation, while some come with an electric motor.
Both these type of welding reels have their good and bad sides. Manually operated welding reels are much cheaper, but it is less efficient as compared to power reels. On the other hand, electric or power reels are a lot more expensive, but reeling the cables much more manageable. Although it is not a problem that you need to be worried about, you also have to consider the fact that electric reels require a power source. Therefore, in terms of price and portability, the manually operated welding reels wins.
Now that you understand how to find your equipment for your fabrication/welding shop, let us dissect some of the best lead welding reels that are on the market.
Top 8 best welding lead reels reviewed
1. Coxreels coil welding lead reels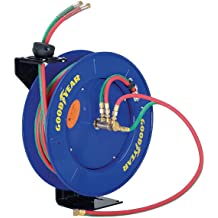 The first welding reel on our list is from a highly reputed brand Coxreels, one of the world's leading manufacturers of reels. In fact, the company has been in this business for over 90 years, so you can be sure that its products are reliable.
Built Quality.
The structural integrity of welding reels is dependent on the base and its axle, which adds extra strength to the coil. This reel has a super strong single-piece solid steel base, which also acts as a support post. It also has an anti-corrosion, and chip-resistant coating, which ensures its durability.
Features:
Guide arm that supports multi-position – The guide arm is fully adjustable that allows you to position the reel anywhere you want, ceiling, floor, or a wall.
Hose guard – This protects the hose from premature wear and tear.
EZ coil – It is equipped with an easily accessible cartridge-style motor that can be removed effortlessly if there is a need for maintenance.
Ergonomically placed dual brass swivels – Allows you to easily connect the hoses without removing the reel from its mounted position.
Pros
Built with super durable materials
Easy to mount and use
Hose friendly reel
Excellent stability
Cons
This item is only available for shipping within the United States
2. Coxreels 1125WCL-6-C hand crank welding reels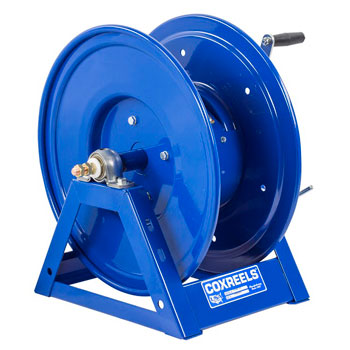 The next one on our list is also from Coxreels. As its name suggests, the 1125WCL-6-C is a manually operated reel that will increase your work efficiency and the durability of your cables and hoses.
As one might expect from any Coxreels products, this reel has all the essential requirements including, rust-resistant coating, sturdily built, and smooth operation. The 'A' frame base, which has a one-piece solid steel construction provides maximum strength and durability.
Features:
Slip Ring assembly – The drum located slip ring assembly allows easy access for routine maintenance. Another cool thing is that you don't have to unmount the reel to do so.
Smooth operation – Equipped with a permanently lubricated bearing, you can be sure that the reel operates very smoothly.
Adjustable tension brakes– Although this is a hand crank reel, the draw's speed can be fast. Nevertheless, you do not want the reel to wheel independently or freely when it is in operation. With the adjustable tension brakes, you can prevent it from freewheeling, and you can adjust its draw speed to your liking.
Locking pin – It locks and secures the reel when it is not in use. This allows you to work safely, even in mobile conditions.
Pros
Equipped with a lot of safety features
Highly reliable and super durable hand crank
Easy to operate
Can be mounted on a floor, or a wall
3. Coxreels SG19WT-175 side mount welding hose reel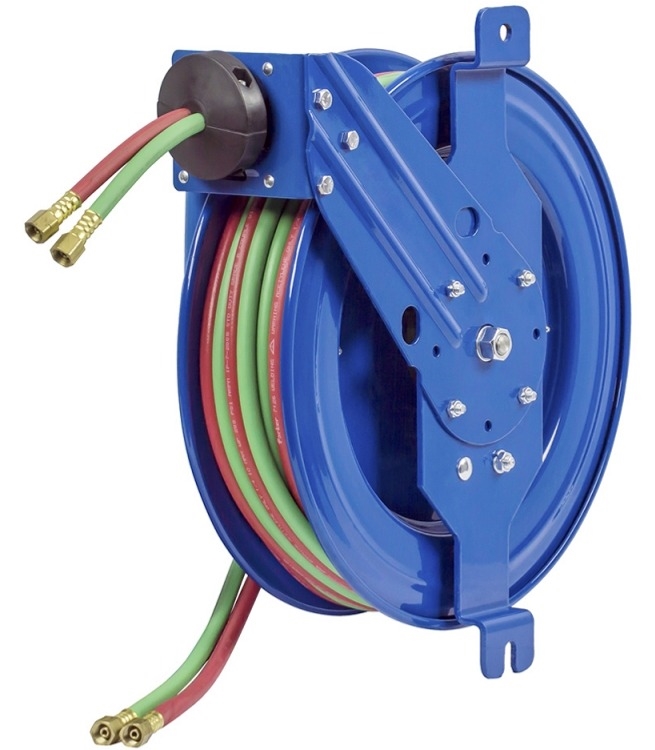 This is an electric operated reel that has lots of cool features. Maybe you'll get to know why we had to pick this welding reels and put it on our list when you get to find out about this product.
Whether you are looking for a welding reel for commercial or industrial purposes, the Coxreels SG19WT-175 is a great choice. It is made of high-quality steel that offers incredible strength stability. In addition to its super sturdy construction, it also has a chip-resistant and anti-rust coating.
Features:
Easy to remove cartridge motor – It allows you to remove the cartridge quickly, in case you need to run a maintenance job.
Simple and easy side mount – Another cool feature of this welding reel is its side mount design, which uses only two bolts to mount the reel onto any vertical flat surface.
Adjustable guide arm – The guide arm has six adjustable positions that allow you to have maximum control of the hose.
CNC Spun disc – This feature offers more strength, stability, easy and safe operation, and protects your hoses.
Pros
Incredibly smooth and safe operation
A highly durable and
Easy to install
Ergonomically designed
Cons
4. Coxreels SG17W-150 Side mount welding hose reel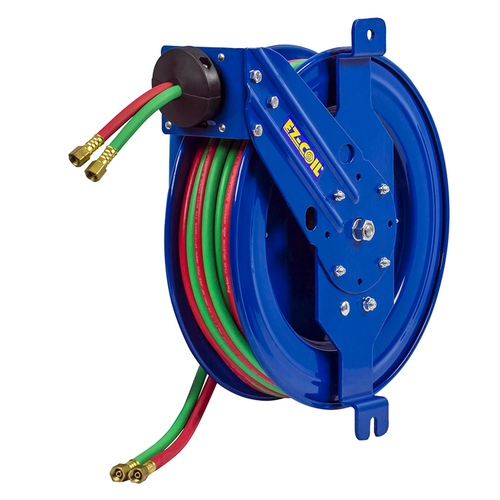 If you are one of those mechanics or welders who move around a lot while working, the Coxreels SG17W-150 is your ideal pick. It comes with an easy mount design that allows you to temporarily mount the reel so you can move it around easily.
Similar to other Coxreels products, this one also has anti-corrosion and chip-resistant properties. In addition, the tough materials used to build this reel make its overall built quality great.
Features:
Hose stop – The SG17W- 150 comes equipped with an adjustable hose stop that is corrosion-resistant, and chip resistant. It also keeps the hoses protected from damages.
Side mount design – You can mount this reel easily on flat vertical surfaces, enclosed space mounts, or even a cabinet.
Adjustable six-position guide arm – It allows you to have absolute control of the cables or hoses.
Dual Brass swivels – This allows the connection on the same side of the reel so you will not have to dismount the reel in order to connect the hoses.
Pros
Quality assured reel that is manufactured in the US
A powerful and durable motor that ensures great performance
Easy to mount and dismount
Extremely reliable
5. Coxreels P-WC13-3504 spring rewind welding cable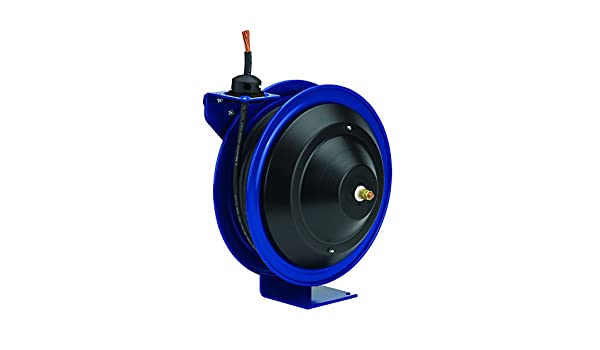 This one is another awesome welding reel from Coxreels, which has great features.
It comes from the warehouse of the world's top manufacturers of welding reels. Therefore, it has great built quality, and it will surely serve its purpose for many years, without a doubt.
Features:
Tough and stable steel base – Built with a single chunk of tough and durable steel, it provides incredible strength and stability.
Easily removable component cover – To add an extra layer of protection against rust, corrosion, and debris, this equipment has a component cover that can be removed easily without dismounting the reel.
Cable stop – This feature adds a lot more convenience and efficiency when you are working. The cable stop consists of solid rubber, which is super durable and ensures that the cables are protected from rough scratches or tear.
Pros
Long-lasting welding reel
Powerful enclosed cartridge motor that ensures smooth performance
Comes with all the required safety features
Has a multi-position ratchet lock system that allows the user to secure the desired hose length
Cons
International shipping is not available
6. Coxreels industrial welding reel with oxygen-acetylene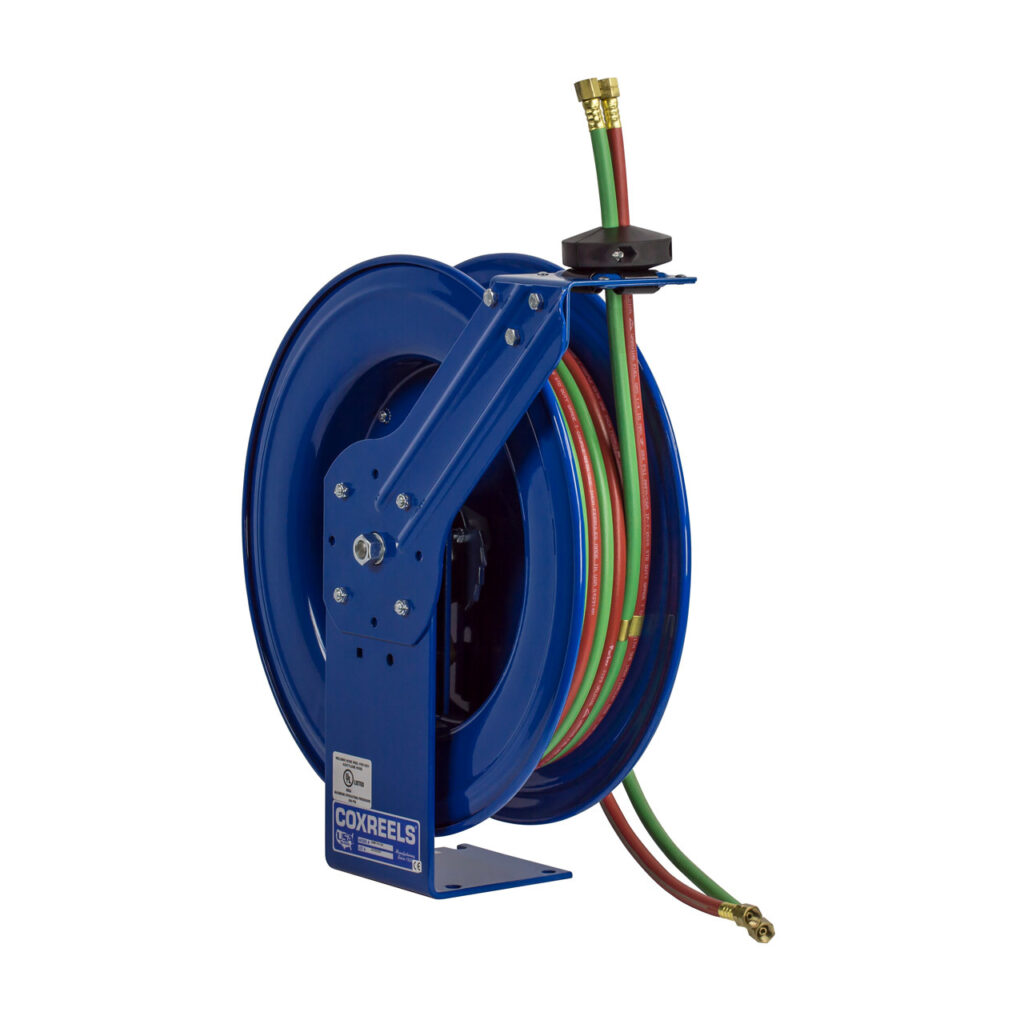 If you have a bulky and heavy twin line hoses, this reel will definitely make your everyday job a lot easier. Let's see what it has to offer.
This reel belongs to the SHW series, which means it has a larger chassis, and the frames are a lot bigger and stronger. Also, with a much larger frame and chassis, the reel has more stability and vibrates less when in use.
Features:
Hose guard – Protects the cables and hoses. Moreover, it extends the lifespan of the cables.
Versatile guide arm – This allows you to adjust to certain conditions such as the wall, ceiling, vehicle mounting position, or floor.
Easy maintenance – The enclosed cartridge motor is effortless to remove, so you can perform a routine maintenance job with ease.
Pros
Anti-corrosion, and chip-resistant coating
Can be used in several work environments
Simple and easy mounting options
Highly durable and reliable
7. Coxreels 112WL-1-100 Welding hand crank Hose reel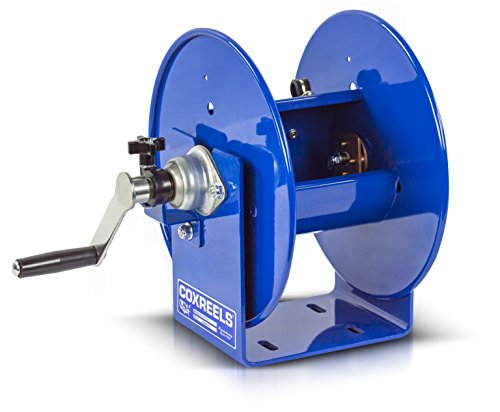 If you prefer the heavy-duty welding reel for your workshop, you need not look further than the Coxreels 112WL-1-100. Let's take a look at its built quality and features.
This welding reel has a U–shaped frame made of a single solid piece of heavy gauge steel. It also comes with rust-resistant and chip-resistant coatings, which increases the durability and structural integrity of the reel.
Features:
Hand crank – This hand crank reel of solid steel with a round handle, which makes the operation very smooth.
Steel construction – Apart from the U shaped frame, this reel is heavy-duty steel that provides maximum strength and stability that makes it fit for use in any environment.
Adjustable brake tension – This allows you to control or adjust the speed of your draw. It also prevents the reel from wheeling all by itself.
Pros
Reliable and durable heavy-duty reel
CPC Powder coat keeps corrosion and rust away
Ergonomically placed dual Brass swivels that allow easy connection from the same side of the reel
8. Generic 50 Ft Oxygen Acetylene Dual welding retractable reel with a hose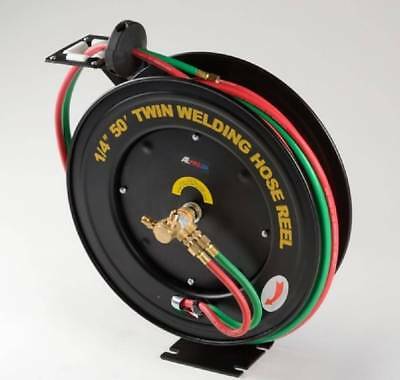 The last one on our list is not a Coxreels product. Although it does not have many great features like the other products above, it certainly is much cheaper, and it does its job pretty well. Let us check it out.
This spring-powered auto rewind reel has an industrial-grade steel construction. It also has multiple mounting positions, including walls, floors, or a service truck. It means you can mount it anywhere you want, depending on the condition of your workplace.
Pros
Budget-friendly
Easy to use
Multiple mounting options
Con
Not suitable for commercial use or workshops that use bulky hoses
Frequently Asked Questions About Lead Welding Reels
Should I be worried about arc blows when using welding lead reel?
Generally speaking, the answer is no. Make sure that you do not place the reels too close to the welding machine. If your reels are near a welding machine, it can induce a magnetic field when you pass the current, and it may cause a problem to the transistors in the welder machine.
What is the ideal cable size?
The length of your cable and the amperage you are using should pretty much give you an idea of what cable size you should choose. You also have to see that the cable can support the electric current required to do the job. Using an undersized cable can also cause overheating.
Lastly, check your machine's rated output and duty cycle. Most welding lead reels can support almost all kinds of cables. However, you need to avoid welding when the cables are not winded.
How can I safely unwind the leads?
You can do so by slowly unwinding the leads while holding both wires. This is a much better method because you do not want to create a messy pile of wires on the ground. In addition, by holding the wires together, you are making sure that you balance out the induction in the wires.
Is it safe to do welding while the wires are winded to the reel?
No, it is not a good idea. You need to unwind the wires before you start welding. This is important because, as the current passes through the wires, it generates a lot of heat, which can damage the wires. The reels also run a greater risk of overheating if the wires are undersized.
Can I mount a welding reel onto a truck?
Absolutely, welding reels come with multiple mounting options, including trucks, walls, floor, and ceiling. However, make sure that the reel you buy has a sturdy mounting mechanism so you are can use it safely.