Best Overall Tower Speakers Under $1000
Klipsch RP-280F Reference Premiere Floorstanding Speaker with Dual 8 inch Cerametallic Cone Woofers (Ebony Pair)
Highly Rated Tower Speakers Under $1000
MartinLogan Motion 40 Gloss Black Floorstanding Loudspeaker (Each)
Good Price
Polk Audio TSi500 High Performance Tower Speakers with Four 6-1/2" Drivers - Pair (Cherry)
Popular Tower Speaker Under $1000
Polk Audio LSiM 705 Superior Floorstanding Tower Speaker | Dynamic Balance & PowerPort Technology | Bi-Wire & Bi-Amp | Single, Midnight Mahogany
Best Overall Tower Speakers Under $1000
Klipsch RP-280F Reference Premiere Floorstanding Speaker with Dual 8 inch Cerametallic Cone Woofers (Ebony Pair)
Highly Rated Tower Speakers Under $1000
MartinLogan Motion 40 Gloss Black Floorstanding Loudspeaker (Each)
Good Price
Polk Audio TSi500 High Performance Tower Speakers with Four 6-1/2" Drivers - Pair (Cherry)
Popular Tower Speaker Under $1000
Polk Audio LSiM 705 Superior Floorstanding Tower Speaker | Dynamic Balance & PowerPort Technology | Bi-Wire & Bi-Amp | Single, Midnight Mahogany
Tower speakers are sound-producing devices built with a tall and large frame of wood, aluminum, or plastic. The primary duty of a tower speaker is to produce crisp quality sound. The massive speakers allow even distribution of sound in a large room or hall. With the need of a good sound system, you might break your bank, and so we made sure that you get the best tower speakers under $1000.
A good tower speaker can make your home theatre experience or even simple music worth every penny. Once you get the hang of a quality tower speaker, there is no going back. There are so many sounds and minute details you miss out while watching tv or listening to music when you don't make use of good tower speakers. The rich and crisp sound quality of a good sound system will make you feel as if you are at the movies. It is that good.
However, with the expense of quality sound, tower speakers can be a bit on the pricy side. Before we jump into the list that we have compiled about the best tower speakers under 1000 dollars, here is all you need to know before making the big purchase.
If your budget is a little bigger than $1000, you can have a loot at floor standing speakers under $2000.
Buyer's Guide – What to keep in mind while buying tower speakers
Any investment requires a lot of research and thought put into. A tower speaker becomes a necessity when you enjoy good music and going to the movie theatres. With a quality tower speaker at home, it makes things a lot easier and accessible. It becomes a luxury and a modem to spend time with friends and family. But, before investing in a tower speaker, here are some things you should consider.
1. Size
The first thing to consider is the size of the speakers. Of course, tower speakers are usually very tall, but there are size varieties in the speakers. Accordingly, you can choose the tower speakers that are best fitted for your home.
2. Performance
There are many reasons as to why you are planning to purchase a tower speaker. The performance of the tower speaker is a very important detail you would want to know before the big purchase. According to the make, the sound quality and output power may vary. If you are living in a small apartment with neighbors close by, buying a tower speaker with very loud output power may not be useful since you cannot play its full potential. Likewise, if you live in a large soundproof home with plenty of space to yourself, you can blast your music out loud. Therefore, knowing the performance of the speaker and how loud and low it can go is necessary.
3. Speaker type
Speakers come in various kinds, such as woofer, subwoofer, or tweeters.
Woofer- A woofer is commonly used in small speakers like bookshelf speakers. It produces low to mid-range frequencies of sound.
Subwoofer- Subwoofers are highly used in tower speakers. It produces only low frequencies but with crisp sound quality.
Tweeters – Tweeters reproduce sound frequencies that are not audible to human ears. This means that they produce sound frequencies only of a certain threshold level. Types of tweeters are cone, dome, piezo, ribbon, and electrostatic.
Depending on the make, the types of speakers can vary. Therefore, do your research and choose what best fits your requirement.
4. Budget
Your budget plays a vital role before any important splurge. The features of the speaker you want could be available in a lower-priced speaker of a different make. There are many speakers in different price categories with various features, designs, and sound range. So before buying a tower speaker, look for the speaker that fits your budget and does it job.
5. Review
Reviews are very important. When you are interested in a certain speaker, check its customer reviews to know how it feels when the product is utilized. Customer reviews are an honest way to know what kind of speaker you are actually getting and how it is going to serve you. Read the reviews and see if the product has maximum positive or maximum negative reviews. Also, make sure to see if the negative reviews are giving a minute or high impact. This will save you plenty of money, time, and trials.
List of the best tower speakers under $1000
1. Definitive Technology BP9060 High-performance Bipolar Tower Speaker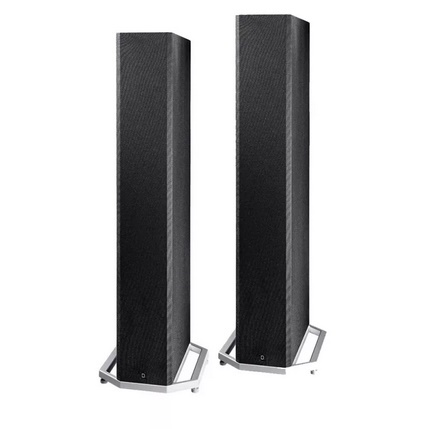 Features:
BDSS technology drivers on both front and rear arrays
High-performance Bipolar tower
Dual bass radiators and powered subwoofers
Dolby Atmos module
High-quality bass control
6.5′ AC Power cord
Total frequency response up to 40,000 Hz
The definitive technology high-performance bipolar tower speakers are one of the best tower speakers available in the current market. This tower speaker features a total of eight speakers- BDSS Driver, subwoofer, Aluminum dome tweeter, and a passive bass radiator.
Definitive technology bipolar tower is engineered with high-quality intelligent bass control, which enhances the sound quality. The bipolar array makes the audio experience worth listening to from any part of the room. One of the best features of this speaker is the seamless integration with the Dolby Atmos sound system using the Dolby Atmos-enabled module.
Pros
The sleek look of this aluminum base tower speaker spices up any boring room.
There is no compromise with the sound quality. This speaker has intelligent bass controls, a BDSS driver, Forward focused bipolar array, and integrated powered subwoofers to make your home theatre or studio experience a thousand times better. It can make you hear crisp music, clear dialogues, and little details you often miss out on.
Cons
2. Klipsch RP-280F Reference Premiere Floorstanding Speaker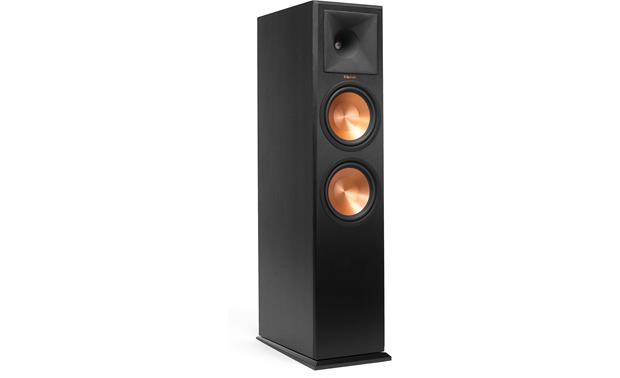 Features:
A tall black speaker with copper cone woofers
Comes in pair
Hybrid Tractrix Horn with tractrix port
Dolby Atmos module
Flexible grille
Mdf Cabinet with veneer battle finish
Klipsch is one of the oldest and best sound system companies. The RP-280F is a high-end floor-standing speaker with a 90×90 hybrid tractrix horn and Cerametallic Woofers that give you the clearest and rich sound. Titanium tweeters in the speaker reduce any distortion of the sound. This speaker has a modern appearance that fits any decor -the polymer veneer finish looks sleek and promising.
Pros
Comes in a pair
Looks and feels high end
Reproduces excellent sound
An enhanced tractrix port allows smooth air transfer.
The Cerametallic Woofers promote crisp sound quality
3. SVS Prime Tower Speaker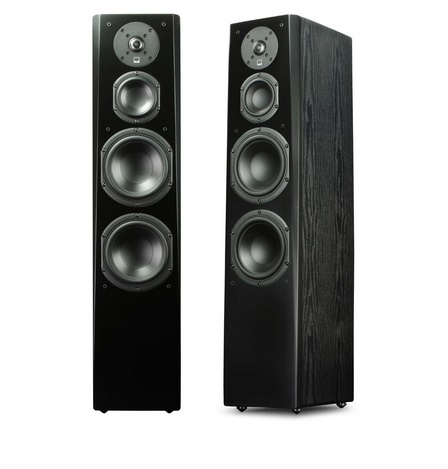 Features:
6.5" twin woofer
Aluminum dome tweeter
3.5" midrange driver
Comes in two variants – black ash and piano gloss
Nominal impedance – 8 ohms
SVS has stepped up their game by creating the Prime tower speaker. These speakers come in two variants – black ash and piano gloss both as single and pair. The beautiful design and look of the speaker make it stand out. Within the slim cabinet, this speaker contains all the needed technologies that allow it to perform at its best. The thing that sets this speaker apart from others is that its 6.5" twin woofer, dome tweeters, midrange driver, crossover, and custom port tuning promote extreme sound clarity without any distortion.
Pros
Looks extremely stylish and grand
Perfect for home theatre with clear audible dialogues
Can be paired with a subwoofer
Designed to handle both low and high sound frequencies
Cons
When the audio source is poor, the sound quality from the speaker is very ragged.
4. Polk Audio LSiM 705 Superior Floorstanding Tower Speaker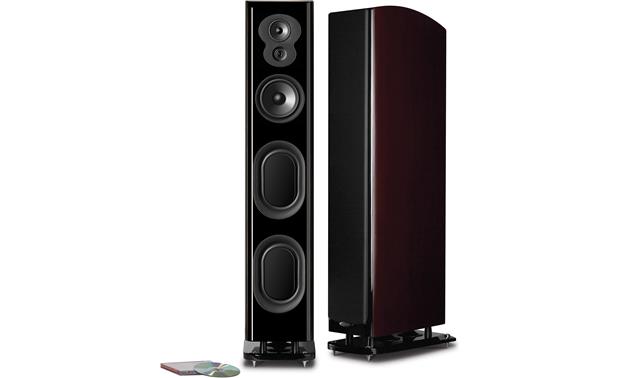 Features:
Enhanced ring radiator tweeter
Dynamic sonic engine
ELM Voice coils
Polypropylene cone material
Nominal impedance – 8 ohms
LSIM 705 is the perfect floor standing speaker under 1000. This speaker has all the features that the LSIM 707 bears but at a slightly cheaper rate. The sleek design of this speaker is simply eye-catching. Polk Audio has constantly created gadgets that become instant hits. Like any other product of theirs, LSIM 705 also has super cell aerated polypropylene materials in all its drivers, dynamic sonic engine, and power port technology in the woofers.
Pros
Loud and clear sound
Performs well with both higher and mid-range sound frequencies
PowerPort technology reduces distortion
The polypropylene driver material is supercell aerated and present in all its drivers.
Cons
It requires to be broken in before playing loud music
5. SAMSUNG Sound Tower MX-T70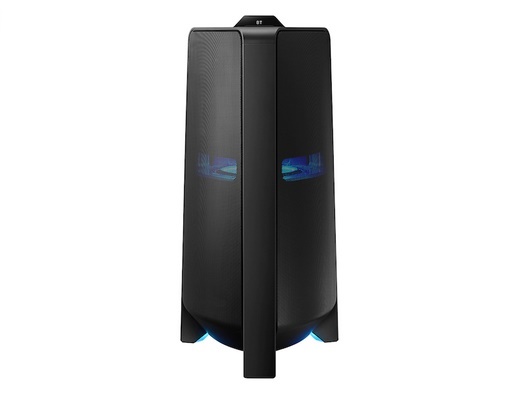 Features:
Maximum output power – 1500 watts
Inbuilt karaoke
10" woofer
Adjustable LED party lights
Bluetooth multi-connection
Sound tower mobile app
The Samsung sound tower MX-T70 is all you need to hype up your party. It is the perfect party partner. With a seamless Bluetooth connection, you can play all the playlist you like without any trouble. Its sound tower app allows you to control the LED light display and EQ settings from both your android and iOS mobile. It also has two mic inputs, which can be used for any karaoke sessions. This speaker is the ultimate party package with a bidirectional sound that has a power of 1500 watts. In case you spill your drink, do not worry because this speaker is splash resistant.
Pros
Bi-directional
Seamless connectivity
Simple to use and control
Splash resistant
Affordable
6. MartinLogan Motion 40 Gloss Black Floorstanding Loudspeaker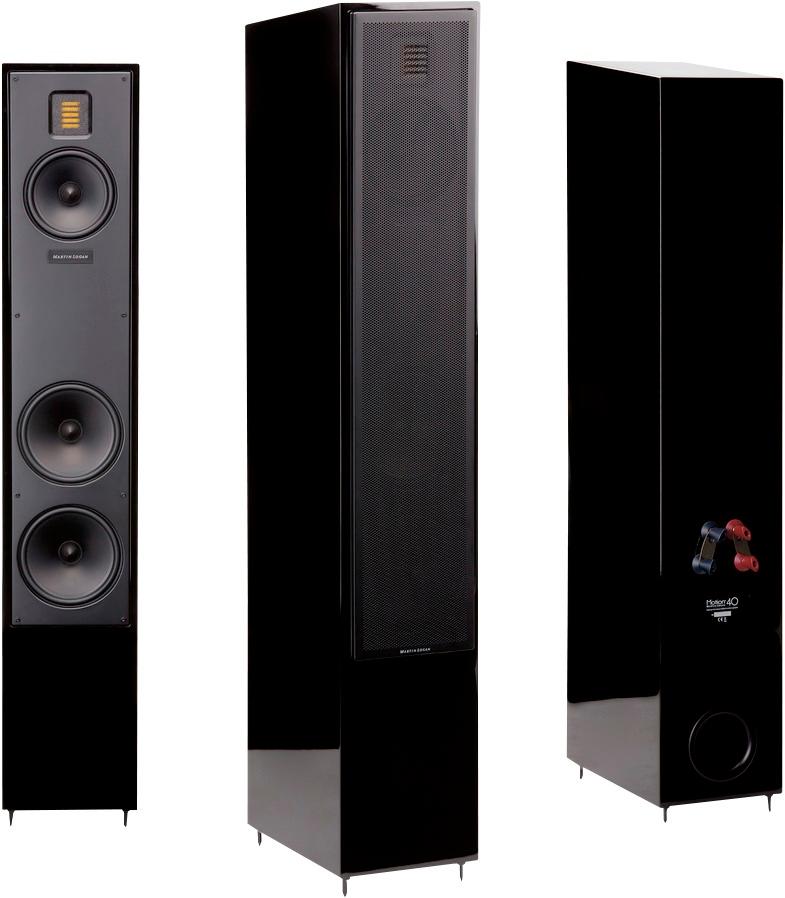 Features:
Aluminum cone woofers
Folded Motion tweeter
ET spikes
Sleek high gloss design
Maximum output power – 40 watts
MartinLogan Motion 40 is perfect for smaller homes. It is a beautifully designed sleek cabinet tower speaker that has everything you need to enjoy a good movie or soothing music. The tweeter of this speaker has a folded motion that reduces distortion to a great extent. Although not the most powerful tower speaker, it is just enough for a small home theatre.
Pros
The look of this speaker is just gorgeous
Gives out clear sound
Solid bass performance
Comes in three color variants
Cons
The maximum power output is a little low.
7. BIC Acoustech PL-980L-PL-980R 3-Way Floor Speakers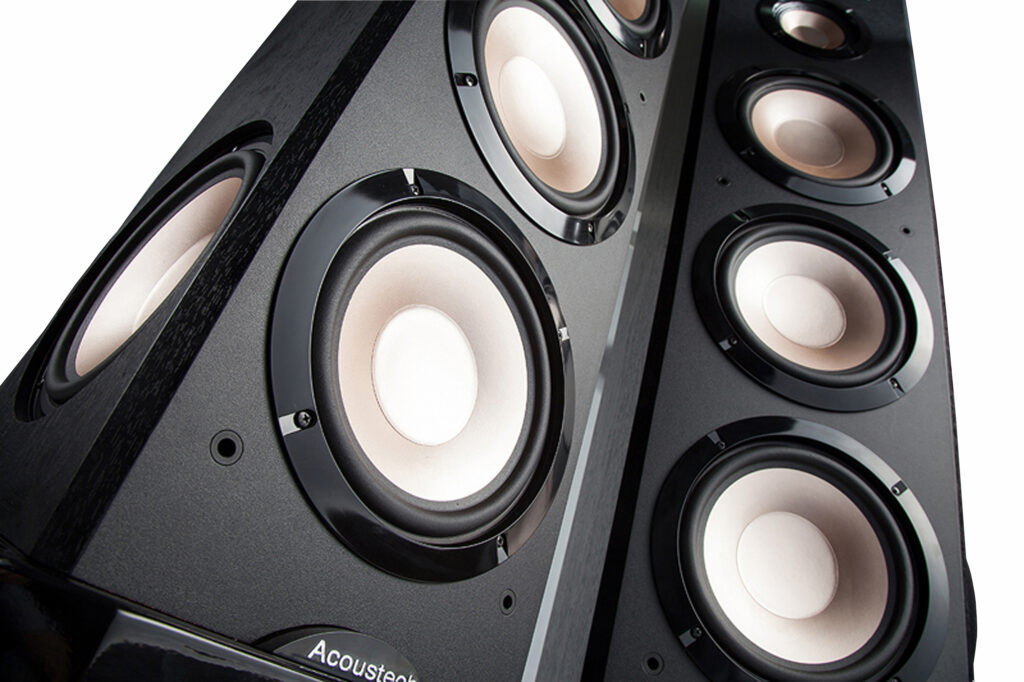 Features:
Maximum power output – 300 watts
Impedance – 8 ohms
3-way multi-driver
8" active woofers
8" passive radiators
aluminum dome home
Most floor-standing speakers do not offer a 3-way multi-driver design. This design makes the BIC PL-980 very unique and allows the speaker to have high-end sound quality. The woofers and passive radiators greatly enhance the speaker and allow it to perform well in low frequency with loud bass. The look of the speaker is outstanding, with glossy black external and rose gold details.
Pros
Great warranty of up to 8 years
Clear and lifelike sound
Sleek design
8. Polk Audio TSi500 High-Performance Tower Speakers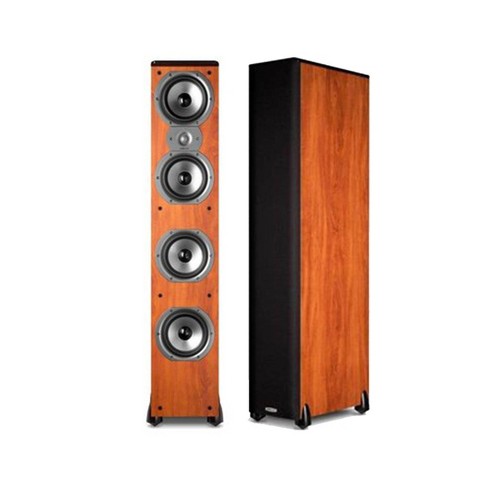 Features:
Three 5.25″ polycarbonate woofers
2 – TSi400 4-Way Tower Speaker with Three 5-1/4″ Drivers – Each (Cherry)
Frequency response 44-24000Hz (-3dB)
1″ Dynamic Balance silk dome tweeter
The Polk TSi300 is deemed as one of the most popular compact tower speakers in the current market. You can use these speakers as the front channel or as the main speaker. It has the option to be paired with the Polk SW505 subwoofer to have an enhanced sound. This speaker has a dynamic balance dome tweeter and a cone woofer. It is excellent for a home theatre system or general use in a medium house.
Pros
Well built
Beautifully designed
Gives crisp and balanced output
Maximum power output – 200 watts
Cons
Works better for a home theatre rather than music
9. Klipsch Synergy Black Label F-300 Floorstanding Speaker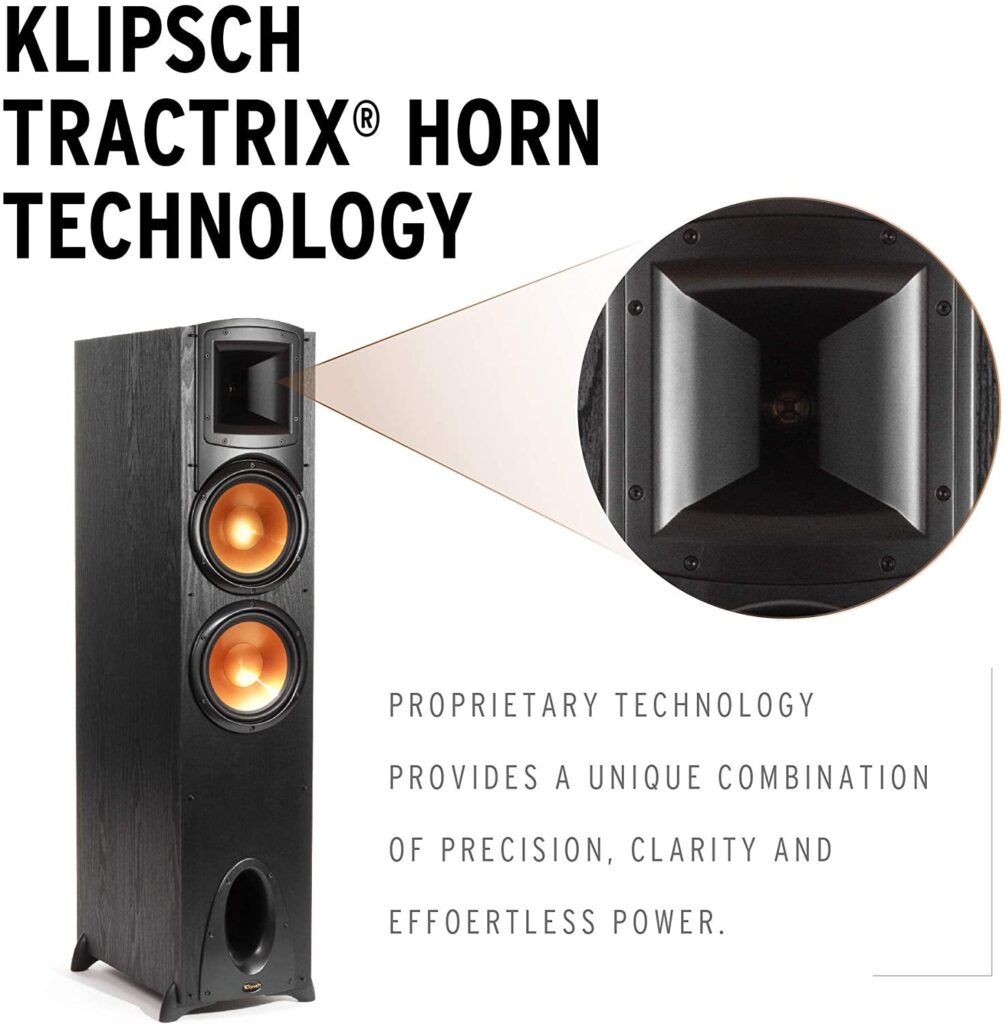 Features:
Linear travel suspension
IMG woofers
The aluminum diaphragm compression driver
Maximum output – 600 watts
Black ash vinyl finish
Proprietary technology
Klipsch is known for its affordable and great quality speakers. Their F-300 floor standing speaker is one of their best selling floor standing speakers. It has a linear travel suspension that gives minimum distortion. The aluminum diaphragm compression driver and copper woofers allow the speaker to produce crystal clear audio with tight bass even at high frequencies.
Pros
Great audio for medium to large rooms
Affordable price
Clear sound production
Tight bass
10. Klipsch Reference R-820F Floorstanding Speaker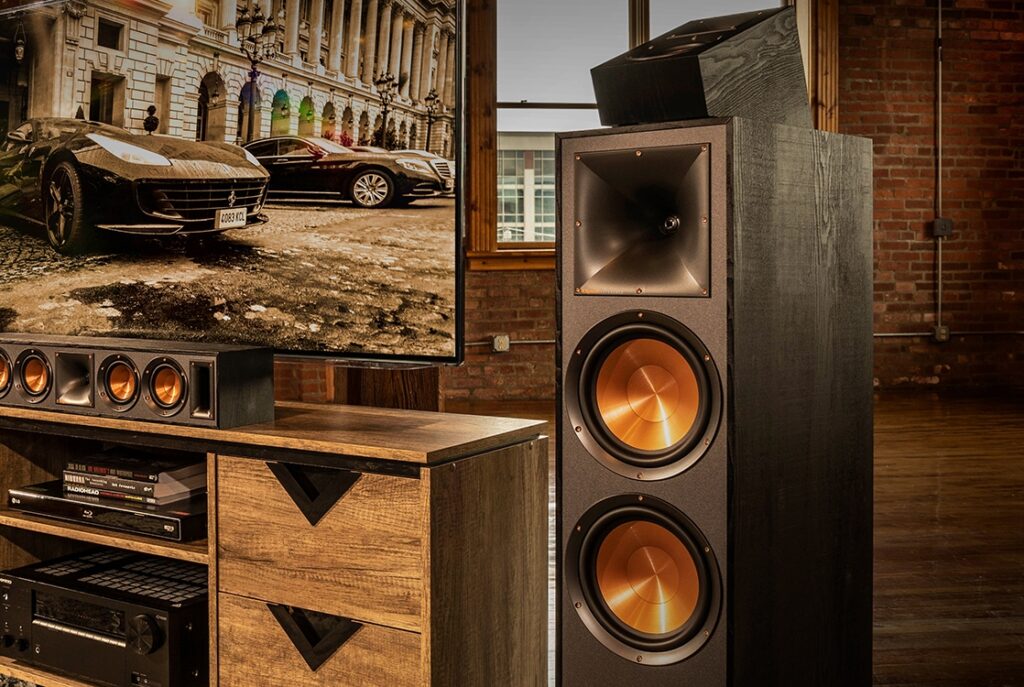 Features:
Spun copper IMG woofers
Tractrix horn technology
Linear travel suspension tweeter
Rear tractrix port
Reinforced MDF construction
Klipsch has been making speakers since 1946. The R-820F floor standing speaker is another one of their hit. This speaker has reinforced MDF construction, which reduces vibration in the cabinet to provide clear audio. The tractrix horn technology greatly enhances the audio quality by reducing any artificial reverb. IMG cone woofers reduce distortion to provide amazing sound at both low and high frequencies.
Pros
Crisp and clear audio
Loud enough to fill a medium to a large room
Low distortion
Sleek design
Solid wiring connectors
Cons
Does not play low-quality audio well. It requires high-quality music input to produce clear audio.
It is heavy
Frequently asked questions regarding tower speakers
How to set up tower speakers?
Tower speakers are rather tall and large. It does not require an additional stand to place them. Since they are quite big, it requires a spacious area. Once you receive or purchase your tower speakers, read the instructions manual because every tower speaker is different depending on the make. Most tower speaker needs to be fixated with a base that comes with the speaker. Once you attach the base, you need to connect it with the amp or the TV, depending on how you want to use it.
Where do I place my tower speakers?
It can be placed in any room you like. The important thing to keep in mind is to never place two tower speakers close to each other as it may create feedback. Another tip is to make sure that the rear end of the speaker is not directly in contact with the wall. Try to maintain some distance between the wall and your speakers. You can also use placemats under your sound system to avoid rattling.
However, the set up of the tower speaker is completely dependent on the architecture of the room and personal choice.
How to connect tower speakers to a TV?
There are several ways in which you can connect your tower speaker to your TV. You can use RA cables, 3.5mm analog cables, HDMI cable, or optical cable. All these cables are readily available in the market, and it is very easy to set up.
Which tower speaker should I purchase?
There are plenty of tower speakers in the market that serves a different purpose and varies in features. Some tower speakers may be suitable only for a home theatre set up while some may only be suitable for playing music. It is important to know why you are purchasing the tower speakers before making the purchase. Since tower speakers are not very affordable, you should do your research well and see which speaker best fits your need.
How do I fix my tower speaker if it is broken?
Even though your tower speaker may be of the best brand, there is no guarantee that it will last forever. When your tower speakers start giving some problems, the first thing you need to do is check the warranty card. If your speaker is still covered in the warranty period, then there is a high chance that the company will help you in restoring your speaker by replacing the parts or the product itself. Even if the speakers are not in the warranty period, you can still contact the company to see if you can get any help or guidance.