Best Overall Turntables With Built-in Preamp
Fluance RT81 Elite High Fidelity Vinyl Turntable Record Player with Audio Technica AT95E Cartridge, Belt Drive, Built-in Preamp, Adjustable Counterweight, Solid Wood Plinth - Walnut
Popular Turntables With Built-in Preamp
1byone Belt Drive Turntable with Wireless Connectivity, Built-in Phono Pre-amp, USB Digital Output Vinyl Stereo Record Player with Magnetic Cartridge, 33 or 45 RPM
Highly Rated Turntable With Built-in Preamp
Crosley C8 2-Speed Belt-Driven Turntable with Built-in Switchable Pre-Amp, Walnut
Good Price
Crosley DJ100 Direct Drive DJ Turntable with Built-in Preamp and RCA/USB Outputs, Silver
Best Overall Turntables With Built-in Preamp
Fluance RT81 Elite High Fidelity Vinyl Turntable Record Player with Audio Technica AT95E Cartridge, Belt Drive, Built-in Preamp, Adjustable Counterweight, Solid Wood Plinth - Walnut
Popular Turntables With Built-in Preamp
1byone Belt Drive Turntable with Wireless Connectivity, Built-in Phono Pre-amp, USB Digital Output Vinyl Stereo Record Player with Magnetic Cartridge, 33 or 45 RPM
Highly Rated Turntable With Built-in Preamp
Crosley C8 2-Speed Belt-Driven Turntable with Built-in Switchable Pre-Amp, Walnut
Good Price
Crosley DJ100 Direct Drive DJ Turntable with Built-in Preamp and RCA/USB Outputs, Silver
Turntables are a great way to spice up the musical jazz in your life. Nothing quite beats the nostalgic way of humming along with your favorite songs on rotating records. There are various turntables available in the market today, and those with built-in preamp have become a favorite for beginners and experts alike. However, the search for 'the best turntables with built-in preamp' can be a nerve-racking task for any musical enthusiast. We see the market flooded with so many options.
Turntables with built-in preamps can make a massive difference to the sound quality. It does not merely amplify the sound but equalizes the weak signals, managing high and low sound as well. We see this standard used in radio and other audio devices, and when you add it to turntables, the sound only gets better. If you use this device, an amplifier or speaker is all you will need for your soul music to play on.
You might also be interested in some tower speakers that generate high-quality sound, which you can find here: https://www.bestof.info/best-tower-speakers-under-1000/.
Buyer's Guide: What To Look For When Buying A Turntable With Built-In Preamp
There are three 'ifs' that makes a turntable with built-in preamp a great choice-
If you are a beginner– It's an excellent choice for beginners as you'll have lesser devices and cables to handle.
If you are on a budget– Since it requires lesser devices to work, you save more money and energy.
If you want something affordable– You can get a great quality product without having to splurge big.
Choosing your turntable with a built-in preamp is more than a simple purchase: it's an experience you are seeking. To get the best deal possible, you must be practical and look out for some particular features. Knowing how and what to look for in a product will save you a lot of pain later. And for that, you have to keep some certain internal and external factors in mind for the right purchase.
1. Internal factors to keep in mind
These internal factors are related to the styling, build-up, and critical features to look for in a product. It influences its overall performance and durability.
Wood vs. Metal body-Medium density fiberboard wood used in Turntable plinths absorbs more vibrations than metals, making it ideal for the home. The metal body is perfect for professional use by musicians and DJs.
Cartridges-Verify that your purchase is coming with cartridges. Otherwise, you will have to spend some extra bucks.
Belt drive turntables– Go for products with a belt drive system. They produce lesser vibrations, and hence it is believed that they sound better.
Platter– The base on which the record spins should be rigid with a nice weight. Aluminum and iron base platter are some affordable options with excellent results.
Tonearm-The tonearm has to be balanced and light to caress the record. Advance tonearm, S-type tonearm, balanced tonearm are some words to look out for.
Stylus– It sees that your vinyl remains scratch-free while producing every note effortlessly. Elliptical head and bonded head are the right choices for the best music at home. Stylus with a diamond tip is very gentle and does not wear out the record.
2. External factors to keep in mind
These are the factors that are apart from the product that will ensure a good purchase:
Budget-Setting your budget is the first step before any purchase, and it helps you narrow down the right range of products to review before buying.
Customer service-It's is better to buy the products from companies which provide excellent customer service. This is especially important if you are a beginner.
Reviews-It is always smarter to go for products that have good reviews. Someone else's experience can save you a lot of trouble.
List of the top 10 turntables with built-in preamp at a sweet price range
1. Fluance RT81 Elite High Fidelity Vinyl Turntable Record Player with Built-in Preamp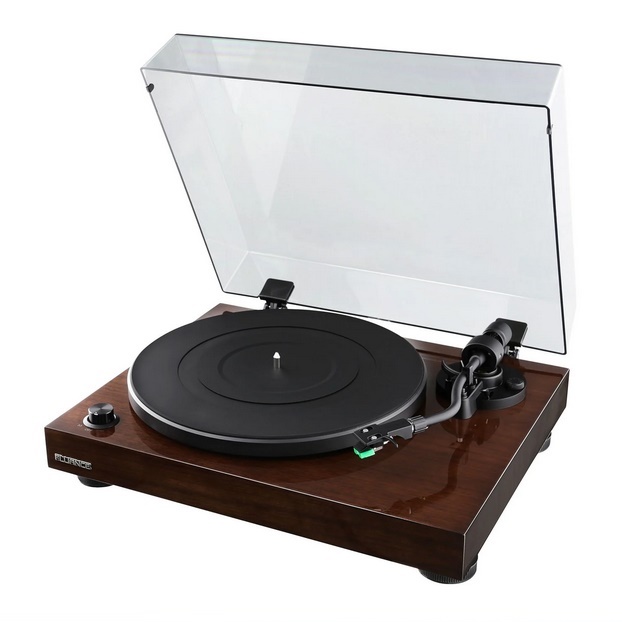 If you are a vinyl lover and looking for a sophisticated premium product that handles your collection with care and gentleness, this is the right product. The Fluance RT81 Elite record player with a built-in preamp ensures that only the best, most melodious, and crisp sound enters your ear. It surely is a powerful high-quality product at a dream rate.
Note that fine stylus with a diamond tip has a low track force, keeping vinyl scratch-free. The use of gold plated RCA line output brings forth crystal clear sound.
The deliberate use of wood plinth reduces vibration while giving it an aesthetic look.
Pros:
The high-quality stylus is very soft on the records.
Clean and crisp sound owing to the superior technology used.
Lifetime customer support.
Cons:
Adjustment for RPM is located on the bottom.
2. Pro-Ject Debut Recordmaster Walnut Turntable with USB and Phono Preamp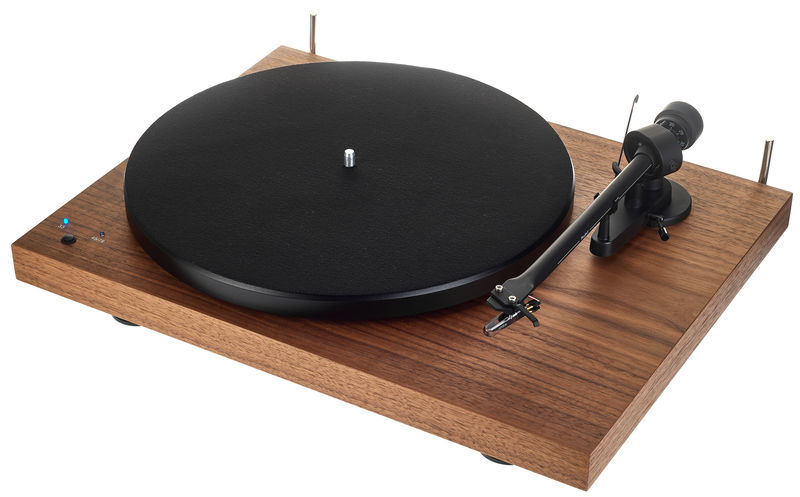 The Pro-Ject Debut Record Master Turntable is a done deal for every tech-savvy music lover. It has a button control system for speed change aiming to maximize the convenience for the user. The built-in preamp and high-quality pre-mounted OM5E cartridge create a detailed, bassy, and warm sound.
The available USB port also enables you to connect with other devices giving you additional reasons to love the product. This is a deal to steal for any vinyl lover.
Pros:
Button control speed change, making it easy to use.
USB port to connect the record player with other devices.
OM5E cartridge producing high-quality sound.
Rigid platter with balanced weight makes smooth playbacks possible.
3. 1byone Belt-Drive Turntable with Wireless Connectivity and Built-in Phono Preamp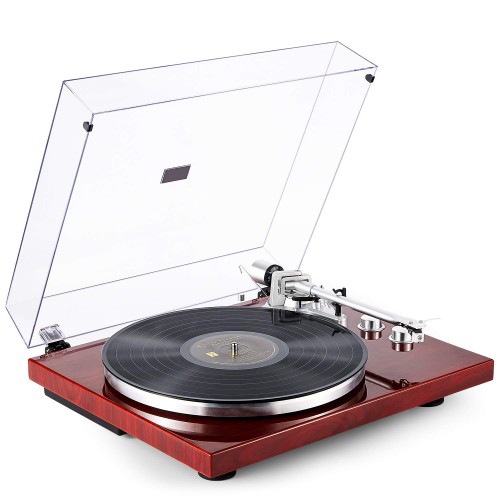 The beautiful red Turntable is inspired by generations of turntables for a classy and straightforward appearance. This elegant product is completed with top-notch audio performance and qualities that every high-end Turntable should have.
The USB digital output and wireless Bluetooth connectivity give more reason to love this product. You can quickly digitize your music and take it with you.
The anti-skating design and adjustable counterweight ensure that your records are safe. A product worth recommending, it also leaves room to upgrade yourself by switching between a phono amp or a built-in amp.
Pros:
It has wireless connectivity, so use your speakers and headphones wire-free. Another bonus here is that no receiver is required.
Diamond tipped stylus cartridge produces clear, high definition audio.
Option to use a phono amp or built-in amp.
Cons:
The tonearm has to be manually balanced.
4. Crosley DJ100 Direct Drive DJ Turntable with Built-in Preamp and RCA/USB Outputs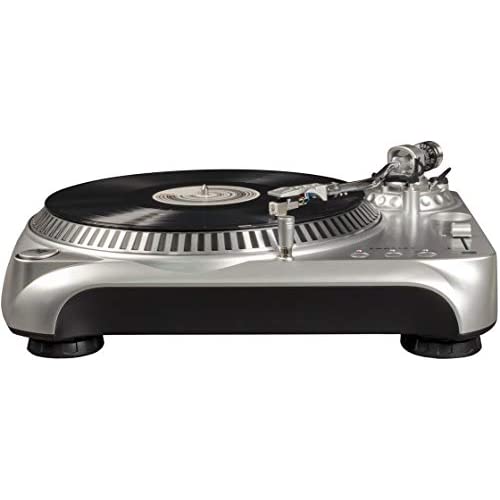 If you are an aspiring DJ or want to experiment with something new without having to splurge much, then it is for you. It is a manual turntable with two start/stop buttons, easy to handle control features, RCA/USB/AC plugs perfect for any DJ. The sleek metallic finish gives it a fun party look.
Looking at the removable headshell feature, you can upgrade the cartridges anytime you want. Adjustable Anti skate setting makes the record of speeding up reliably.
Another great feature is the removable light to help cue the DJ's track in the dark. All these features make DJ100 a top-quality choice for all seasons.
Pros:
Easy to control feature for switching speeds and adjusting the pitch.
Portable design to carry with you anywhere and removable light to assist DJing in the dark.
Removable headshells make cartridge up-gradation easy.
Adjustable anti-skate features.
Cons:
No covering to protect from dust.
5. Crosley C8 2-Speed Belt-Driven Turntable with Built-in Switchable Pre-Amp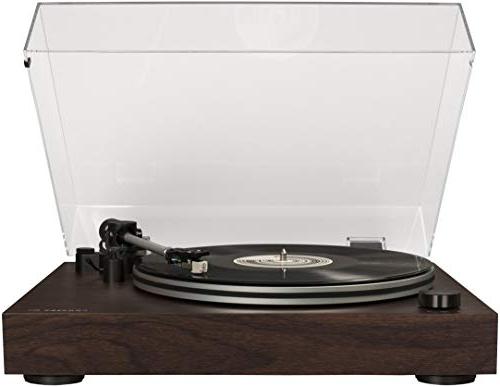 Crosley C8 2-speed belt-driven turntable is a sturdy, well-built premium product. It has a vintage air with a walnut finish, making it a great statement piece for home display. The audio-grade MDF plinth ensures a great sound with low vibration. RCA output enables the Turntable to be attached to speakers and sound systems, optimizing its benefits.
One notable feature will be the motor's isolation and the use of an external belt to spin the aluminum platter to reduce the rogue vibration sound. The aluminum platter ensures the durability and balance of weight.
Overall, building quality and good sound range at such an affordable rate make it a welcome showpiece for any music-loving home.
Pros:
Removable headshells make customization easy.
The sound motor is isolated with an excellent belt drive to reduce vibration.
The preamp is switchable, and RCA output connects the Turntable with other devices.
Cons:
Use of plastic components.
7. Fluance RT80 Classic High Fidelity Vinyl Turntable with Audio Technica AT91 Cartridge, Belt Drive, Built-in Preamp, Adjustable Counterweight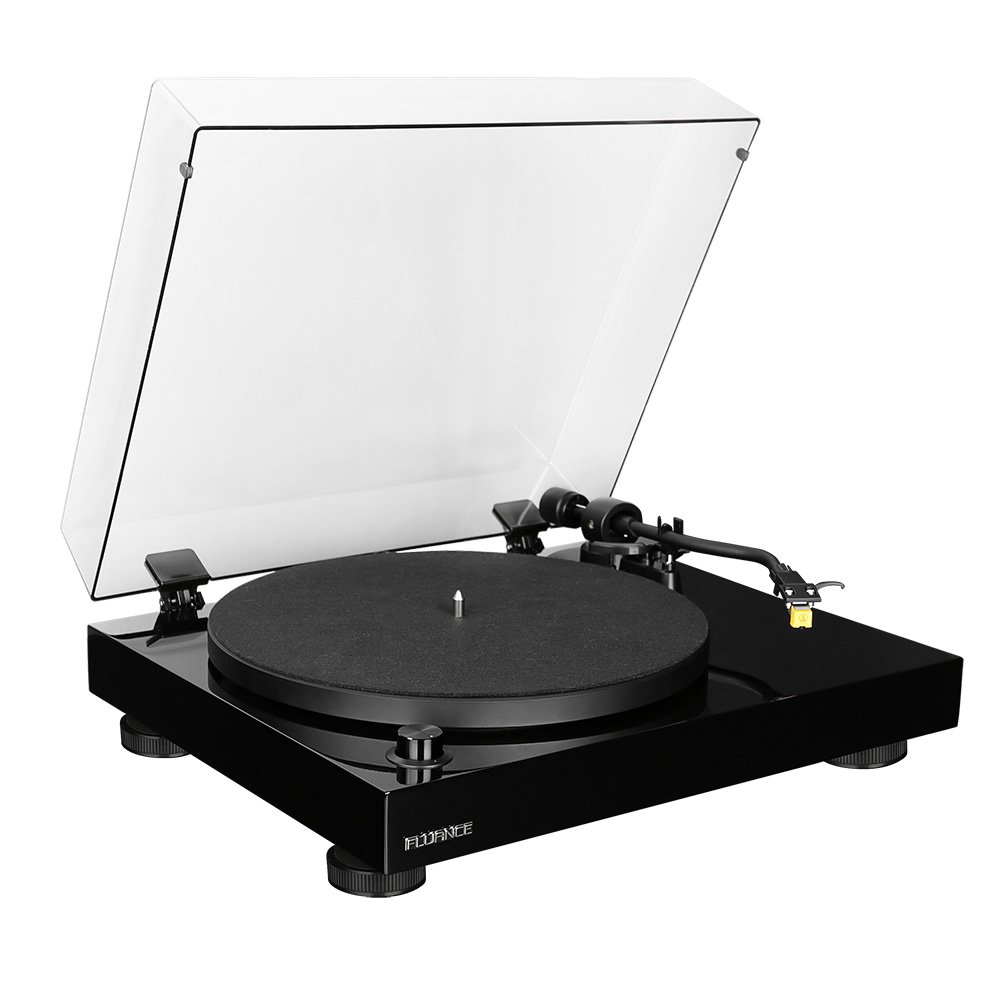 The sleek Fluance RT80 Classic High Fidelity Vinyl Turntable Record Player is a star producing the best quality sound.
It is belt-driven with a wood cabinet that significantly lowers vibration. It is worth noting that the use of supreme AT91 conical stylus keeps all distortions and noises at bay. Furthermore, the use of aluminum S- type tonearm produces every intended note melodiously.
The thoughtful addition of isolation feet in the wood cabinet keeps unwanted noise away. This gorgeous Turntable passes all the tests for such a price point.
Pros:
It has a high-quality texas instrument built-in preamp.
It is belt-driven, with a wood cabinet and aluminum platter bringing out the best sound possible.
S-type tonearm ensures that you can experience every note.
7. Crosley C6 2-Speed Turntable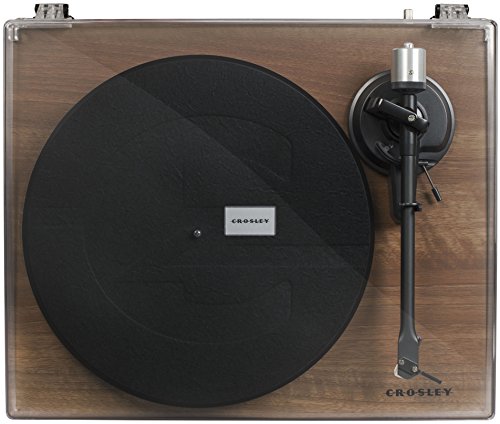 In terms of design, the Crosley C6 is a beautiful manual turntable with a minimalist, clean finish. It also provides a variety of color options for the buyers.
The tech-savvy audience will love the adjustable tonearm feature. It keeps the option of customization open if you want to improve your device later. The Turntable comes with a moving magnet cartridge but uses a standard mount. This enables the user to upgrade as your collection multiplies.
Pros:
Two-speed options available, making speed transition very smooth.
It leaves space for a personal touch or customization with a replaceable cartridge.
The clean walnut finish and simplicity in design makes it a great showpiece.
Cons:
Use of plastic components.
8. ION Audio PRO500BT Turntable With Wireless Bluetooth Streaming Capability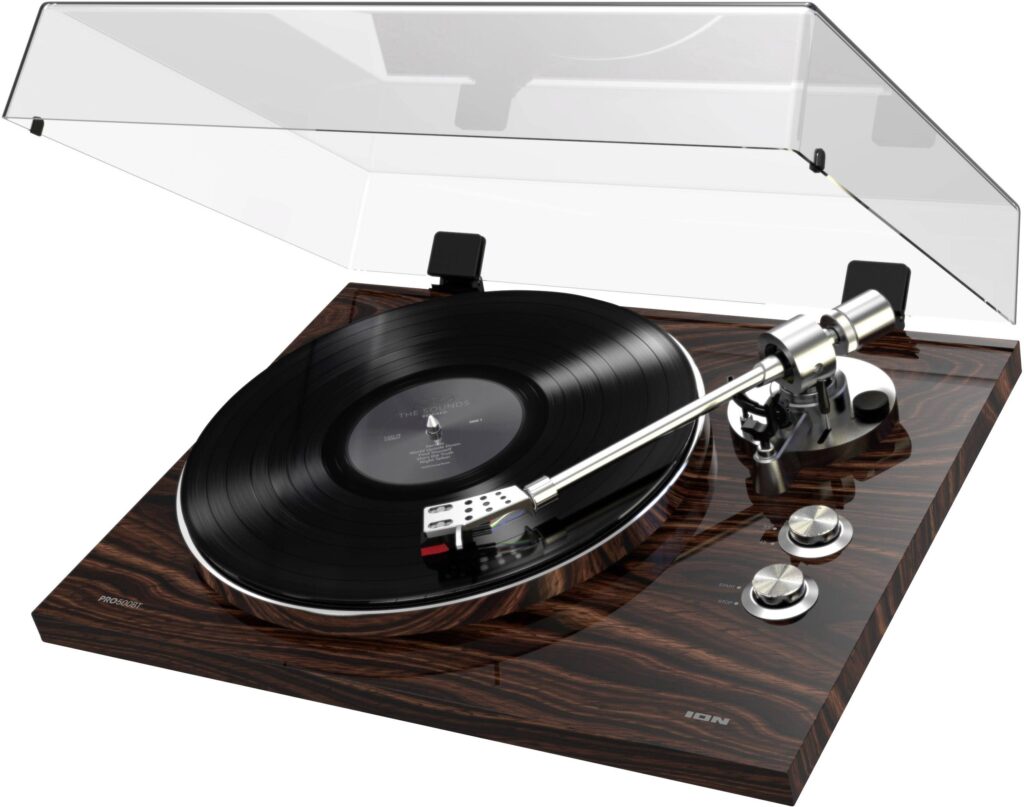 ION audio PRO500BT has a stylish modern design and is great for beginners who want to pick up some technical know-how without emptying their pockets. It has a quiet belt drive system with mechanically isolated motor and die-cast aluminum motor ensuring the most beautiful note possible.
The wireless Bluetooth and USB conversion option gives you a choice to enjoy music from other devices when needed. You can also quickly digitize your collection and share it as well.
Another hot feature is the 1/8 inch headphone output in case you want to go for private listening. This product will help you to upgrade your taste on a budget.
Pros:
The sleek walnut finish and body build give it a high-quality sheer.
It provides a 1/8 inch headphone output for listening to your favorite tune in private.
USB feature to digitize your collection.
9. ZhiTianGroup Turntables Record Player with built-in Phono Preamp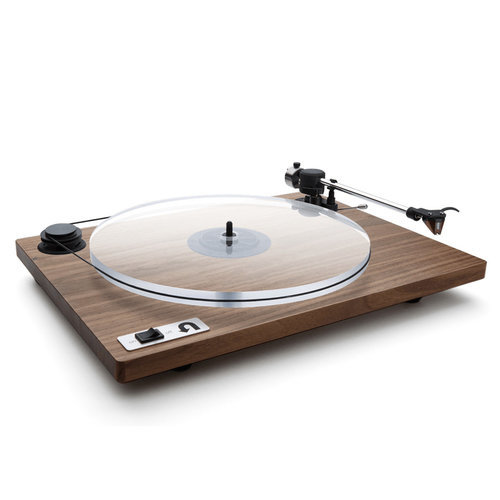 Stunning white maple wood finish with a subtle tone gives this Turntable a retro effect. It is a great bargain deal!
Advance anti-skating system and tonearm with fluid movement makes it an ideal choice for record collectors. It makes sure that your record rotates smoothly with crisp and clear music scratch-free.
The use of Audio Technica stylus and belt drive system makes this product sound as beautiful as it looks. It may look traditional but has all modern features in terms of dual RCA output cables, switchable phono/line, switchable preamp, and built-in amplifier.
Pros:
This product has a fun retro vibe to it.
It has a highly advanced DC servo motor and belt drive system rotating the platter at two speeds.
The fluid tonearm is gentle on vinyl preventing scratches.
Cons:
The lighting makes the product color to vary slightly.
10. AngelsHorn 2-Speed Bluetooth Portable Suitcase Record Player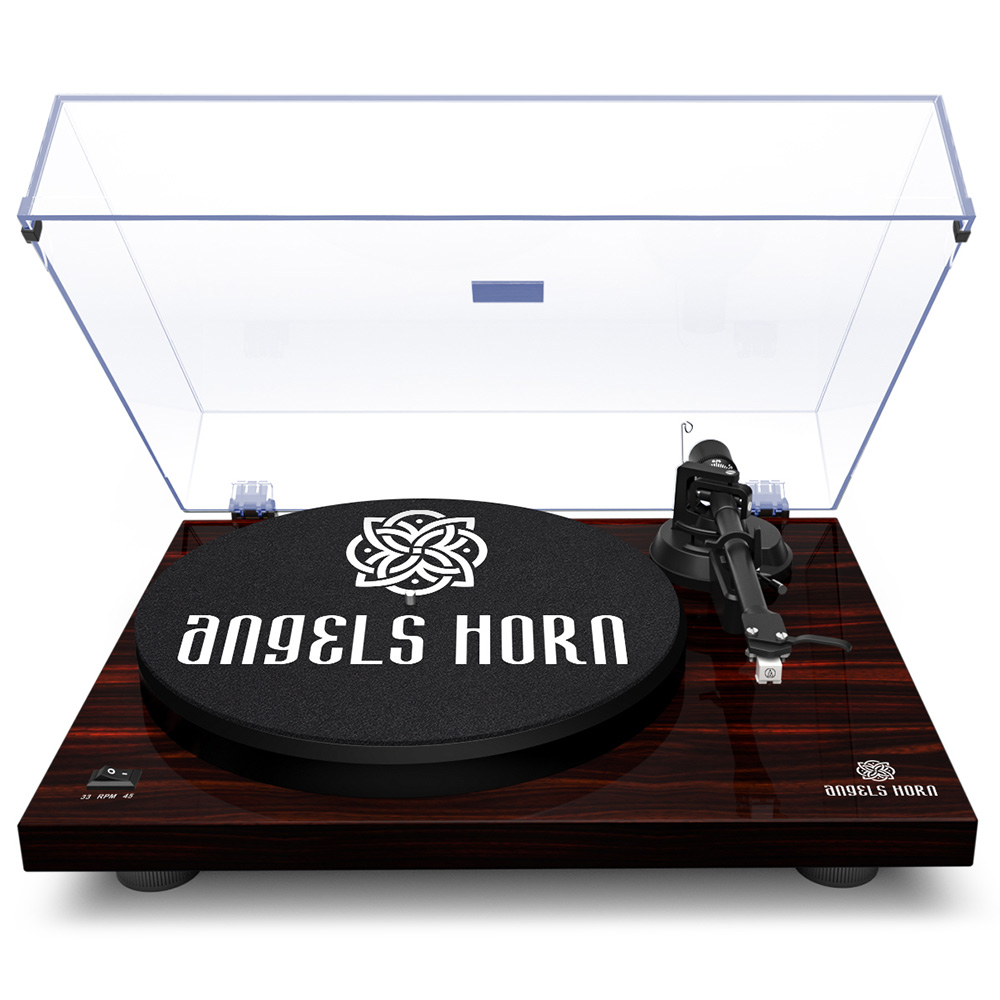 Angels Horn record player, is a premium portable turntable. It is a head-turner with a vintage-looking design and sturdy build. The woody appearance gives a traditional retro touch to it with a thoughtful design.
The built-in speakers make it a must-have, and the portable design makes it easy to carry with you. The playback switch selector option makes it easy to use for beginners and experts alike. The Technica stylus, anti-skating features, and tonearm counterweights gently bring forth the gentlest sound possible.
Pros:
Built-in speakers, along with built-in preamp, can save some serious money.
You can choose the size of the product according to convenience and space.
You can play your records even without phono input or manually over the phono preamplifier.
Frequently Asked Questions Regarding Turntables
1. Is it easy for a first time user to use this product?
It is excellent, especially for a first-time user. For turntables without a built-in preamp, you need to have some know-how about how to use it. You have to learn to connect your external preamp with the other devices. Built-in preamp saves you from that. Also, you don't have to waste time researching about which external preamp to buy. The built-in preamp ensures loud sound and a balanced sound as it equalizes all low and high sound signals. It is an ideal choice for beginners to turntable technology.
2. What are the benefits of using a turntable with a preamp over the one without a built-in preamp?
Well, there is nothing wrong with getting an external preamp. However, you cannot ignore the pros that you get with built-in preamps.
It is a better choice if you are on a budget. Built-in preamp means lesser devices to buy and lesser cables to use, which saves you a lot of bucks. The turntables with built-in preamp also require lesser space to place. They are best for those who are new to the vinyl world, as setting up your new devices can be confusing at times. The ones with preamp are easier to handle.
3. How to know if my turntable has a built-in preamp or not?
To check if your Turntable has a built-in preamp, see the product description. Usually, the features are already listed by the manufacturers.
To manually verify it check if there is a line output. If the output port is there, it has a built-in preamp. If it only has a phono output, it does not have a built-in preamp. You can also connect your preamp to a regular analog input on a receiver and check the volume. If the volume is very low, the chances are that your Turntable is without a preamp.
4. Which is the best turntable with built-in preamp under budget?
This really depends on your budget and requirements. If you have a higher price point, then there are many high-end products out there. If you want something at a generally affordable range, the above products are excellent. You are likely to find your best pick here. The quality is top-notch, and the built is superb.
5. Is it possible to connect an external preamp to my turntable which has a built-in preamp?
Yes, you can. But first, make sure that you have turned off your internal preamp before connecting it to an external one. There are many turntables with an automatic switch system to turn it off. Incase yours do not have it, you can do so manually by disconnecting the wires coming from the tonearm to the preamp.
There are many turntables out there, and modern technology gives us more and more options. Keeping in mind your requirements and budget turntable with built-in preamp can be a great starting point for your vinyl journey. But be aware, because once you get the right device, you'll only fall more in love with your collections.