Best Overall Swing Set
Metal Swing Set with Slide and Trampoline 5 Activities Play Center Durable Construction & Skroutz
Best Wooden Swing Set
Swing-N-Slide PB 8360 Ranger Wooden Swing Set with Swings, Brown (Amazon Exclusive)
Good Choice
FITNESS REALITY KIDS 'The Ultimate' 8 Station Sports Series Metal Swing Set
Highest Rated Swing Set
Metal Swing Set with Slide for Backyard Outdoor Kids Fun Play Backyard Durable Construction Park for Physical Activity and Exercise - Skroutz
Best Overall Swing Set
Metal Swing Set with Slide and Trampoline 5 Activities Play Center Durable Construction & Skroutz
Best Wooden Swing Set
Swing-N-Slide PB 8360 Ranger Wooden Swing Set with Swings, Brown (Amazon Exclusive)
Good Choice
FITNESS REALITY KIDS 'The Ultimate' 8 Station Sports Series Metal Swing Set
Highest Rated Swing Set
Metal Swing Set with Slide for Backyard Outdoor Kids Fun Play Backyard Durable Construction Park for Physical Activity and Exercise - Skroutz
With spring just around the corner, it's that time of the year again when families will want to play outdoors and hang out in the open. For most families, this means you also want to set up leisure activities for the kids/toddlers. And what better way to keep the kids active yet safe, than with a garden swing set? It's fun, lively, burns calories, and makes the toddlers sleep better at night too!
Buying a home swing set is an interesting time for a family. For the children, it's a lot of excitement and anticipation, but for the adults/parents, it comes with concerns too. One of the first concerns is the cost of the set. You want the best home swing set your money can buy. But it can also be confusing because there are so many varieties of swings available. Today, we want to help you make your choice without having to spend too much. With that in mind, we've put together this list of the best swing sets under $500. We've set 500$ as the limit because it's an amount that is substantial but still doable. Also, home swing sets/garden swing sets that cost beyond 500$ do not give a ton of additional utility. They may be from more prominent brands, but there's not much difference in the practical features of the swing. With the right knowledge, you'll find that you can still get one of the best swing sets, under $500.
Swing sets also come in a variety of shapes, sizes, built, and design. How safe are garden swing sets for children, especially toddlers? Should you go for the wooden swings or the metal swings? Should you save money and go for budget swings? Or does it make more sense to invest in durable swing sets? These and many other questions will pop up before you buy a set. If you want one of the durable swing sets, you'll need to consider the material and structure of the set. If you're working on a budget, metal swings are relatively cheaper compared to wooden swings. And quite frankly, thinking of all these factors while deciding can become a headache. To help you understand it better, we want to take you through a brief guide on how to get the best bang for your buck!
Our Choices
Once you've promised the kids a new swing set, they'll no doubt keep reminding you till it's bought. To keep the buying process simple and easy, just go through this guide (in any order), and you should be fine.
1. Number of children/toddlers
The first element you have to consider is the number of children who will use the swing. Swing sets come in different designs that can hold anything from 2 kids up to 10 kids or more. If you plan to have more toddlers running around in the family, you'd have to buy accordingly. You don't want a swing set that becomes too small for the family in a couple of years.
Also, if you're the kind of home that has family coming over frequently, you'd want a set that can accommodate the nieces/nephews too. Many times, kids enjoy having their friends over after school to play in the backyard. If you don't want them to be left out, you'd need a swing that holds several seats. Swing sets can also come with additional features such as climbers, trampolines, gliders, etc. These extra features can keep the kids engaged in different forms, even if you have several kids playing.
2. The material of the Swing Sets
Manufacturers can use a few different options of material for constructing swing sets. The two most common materials are usually wood or metal. Metal frames offer you many more options in design and color. They also demand minimum maintenance from the owners (you, in this case). Also, metal swings are generally not as expensive as wooden frames, but they may start to show rust later. Wooden swings are usually superior because of their sturdy composition and the traditional aesthetics they add to your garden/backyard.
You should remember that when we say 'wooden,' we mean the core material of the frame. There will be other metal, fiber, and plastic components that hold the structure together. It is always advisable to go for wooden frames made of cedar because it is not only durable but naturally looks better and resists rot.
Note: There are frames made of vinyl too (A compressed combination of lumber and PVC). But these frames cost much more without giving any additional strength or beauty to the structure.
3. Space and Area available
Swing sets usually go to the backyard or other open spaces beside the house. What kind of swings you can use depends a lot on the size and shape of the space available. It's no use bringing home a huge swing set when you don't have the space to accommodate it.
Also, you'd ideally want some free space left after the swing is set up. Look for an area that is fairly leveled even if it's not entirely flat. If you have slight slopes on your yard, you'd want a swing that has an angled base (Straight based swings may be unstable here).
4. The children's age-group
All swing sets usually come with a recommended age-group (for example, for ages 3 – 12). Think of how long your children can be included in this group. You don't want your children to outgrow their swing set in a few years when it's still relatively new. Even if some parts of the swing seem too 'adult' for your little toddler, you need to think ahead in terms of what he/she will enjoy later. Your toddler can still grow into the bigger parts of the swing set even if they can't fully enjoy them right away.
5. Price of the swing set and your budget
Swing sets can cost anything from less than 500$ to several thousand dollars. The price varies according to the material, design, features, size, etc. As we mentioned earlier, you can get perfectly ideal sets for 500$ or less. There are a lot of extravagant designs that may cost a few thousand dollars, but they don't add a lot of additional benefits. So, it makes sense to keep your budget sensible and choose the right swing set. If you can dish out some extra money, you can hire professionals to set up the swing or add mulch to the play area for more safety.
So, there you go! These are the primary areas that you need to think over before you narrow down on your choice. There are other factors you can check out if you have the time, such as DIY assembly, types of swing seats, climbers/forts, etc.
Best Swing Sets Under $500
Now that we know what things to look for while buying a swing let's look at some of the best models available under 500$. These swing sets have been chosen based on material, options of size, variety of features, and yes, budget-friendly price tags.
1. The Skroutz Metal Swing Set with Slide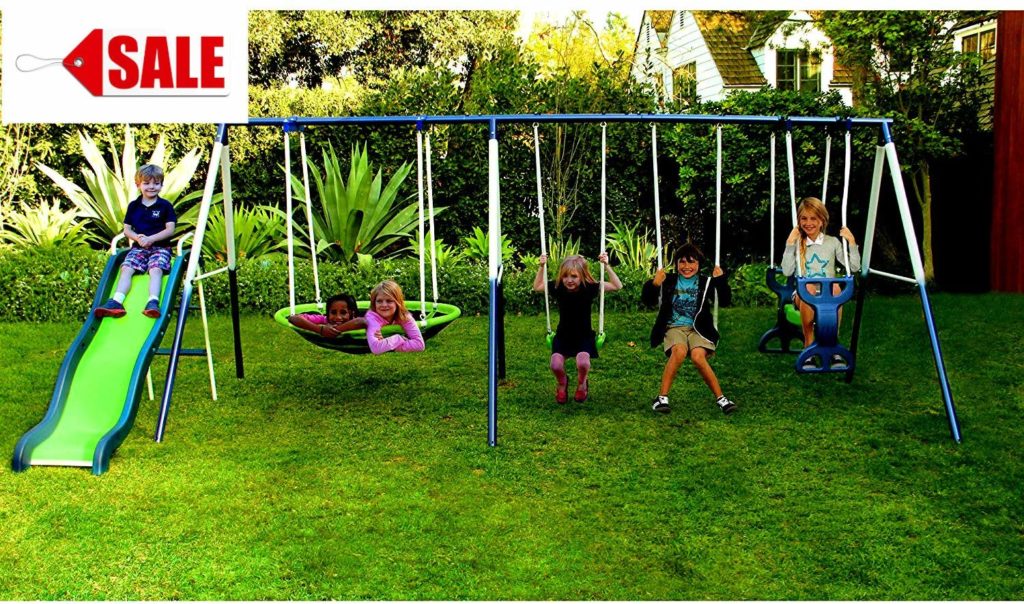 The Skroutz Metal Swing Set is one of the most balanced and durable options available today. It has a good variety of swing seats and features. This metal structure measures 4.2 meters in length, 2.6 meters in breadth, and stands about 6 feet above the ground. The height is short enough for adults to reach easily. At over 14 feet in length, you'll need adequate space in the backyard. But once it's set up, the sturdy frame can make it an almost permanent structure.
The steel tubes are all made from 2-inch thick heavy-duty, resistant hardware. It reinforces the stability and durability of the frames. As far as metal frames go, this Skroutz Metal Set is one of the most reliable sets in the market.
This model comes with five individual components that can carry up to six children simultaneously. It has two traditional swings, one horse glider, a saucer glider, and a wavy slide. The saucer and the glider can carry two small children each, so you can keep one extra toddler entertained. The powder-coated green-finish gives it a natural look that blends in well with your lawn.
Pros:
The heavy-duty steel frame gives it a strong structure and adds to the durability of the set too.
The saucer glider is an excellent addition that serves both as a swing and a hammock.
You can adjust the chains on the swings according to the size of your child.
Cons:
The length and breadth of the swing set can be too imposing in smaller yards. At over 4.2 meters in length and 2.6 meters across, it may cramp out small yards. But if you have enough space, the dimensions won't be a problem at all.
2. The Backyard Discovery Buckley Hill Wooden Swing Set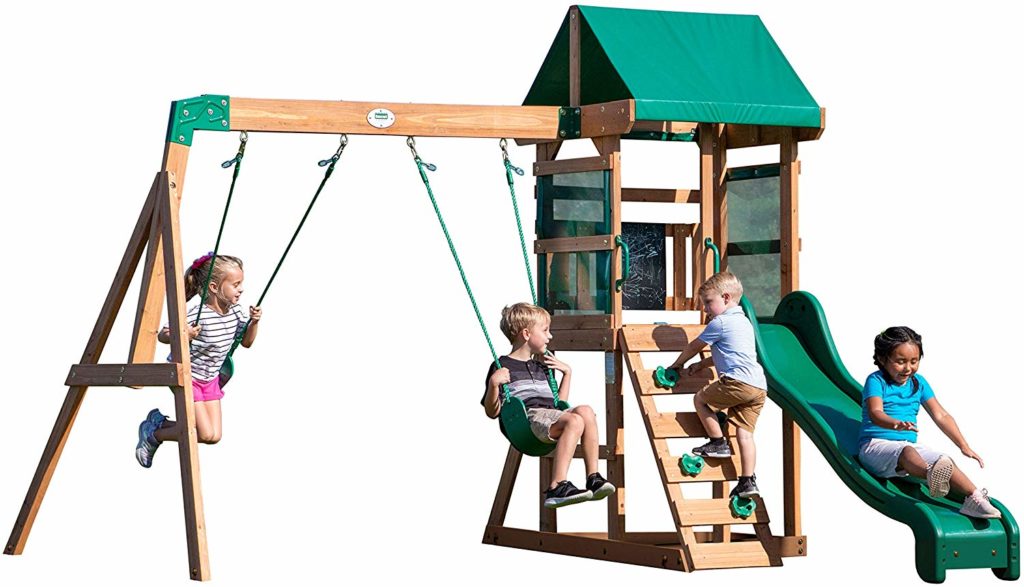 The Buckley Hill Wooden Set is an incredibly compact yet functional swing that's ideal in any space. Measuring about 10 x 8.9 x 7.6 feet in dimensions, it occupies an almost square-ish spot on your yard. With an angled base on one side and a square base on the other, you can conveniently place and locate this set anywhere in your backyard. One of the best things about the Buckley Hill set is the 100% Cedar frame that is cut, drilled, and finished to perfection! It comes with a 5-year Prorated Warranty and doesn't require too much maintenance because it comes pre-stained.
Now, let's talk about the features! Buckley Hill provides you with the standard two swing combo on this unit. Both the swings come with high-capacity belts and polished rope-chains easily gripped by small hands. A great component of this model is the fort. The fort is wrapped with mesh fabric, which provides safety for kids as well as visibility for parents. That's twice the benefit you get from other fort designs. The chalkboard inside the fort allows kids to get creative as well as learn while they're playing. You also get a wavy slide that measures around 6 feet in length. It has side rails for more hold and safety when kids are sliding down.
The stand is reinforced by a square base that provides extra stability to the fort. The ladder is lined with little handles that give an extra hold while climbing up. It also simulates a rock-wall climbing exercise for the kids.
Pros:
The elegant Cedar frame is the best you can get at this price. With quality finishing and a 5-year Prorated Warranty, it's surprising that this unit costs less than 500$ in today's market.
It scores points for easy assembly and setup. The Bilt app (free) gives you detailed instructions on how to assemble and even provides 3D visuals to help you connect the parts.
Ergonomic design and shape make it a convenient and space-saving swing set.
Cons:
With only two belt swings, it may be a little inadequate for a larger group of kids. However, it should be okay if the kids can learn to take turns on the fort, slide, and swings.
3. Skroutz Metal Swing Set with Slide and Trampoline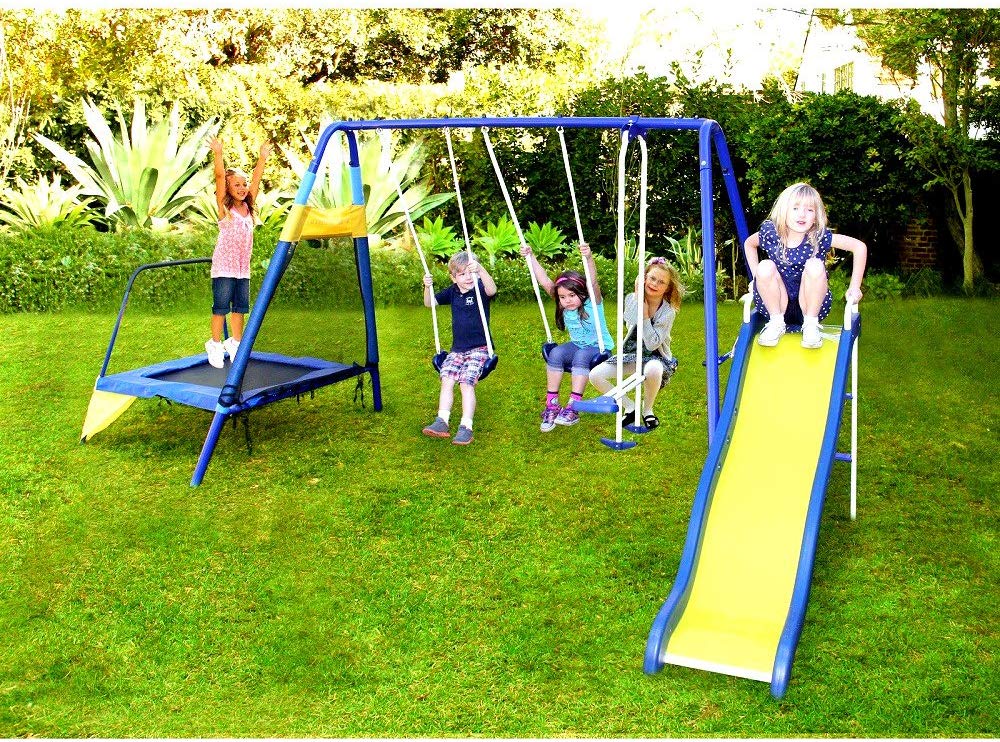 Another set by Skroutz, this swing measures around 12 feet in length. The breadth covers a little less than 8 feet, and the frame stands about 6 feet in height. Keeping true to Skroutz's sturdy steel structure, this model also boasts of powder-coated steel tubes that resist rust. The clear navy-blue and radiant yellow paints also make it more appealing to younger kids.
This metal set by Scroutz provides five handy and fun features. It comes with two standard belt seats, one roman glider, one slide, and a small trampoline. The roman glider can allow two kids to sit opposite each other and swing. It allows the swing set to let six kids play together at once. The mini-trampoline is a unique touch that is not generally seen in these types of swing sets. This makes it an added feature that makes the whole set stand out.
Pros:
The small trampoline provides an added element of fun and frolic to kids who have a lot of energy.
Although the set appears to have limited features at first, the roman glider allows a total of six toddlers to play simultaneously.
Cons:
With the slightly congested placement of the swings and trampoline, it's not ideal for older kids to play. This model might become too small when your kids grow a year or two more.
4. Fitness Reality Kids 'The Ultimate' Metal Swing Set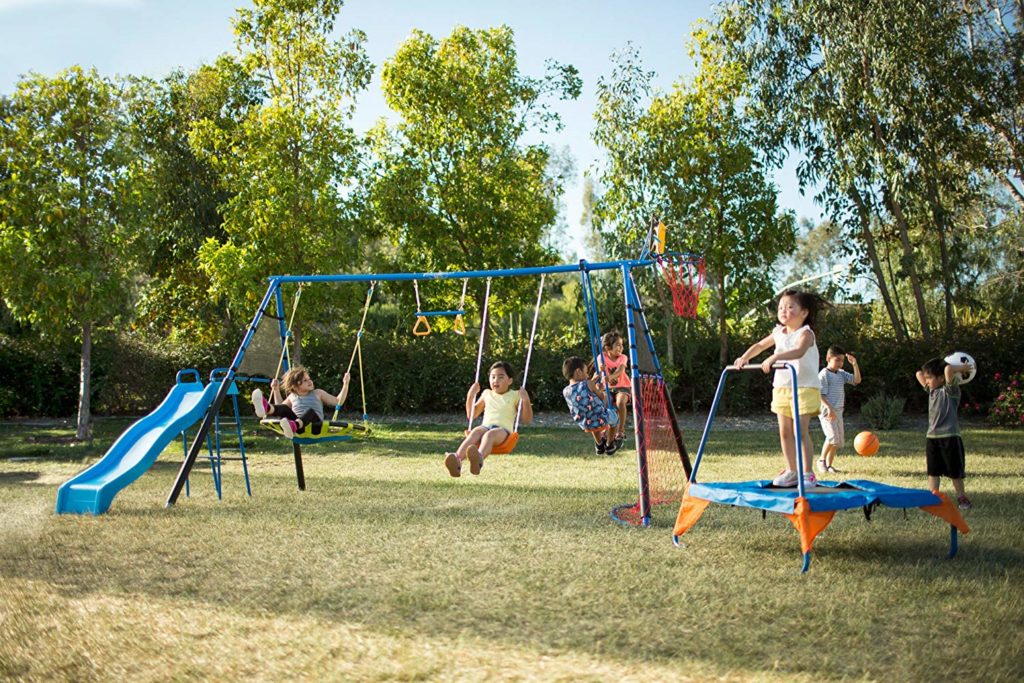 Constructed as part of Fitness Reality's Sports Series, this metal set offers a whopping eight activity stations for the children. It takes up around 13 x 9 feet of your yard, but that's expected given the number of activities it provides. The 2-inch coated steel frame is designed to carry weight and stability. Each of the stations can carry up to 80 pounds, while the glider can support up to 160 pounds since it expects two children riding on it.
This feature-loaded metal set gives you a standard swing, a saucer, a monkey-bar, a glider, a basketball hoop (with ball), a soccer net (with ball), and an air pump. Whew! Costing less than $300, it's one of the best value-for-money swing sets in the market. It also comes with a mini-trampoline that can be set up and kept separately nearby. With the trampoline included, this sports station can keep nine kids entertained and occupied for hours. If you have friends of your children coming over frequently, this set should be the ideal choice for you.
Pros:
With eight different stations to play from, this metal swing by Fitness Reality is one of the most feature-rich units available today.
The price tag is surprisingly low, given all the features it offers. It's a natural choice for those parents working on a tight budget.
The Basketball hoop and soccer net (along with balls) add a unique sporty element to this beautiful set.
Built-in line with ASTM (American Society o Testing and Materials), you can rest assured it's safe and secure.
Cons:
The only drawback with this model is that you may have to monitor the kids continually. With eight stations and 9-10 kids playing, we can only imagine the chaos it will create. Fun, yes. But chaos!
5. XDP Recreation Deerfield Swing Set

IF there's one set on this list that can match the Fitness Reality's 8-station Set, it's the XDP Recreation Set. Also made with a metal frame, the XDP Recreation set is made of sturdy tubes that have soft padding in the lower half for safety. The package dimensions measure 78 x 18 x 13 inches, which is surprisingly small for this imposing frame. It weighs a hefty 130 pounds. This extra weight is an advantage because it gives more stability to the 1000-pound total weight-capacity.
This impressive unit comes with a saucer, a stand-and-swing, a trapeze swing, a belt swing, a glider, a slide, and a see-saw! If you're looking for playing-variety, this unit provides one of everything for the kids. Whether it's with a few kids or a small crowd of toddlers, the XDP provides recreation for ten little ankle-biters.
Pros:
The 10-capacity metal swing provides both options and variety in an all-in-one swing set.
The seats are all non-slip materials that offer better safety to the kids.
The slide has a beveled portion at the end, which makes for a safer descent for smaller kids.
Cons:
The XDP may also require adult supervision because of the sheer number of children it engages in. With ten kids around a single unit, you may have to monitor the situation more closely.
6. The Swing-N-Slide Ranger Wooden Set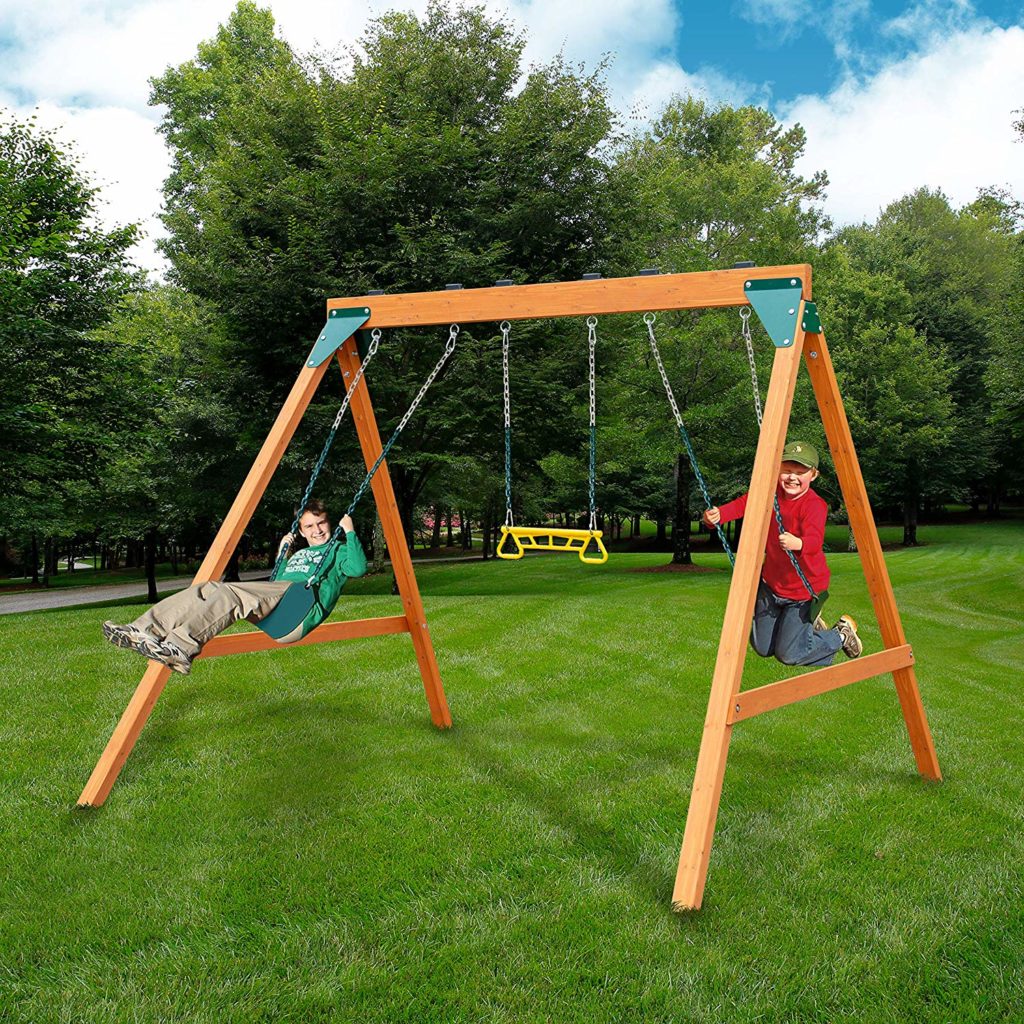 Our final entry to this awesome list of swing sets is the Swing-N-Slide PB 60 Ranger Swing Set. Swing-N-Slide is the most experienced manufacturer in outdoor/playground equipment. Thus, we can expect a sure and sturdy build with the PB 8360 Ranger Set. Measuring around 8.6 x 7.6 x 6. Feet in dimensions, this unit cuts a very stable and robust figure in your backyard. With a classic wooden design, this model unites both tradition and utility into a fun and playful structure.
The PB 8360 Ranger comes with two traditional swings and a trapeze swing. Each of these swings can carry up to 115 pounds, so you don't have to worry about weight capacity.
Pros:
Classic playground design makes it convenient to set up and easy to maintain.
Quality wooden frame but still budget-friendly, it is the most cost-effective item on this list.
Checks out on ASTM regulations and standards for safety.
Cons:
Although the P 8360 is sturdy and straightforward, it does not offer as many features as the other units on this list.
Frequently Asked Questions About Swing Sets
1. Are swing sets worth it?
Definitely! Swing sets are like compact playgrounds that you can set up in your yard. It provides fun and frolic to your kids, and you can still keep an eye out from your window. They keep your kids healthy and safe while creating precious memories.
2. How long do swing sets last?
Swing sets generally last quite a long time, longer than most of the perishable toys your kids have. Wooden frames can last longer if you don't mind doing some maintenance. Maintenance includes treatment products, paint, bug-spray, etc. More on maintenance actions below.
3. How high should a swing set be from the ground?
Your swing's elevation form the ground usually depends on the age and size of the child. But 15-19 inches is usually a safe bet. It makes sense to invest in adjustable chains/ropes to ensure that you can adjust according to your child's growth.
4. What is the standard height of a swing set?
Most of the models here have a height of about 6 feet, which is an ideal level. Lower swing sets will also do for younger children, but it's always advisable to think of the future too when your children grow taller.
5. How do you protect a wooden swing set?
Maintaining your wooden swing set is a crucial part of its durability. Before purchasing, check whether your wooden frame is made from pressure-treated lumber. After purchase, treat the wood with weather-protection products to keep it nice and sturdy. Occasionally spray the wood with bug-spray to prevent termites, etc. from ruining the texture. Painting the wood is also a great way to preserve the look and finish because it gives an added layer of protection.