Best Overall 16-Inch Bikes For Girls
RoyalBaby Kids Bike Boys Girls Freestyle BMX Bicycle with Training Wheels Kickstand Gifts for Children Bikes 16 Inch Pink
High Rated 16-Inch Bikes for Girls
COEWSKE Kid's Bike Steel Frame Children Bicycle Little Princess Style 14-16 Inch with Training Wheel(16" Pink)
Good Choice
JOYSTAR 16 Inch Kids Bike with Hand Brake and Basket for 4 5 6 7 Years Girls, 16" Chilren Bike with Training Wheels and fenders, Lavender
Good 16-Inch Girls Bike Price
Kent Starshine Bike, 16-Inch
Best Overall 16-Inch Bikes For Girls
RoyalBaby Kids Bike Boys Girls Freestyle BMX Bicycle with Training Wheels Kickstand Gifts for Children Bikes 16 Inch Pink
High Rated 16-Inch Bikes for Girls
COEWSKE Kid's Bike Steel Frame Children Bicycle Little Princess Style 14-16 Inch with Training Wheel(16" Pink)
Good Choice
JOYSTAR 16 Inch Kids Bike with Hand Brake and Basket for 4 5 6 7 Years Girls, 16" Chilren Bike with Training Wheels and fenders, Lavender
Good 16-Inch Girls Bike Price
Kent Starshine Bike, 16-Inch
We may not remember many parts of our childhood, but all of us likely remember getting our own bike as kids and riding around the neighborhood for hours on end. Remember how freeing it felt cycling around with your friends tailing you, with not a care in the world? How delightful was it performing bike stunts or exploring the in-roads in and around your locality with your pals? It's only natural that you want your children to experience the same thrill you did growing up. This is why we're here with our comprehensive guide on the best 16-inch bikes for girls.
In it, we uncover the many factors that decide if a bike is the right fit for your child. We also address nagging questions, such as the details you should consider when buying 16-inch bikes for girls. Plus, we break down the features of the best 16-inch bikes for girls. However, before we get down to the nitty-gritty of it all, let's address the elephant in the room – why 16-inch bikes? It sounds like a rather specific detail, doesn't it? Here's the thing, every bike is a fixed size. In the case of bikes for adults, their frame length and height make up its size. It's different for kids' bikes. In the latter, the size of a cycle depends on the size of its wheels.
So, how large are 16-inch bikes for girls, and which kid age group are they suitable for? Ideally speaking, these bikes are for girls between three and six years. However, you want to bear in mind that all kids grow at their own pace. Your three year old may sometimes not be ready to do away with her 12-inch or 14-inch bike just yet. It can also work the other way round – your child could be taller than other children in her age group. This may lead to her requiring a larger bike earlier than expected. A simple way to figure out when she might be ready for a change is to measure her height. 16-inch girls' bikes are typically ideal for kids between 100 cms to 120 cms.
A kid's height and her riding skills play a role in whether she can handle a larger-sized bike. However, there are other factors that come into play. For instance, your kid may be taller than other children her age. Does this mean that you should force her into riding a 16-inch bike? The answer is no. Because, sometimes, a kid may meet the height requirement for a 16-inch bike, but she may not be ready to handle changes in her bike's brakes or gears (which are a given when moving on to larger bikes). Larger wheels also mean she has to adjust to a heavier bike. You want to be sure that your kid is ready for all these changes.
A common blunder that most parents tend to make is buying larger bikes, hoping that their kid will 'grow into them.' The problem here is that a larger bike means an increased height and heavier wheels. More height means there is a raise in the center of gravity, making it more difficult for your kid to balance her bike. Taking these considerations into account, it's safe to conclude that the 'ideal age group' and 'ideal height' for each bike size are to be used as a guide and not as definitive answers. The better way to go about things is to check that your child's feet land flat on the ground when she stands over the bike. Also, ensure that her hands comfortably reach its handlebars and that her feet easily reach the pedals when she's on the seat.
The best 16-inch bikes for girls typically feature aluminum or steel frames. The aluminum ones tend to be more expensive because they are lighter and are more resistant to rust than their steel-frame counterparts. Given that 16-inch bikes are for children above three years of age, they normally feature training wheels and coaster rear brakes. These bikes also tend to have front lever-operated hand brakes because some children in this age group have a fairly strong grip strength. This means they are likely to be able to hold down on the brakes to stop the cycle. Nonetheless, you want to ensure that the handle brakes on your kid's bike are easy to reach for her hands.
If you need a bike for a 7-year-old girl, check our guide on the best bikes for 7-year-old girls here: https://www.bestof.info/best-bikes-for-7-year-old-girls/
Buyer's Guide – What to Look for When Buying a 16-inch Bike for Girls
Measure Your Child's Inseam Size – It's crucial to follow through with this step. To do so, have her stand against a wall with a book between her legs (ensure that it is as close to her crotch as possible). Mark the area at the top of the book. Next, take a measuring tape and assess the distance from the floor to the mark on the wall. Note down the details and take them with you when you go bike shopping with your little one. Most brands call out the inseam length that's appropriate for each bike, which makes it easier for you to narrow down your search. You want a bike that falls somewhere in the low end of the suggested inseam range so that your child has room to grow. Avoid bikes that are larger than your child's inseam size because it can be dangerous for your kid to ride a cycle that's bigger than her.
You Want a Lightweight Bike – A heavy bike can be difficult for a child to maneuver. Kids' cycles with titanium or aluminum frames are lightweight, and therefore, the best options. However, you don't want to cross off kids' bikes with steel frames completely. They may be heavier, but good-quality steel-frame bikes are worthy contenders to aluminum and titanium-frame ones, as long as their wheels and components are lightweight. Moreover, steel-frame bikes are easier on the pocket than the other two options.
The Bike's Brakes – There are two types of brakes: lever-operated and coaster. Girls' bikes with coaster brakes are generally for younger children whose arm strength isn't sturdy enough to operate hand-lever cycles. Ones with lever-operated hand brakes are for children who are capable of handling brakes on their own.
The Bike's Gears – Bikes for younger kids typically have a single gear, making it easier for them to pedal. The number of speeds increases with the size of the bike.
The Bike's Tires – 16-inch girls' bikes typically have pneumatic tires – known for a solid grip and a cushioned ride. Their pattern can be standard, slick, or knobby. Cycles whose tires have a tread pattern offer a firm grip when riding on rough terrain. If you're looking for a bike that your child can ride around the neighborhood on (given that the roads are smooth), cycles with slick tires are ideal.
The Bike's Grips and Kickstands – You want a cycle whose grips perfectly fit your child's hands. When it comes to kickstands, not all bikes have this feature. It is not a 'must-have,' but rather a 'good-to-have' feature. We say this because when a bike has kickstands, it allows the cycle to remain standing even if your child suddenly dumps it on the ground when they get off.
Safety Accessories Are a Must – Safety is non-negotiable. Invest in a good-quality riding helmet for your kid when you get her a bike. Additionally, you can check out riding gloves for kids (to keep their hands warm during the cold months).
List of The Best 16-inch Bikes for Girls
1. Schwinn Elm 16-Inch Bike for Girls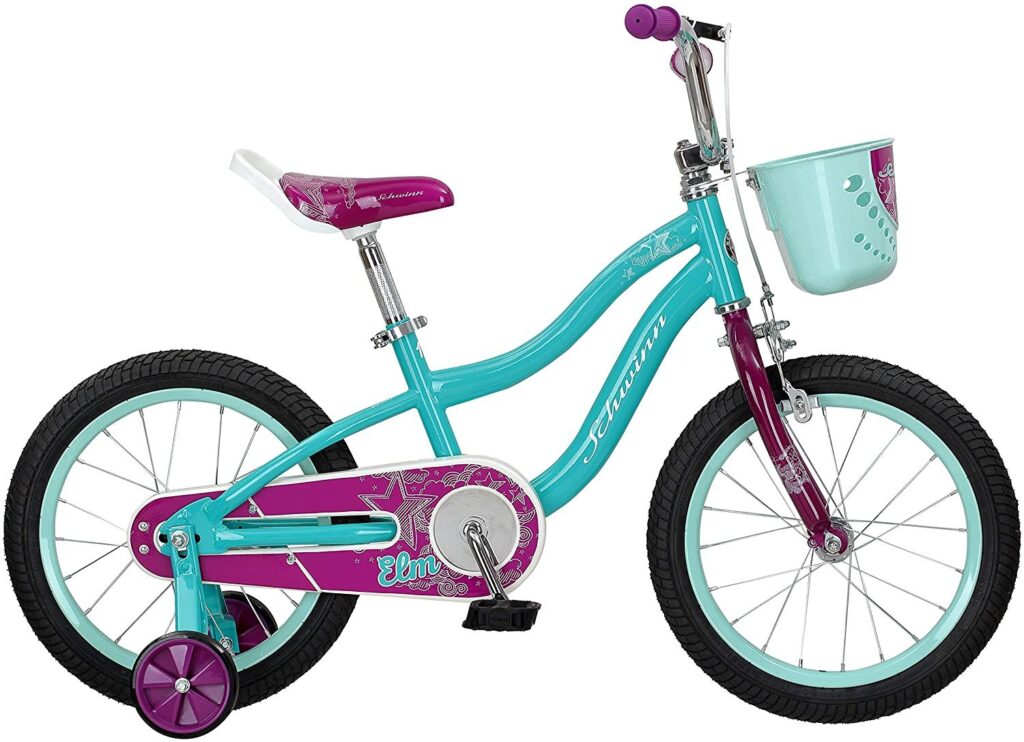 What's not to love about this 16-inch bike for girls? It features an adjustable saddle, has light frames, a basket in the front, and even a number plate! It's also available in three colors. If you're keen on finding a bike that grows with your kid, this Schwinn cycle is ideal because it comes with a slack seat-tube angle, saddle, and seat post that allow easy adjustments. The bike also has both rear coaster brakes and front hand brakes, giving your child the option to switch whenever she's ready. Every component of this bike is carefully thought out to be ideal for children, instead of being a smaller version of a bike meant for adults.
Pros:
It is adjustable and 'grows' with your kid.
The bike features both rear coaster brakes and front hand brakes.
It is lightweight, and its grips are ideal for kids' small hands.
The narrow position of its pedals aligns perfectly with a child's body width to allow easy peddling.
2. RoyalBaby 16-Inch Girls Freestyle Bike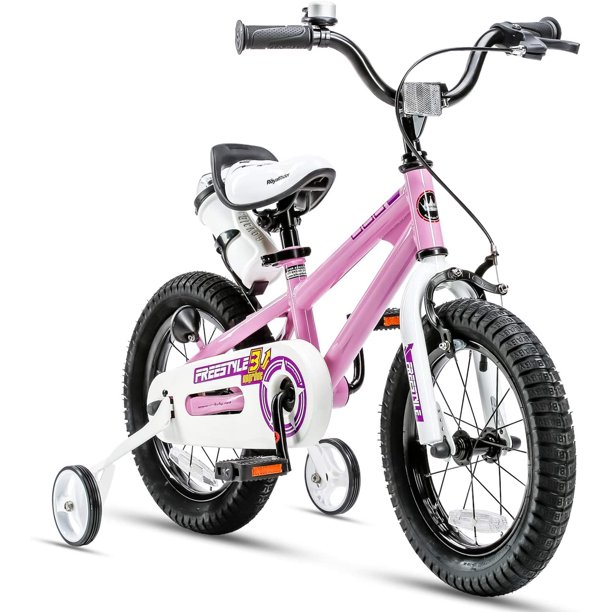 This snazzy-looking kids' bike features a saddle seat that can be adjusted to accommodate a growing child. Beneath this seat is a handy water bottle holder (bottle included). Kids also love its cute little bell. The bike's tires have a patented triangle structure (one-piece) that boasts strategic spacing to provide a safe ride for children. Additionally, the bike has short-fit brake levers so your kid can conveniently handle them, and two brake systems for added safety. This 16-inch bike comes with kickstands and training wheels.
Pros:
It only requires four simple steps to assemble.
Available in a wide range of different colors.
Its full chain guard prevents your kid's clothing or laces from getting entangled in it while riding.
The cycle's resin pedal is anti-slip and facilitates smooth rotation.
Cons:
Its training wheels may require frequent tightening.
3. 16-Inch COEWSKE Little Princess Girl Bike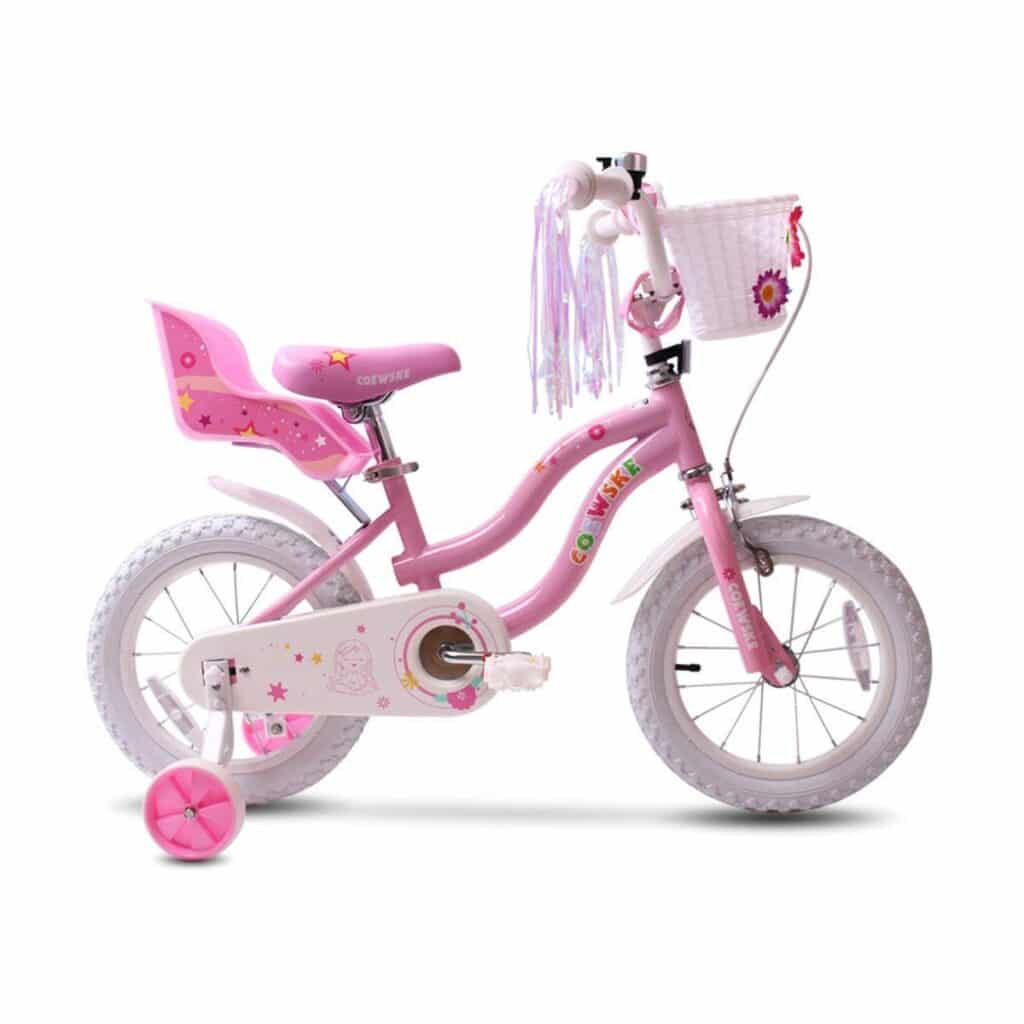 If your kid is into all things colorful and girly, this bike fits the bill perfectly. It comes with a basket adorned with flowers in the front. Behind the rider's seat is another seat where your little girl can place her teddy bear or her favorite Barbie and take them along for a ride. The front basket comes in handy for carrying snacks and other knick-knacks for her play-pretend picnic dates. The main seat is filled with sponge and boasts a multi-layered design to provide your little one a comfortable ride. The bike's extra-thick tires ensure a smooth ride, while its V-brake plus coaster brakes on the front and rear allow effective stopping.
Pros:
Its front basket, doll seat, and streamers are fun details that any kid will love.
The fully covered chain guard prevents kids' fingers from getting hurt or their laces and clothing from getting entangled.
Parts such as the handlebar and saddle are adjustable.
It comes with training wheels.
The brake offers ample stopping power.
Its wide footrest and soft seat facilitate a comfortable ride.
4. Kent Starshine Bike 16-Inch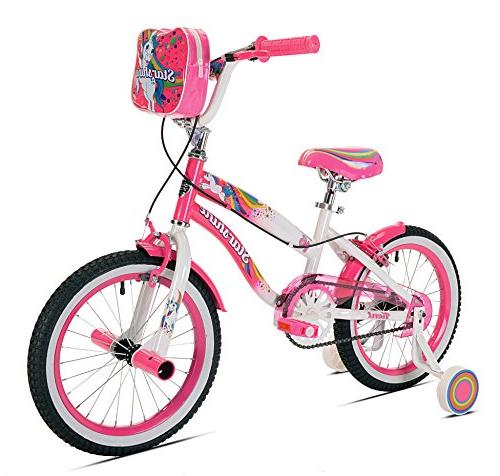 This bike makes it into the list of the best 16-inch bikes for girls because it packs features that are both fun and that ensure your kid's safety. On the safety front is its steel frame, which can weather rides on rough terrain. The training wheels provide the extra support kids at this age group need when riding. It also features both coaster brakes and front and rear handbrakes, making it easier for your kid to transition from one to the next seamlessly. The most noticeable fun design detailing about this kids' cycle is the pouch attached on its front part. It's perfect for carrying snacks and knick-knacks for her playdates.
Pros:
The 28-spoke rims ensure a smooth and enjoyable ride.
Its rear coaster brakes and front and rear hand brakes offer a good stopping power.
The steel frame, with its 4-bolt stem, seals the bike's durability.
Its seat and handlebar heights are adjustable.
There is a pouch on the front.
The training wheels are easy to remove.
Cons:
The bike does not have a kickstand.
5. Schwinn Jasmine Girls' Bike 16-Inch with Training Wheels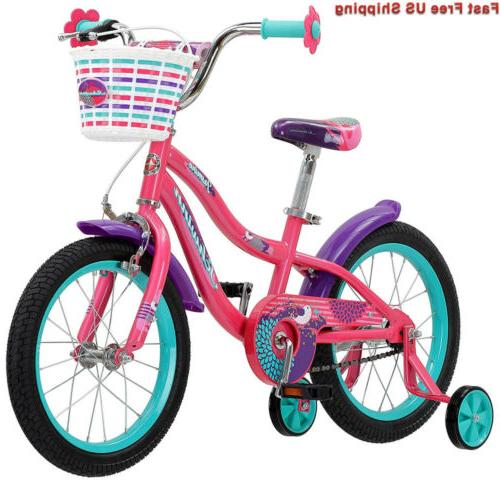 The Schwinn Jasmine bike for girls is perfect for children who still require certain safety nets but want a bike that allows them to expand on their riding capabilities. It comes with the basic features that most of the best 16-inch bikes for kids come with – training wheels and rear coaster brakes. These features offer them the guarantee that they won't fall. However, the bike also has front hand brakes for manual stopping for when your child has the arm strength for the same. Plus, you can remove its training wheels as your kid gets more comfortable riding and adjust the cycle's seat height to accommodate your growing child. The bike also comes with fenders and a basket for convenience.
Pros:
Designed to accommodate a growing child.
Its steel frame and its rigid fork facilitate easy pedaling and riding.
This bike has both coaster and hand brakes.
6. JOYSTAR Starry Kids' Bike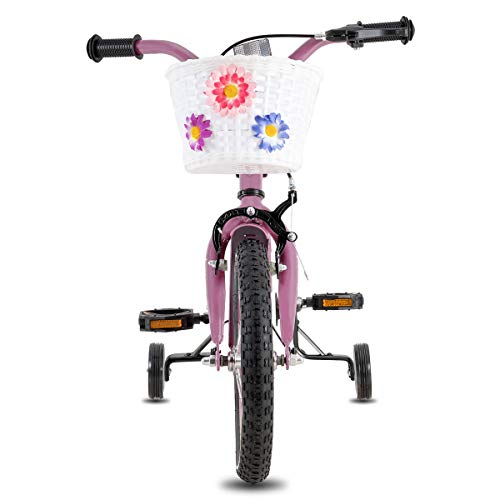 With kids learning to ride a bike, you know that there will be more than a few falls involved. Having a sturdy bike is the only way to ensure that you, as a parent, won't have to change your kid's bike ever so often. This JOYSTAR bike puts your mind at ease with its premium-quality Hi-Ten steel frame, which is capable of enduring high impact. It also comes with features, such as training wheels and rear coaster brakes, which help children who are still exploring riding a bike. We appreciate another safety feature: its fully covered chain guard, which prevents your kid's clothing from getting caught while riding. This design detailing also protects the bike's components from dust and damage.
Pros:
Its fully covered chain protects the bike's components against damage and prevents accidental hurt for your child.
The training wheels are easy to remove.
Front calipers on this bike are responsive and boast reliable stopping power.
Its Hi-Ten Steel frame is durable and looks handsome.
7. Huffy Bikes for Girls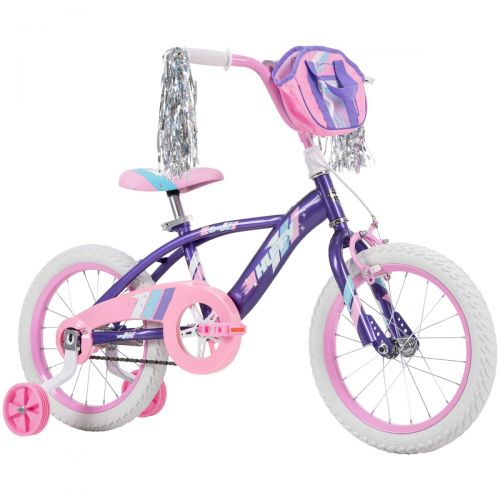 Not much of a DIY person? That's okay because this bike only requires four easy-to-follow steps to be set up. If your kid loves shiny things, she'll appreciate the glittery streamers on either side of the bike's handles. The cycle also has a handlebar bag where your kid can conveniently pack snacks and small toys when she sets out on her rides. For her comfort, the bike's seat is padded and adjustable. With safety in mind, Huffy uses a chain guard on this cycle to protect your kid's feet and ankles while riding. Once your child is comfortable cycling, you can remove the training wheels. The bike's rear coaster brakes and front hand brakes offer your little one the gift of choice when it comes to braking.
Pros:
Easy to set up. Plus, its training wheels are easily removable.
It has both rear coaster and front handle brakes.
The padded seat ensures a comfortable ride.
Its alloy spokes on its wheels are lightweight.
8. Dripex 14″ and 16″ Girls' Bikes
This girls' cycle packs fun, comfort, safety, and durability. Its padded seat is at a position that allows kids to sit upright, and its handlebars are strategically placed to allow a comfortable ride. The training wheels offer sufficient support, so the cycle remains standing even if your child makes a quick turn. Your kid is also going to love that this bike features a basket at the front. As a parent, you can do away with worrying about your kid's feet, laces, or clothing getting stuck in her cycle's chains because this bike features a closed chain chamber. To ensure that your kid is sitting right, you can adjust the bike's seat.
Pros:
Its pneumatic rubber wheels boast a Dripex-patented design and feature extra rubber, which helps reduce noise.
The seat and handlebars are adjustable.
The steel frame is sturdy and equipped to handle rough play.
Its tires also provide good stability in any terrain.
The three-layer paint baking process on the bike means its color stays on for a longer time.
9. JOYSTAR Angel Girls' Bike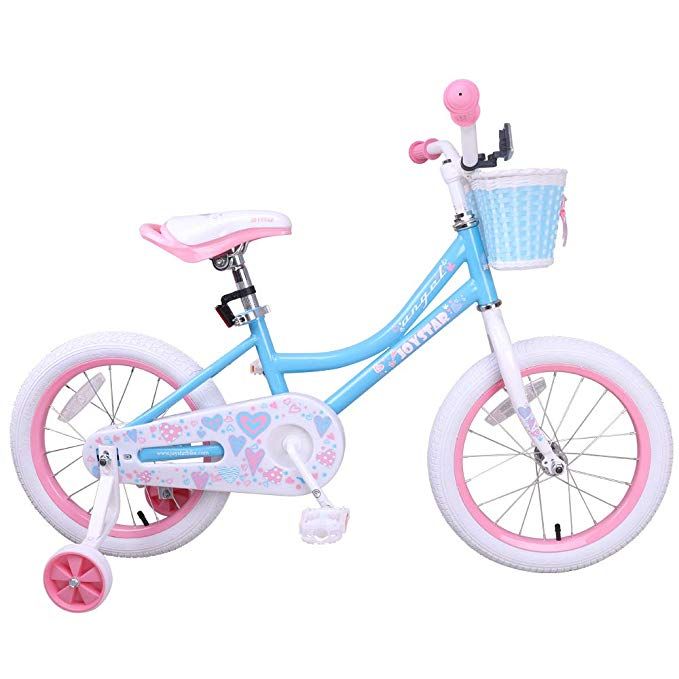 Exploring the great outdoors with her friends is fun for your little girls on this JOYSTAR bike. Not only is it pretty, but it also comes with the necessary safety and convenience features that push it into the list of the best 16-inch bikes for girls. On the convenience front, the bike has a basket for snacks and knick-knacks and a comfortable seat that offers an enjoyable ride for hours on end. Ensuring your kid's safety are features such as its coaster brakes, which immediately stop the bike if it is pushed backward, the training wheels, and the closed chain guard.
Pros:
The bike's Hi-Ten steel frame is tough and can withstand high impact.
Its rubber tires boast commendable grip in any terrain, regardless of the weather condition.
Coaster brakes and training wheels make the bike ideal for kids recently learning to cycle.
Its enclosed chain guard ensures a safe ride for your kid and also protects the bike's parts from damage and dirt.
10. RoyalBaby Stargirl Girls' Bike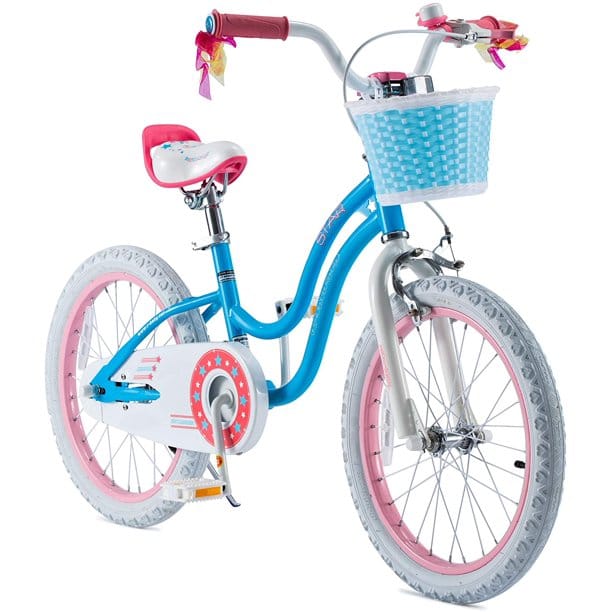 Wouldn't you like to get on with your chores while your kid plays outdoors? That's doable when your kid is riding this bike because it is equipped with safety features that render it needless for you to constantly monitor your kid at play. First, the bike's high-rise seat offers added comfort and support for the rider. Then comes its fully enclosed chain guard that eliminates the chances of clothing or your child's feet getting caught in the bike's components. Features such as the training wheels and coaster brakes offer added security for your child when she rides or halts.
The bike's rubber tires can handle heavy-duty use.
Pros:
It is durable, sturdy, and comfortable to ride on.
The seat has a high back, is cushioned, and adjustable.
Wide tires ensure a stable ride.
Its heavy-duty wheels decrease the chances of falling even when making sudden turns.
The bike's brakes power smooth stops.
Cons:
Can be a bit bulky for some kids in the 16-inch bike age group.
11. JOYSTAR Paris Girls' Bike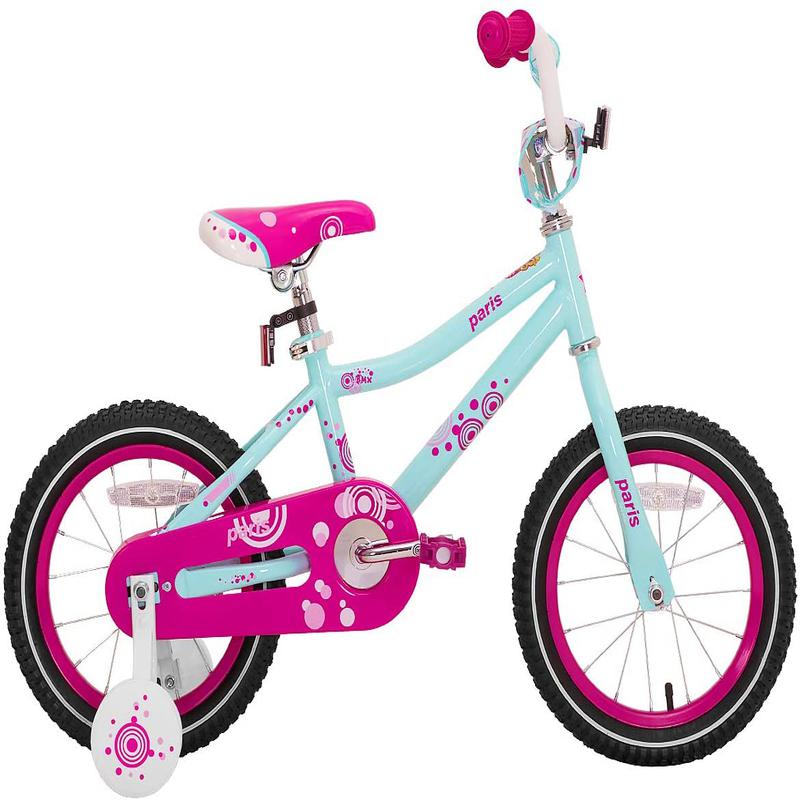 Children don't necessarily care about their safety when they play. It's more about having fun for them. However, as parents, you're likely to prioritize your child's safety. You can take a breather in this area because this JOYSTAR cycle for girls is equipped with all the safety measures one can imagine in a kids' bike. It features an enclosed chain guard, so you don't have to worry about your kid's laces or clothing accidentally entangling. It also has training wheels and a single-speed motor, which are ideal for beginners. Its coaster brakes ensure safe halting. With all these precautionary measures in place, your kid can focus on doing what she does best during playtime – having fun.
Pros:
Its steel frame is sturdy and can withstand high-impact play.
The steel frame, combined with its fork, offers a good impact when riding over uneven terrain.
Its training wheels and coaster brakes make the bike ideal for beginners.
The chain guard not only prevents accidents for your child but also protects the bike's components from damage.
This bike's components require minimal maintenance.
12. Huffy Disney Princess 12 inch & 16-inch Bike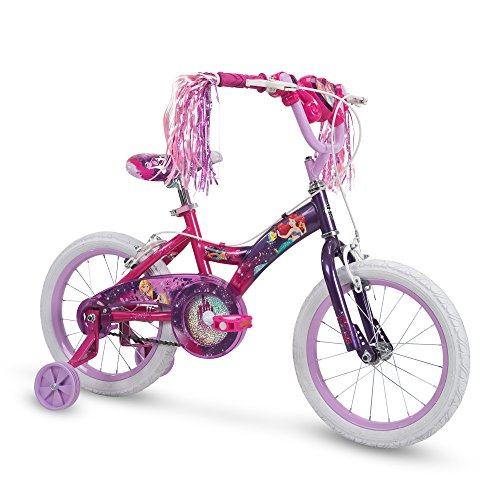 One way to indulge your Disney Princess-obsessed daughter is to get her this adorable bike inspired by the same theme. It even has streamers on both sides of its handles. Your little one can choose from bikes that are inspired by Disney princesses such as Rapunzel, Cinderella, and Ariel. Taking things a step further is the bike's 'Magic Mirror' handlebar that lights up to introduce a princess. It then turns into a mirror. The cycle's padded seat is properly decorated to elevate the cheerful vibe. Its height is adjustable.
Pros:
Coaster brakes allow children to properly acquaint themselves with halting their rides.
It features a chain guard that prevents pedaling interference.
Its 20-spoke rims are sturdy.
The bike is colorful and delightfully themed and has plenty of fun details (like the 'Magic Mirror) to offer.
13. RoyalBaby Little Swan Girls Child's Bicycle Pink White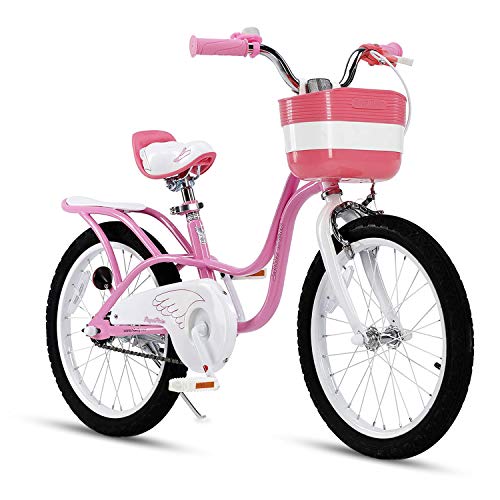 This elegant-looking bike captures the essence of a feminine, mini lady. Its design is free of clutter, with its preppy color helping retain the cheery nature of kids' bikes. This cycle takes your child's safety seriously. Its brake levers are specially designed for small hands, with its tires having an above-average width to ensure a comfortable ride. The bike has front hand brakes, but it also comes with rear coaster brakes for added halting safety. Also accounting for durability, it comes with resin pedals, a full chain guard, and a tough steel frame.
Pros:
Its basket is made of environmentally friendly materials.
The saddle is adjustable, making it suitable for growing kids.
A wide distance on its training wheels' structure contributes to a safe ride.
It comes with the anti-slip grip feature and double brakes.
14. Titan Girl's Flower Princess BMX Bike, Pink, 16-Inch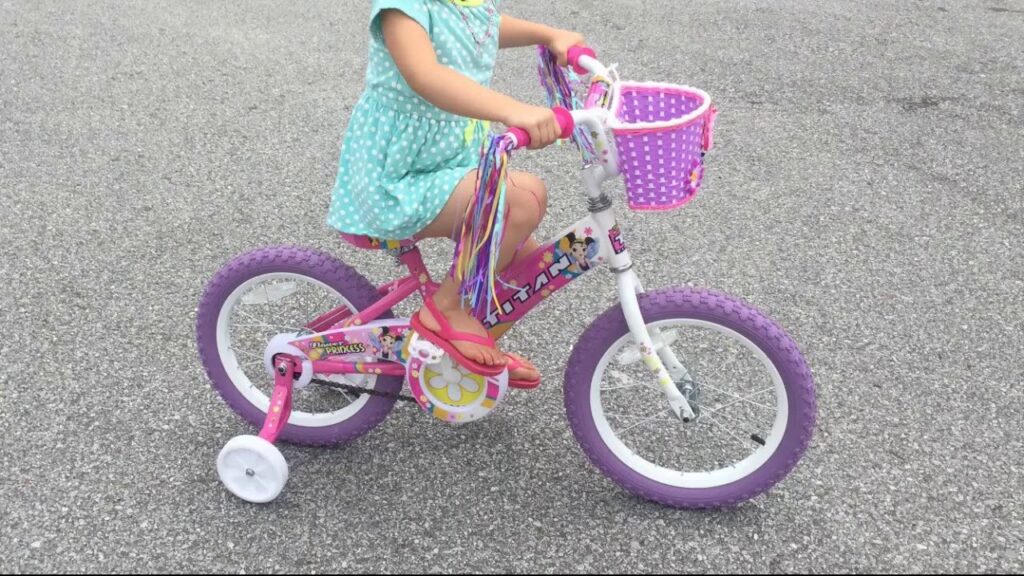 There's no need for your little girl to leave her favorite doll behind when she goes outdoors to ride on her bike. This accommodating cycle comes with a separate seat exclusively for her doll! Your junior is sure going to love cruising around the compound or around the neighborhood with her best doll friend behind her. This bike also has a basket on the front for carrying knick-knacks. Playtime opens up umpteen ways for kids to indulge their imagination, and this bike, with its cool features, makes things more enjoyable because now your child is on an adventure with her doll friend.
Pros:
You can remove the training wheels when your kid is ready to do so.
The chain guard (meant mainly to prevent pedaling accidents) is decorated with fun stickers for your kid's benefit.
Its handlebars are padded for comfort.
Frequently Asked Questions
Coaster brakes vs. hand brakes – which is better for kids' bikes?
The core essence of coaster brakes is that they cause the bike to stop if a kid pedals backward. The act requires little to no coordination and is ideal for beginner cyclists. Because most kids under this age group (three to six) don't have the strength or skills to halt manually, bikes with coaster brakes are ideal (mainly for safety reasons). The issue with this type of brake is that they can be dangerous when riding on hilly terrain.
Hand brakes on kids' bikes are the same as the ones on adults' cycles. Here, both the left and right handlebars have brake levers. Holding them down causes a bike to halt. These brakes require some form of coordination and strength (which not all kids may have). This is why kids meant for younger kids all have coaster brakes or a combination of coaster and hand brakes.
How old does a girl have to be to ride a 16-inch bike?
The suggested age group of children suitable for riding 16-inch bikes is between three to six years. However, it isn't a set rule. Oftentimes, it's wiser to check their inseam size and get them a bike that is on par with their height. To ride a 16-inch kids' bike, your child will need to be between 104 cms to 122 cms in height. Also, consider factors such as your kid's riding capabilities before forcing her to upgrade to a larger bike.
Should I buy my kid a larger-sized bike to allow her 'room to grow?'
The answer is absolutely not. Keep in mind that at these ages, your kid is still discovering and mastering the art of riding a bike and braking. She is bound to incur a few falls and slips along the way. By forcing her to ride a larger bike, you coerce her to work with a cycle that's heavier and more difficult to control. If she cannot stand upright, with her feet flat on the ground on her bike, it's too big for her.
How soon does a girl outgrow her bike?
A child typically outgrows her current bike in about two or three years' time. Nonetheless, most kids' bikes these days come with adjustable seats and handlebars. You can always lift them whenever necessary to accommodate your growing child. This allows her to get good use out of one bike for a couple of years.
What are some features that the best kids' bikes have in common?
Bikes for kids in this age group generally all have double brakes (both coaster and hand brakes), closed chain guard to prevent pedaling mishaps, cushioned seats so the rider is comfortable, and padded grips. The best 16-inch bikes for girls are also usually lightweight. This is deliberately done because otherwise, kids have trouble riding on cycles that's too heavy for them.