Best Swimming Mermaid Tails for Adults
Sun Tails Mermaid Tail + Monofin for Swimming (Teen/Adult S JS 4-6, Siren Green - Green Monofin)
Best Swimming Mermaid Tails for Kids and Adults
Fin Fun Limited Edition Wear-Resistant Mermaid Tail for Swimming, Kids and Adults, Monofin Included, for Girls and Boys, Bahama Blush, Adult X-Small
Best Swimming Mermaid Tails for Girls
GALLDEALS Mermaid for Swimming Girls Swimsuit Princess Bikini Set Bathing Suit Swimmable Costume (No Monofin) (5-6 Years, A - Multicoloured)
Best Swimming Mermaid Tails for Adults
Sun Tails Mermaid Tail + Monofin for Swimming (Teen/Adult S JS 4-6, Siren Green - Green Monofin)
Best Swimming Mermaid Tails for Kids and Adults
Fin Fun Limited Edition Wear-Resistant Mermaid Tail for Swimming, Kids and Adults, Monofin Included, for Girls and Boys, Bahama Blush, Adult X-Small
Best Swimming Mermaid Tails for Girls
GALLDEALS Mermaid for Swimming Girls Swimsuit Princess Bikini Set Bathing Suit Swimmable Costume (No Monofin) (5-6 Years, A - Multicoloured)
Mermaid tails have become one of the trendiest swimming accessories in recent times for many reasons. They are aesthetic and useful both for kids and adults. If you have been fascinated by these beautiful mermaid tails, this list will help you pick the best mermaid tails for swimming. For kids, it is fun to dress up, and it adds joy in bringing the fantasy world into reality. And for adults, it is a fun way to reduce stress, boost confidence, and improve mood.
Using mermaid tails also improves swimming techniques, aids in balancing and propelling underwater.
There are tons of beautiful mermaid tails available in the market. Some are attractive, while some are more functional than others. However, an attractive tail does not necessarily give you the most comfort or durability.
If you have long hair, you might find it useful to wear a swim cap for long hair. Here is a list with the best swim caps for long hair: https://www.bestof.info/best-swim-cap-for-long-hair/
So here is a short guide to help you choose the best mermaid tail:
Mermaid Tail Buyer's Guide
Fabric
Make sure to check the type of material that the tails have polyester. To ensure that your mermaid tail lasts through the years, check for double and over-locked seams so that it doesn't tear too quickly.
Design
While choosing the design, pick one that looks realistic. Since water dilutes the color, pick a vibrant one for better visibility. It is also good to remember that a brighter color looks better underwater.
Some mermaid tail design comes with fake scales for a realistic look. Ensure that these embellishments are adequately stitched and do not have sharp edges that could scratch while moving your hands. You can also choose from different themes according to your liking.
Elastic on the waist
While most mermaid tails come with a stretchable fabric that comfortably fits your waistline, it is better to pick one with an elastic waistband. The bigger the waistband, the more comfortable and secure it is to wear.
Monofin Tip
Also, check for the monofin material. They are usually plastics or rubber. Pick one that is slightly bendable and smooth on the edges so that it doesn't tear the fabric when you stand on it.
Entry Style
While choosing a mermaid tail, check for the opening to insert your legs. Some come with a zipper on the side, while others don't have any opening. The zipper on the side is convenient to remove, but they might be visible and spoil the look. So if it has a zipper, make sure it is not visible.
Protection sticker
Some mermaid tails come with a monofin sticker either inside or outside for protection. If you plan to use it often, make sure that the monofin stickers are durable. In this case, Neoprene materials are best.
Monofin
As for the monofins, make sure you get the right size and weight. You should also check the material and how the foot pockets are placed for security and comfort.
Foot straps
Pick one with an adjustable foot strap so that it is more comfortable around your ankles. It is also essential to check if there is space between the feet for control and movement. Double straps are preferably more secure and safer too.
Foot pocket
Usually, silicone foot pockets are more comfortable as they are more flexible too. Pick one with a mesh inside the foot pocket to prevent slipping.
With those features in mind, let's check out some of the best mermaid tail to check out both for kids and adults.
Mermaid tails for adults
1. Sun Tail Designer Mermaid Tail + Monofin for adults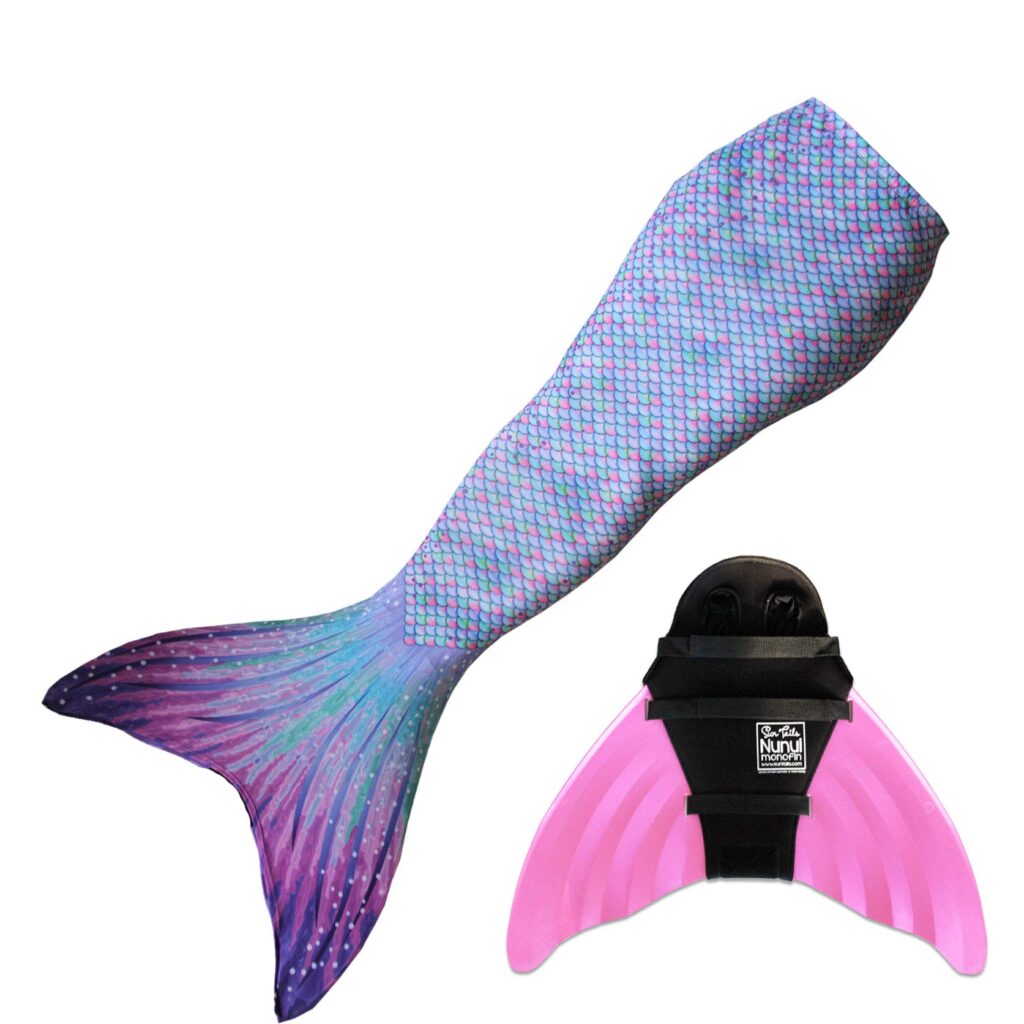 When it comes to the fabric, SunTail excels in creating the most realistic tails with superior material.
Since you will be swimming on hot sunny days, it is crucial to choose one with a breathable material. This mermaid tail is 80% polyester and 20% spandex, so it's very stretchable and comfortable even in high humidity.
What you will love about this set is the matching swimsuit that comes with it. Both kids and adults love pairing it together even though you have to buy it separately. So if you are looking for one that looks good, fits well and highly functional both for sporting and leisure, you might want to check out this set.
It also comes with monofins that are comfortable, stable, and easy to control. The best part is, there are nine different colors to choose from, so you can always stand out and choose one that best suits your personality!
Mermaid tails for Adults and Kids (Adult sizes and Kids Sizes)
2. Fin Fun Mermaid Tails with Monofin Limited Edition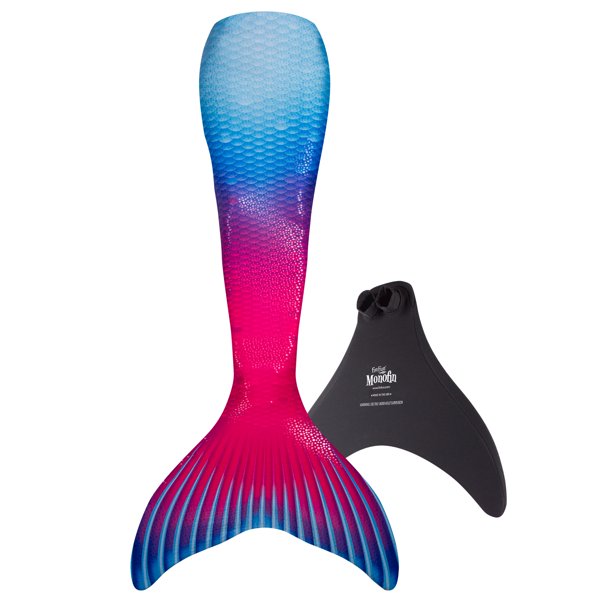 Next on our list is this tail from one of the most reputed brands. Fun fin is a brand specializing in mermaid tail so you can rest assured that it comes with carefully calculated features.
The Fin Fun mermaid tails are swimwear with fully equipped features for powerful dolphin dives and strokes underwater. Besides the attractive and realistic design, it is colorful and fade-resistant. It has a snug fit that shows off the shape of your legs and makes you look taller. They are also pretty comfortable to wear because of the stretchable material.
The main feature that stands out is the reinforced tail that prevents tear on the tips and the quick-release straps. The convenient straps make it much safer to use and, therefore, suitable for kids and adults.
Another feature you cannot miss is the Dive-grade neoprene and indestructible polypropylene monofins. The smooth, sturdy, yet flexible monofins give the tail a realistic movement and more power to swim forward.
3. Fin Fun Mermaid Tail for Swimming with Monofin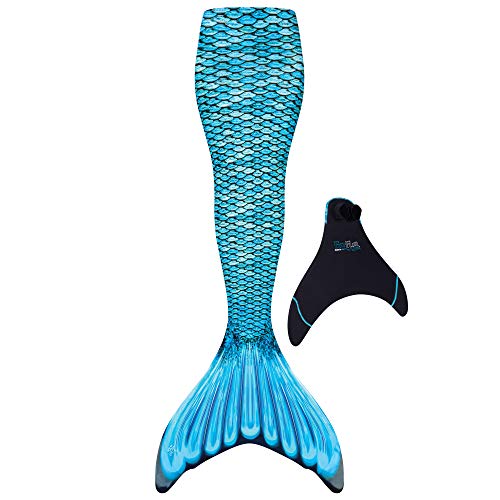 For adults who like to keep the pattern attractive but not too wild, this is one of the best picks. There are five solid colors to select, one with a rainbow pattern. Just by looking at these beautiful mermaid tails, you will instantly feel your mood elevate.
The simplicity of the patterns with the realistic-looking scales is sure to boost your confidence and make you swim much better.
Besides, the engineering of this mermaid tail is also something to consider. You can tell it is premium quality by the fabric and the monofin material when you feel it. The double foot sock makes it comfortable to wear, and you don't need an extra strap to secure it.
The best part is, you can get matching tails with your junior as they are available in kids and adult sizes. The design and fabric ensure safety, comfort, and speed both for swimming pools and open waters. All you have to do is wear the monofins and slip into the outer fabric without having to zip or strap it up, and you are good to go!
Mermaid tails for kids (Kids / Girls sizes)
4. GALLDEALS Mermaid with Swimmable Costume for Girls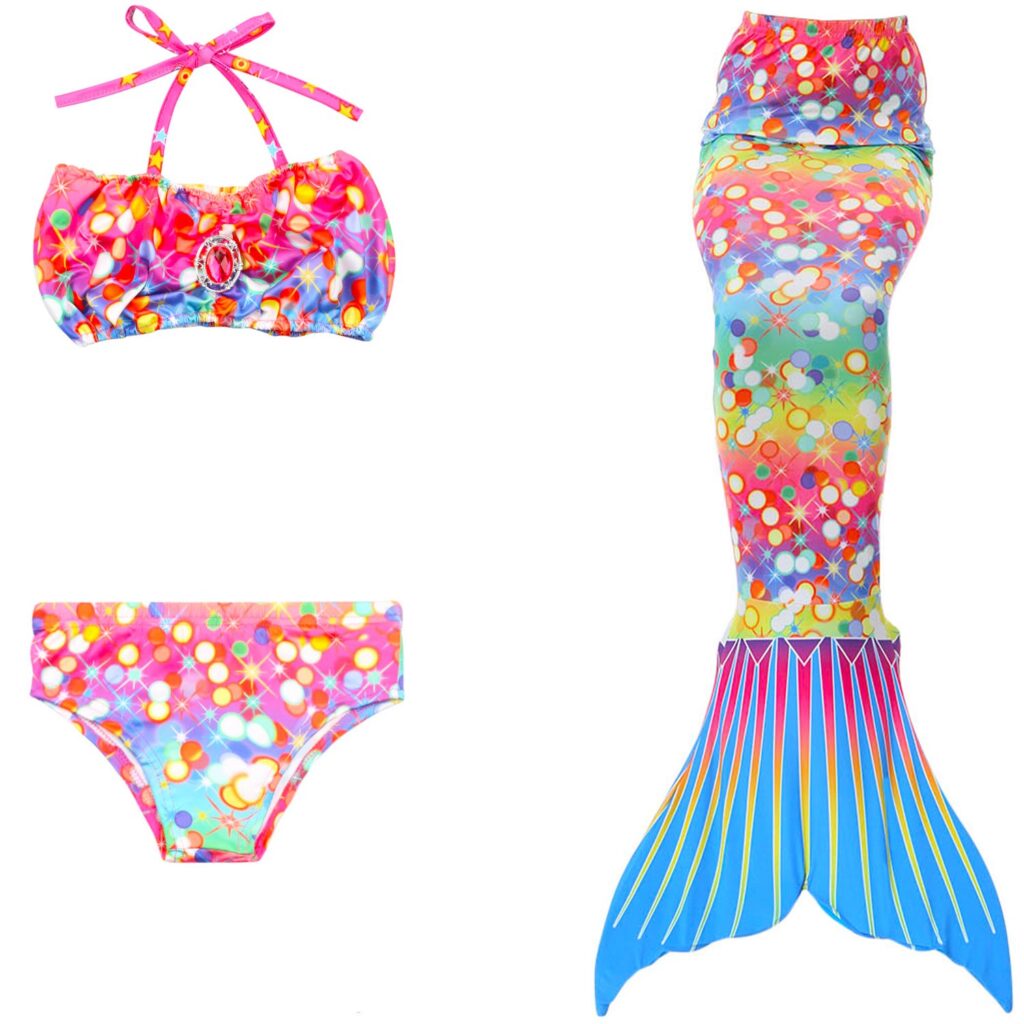 Kids love to wear colorful and matching outfits when it comes to costumes. So if you are looking for something that literally fits their taste from head to toe, this suit is perfect for kids who love swimming.
The princess bikini set comes in four vibrant and fresh looking pieces. It has a mermaid tail, a two-piece bikini set, and a matching flower crown.
Although this set does not come with a monofin, it is perfect for cos-plays, themes, or pool parties for kids. There are 14 different colors, and they all have the same stretchable material and elastic waist.
The fabric is soft, breathable, and stretchable so your kid can comfortably lounge around in it or swim underwater.
This mermaid tail design is a perfect costume because the tip of the tail has an opening to keep feet out and walk. This suit doesn't come with an attached monofin so that you can use it with any type for better and faster swimming!
5. Foyinbet Mermaid Tail for Swimming
If you are looking for a colorful mermaid tail for kids that comes with a bathing suit, your kid will love this. The seven-toned outfit is perfect for all types of water-themed activities and great for parties.
The bikini design comes with swimming shorts with zippers, which makes it much easier to wear or remove. The ruffle-trimmed edges also add a cute touch to the set. Since there is a zipper at the bottom of the fin, you can easily open it to make it comfortable to walk around.
The cotton blend in the polyester fabric also makes it comfortable to wear as it is stretchy and breathable. It also dries up fast, so your kid doesn't stay in a wet suit for long.
You won't have to worry about using it in chlorine water too, as the material and print are fade-proof. If your kid doesn't outgrow it, you can use this suit for years and still look fresh and brand new.
6. SANNYHHOOT Girl's Mermaid Tail Swimsuit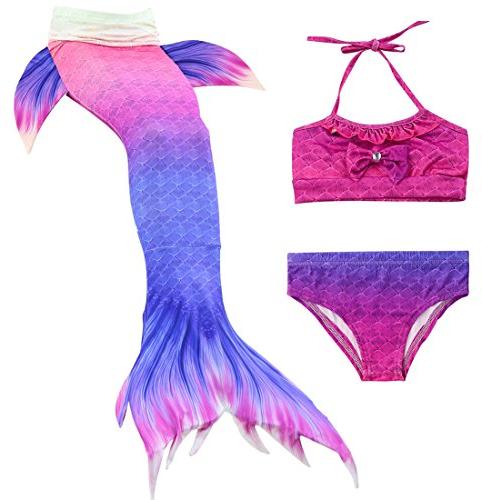 Another fun option is this 4-set mermaid suit for girls with a bathing suit and a flower crown.
Whether you use it for a pool party, swimming, or theme parties, this suite is bound to stand out from the others and have your kid brimming with confidence.
The realistic-looking pattern and the extra fins on the side give it an original touch. The matching bikini top with frills is also a cute addition to the pretty mermaid tail. Additionally, the fabric is surprisingly stretchable, comfortable, and soft for kids' sensitive skin. Let your kid pick from the thirteen different colors and make their mermaid dreams come true!
7. Garlagy 3 Pcs Girls Swimsuit Mermaid Costume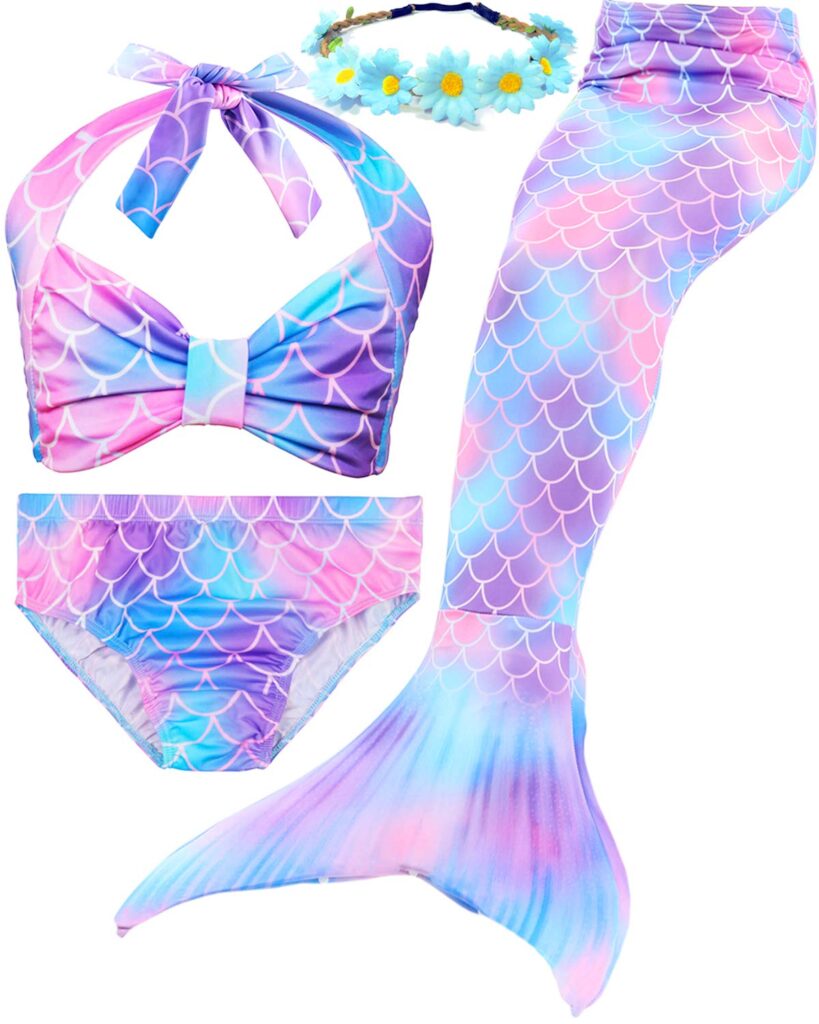 For more options, you can also check out this mermaid suit from Garlagy. It comes also comes in four separate pieces that beautifully complement each other. What's great about this suit is the unique bikini top. All the fins have unique shapes, patterns, and even the bikini top have different designs.
The fabric is made of soft polyamide polyester and cotton, making it comfortable because of the flexibility. It fits snugly on any body shape and dries pretty quickly too.
This swimsuit costume is suitable both for swimming and for lounging. You can easily insert the monofins from the tip of the tail, or keep it unzipped to make it comfortable for walking.
Whether you are on holiday or at a house pool party, your kid will have fun and feel unique in this fabulously cute costume.
8. Newland 4 Pcs Girls Swimsuit with Mermaid Tails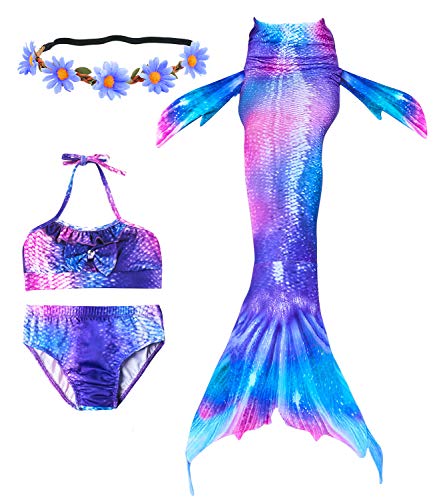 If the previous options are not flashy enough, this set will surely grasp your kid's attention.
These mermaid tail swimming suits have an extra fin on the waist, giving it realistic fishlike features.
The scale patterns and the colors also highly resemble fish scales that kids are used to seeing. The fins near the waist give it a better movement and make it look more life-like.
You can also match the tail with the bikini suit and a flower crown to make the kids feel like real princesses. The zipper on the side is not visible so that it doesn't show while swimming. It also makes it convenient to insert the monofins or free the feet whenever necessary.
The fabric is flexible, resistant, and breathable, making it suitable for photoshoots, costume parties, and swimming.
So next time you want your kid looking fabulous, make them choose from these 13 designs. We assure you, they will feel unique, comfortable, and safe at the same time.
9. iGeeKid 3 Pcs Girls Swimsuit Mermaid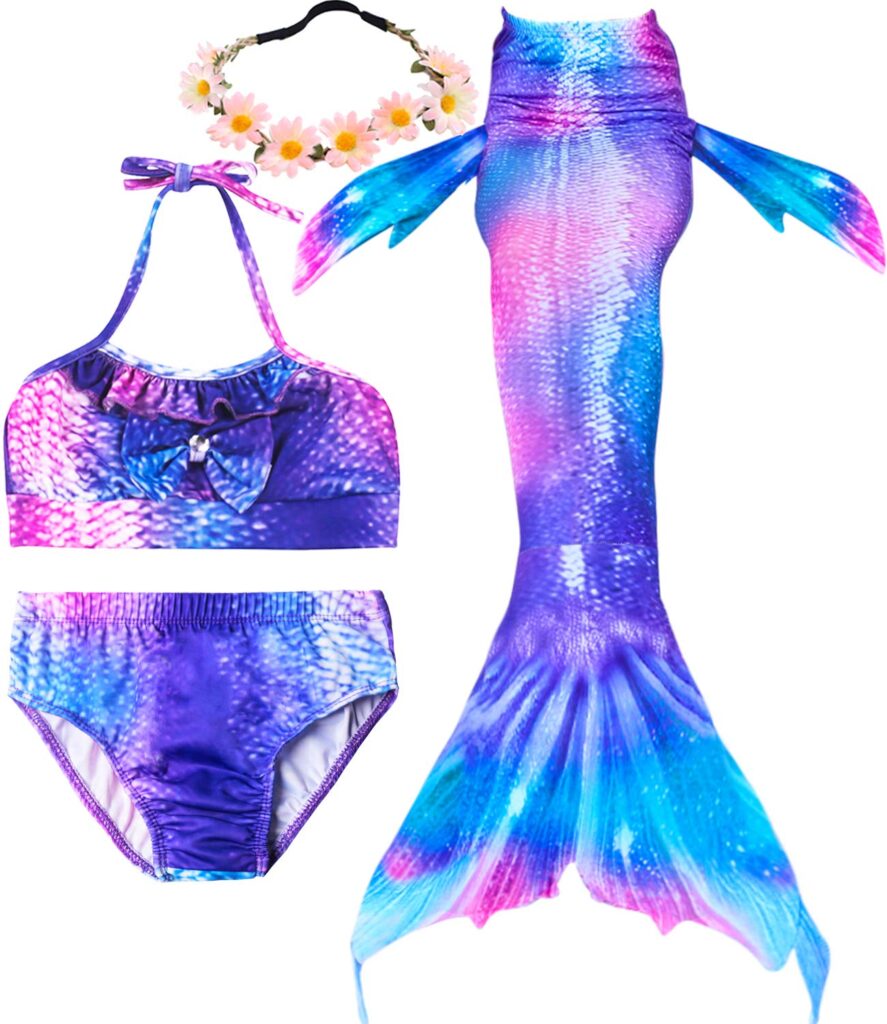 For flowing, dream-like mermaid suits, this is one of the best designs for kids, suitable for swimming and walking.
They are of flexible material, and the pattern designs are unique and beautifully printed. It comes in four pieces: a crown, the bathing suit, and the mermaid tail.
The 3D wings add an extra feature to the tail makes it look more realistic underwater. It also aids in balancing underwater and gives a subtle visual effect. The flowing tail has a side zipper where you can fit in the monofins are remove it quickly.
So whether you are at a backyard swimming party or holidaying somewhere fun, make your kid feel unique and help them live their mermaid dream in this comfortable suit.
10. Mskseciy Girls Swimsuit 3Pcs Mermaid Tails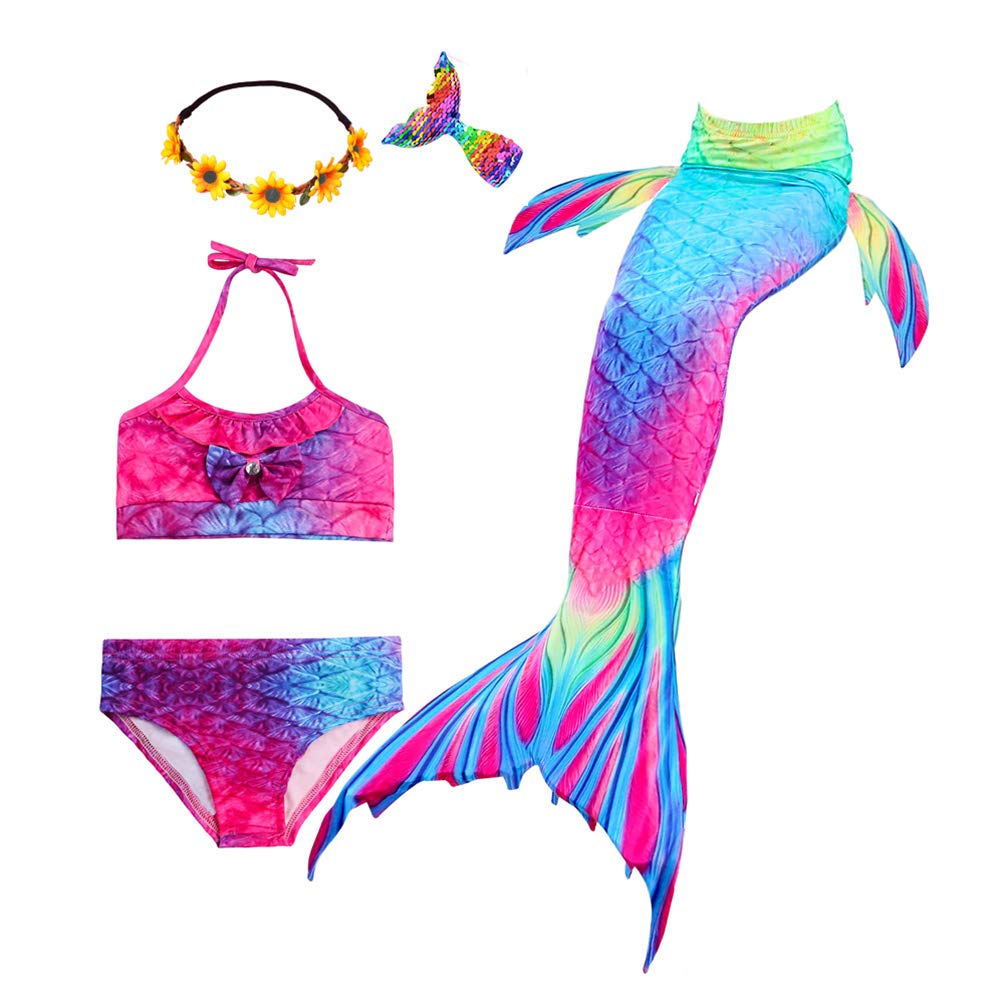 In addition to the options, you can also check out this mermaid suit for girls specially designed to fit monofins.
Even though this suit doesn't come with monofins, it ensures that you can fit in the perfect fins in the tail. Besides the vibrant print and large scale patterns, you will love how convenient this suit can be for swimming.
The side zipper and the button and the tip of the tail make it easy to remove or place the monofins in the mermaid tail.
The design snugly fits on the hips and waist, making it comfortable even without an extra elastic. It also has an excellent waist-to-leg ratio, keeping the shape intact while underwater.
11. YITU Mermaid Bikini Set for Girls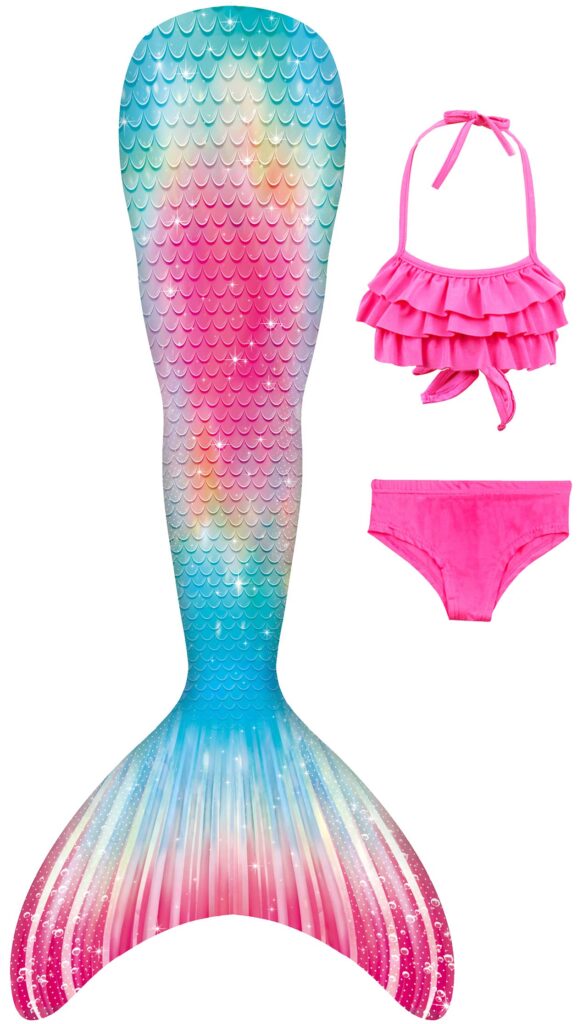 As an additional option, you can also check out this mermaid suit from Yitu that comes in 15 different patterns and colors.
This mermaid tail for swimming also comes with a matching bathing suit, and it is suitable for bigger kids about the age of 14 years. The monofin cover hides the fins and make you look beautiful while swimming effortlessly.
The seams are double-stitched with superior, fade-resistant material to ensure durability and comfort.
On the exterior, the fish scale design gives it a realistic appearance, while the variety of colors offers options to make mermaid fantasies come true.
Frequently Asked Questions
1. How long do these mermaid tail covers take to dry?
Depending on the combination of the fabric and where you dry it, these suits take about 30 minutes to one day. If the material is polyester with cotton, it takes a shorter time to dry. But if the material is thick and the seams are double-stitched, it might take longer. Just make sure you put it in a hot or sunny area after removing it, and it will dry naturally without you noticing.
2. Is it better to use one with a mesh or without a mesh?
That depends on how well you swim and the material of the monofin. Mermaid tails with mesh are less slippery, but it can be distracting. If you are using the mermaid suit without a monofin, no mesh is better. But for covers with an opening at the bottom, better pick one with a mesh.
3. What type of material is best for a mermaid tail swimming suit?
A polyester-blended with cotton is best as it is more sturdy, flexible, and breathable. It also dries faster and adjusts better to different body shapes.
For more comfort, it is better to choose polyester material that is stretchable and resistant. As for durability, pick one resistant to chlorine so that the color does not fade or run out fast.
4. What are the different types of mermaid tails for swimming and what are the things to look for before buying mermaid tails?
There are two types of monofins that comes with most mermaid tails:
Type 1: plastic n neoprene with foot pockets
Type 2: plastic n rubber with individual foot pockets
Before you pick ones, ask these questions:
Is it flexible?
Can you stand on it?
Is it light
Does it float?
5. Why use mermaid tails for swimming?
Full body workout: Using a mermaid tail for swimming gives you a full-body workout. It strengthens the arms, shoulders, back, glutes and legs. It is especially useful for propulsion, which is vital for strong swimmers.
Unique resistance: Mermaid tails enables you to make quick sculling and dolphin kicks while swimming.
Improves flexibility: Wearing mermaid tails while swimming also allows you to be more flexible when doing laps underwater. It keeps your feet in the right position and holds it for longer.
Low-impact sport: Mermaid-ing or using mermaid tails for swimming counts as a low-impact sport. You can use it for leisure or for synchronizing swimming for adults and kids.