Best Overall Walk Behind Snowblowers
Briggs & Stratton 1022ER 22-Inch Single-Stage Snow Blower with Push Button Electric Start and Remote Chute Rotation Crank
Good Walk Behind Snowblowers Choice
PowerSmart Snow Blower, PSSAM24 24-inch 212cc 2-Stage Electric Start Gas Snow Blower, Color Red and Black
Good Price
Husqvarna ST224P, 24 in. 208cc Two-Stage Gas Snow Blower with Power Steering and Electric Start
Best Overall Walk Behind Snowblowers
Briggs & Stratton 1022ER 22-Inch Single-Stage Snow Blower with Push Button Electric Start and Remote Chute Rotation Crank
Good Walk Behind Snowblowers Choice
PowerSmart Snow Blower, PSSAM24 24-inch 212cc 2-Stage Electric Start Gas Snow Blower, Color Red and Black
Good Price
Husqvarna ST224P, 24 in. 208cc Two-Stage Gas Snow Blower with Power Steering and Electric Start
People living in places that get heavy snowfall and harsh winters will need one of the best walk behind snowblowers out there to make life easier. You will need to make a large investment, but the work and time you can save with a snowblower handy will definitely make it worthwhile. In addition to that, if you buy the right product, you're going to be able to use just one snowblower for the rest of your life.
Once you get a snowblower, you will forget how much money you had to put in because of its efficiency. However, in the beginning, many people have a hard time considering which one to purchase. There are various types of snow blowers and brands on the market to select from, so it can be challenging to narrow down the search. Fortunately, we are here to simplify the work for you by putting together a review along with a buyer's guide to find the best snow blower for you today.
Buyer's Guide: What To Look For When Buying a Walk Behind Snowblower
Here are some aspects of a snowblower that you might want to read first to help you find the suitable one for your needs.
Snowblowers pull snow from the surface using an auger and release it from a chute. On a single-stage model, only the auger moves the snow. It is ideal for concrete, cement, and smooth surface driveways.
Two-stage blowers have an impeller with an auger. The impeller allows the snowblower to gather snow faster and also discharge it farther. You'll enjoy a two-stage unit more if you have driveways made of loose stones or pebbles.
Three-stage snow blowers have an auger, impeller, and accelerator. This type cleans snow faster and farther than the single-stage and two-stage models.
There are two types of snow blowers according to their power source- gas-powered and electric snow blowers. If you don't have a very long driveway, an electric snow blower will do the job of clearing out all the snow. They are smaller than the gas-powered machines and also come cheaper.
However, if you have a very long driveway, you might need a gas-powered snowblower as you wouldn't have to plug them anywhere. They are stronger and larger than the electric blowers, and hence, can work much faster.
While looking for a good snow blower, consider its clearing width. Usually, snow blowers have a clearing width of 20-25 inches, but there are other models that have over 30 inches. Choose the one you would be comfortable using on your driveway.
Most snow blowers come with wheels. With a single-stage model, you will have to push the snowblower. In comparison, two-stage and three-stage ones have engine-powered wheels to make maneuvering easier. You will also find snow blowers with tracks like that of a tank. There are better suited for steep and hilly driveways as they increase traction and stability.
List Of Best Walk Behind Snowblowers On The Market
1. Briggs & Stratton Walk-Behind Single-Stage Snow Blowers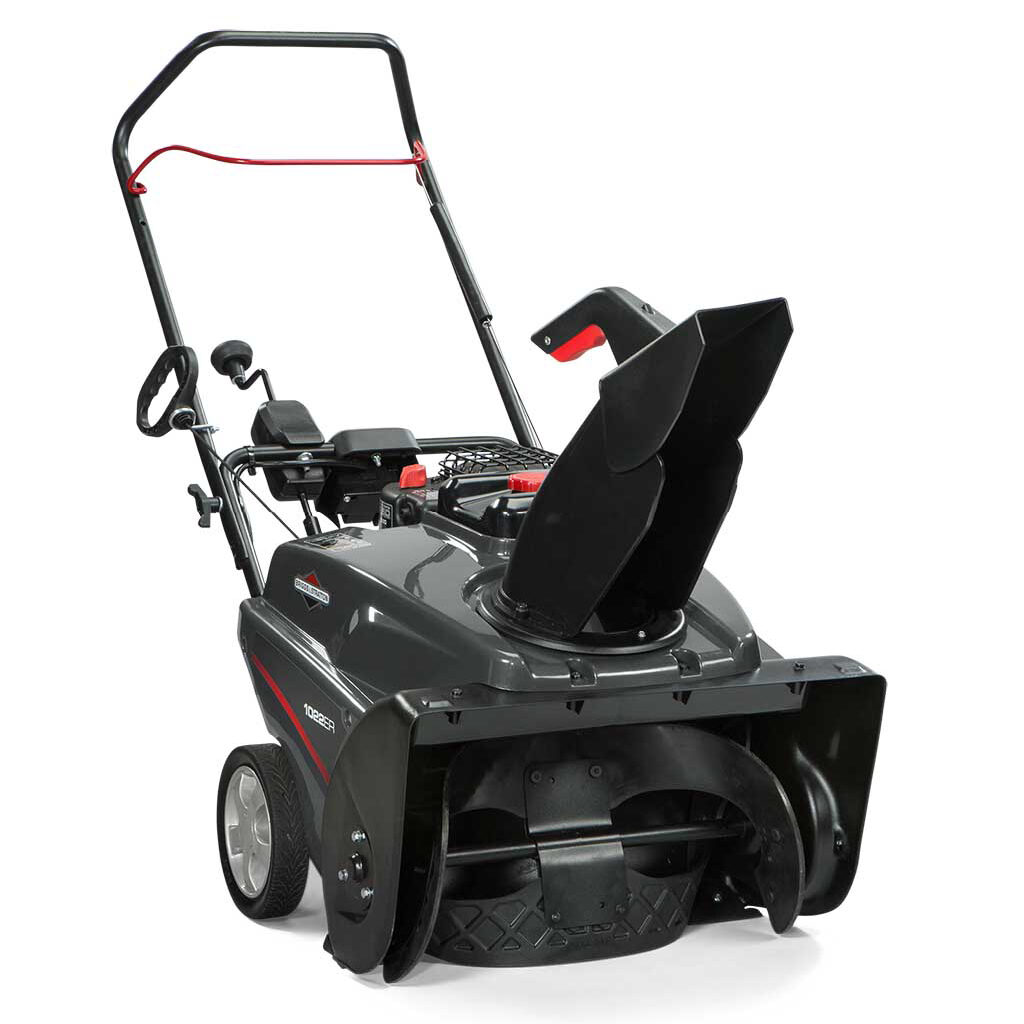 Designed for the harshest winters, this product from Briggs & Stratton features a push-button start and a chute that is handle-mounted to allow easy maneuvering while working. The deflector is easy and quick to adjust, allowing the user to easily change the snow throwing distance and height.
This product has a compact size with a powerful 208cc gas-powered engine. It has a clearing width of 22 inches, so you can clean a small to medium-sized driveway effortlessly.
Pros:
Convenient start
Easy to use
Durable material
Water-resistant auger
Compact and portable size
2. Husqvarna ST224P Two-Stage Walk Behind Gas Snow Blower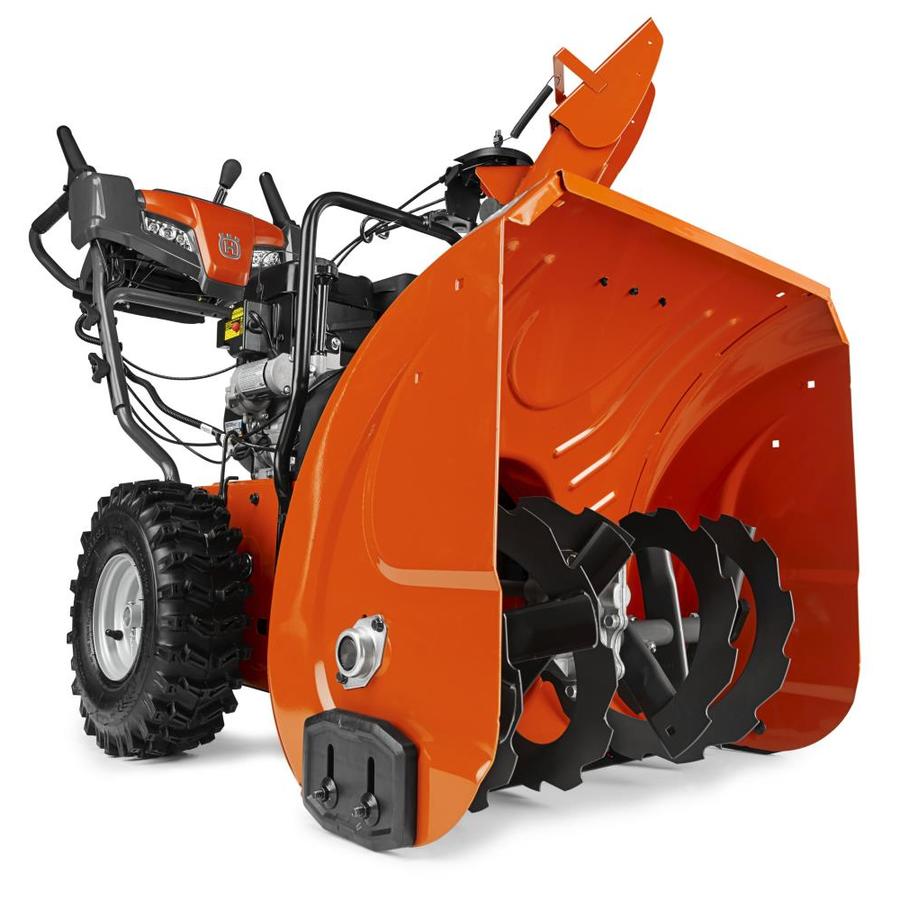 Another gas-powered engine of 208cc is this snow blower by Husqvarna that delivers maximum usability and efficient snow clearing. Its auger is built for heavy-duty, and the chute deflector helps you control the direction of the throw with a level.
You wouldn't have to worry about freezing hands while working out in the snow with the heated handles. It has an electric start, which is a feature most customers love in a snowblower. This two-stage snow blower has a 6.3 hp and 208cc engine that will help you clear out the snow effectively.
Besides these amazing features, you also get LED headlights, power steering, and a 24-inch clearing width with this model.
Pros:
Convenient features
Auger can operate in extreme snow conditions.
Electric start
Long-lasting
3. Champion 224cc Compact Two-Stage Gas SnowBlower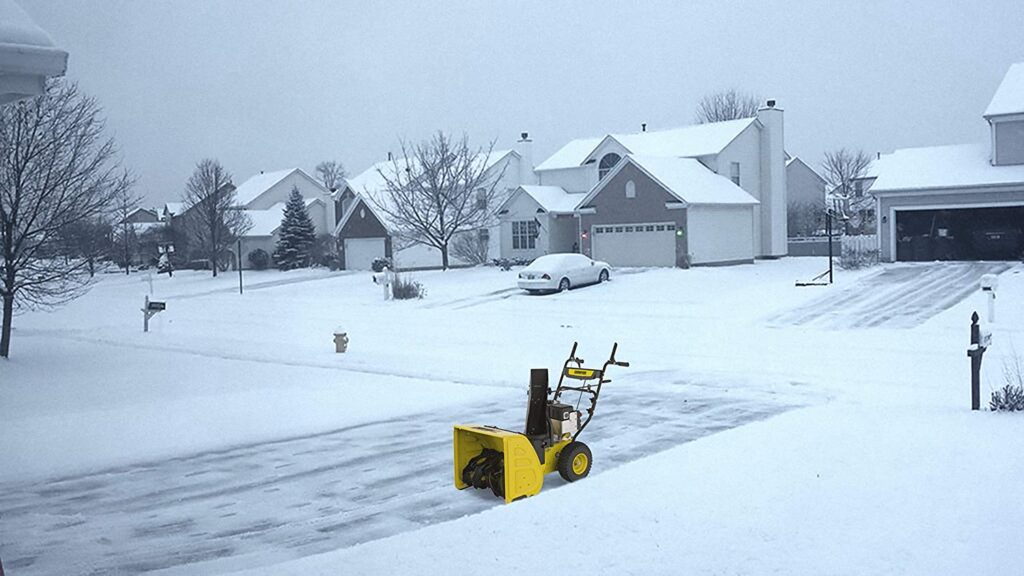 This two-stage snow blower by Champion can tackle snow down to 12 inches with its 21-inch clearing height and 24-inch clearing width. Its 224cc engine is unmatched, and the unit also features a push-button start. The auger in this snow blower is carbon steel-made, when combined with the impeller, cuts through any kind of snow effortlessly.
With the ability to throw snow up to a distance of 7.6 m, the steel chute in this machine is very user-friendly.
Pros:
24-inch clearing width
Electric start
6-foot power cord
User-friendly
Compact design for easy storage
Cons:
It has choking problems sometimes.
4. PowerSmart Walk from Behind DB7622H Two-Stage Gas Snow Blower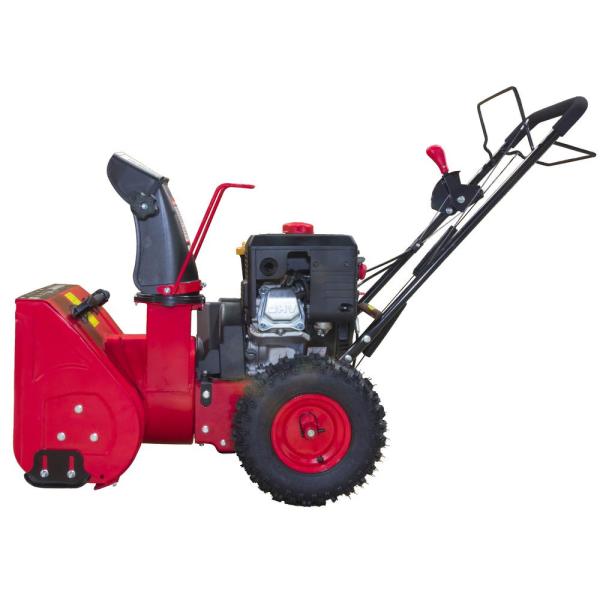 You can clear away snow on your driveway efficiently with this next product by PowerSmart. It has features like a robust 212cc engine, clearing width of 22 inches, and 13-inch tires that are inflatable so you can work confidently on slippery surfaces and deep snows.
The engine starts manually, and the product itself is heavy-duty. You can use it in areas with heavy snowfall and harsh conditions. Also, you can rely on the auger system and the steel frame of the machine to serve you without hiccups for years.
Pros:
Robust 2121cc engine for heavy-duty
Suitable for heavy snow
Multiple speed variations for user's convenience
Inflatable tires for easy movement on any kind of surface
Compact size
5. PowerSmart PSS2240-X Two-Stage Snowblower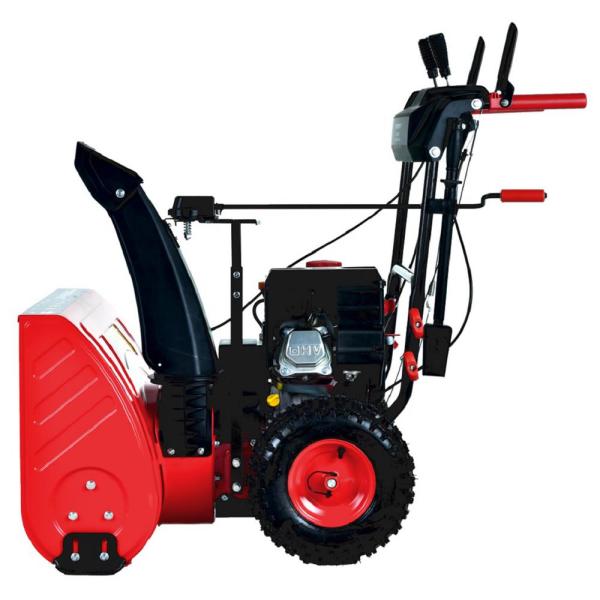 This next product by PowerSmart has 24 inches clearing width and is ideal for use in wide driveways and areas with heavy snowfall. The chute rotates 180 degrees, making it very easy to blow snow in different directions throughout its use. You can enjoy two reverse, and six forward speed controls with this model.
It has both a manual start and an electric start and has a design that gives a maximum performance every time. The height-adjustable skid shoes allow users to use this machine easily on various surfaces. With its gas-powered engine, you can use this snow blower for heavy snow blowing effortlessly.
Pros:
Steering with dual-trigger
Electric and manual start
13-inch durable wheels
Snow discharge up to 40 feet
Chute rotation up to 180 degrees
Cons:
It is more suitable for average-sized people.
6. EGO Power+ SNT2102 Cordless Snow Blower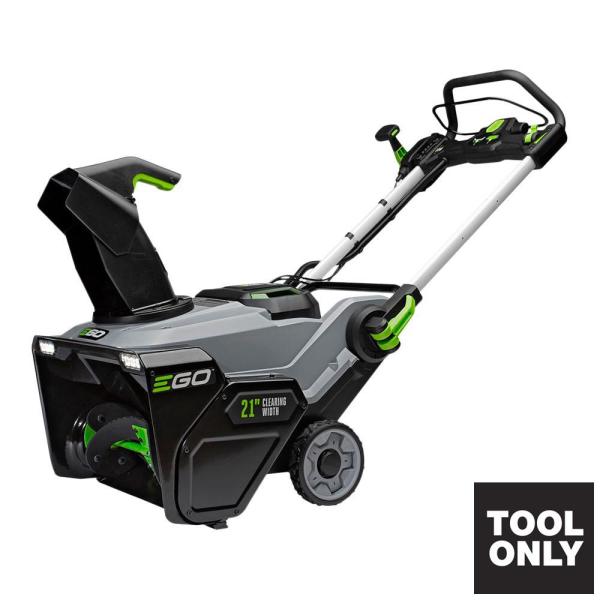 The EGO Power+ cordless snow blower is one of the most powerful units, even though it operates on batteries and that gas-powered units are the strongest ones. It is powered by two ARC Li batteries to clear the heaviest snow.
Featuring a brushless motor that works efficiently and a 21-inch clearing width, you can expect this machine to clear up your driveway like never before! The auger has adjustable speeds, so you can control the snow handling. The package includes two 5Ah batteries with a charger, and one more thing that makes this product incredible is its weight of only 25 pounds.
Pros:
Highly efficient product
Speed-adjustable auger
Noiseless performance
Durable batteries
The package comes with two batteries and a charger.
7. Snow Joe iON8024-XR Cordless Two-Stage Snow Blower Kit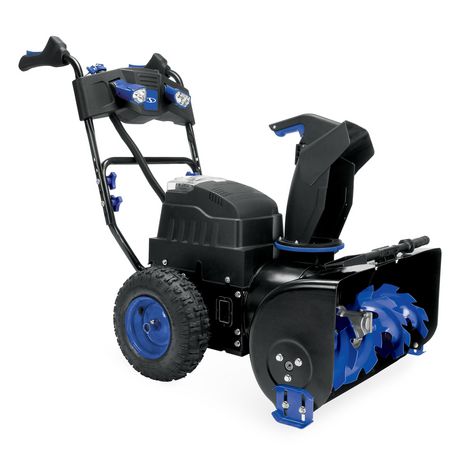 The next product on the line is another battery-operated snow blower that works as good as any other robust unit. It is a self-propelling machine and features a drive system with four speeds. The sturdy steel auger can move snow of up to 1000 pounds per minute and has a clearing width of 24 inches.
You can throw snow up to 32 feet with its adjustable chute that can rotate up to 180 degrees. This two-stage machine with all its features is perfect for heavy-duty snow blowing any day. The powerful 5.0Ah batteries can serve you without any issues for up to half an hour, with no carbon emissions. You can start the snowblower by pushing its display and never worry about not knowing the battery status as it has indicators for that.
Pros:
A powerful motor of 2500 W
The batteries give up to 30 minutes of uninterrupted performance.
Emission-free
Digital display
LED headlight
8. Ariens ST28DLE Deluxe SHO Two-Stage Gas Snow Blower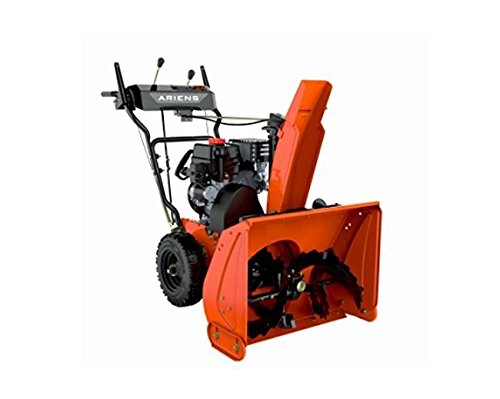 The last, but certainly not the least product is the two-stage snow blower by Ariens. It features a massive clearing width of 28 inches and can move about 72 tons of snow/hour. If you own a very large driveway and have not found a snowblower yet, this product might be the deal-breaker.
You can blow snow at the height of up to a whopping 55 feet. Its robust 306cc with an auger and impeller of both 14 inches is going to make snow moving a rather enjoyable experience for you! This product's other features include an auto-turn steering control, single-handed operation, and a tall height.
Pros:
Great for large driveways
28 inches clearing width
Interlocking handles
Heavy duty
Robust 306cc engine
Frequently Asked Questions
How is a snowblower different from a snow thrower?
People often refer to snow blowers as snow throwers and assume that they are the same. But the fact is that single-stage snow blowers are called snow throwers. It is because single-stage snow blowers literally only pick and throw the snow, and don't blow them. The auger in the single-stage snowblower works by picking up the snow from the surface or ground and tossing it out of the chute. However, two-stage and three-stage snow blowers do not work the same way, so they cannot be referred to as snow throwers.
Which stage snowblower should I choose?
Your decision to select either a single-stage, two-stage, or three-stage snow blower depends upon the amount of snowfall in your area and the size of your driveway. A single-stage model works in a single motion, using an auger to shove the snow and dispense it out. A two-stage model cleans faster with its auger and an impeller that works together to pick and throw out the snow to a farther area. And lastly, a three-stage model is the most powerful among these three and is ideal for bigger driveways and heavier snowfall. You can choose either one according to the amount of cleaning capacity you need.
What is the proper way to keep a gas-powered snow blower during off-seasons?
The way of storing a snowblower, especially if it is a gas-powered one, is crucial. With improper storage, the gas can deteriorate, and dirt will build up inside the machine and damage it. Make sure to empty the fuel tank if you are going to store it for months. You can put a stabilizer in the tank to preserve it and also to keep the fuel ready. It would be best to read the manufacturer's instructions on storing your gas-powered snowblower for optimal results.
What should I do if my snowblower isn't working properly?
In case your snowblower is delivering a poor performance suddenly, you can do a little check-up to see if all its parts are intact and functioning right. Check whether the fuel in the tank is too old and change if it is. Make sure to turn on the fuel switch after checking the oil. If your snowblower starts with a key, make sure you inserted it in place as the machine will not start if the key is improperly placed. Take a look at the carburetor for jammed fuel before starting the machine if you are using it after a long time.
Which is the best snow blower type for a gravel driveway?
If your driveway has gravel and pebbles, our recommendation is to opt for a two-stage snowblower. In this type of snow blower, the auger does not reach the surface of the ground. That way, it won't disturb the ground and pick up loose stones along with the snow. Besides that, two-stage snow blowers also have a 'taller bucket' that can clean snowdrifts.