Best Overall Bikes for 11-Year-Old Girls
Guardian Bike Company Ethos Safer Patented SureStop Brake System 24" Kids Bike, Light Blue/Blue
Popular Bike for 11-Year-Old Girl
Kent 24" Girls', La Jolla Cruiser Bike, Light Blue, For Ages 12 and Up
Good Choice
Huffy 24" Nel Lusso Girls' Cruiser Bike, Pink Blush Powder
Best Mountain Bike For 11-Year-Old Girls
MGE Children Bicycle,Kids Bicycle, Outdoor Cross-Country Shock Absorber Boy/Girl 24'' Mountain Bike, High Carbon Steel 21 Variable Speed Bicycles (Color : Green C)
Best Overall Bikes for 11-Year-Old Girls
Guardian Bike Company Ethos Safer Patented SureStop Brake System 24" Kids Bike, Light Blue/Blue
Popular Bike for 11-Year-Old Girl
Kent 24" Girls', La Jolla Cruiser Bike, Light Blue, For Ages 12 and Up
Good Choice
Huffy 24" Nel Lusso Girls' Cruiser Bike, Pink Blush Powder
Best Mountain Bike For 11-Year-Old Girls
MGE Children Bicycle,Kids Bicycle, Outdoor Cross-Country Shock Absorber Boy/Girl 24'' Mountain Bike, High Carbon Steel 21 Variable Speed Bicycles (Color : Green C)
Girls at the age of 11 are at the crucial stage of physical, emotional, social, and cognitive development. It is essential to feed them a healthy diet and equally important to encourage indulging in outdoor activities. The best way to do so is to invest in a good bike. Bikes are a fantastic gift not only for sons but for your daughters as well. Teaching your daughter to ride a bike can be an excellent opportunity for parents to spend quality time with her. There is a multitude of bikes available online. But we have researched and listed a couple of the best bikes for 11-year-old girls.
Here we have listed some of the best bikes for 11-year-old boys: https://www.bestof.info/best-bikes-for-boys/#Bikes_for_11-Year-Old_Boys.
Proven benefits of cycling for young girls
Before we get into the list, here are some of the proven benefits of cycling for young kids:
Stimulates cardiovascular muscles.
Cycling is an excellent workout for the legs. Working on the leg muscles also strengthens the rest of the body. This leads to the stimulation of the cardiovascular muscles. It will increase the stamina of your child and help maintain healthy bodily functions.
Even children as young as 11 years old can undergo stress and anxiety. Adjustment problems with other kids, pressure from the teacher, or schoolwork pressure can lead your child to stress. Exercising has been proven to be a healthy stress reliever. Cycling can boost your child's mental health and help her combat stress in the best way possible.
Enhance emotional wellness
Riding a bike can not only bring joy to your child but also allow her to feel independent. Girls from a young age should experience a feeling of confidence and independence. This will lead your child toward the right mindset even as an adult. Her ability to move from one place to another on her bike will boost her confidence and sense of comfort.
Cycling is a fantastic way for your child to get to know more people. When your child rides to a park or around the neighborhood, she will meet other kids riding on their bikes. This can be a great opportunity to make new friends and socialize with others. It will enhance her communication skill. Rather than cycling alone, she can find a group to ride along with, making the experience more exciting.
Most kids in this digital age tend to stay indoors playing video games or glued to their phones. Inactivity will make them indulge in unhealthy eating habits and make them lazy. There are countless negative impacts a child will suffer from if he or she refrains from going out. It is crucial as a parent to encourage your child to go out and engage in physical activities. And what better way than to motivate them to go out cycling.
Going out cycling will expose your child to sunlight, which is the best natural source of Vitamin D. Vitamin D helps in strengthening the bones and teeth and keeps the muscles healthy. It will also improve the balance and coordination of your child. For any child dealing with weight issues, cycling for about 30-40 minutes every day will be immensely beneficial. It is a slow but effective way of helping your little girl stay active and healthy.
Buyer's Guide – What to look for when buying a bike for an 11-year-old girl
Here are some of the things you need to keep in mind before buying that beautiful cycle for your 11-year-old girl:
Every parent or guardian should take necessary measures before purchasing a bike. Make sure to buy your kid a cycling helmet perfect for her size.
For an 11-year-old girl, a 24-inch wheel bike is an ideal size.
It is necessary to ensure that the seat is adjustable. The seat should be moved up or down, depending on the comfort of your kid. While seated on the saddle, your child should be able to reach both balls of her feet on the ground. This is to ensure that your child will not feel intimidated while riding.
The frame of the bike should be lightweight. If the frame is too heavy, it can be challenging for your child to maneuver the bike and cause accidents.
A bike for your little girl should have a kickstand. The bike can topple over if it doesn't have a kickstand. The bike will get damaged faster, or the paint can get scraped off. Make sure the kickstand is of proper sizing. It shouldn't be too short or too long.
If you want to purchase a mountain bike for your daughter, make sure it comes with a linear pull hand brake. Linear pull hand brakes are the safest to use as they have excellent durability. They also have excellent stopping power so you can ensure your child's safety. If the brakes have any issue, a bike mechanic can easily fix it at a low price.
Coaster brakes or footbrake is the ideal brake system if your child needs the bike just for riding to school or riding around the neighborhood. Coaster brakes are very simple to operate and will be an excellent choice for beginners.
For a kid who wants to go on a rocky roadside trip, the bike should have a suspension fork. Suspension fork in a bike helps minimize the jerky impact of a rough, rocky road and will give your kid a more comfortable ride.
The saddle should be wide and well-cushioned. It is important to ensure that your child is comfortable while riding.
Riding off-road or on muddy roads can be tricky. It is best to purchase a bike with knobby tires for such road conditions. The knobs of the tire help push against the gooeyness of the mud, thus preventing the bike from sticking into it.
The handlebars should be comfortable and easy to reach.
If you purchase a bike with handbrakes for your child, make sure the levers of the handbrakes are easy to pull and easy to reach.
Basket and other attachments
Bikes that come with a basket are a plus. Some bikes also come with a beverage holder to carry her favorite drink with her. Your little daughter will love these extra attachments to her bike, where she can put any stuff she wants to take along with her.
List of the best bikes for 11 year-old-girls
We have compiled a list of the best bikes available online that are cost-effective and will serve your child the best ride for the right occasion. Following are some of the bikes that we have reviewed for you and your little girl to pick from:
1. Guardian 24-Inch Bikes For Girls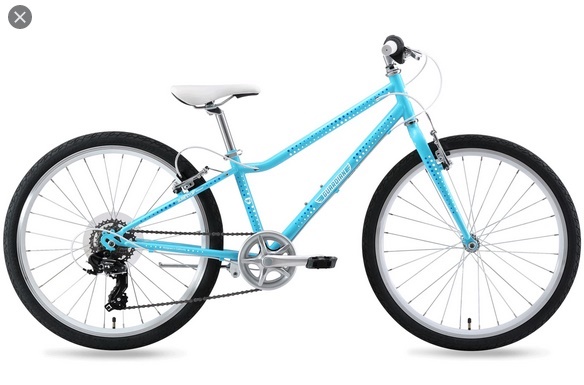 The Guardian bike manufacturers design children's bikes with safety as their primary goal. You can rest assured your child will have the best and safest riding experience on a Guardian bike. It comes in different appealing colors for your child to pick from. The designs have been picked by kids for kids, which is awesome to see. It has a 7-speed standard shifter gearing suitable for your child. It also has a lightweight steel frame, which makes it easier for your child to ride around on.
The bike comes with a Surestop brake system. This brake system has a single brake lever that controls both wheels. It allows the cycle to stop 44% faster than most brakes. You can be sure of your child's safety on this bike. The product comes with a kickstand and an easy to adjust seat clamp. It has a crank arm, pedals, saddle, handlebars, and grip that are perfect for kids.
Pros:
You can be assured of your kid's safety on a Guardian Kids bike.
7-speed so your kid will always keep up with his rider friends
Lightweight frame
Surestop brakes to ensure quick stops and no over-the-handlebar accidents.
2. Mongoose Exlipse Full Dual- Suspension Girls Mountain Bike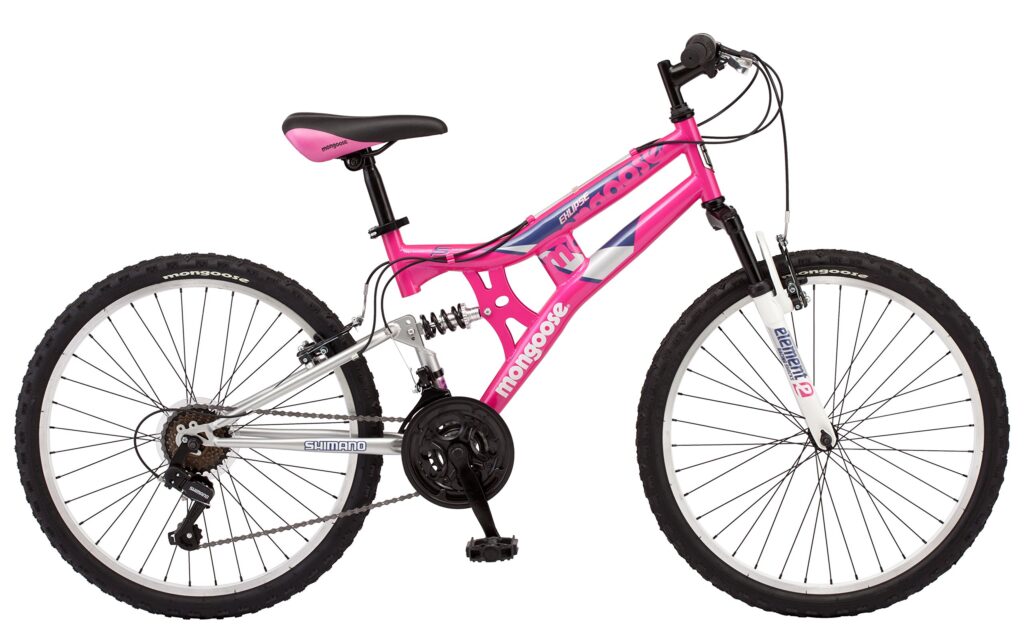 Whether it's riding to school, cruising around the neighborhood, or enjoying bike paths, this bike is perfect for it all. The frame is so lightweight that it will be easy for your kid to ride it even on hilly lanes. It comes with knobby tires which prevents the bikes from slipping or skidding off tricky road trails. The front and linear-pull brakes on this product ensure that the bike will come to a definite stop. It has 24-inch wheels, which is perfect for an 11-year-old. The 21-speed with Shimano derailleur on this beauty provides smooth and precise shifting. It is a small, compact bike but packs a punch.
Pros:
Ideal for both on and off-road biking
Adjustable seat post
Front and linear-pull brakes perfect for advanced riders
21-speed option
3. Kent 24" Girls' La Jolla Cruiser Bike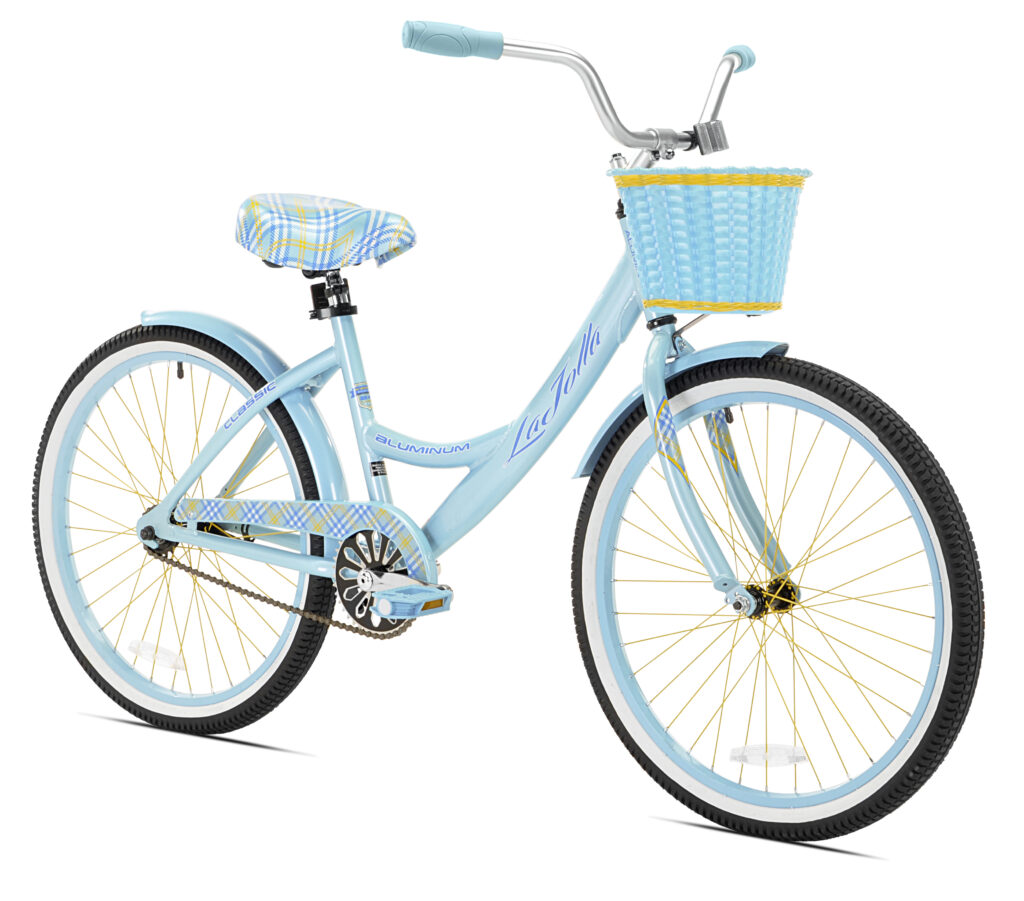 This product is a definite treat to the eye. It comes in beautiful, light colors. The comfortable seat comes in a classy plaid design that matches the chainguard. For little girls who love barbies and princesses, this is a fantastic gift. It also comes with a basket. Your kid will most definitely love this extra attachment. It will give her even more reasons to go out for a picnic with her friends or go on family cycling trips. The low step-through aluminum frame makes it easy for your child to hop on and off.
Pros:
The colors and design on this bike are sure to turn heads.
Easy and quick seat adjustment without requiring any tools
It is a simple, easy one-speed bike for leisure riding to the beach or the park. No fussing with the speed or the brakes.
Cons:
It is a cruiser bike, so riders shouldn't expect the ride to be as comfortable while riding on hills or off-road.
4. Schwinn Baywood Cruiser Bikes for 11-13-Year-Old Girls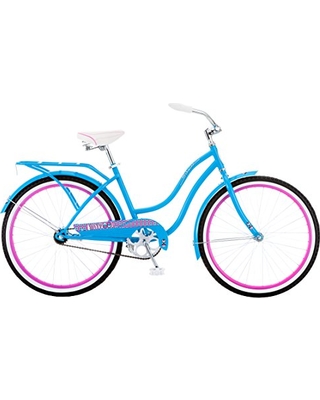 The Schwinn Bicycle Company has been around since 1895. It was the dominant manufacturer of American bicycles for a very long time. Children and adults around the world trust the Schwinn name for quality and value. Like the original bikes, today's Schwinn bikes still has its touch of the retro, classic look. This bike comes with a steel step-through frame- easy to climb and get off.
It is a single-speed drivetrain that allows you to enjoy the ride rather than focus on shifting gear. It has vintage full-wrap fenders that will keep you dry and 24- inches wheels. The design on this bike is simple yet classic. The handlebar in the front has an old-school style curve, which adds extra charm.
Pros:
Classy and retro-looking for any kid who wants to stand out riding it
High-quality padded saddle to soften the ride
Full wrap fenders for increased coverage, no road dirt, and your stuff stay dry.
5. Sixthreezero Around The Block Women's Single-Speed Beach Cruiser Bicycle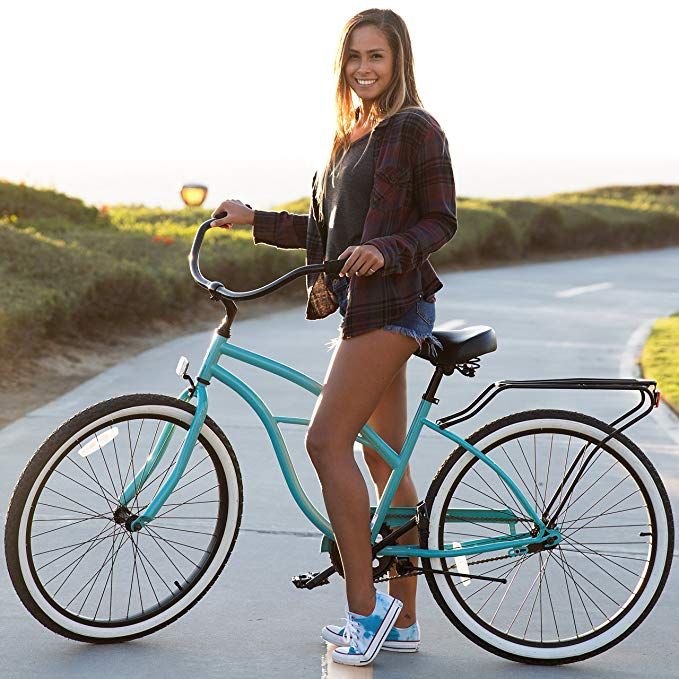 Sixthreezero pride themselves in the affordability, comfort, and style of their bikes. These bikes have super low maintenance, which is perfect for a casual rider. The height and the tilt of the handlebar are customizable to your child's requirement. It has 24-inch wheels, and it is steel-framed.
It is a non-fussy bike with features that provide durability and comfort. It has a cushioned dual-spring wide seat that ensures tailbone comfort on long rides. The bike frame comes with relaxed, tension-free joints, which allows for easy, comfortable maneuvering.
Pros:
The upright riding style of the bike provides comfort to the riders.
Low maintenance
Customizable handlebars are a huge plus.
6. Sixthreezero Around The Block Girls Green Mint Bike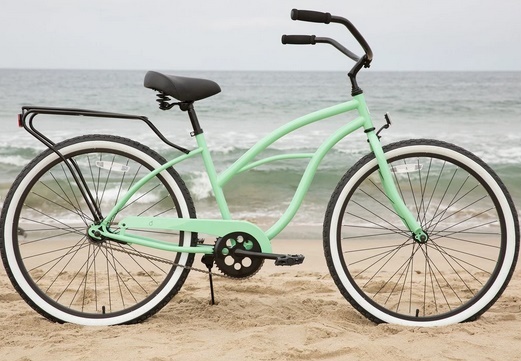 This bike is perfect for long rides. The pedals are low but provide enough space for leg extension. The frames on this bike are light and easy to ride on. The seats on this will allow your daughter to sit in an ergonomic upright riding position, which is the correct sitting position on a bike.
The simple coaster braking system allows for your child to simply paddle backward to glide to a stop. This product comes with curved handlebars to add to the comfort of riding it.
Pros:
Space for leg extension in a bike is a definite plus point.
Sixthreezero cruiser bikes are lighter than most cruiser bikes in the market.
You will not have to worry about your child flying off the handlebar on braking. The coaster braking system will ensure a smooth, easy stop.
Cons:
Not the ideal bike for cycling races, but a definite must-have for leisure riding.
7. Huffy 24" Nel Lusso Girls' Cruiser Bike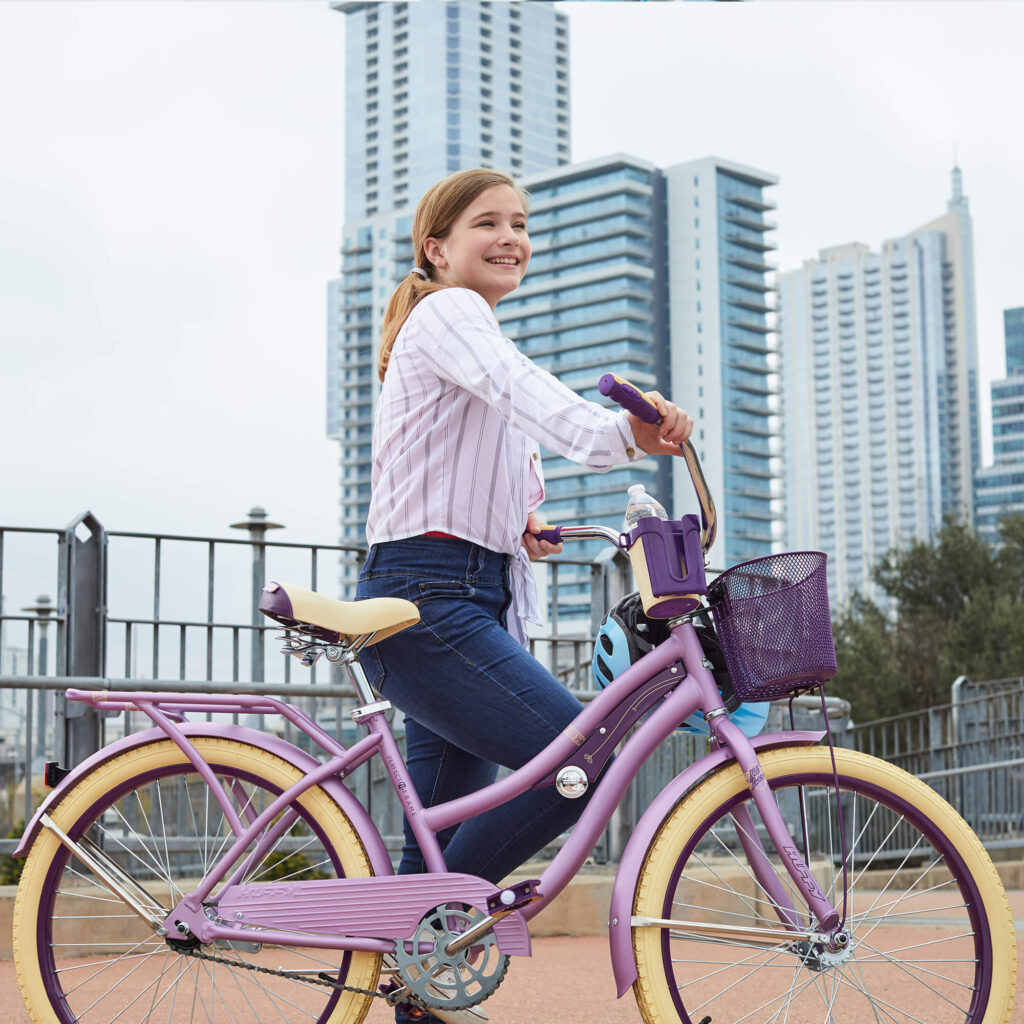 Huffy Nel Lusso bikes are some of the prettiest looking bikes. It has a clean look without the clutter of cables and gears. It comes with a front basket and a beverage holder. As pretty and sleek as it looks, it is sure to be a stand-out when your daughter takes it for a ride with her friends. The bike is low enough, so your daughter will feel safe riding it.
Pros:
Visually appealing. Most kids will definitely love it.
Additional basket and beverage holder so your kid can take it for picnics or to school, and not have to worry about carrying around a few extra things.
Comfortable and easy to ride.
8. Roadmaster 24" Granite Peak Girls' Bike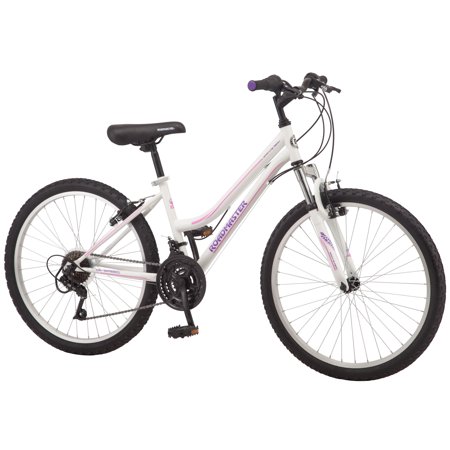 For a girl who loves going out for adventures, this is the perfect bike. It has a steel mountain-style frame with a front suspension fork to ensure a smooth ride on rocky lanes. It features 18-speed twist-style shifters that allow you to shift speeds quickly and smoothly. The classic front and rear handbrakes provide quick stops at a moment's notice. The knobby tires are perfect for riding around anywhere.
Pros:
The 18-speed on this bike will give your kid the thrill of a real adventure.
Front suspension fork to smooth out any bumpy ride
Cons:
It can be a little intimidating for those who are used to riding a simple cruiser bike.
9. 24" Huffy Women's Nel Lusso Cruiser Bike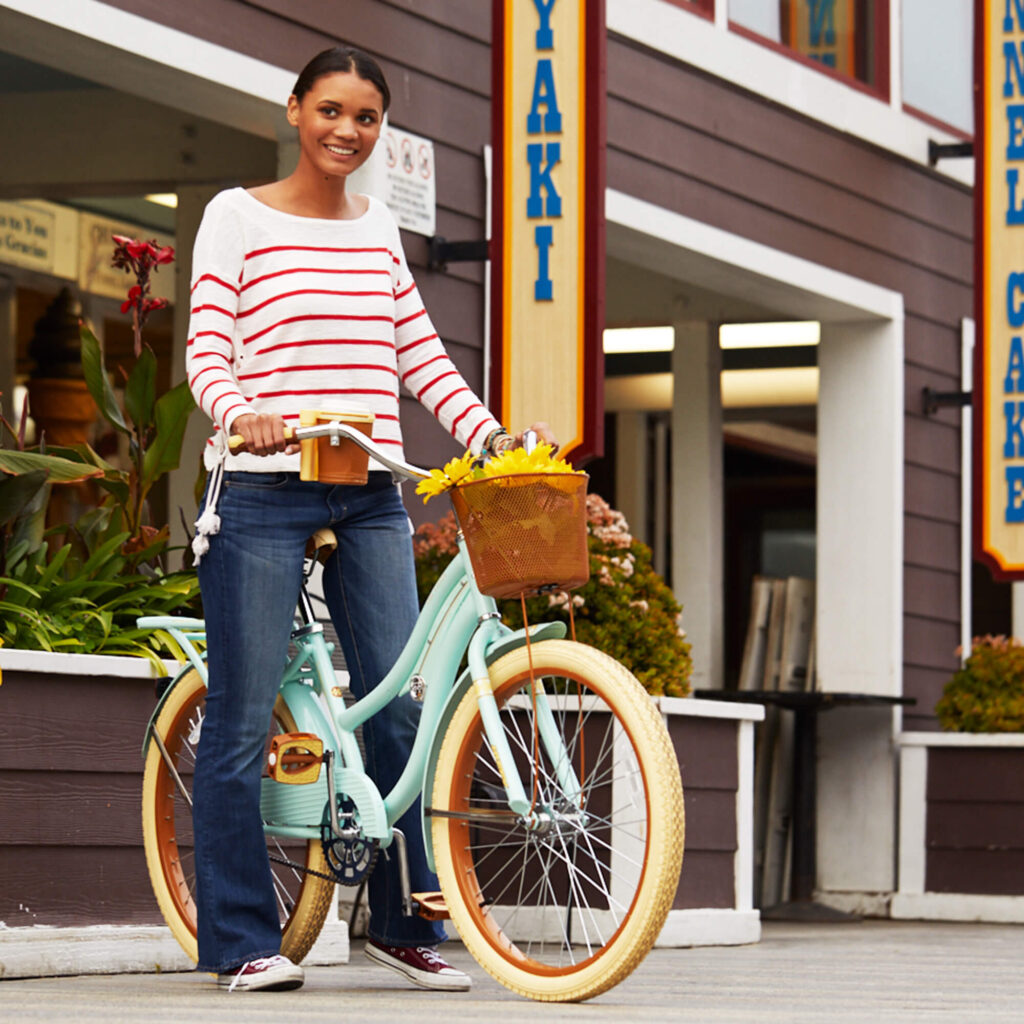 The Huffy Nel Lusso cruiser bike is as pretty as a bike can get. The beautiful color combination it comes with makes it a stand-out bike. It is ideal for cruising around the neighborhood or for riding to school. This bike is a single-speed bike with a coaster brake. It also comes with a basket with enough space to put a few of her necessities and a cup holder. The padded spring saddle and dual-density grips and pedals will give your kid the comfort she will appreciate.
Pros:
Simple and easy-to-ride bike perfect for beginners and those who want to just cruise around.
Padded spring saddle will ensure comfort
Comes in beautiful, appealing colors
10. MGE 24 inches Bicycle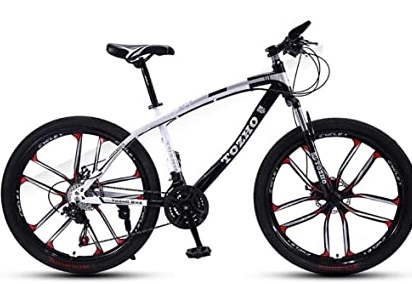 This beauty of a bike is a 7-speed twist shifter with a rear derailleur, which allows for a smooth, precise gear change on any surface or incline. It is built with a high-quality carbon steel frame, making it durable and ensures a stable, safe ride while riding downhill at high speed. If you are worried about the tires skidding off, rest assured the tires are anti-skid and suitable for all-terrain. It comes with thick shock-absorbing front forks, which provide a comfortable ride on rocky lanes. The high-elastic soft foaming saddle makes for a perfect ride on long cycling trips.
Pros:
Shock-absorbing forks to keep riders from experiencing vibrations while riding
Anti-skid tires on this bike will ensure that your kid doesn't get into a crash.
Cons:
It can take some time for new riders to get used to the sturdiness of the bike.
11. High Carbon Steel Kids Mountain Bike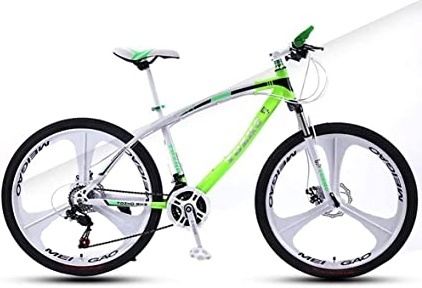 The MGE Children Bicycle features 24 inches wheels with alloy rims, which makes it lightweight and easy to ride. It has anti-slip wear-resistant tires to ensure your kid can ride around anywhere safely. It also comes with aluminum alloy pedals, which are rust-resistant. Compared to other ordinary PVC pedals, the aluminum alloy pedals can increase the pedaling speed by 30% without putting much pressure. The brakes are easy to control, and the thick shock-absorbing front forks will allow for a smooth ride in any road or weather condition.
Pros:
This bike provides a higher load-bearing capacity. So your child can bring more stuff to her adventure trips.
Aluminum pedals to increase pedaling speed by 30%
Effective braking system
Frequently Asked Questions
1. How can I know which bike size is perfect for my kids? I have a six-year-old, an 11-year-old, and a 14-year-old.
To find the perfect size bicycle for your kids, you have to measure the length of their inseam. It is the distance between the floor and the crotch. Your child should be able to reach the floor with the saddle height at a minimum for the feet to ensure the necessary safety. If your six years old's inseam is 20" to 24", an 18" wheel size bike will be perfect. The inseam ranging from 24" to 28" will need a 24" wheel size. Inseams ranging from 28" and longer can comfortably ride on a 26" wheel size bike.
2. What is the difference between a coaster brake and a hand brake on kids' bikes? Which is safer for my kid?
A coaster brake or foot brake requires a kid to pedal backward for the bike to stop. It requires little coordination and is easy to learn for beginners. Bikes with coaster bikes are best for riding around the neighborhood. Your child only needs a little practice, and she'll be good to go.
Hand brakes are made up of brake levers on one or both right and left handlebars. Handbrakes require coordination. With time and practice, your kid will eventually learn to modulate the handbrake. The pros of handbrakes on bikes are that it is ideal for riding on hills and off-roads. You can pick the best option for your kid, depending on where she wants to ride it.
3. Is steel frame better than the aluminum frame in bikes?
Both materials have pros and cons when it comes to bike frames. You can take into consideration the pros and cons explained below and pick the preferred choice.
— When it comes to steel frames, you can be sure of its strength and durability. Bikes with a steel frame will give you a long-lasting service. Steel frames also come with low-cost maintenance. Steel is known for being flexible, which will allow for a smooth ride without troubling road vibrations. The cons for the steel frame are that it is not rust proof. Once your bike's paint gets removed, the frames can easily rust. Steel frames are a little heavier than aluminum frames but not to a large degree.
—You will get a large selection of designs when it comes to aluminum frame bikes. The bikes are lighter than those with steel frames. Because it is lighter, aluminum frame bikes have a slightly higher average speed. Aluminum is a rust-proof material, so you wouldn't have to worry about your bike getting rusted if the paint gets chipped. The cons for aluminum frames are that they are not as durable as steel frames. Vibrations can also be felt while riding it because of its stiffness. If the bike crashes, it will not be as easy to repair as a steel frame bike.
4. What is the best age for a girl to start riding a bike?
5 to 6 years is a safe-enough age for a child to learn to ride a bike. However, the parents or guardians should monitor the kids when they're learning to ride at this age. They should also be taught in a safe and secure environment where cars are not allowed to pass. Training wheels can be attached to the bike in the initial learning stage to make your child feel more confident. The seats can also be lowered to make them feel safer.
5. Does the bike come assembled? If not, how long will it take to assemble?
Most of the parts are pre-installed. Only a few parts are to be assembled by the buyer. The product comes with a manual on how to install these parts. The installation process is quite simple, and you do not need the help of an expert to get the parts fixed. An adult can easily assemble the pieces just by following the manual step by step. It can take an adult 10 to 30 minutes to have the bike assembled.